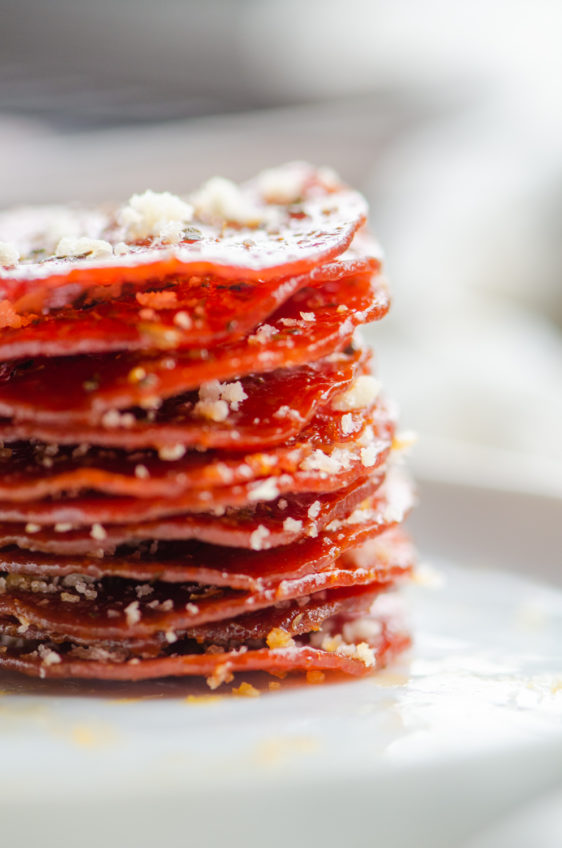 Pepperoni Chips
Pepperoni Chips are an easy, low-carb snack. They are super crispy, addictive and beyond easy to make in your oven or air fryer.
If you love pepperoni pizza but just want a snack instead of a slice, you've got to try these Pepperoni Chips. They have a lot of the pizza taste that you love but none of the carbs.
Not only are these little bites super tasty but they are also beyond easy to make. They make a great snack by themselves or to use as a chip to dip.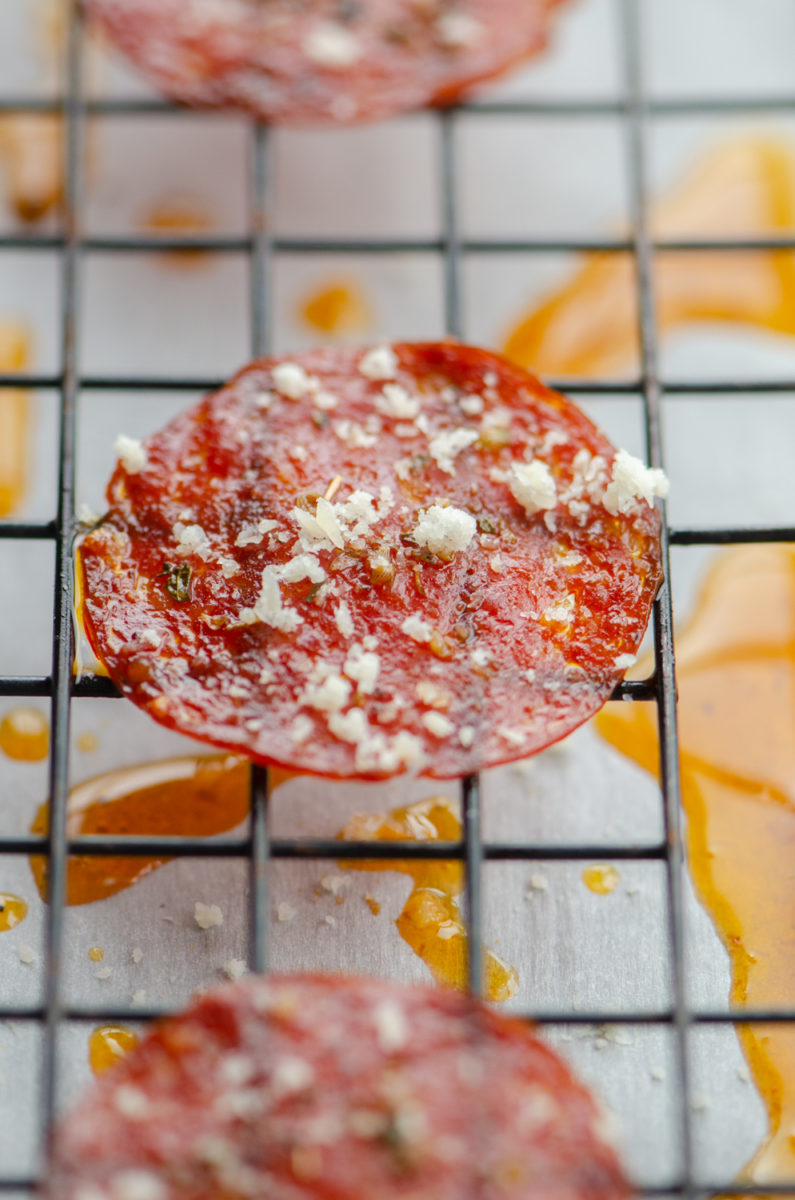 What Ingredients Do You Need:
You can make these Pepperoni chips with just pepperoni slices if you like. I wanted a bit more pizza flavor so I added a couple more things:
PEPPERONI SLICES: Use whatever sliced pepperoni you like. Thin cut will work better than thick cut because you want these to get crispy.
DRIED OREGANO: To add more pizza flavor.
PARMESAN CHEESE: Freshly grated is best!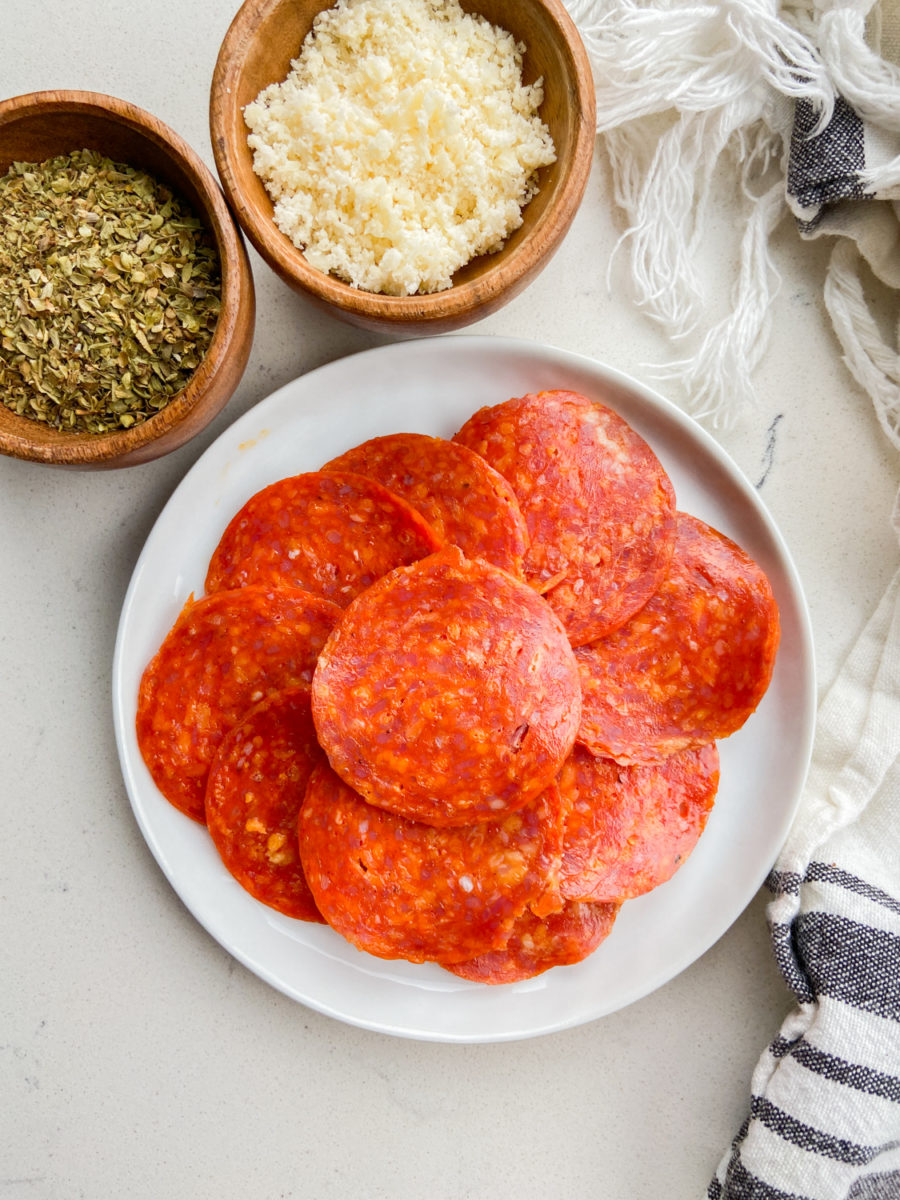 How do you make Pepperoni Chips in the oven?
Place a pepperoni slices on a cooling rack on top of a baking sheet. Sprinkle each slice with dried oregano.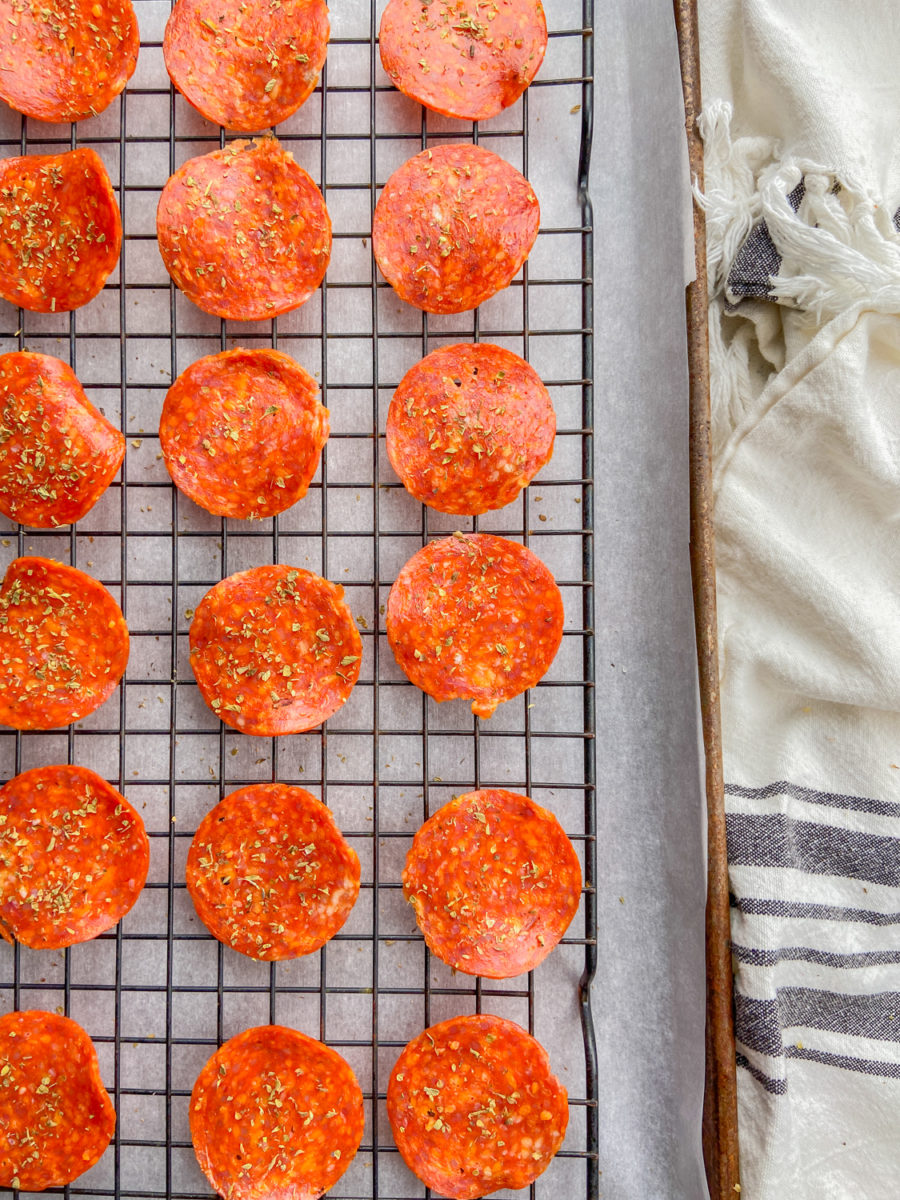 Bake at 400 degrees F for 5 – 7 minutes or until desired crispiness. Remove pepperoni chips from the oven and sprinkle with Parmesan.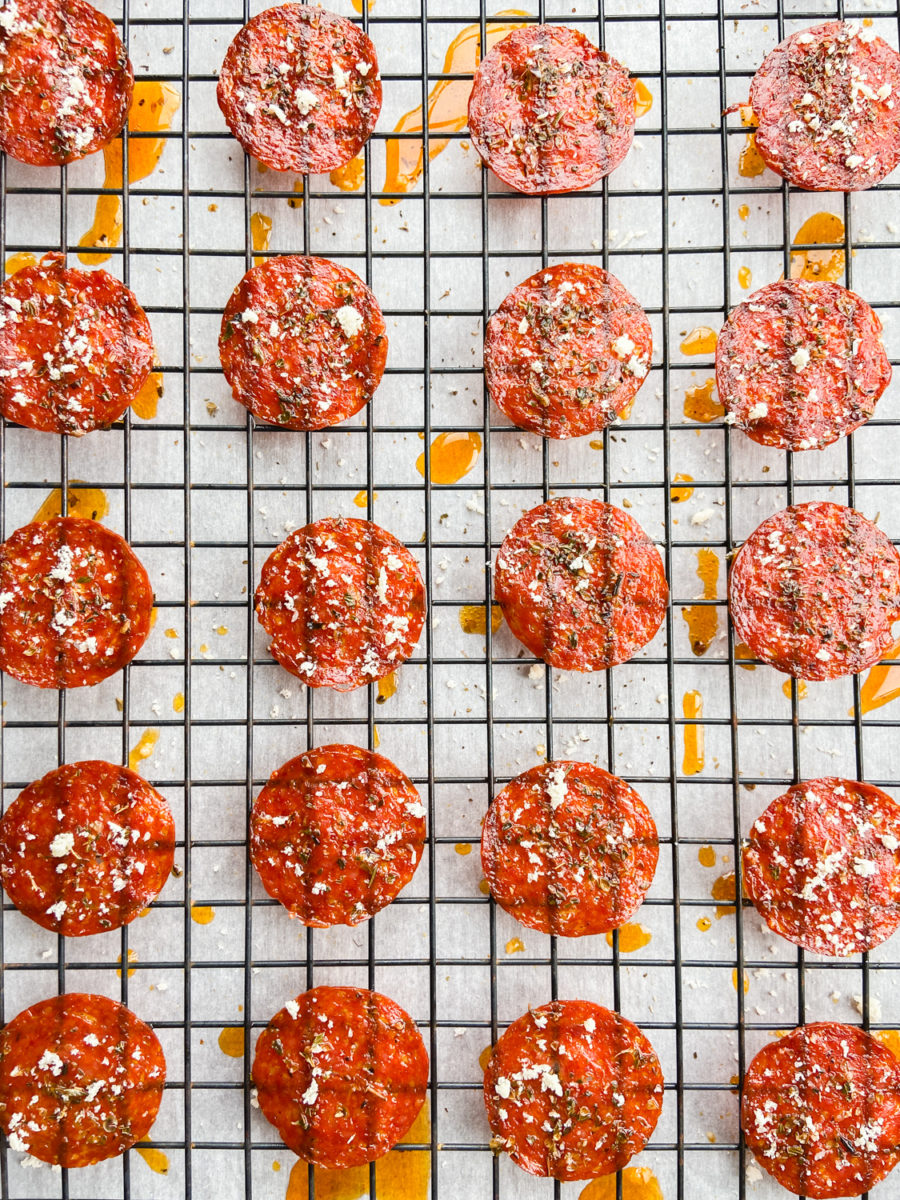 Making Pepperoni Chips in the Air Fryer:
If you've got one on hand, an air fryer would be a great way to make these chips. Simply cook them in a single layer at 400 for 2 – 3 minutes or until desired crispiness.
These little bites are great on their own as a snack. You can also serve them as a low carb option for dips like creamy ranch dip or with easy homemade pizza sauce.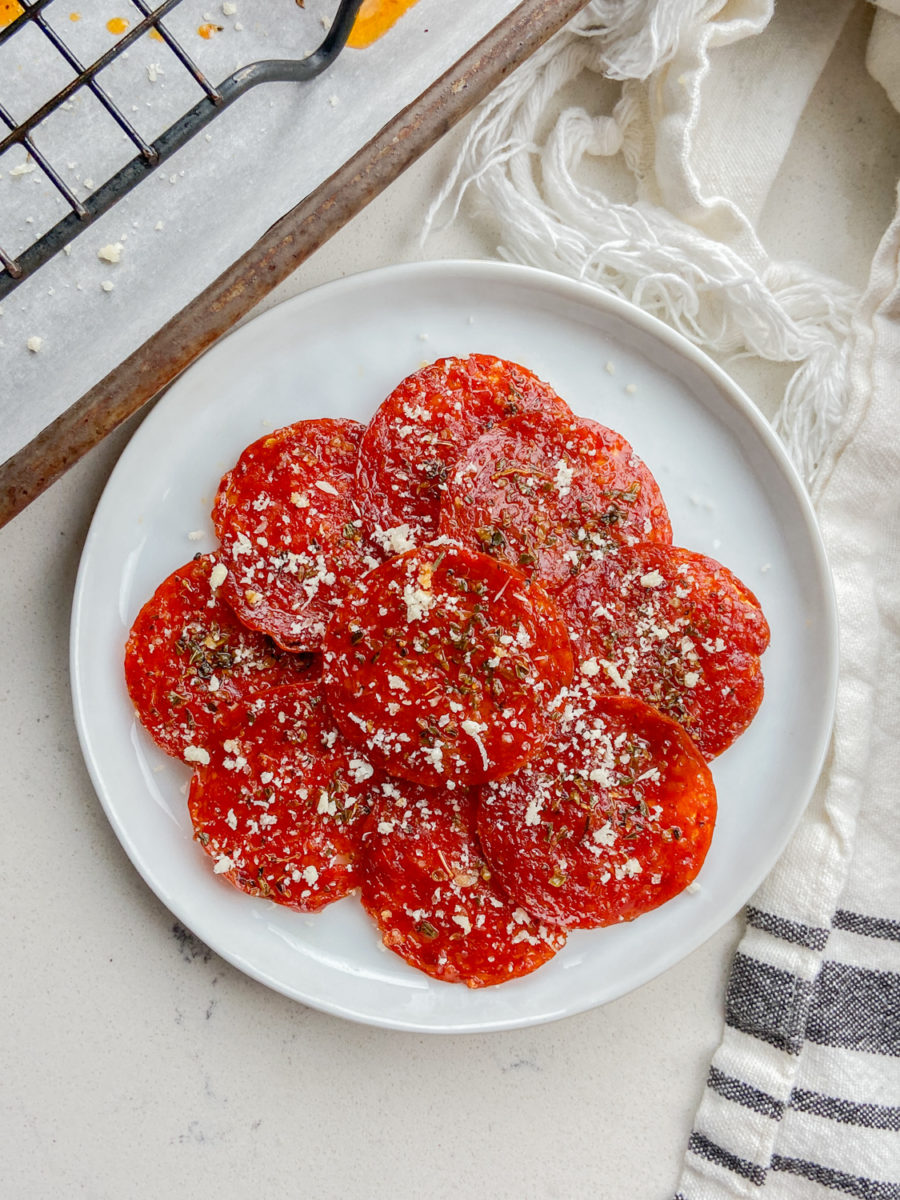 If you're looking for more easy appetizer recipes that are also low-carb, check these out:
Pepperoni Chips Recipe
Ingredients:
4 ounces pepperoni slices
1/2 teaspoon dried oregano
1 teaspoon grated Parmesan cheese
Instructions
1
Preheat oven to 400 degrees.

2
Place a cooling rack on top of a baking sheet.

3
Place pepperoni slices in a single layer on top of the cooling rack. Sprinkle with dried oregano. Bake for 5- 7 minutes or until crispy.

4
Remove from oven allow to cool slightly then sprinkle with Parmesan cheese and serve.
Notes
Don't skip the cooling rack. It is what helps the air circulate around the pepperoni making them crisper.

To make these in the air fryer, cook in a single layer on the air fryer rack at 400 degrees for 2 - 3 minutes.

Store in an airtight container.

Nutrition information for estimation purposes only.
Nutrition information
Calories: 140 , Total Fat: 12.9g , Saturated Fat: 4.9g , Cholesterol: 31mg , Sodium: 477mg , Carbohydrates: 0.7g , Fiber: 0.1g , Sugar: 0g , Protein: 5.5g