Marinated mozzarella may be the easiest appetizer recipe ever. The cheese soaks up a simple but flavorful marinade, making this bite sized cheese appetizer completely crave-worthy.
Today I announce that I have fallen off the mozzarella wagon. You may have noticed that it has been a little while since I have shared a recipe that showcases mozzarella. The truth is, I have been trying not to eat so much of it. I have been trying not to let the creaminess that is mozzarella take over me, trying not to crave it. But in all honesty, when it comes to mozzarella, I am weak. And this week, as I walked past the cheese counter at the grocery store and saw the fresh bite size mozzarella balls smiling at me like Mickey Mouse smiles at kids at Disneyland, I caved. I bought two tubs and I came home and made this marinated mozzarella. The marinade allows the flavor of the mozzarella to shine.
This marinated mozzarella recipe is so easy to make.
Heck I don't even know how I feel about calling it a recipe. It is that easy. Despite the fact that this mozzarella appetizer is so simple, I still want to share it. However, it does take a bit of planning, because the mozzarella needs to marinate in the olive oil herb mixture for at least 4 hours so that it can soak up all of the wonderful flavors of the olive oil, oregano, basil and crushed red pepper.
If you want your marinated mozzarella to be even more flavorful, let it sit a couple hours more. You'll be glad you did.
This easy cheese appetizer is a little bit salty, so it pairs well with appetizers that are crunchy, like Summer Tomato Bruschetta on toast.
Do you have a cheese obsession? What's your favorite appetizer? Come share your thoughts with me on my Facebook page!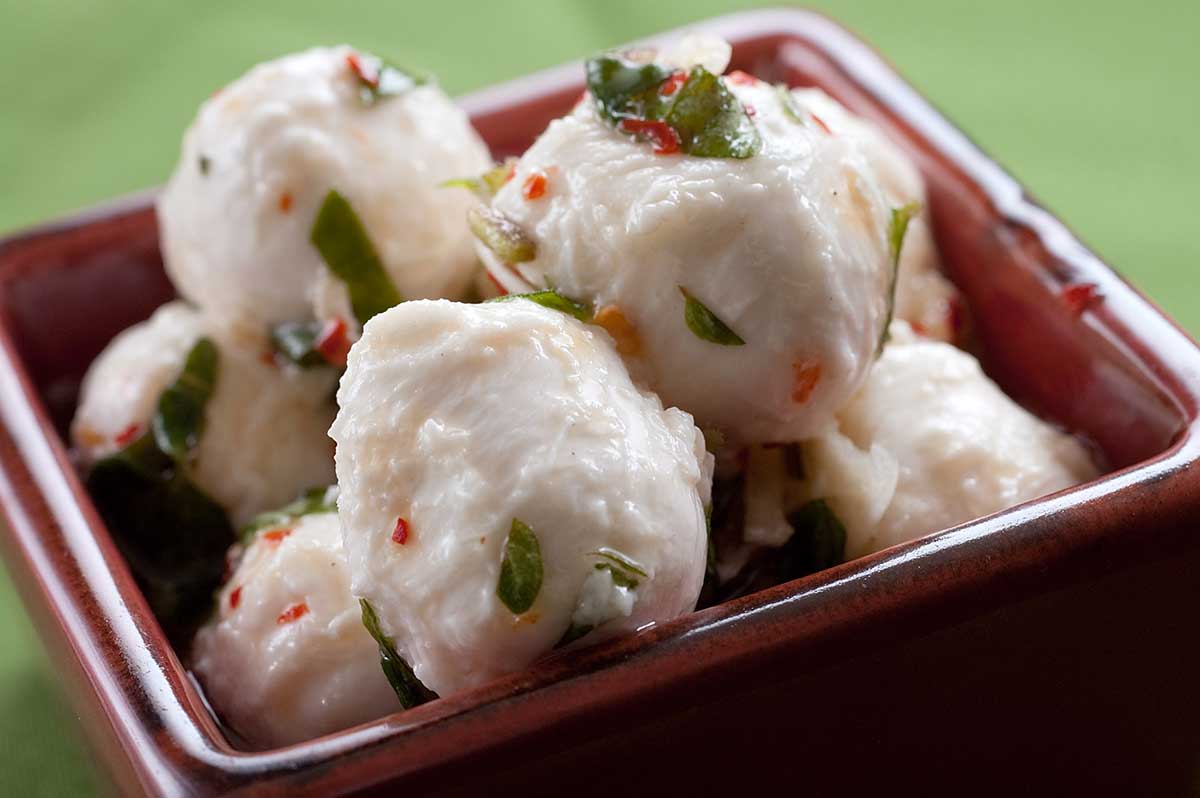 Ingredients:
3/4 cup olive oil
2 cloves garlic minced
1 tablespoon fresh basil, chopped
1 tablespoon fresh oregano, chopped
1/4 teaspoon kosher salt
1/4 - 1/2 teaspoon crushed red pepper
8 ounces ciliegini mozzarella (bite size mozzarella balls)
Instructions
1
In a bowl whisk together olive oil, garlic, basil, oregano, kosher salt and crushed red pepper. Pour over mozzarella. Cover and refrigerate for at least 4 hours. Serve.