Marinated Mozzarella Appetizer
Marinated mozzarella balls may be the easiest appetizer recipe ever. The cheese soaks up a simple but flavorful marinade, making this bite sized cheese appetizer completely crave-worthy.
Whether you are planning an epic holiday bash, a book club night or a game day party, you are going to need some easy appetizers to serve. With this super easy Marinated Mozzarella, you'll be on your way to party snack perfection in no time.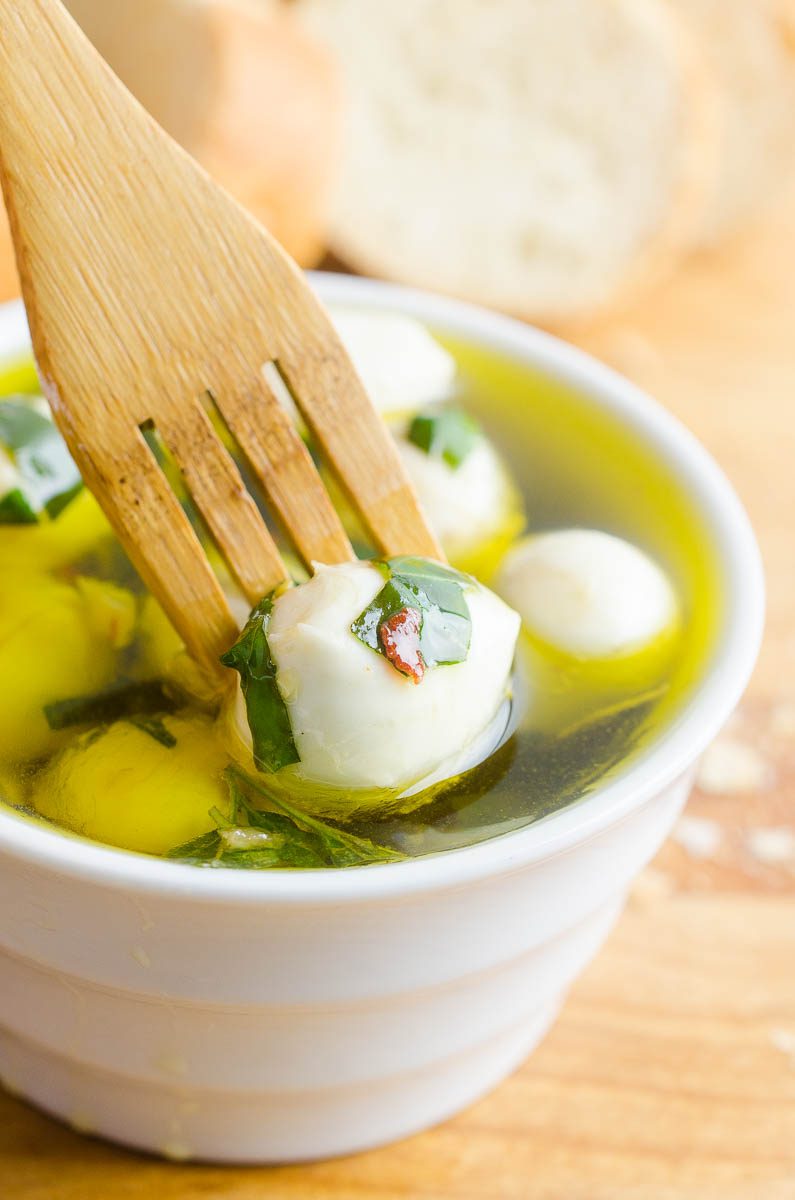 This marinated mozzarella balls recipe is so easy to make.
Heck I don't even know how I feel about calling it a recipe. It is that easy. Despite the fact that this mozzarella appetizer is so simple, I still want to share it.
Despite being easy, it does take a bit of planning, because the mozzarella needs to marinate in the olive oil herb mixture for at least 4 hours so that it can soak up all of the wonderful flavors of the olive oil, oregano, basil and crushed red pepper.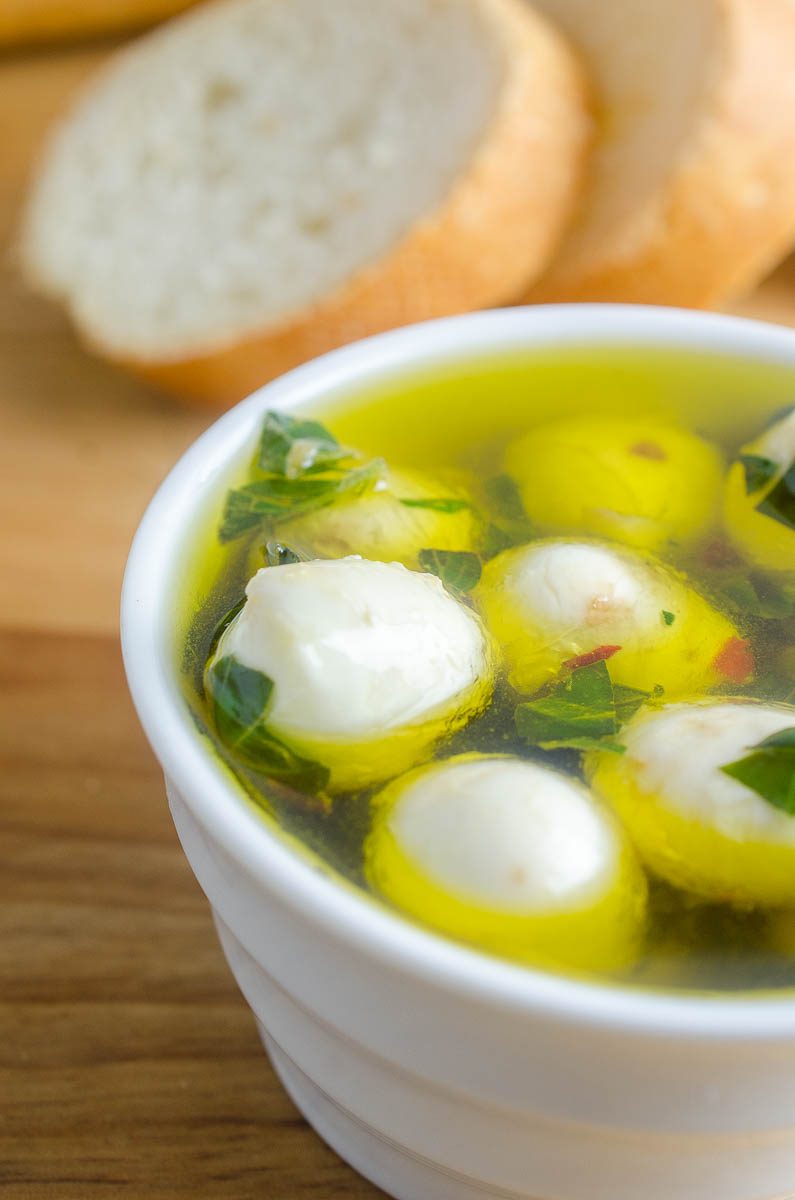 What is the difference between bocconcini, ciliegne and mozzarella?
This is a common question and one you may find yourself asking when you are standing in front of the deli cheese section at your grocery store.
The answer is pretty simple though: Bocconini and cilienge are different sizes of mozzarella cheese balls. Bocconini is a bit bigger than cilienge but both are bite sized. You'll find them both stored in water in. You can use either for this recipe.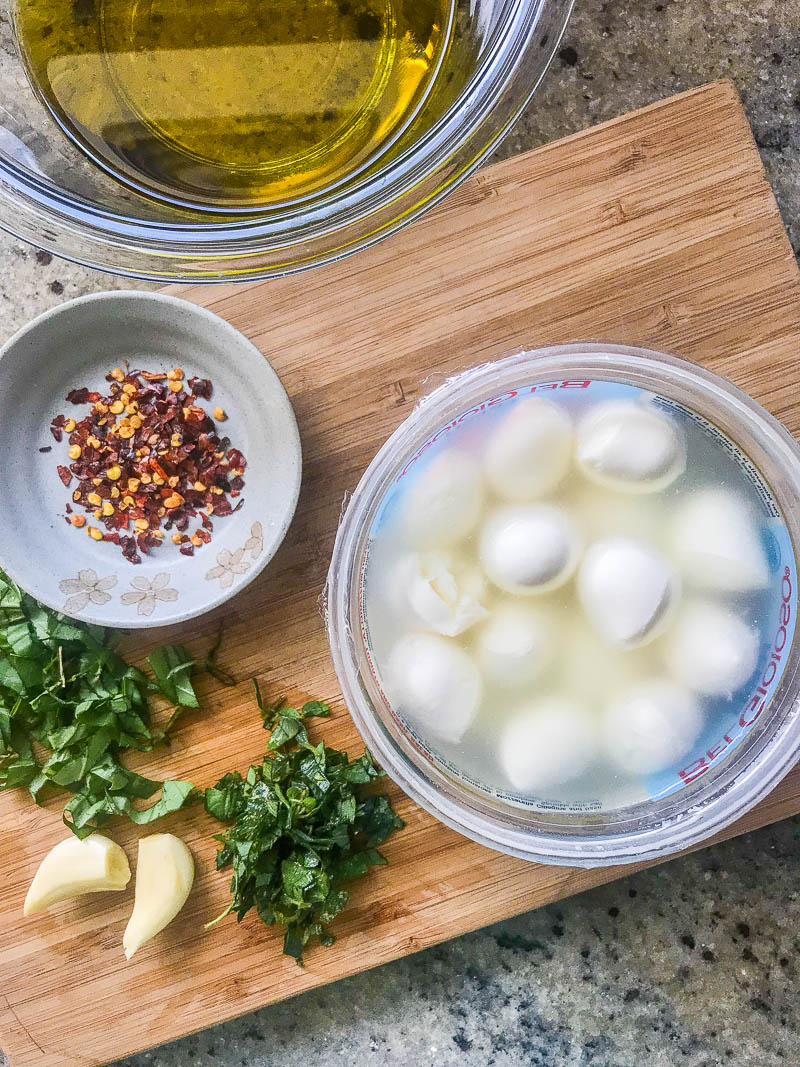 What ingredients do you need to make marinated mozzarella?
For this recipe, you will need: olive oil, garlic, basil, oregano, salt, crushed red pepper and mozzarella.
Because there are so few ingredients, it is essential that you pick high quality ingredients. Especially the extra virgin olive oil. For this recipe, I actually prefer Kalamata olive oil. It is smoother and less bitter than some of the other types I have tried.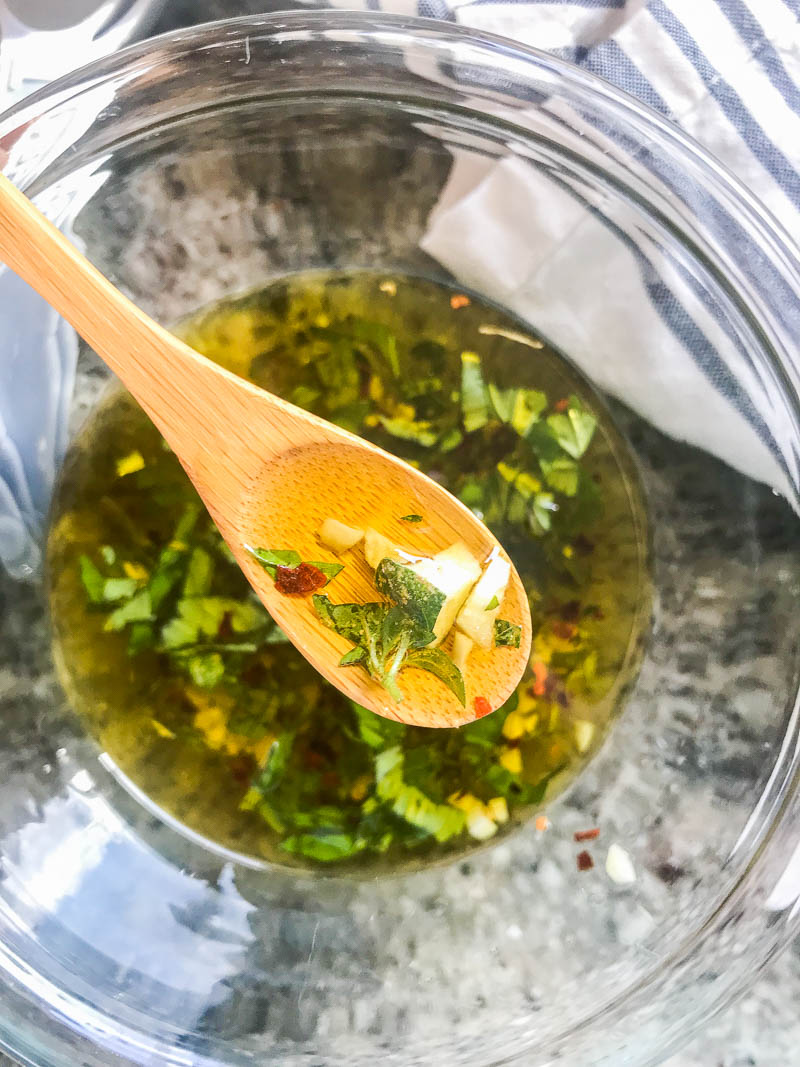 Trader Joe's sells a variety but use whatever olive oil you love the taste of.
DES' PRO TIP

: If you want your marinated mozzarella to be even more flavorful, let it sit for several hours. You'll be glad you did.
How long will marinated mozzarella last?
Because of the fresh chopped garlic and fresh herbs, it is best to eat this within a few days.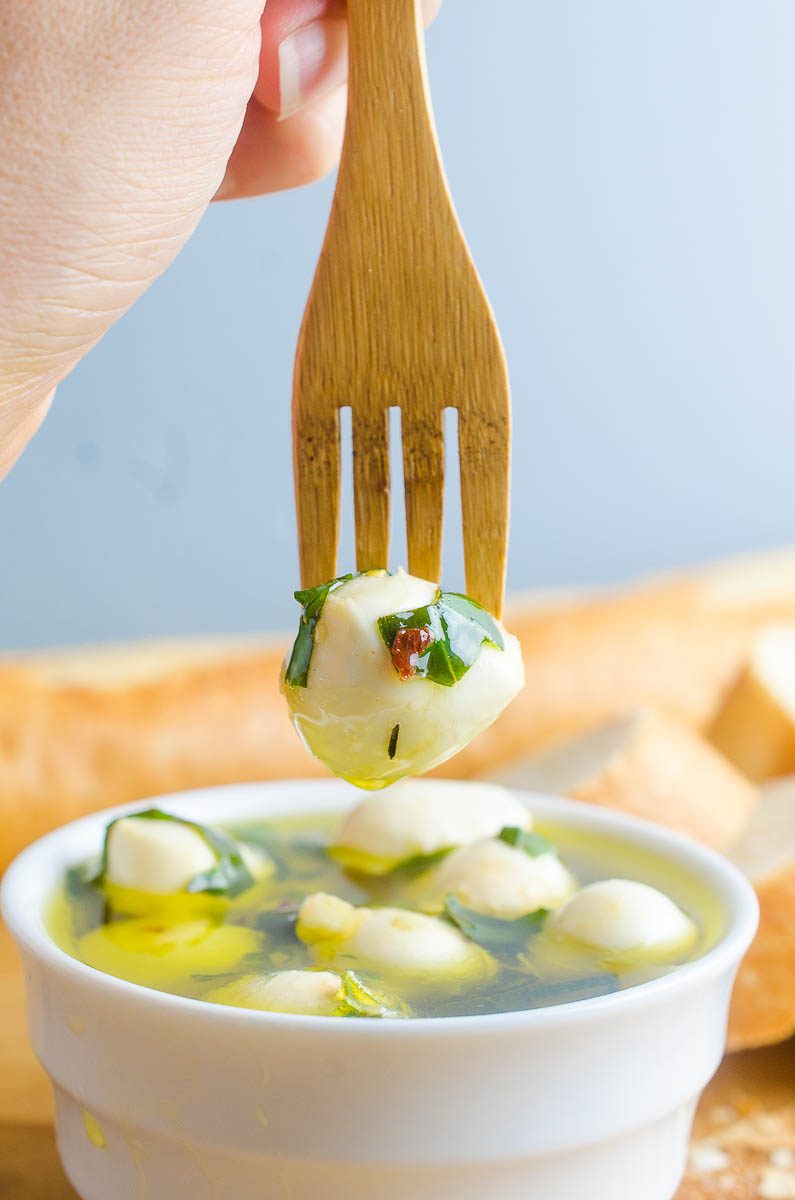 What should you serve this marinated cheese with?
This easy cheese appetizer is a little bit salty, so it pairs well with appetizers that are crunchy, like Summer Tomato Bruschetta on toast. It is also excellent when added to salads and a must for all of your cheese boards.
Do you have a cheese obsession? What's your favorite appetizer? Come share your thoughts with me on my Facebook page!
If you love mozzarella, you have got to check out these recipes:
Caprese Avocado Breakfast Toast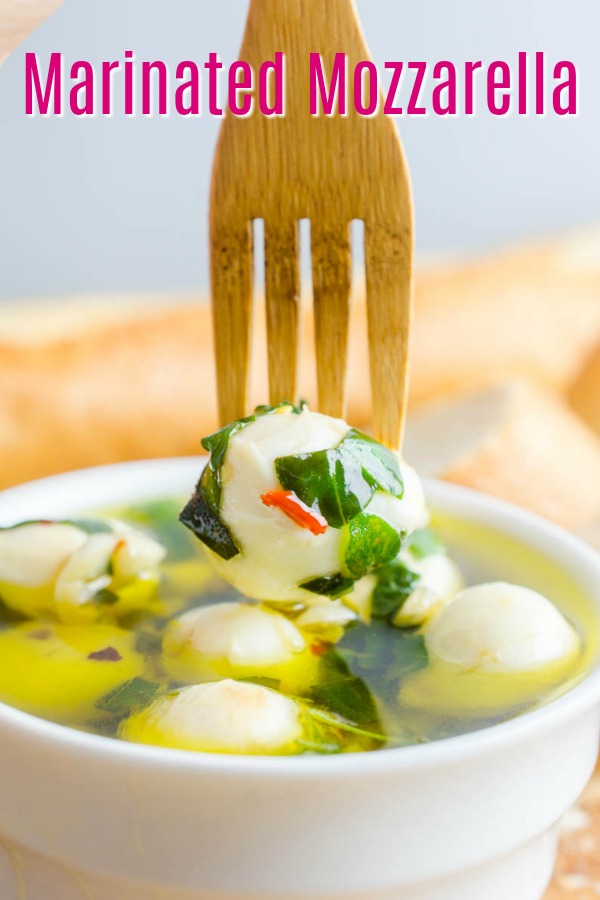 Planning a party? Check out more of my most popular appetizers for a crowd!
Note: This post was originally written in 2010. It was updated in 2019 with new photos, information and nutrition facts.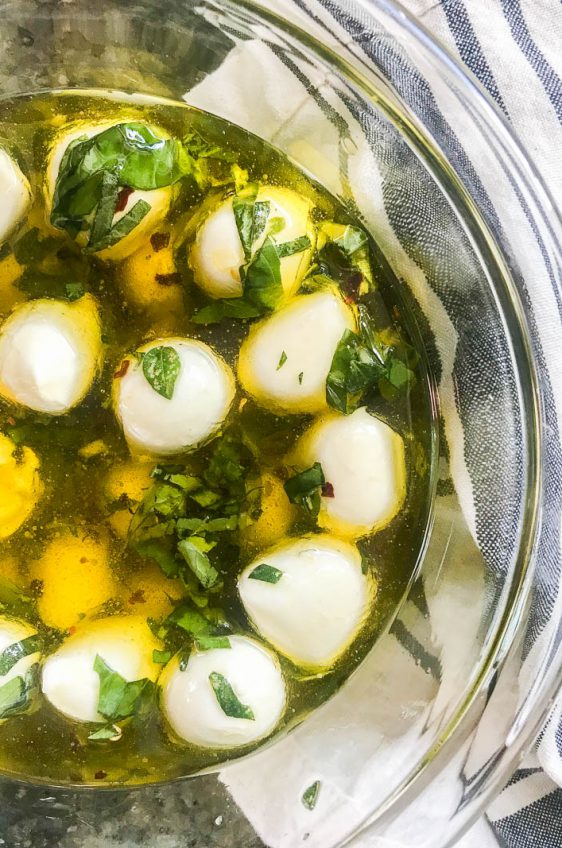 Marinated Mozzarella Appetizer
Marinated mozzarella is an easy appetizer recipe. The cheese soaks up a simple but flavorful marinade, making this bite sized appetizer recipe crave-worthy.
In a bowl whisk together olive oil, garlic, basil, oregano, kosher salt and crushed red pepper. Pour over mozzarella. Cover and refrigerate for at least 4 hours. Remove at least 30 minutes before serving.

Store leftovers in the refrigerator for up to 3 days.
Nutrition facts are estimations only.
Calories:
334
kcal
Carbohydrates:
0.9
g
Protein:
7.7
g
Fat:
32.9
g
Saturated Fat:
7.4
g
Cholesterol:
19
mg
Sodium:
154
mg
Fiber:
0.4
g
Sugar:
0.1
g
Keywords:
appetizer, italian, mozzarella, olive oil, Recipe, snack