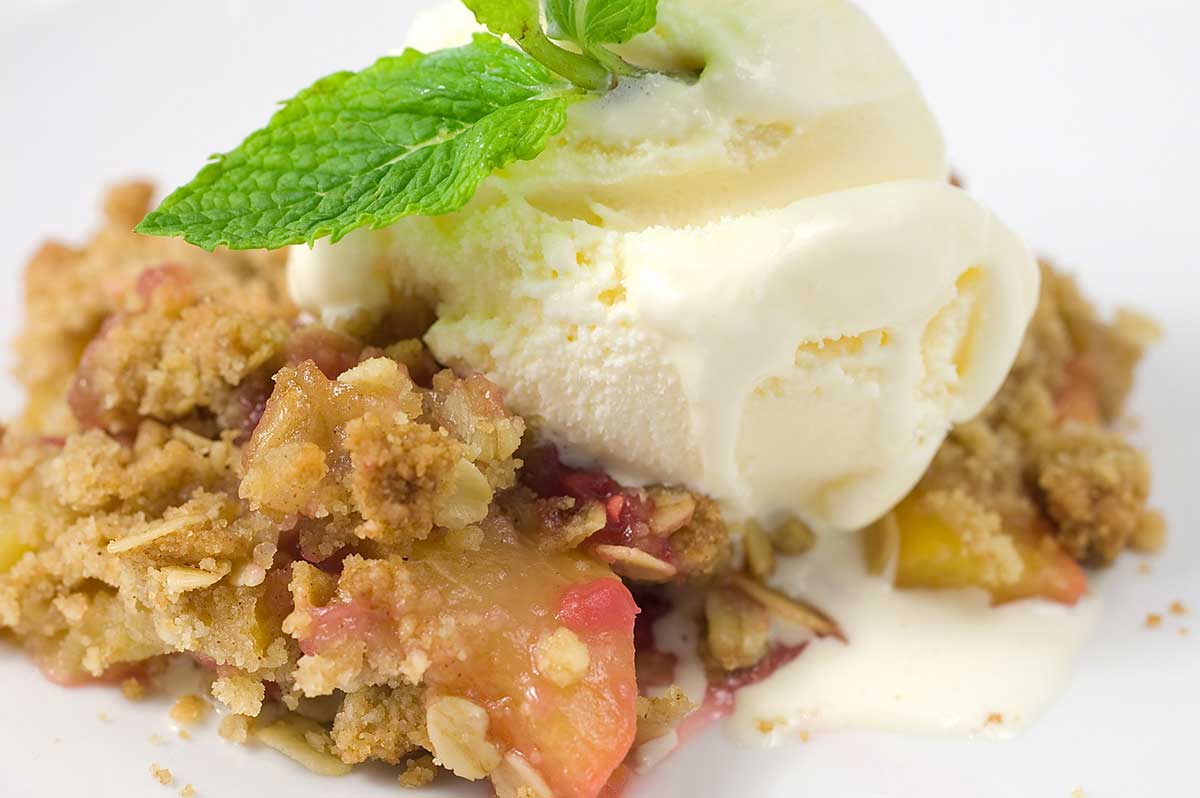 Raspberry Peach Crisp
It is amazing what smells can do. The smell of pine trees evokes memories of Christmas tree hunting. The smell of tomatoes on the vine will always remind me of summers in my moms backyard. The smell of the roasting pork from the sandwich shop down the street makes my stomach rumble.  And apparently the smell of fresh peaches makes me stop in my tracks at the grocery store, pick up a few and rush home to make raspberry peach crisp.
One of the reasons that I shy away from baking desserts most of the time is the fact that some of them are pretty complicated. But this raspberry peach crisp is just the opposite of that. I toss freshly sliced peaches and raspberries with sugar and a little flour. Next I top them with a crumb topping and pop it in the oven until the fruit is bubbly and the crumb topping is slightly golden.
Raspberry Peach Crisp Recipe
Ingredients:
4-5 medium peaches, peeled, pitted and sliced (about 4 cups)
6 ounce container of raspberries
1 tablespoon granulated sugar
1/2 cup plus 1 tablespoon dark brown sugar
1 cup plus 1-2 tablespoons all purpose flour
1/4 teaspoon salt
1/2 cup rolled oats
1/4 teaspoon cinnamon
sprinkle of nutmeg
1/2 cup cold unsalted butter, cut into pieces
French vanilla ice cream (optional)
Instructions
1
Preheat oven to 350 degrees.

2
In a bowl mix sliced peaches, raspberries, granulated sugar, 1 tablespoon dark brown sugar and 1 tablespoon of flour. If peaches are really juicy add another tablespoon of flour, this will help keep the dessert from getting soupy. Pour mixture into a 13 x 9 inch baking dish.

3
In another bowl combine remaining brown sugar, remaining flour, salt, oats, cinnamon and nutmeg. Using a pastry cutter, cut butter pieces into the dry mixture until it becomes crumbly. (Note: Be patient this make take a little while but trust me it will get crumbly.)

4
Sprinkle crumb topping over the top of fruit mixture.

5
Bake for 35-40 minutes or until the crumb topping starts to turn golden. The fruit may bubble slightly through the topping.

6
Allow to cool for several minutes. Serve with french vanilla ice cream on top.
Notes
The smell of fresh peaches at the grocery store may have made me stop in my tracks to pick some up but the smell of this dessert cooking had both Ryan and me hovering over the oven waiting for it to finish. Enjoy!