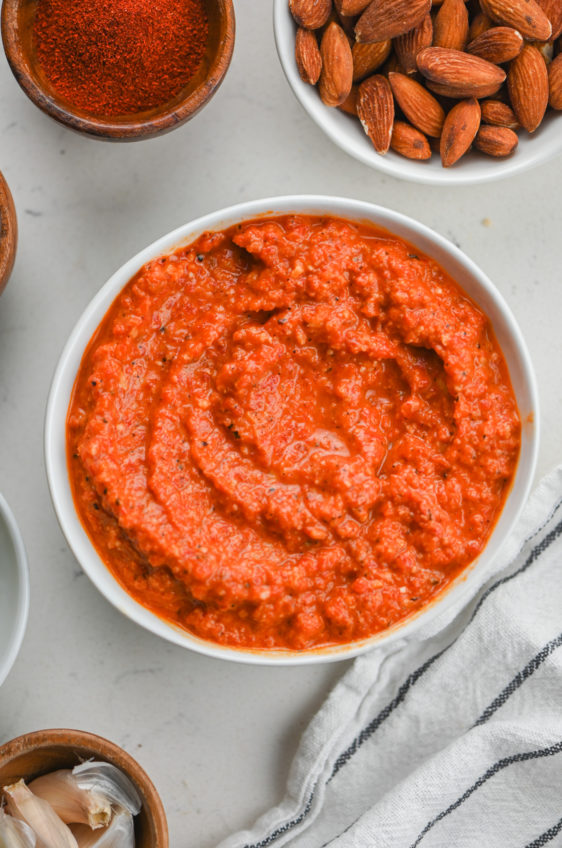 Romesco Sauce
Jump to Recipe
Romesco Sauce is a rich tomato based Spanish sauce made with fire roasted tomatoes, red peppers and almonds. It's full of flavor and great with seafood and bread.
If you're like me you're always on the hunt for a good sauce or dip. You know, something that you can add to your favorite meat or seafood dish to elevate it a bit more. Something that is great to dunk some crusty bread in. If that sounds like you, then you are going to fall head over heels in love with this Romesco Sauce.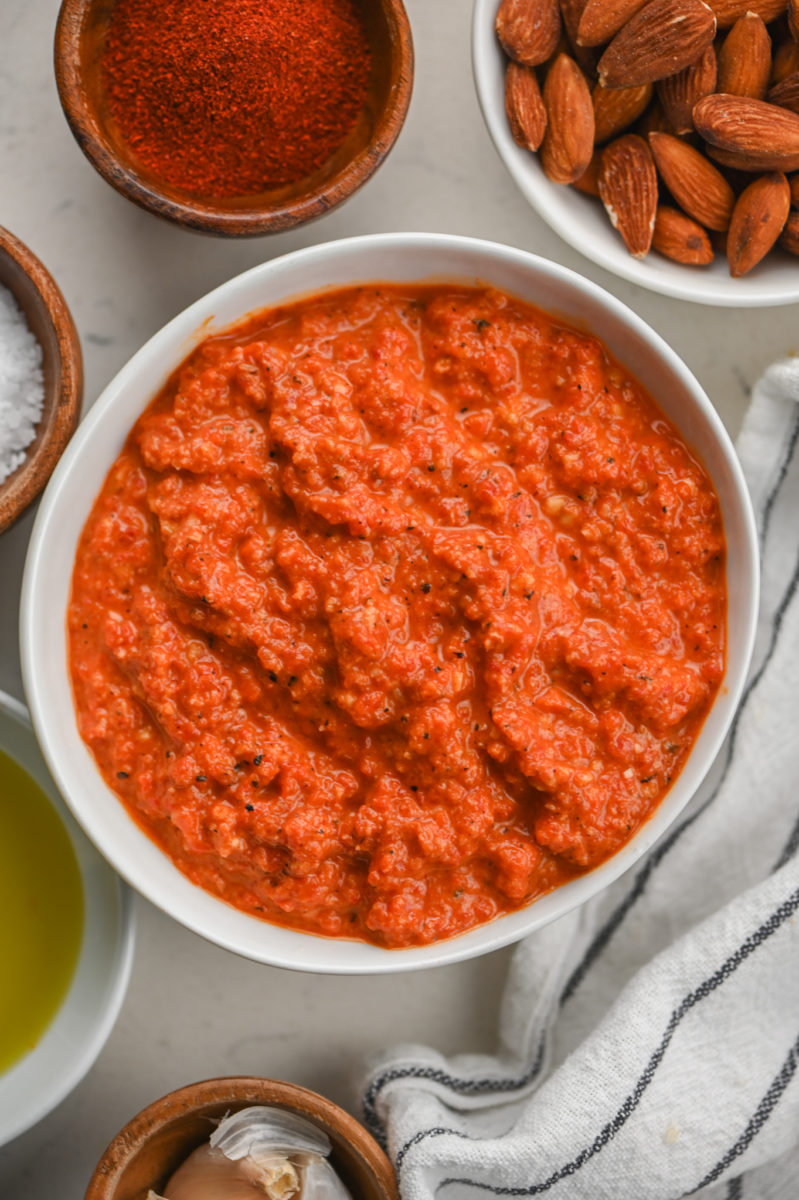 What is Romesco Sauce?
Romesco Sauce originated in Catalonia. It is a rich, robust tomato based sauce. It is usually made with tomatoes, almonds, red peppers, garlic and bread to thicken. All of the ingredients are processed or blended together to create a paste. It's garlicky, smoky, lightly sweet and full of flavor. It is often used on fish or chicken or with roasted vegetables.
Romesco Sauce Ingredients:
While I was researching different recipes to see how a basic Romesco sauce was made I came across several different variations but there were a few main staples: tomatoes and nuts.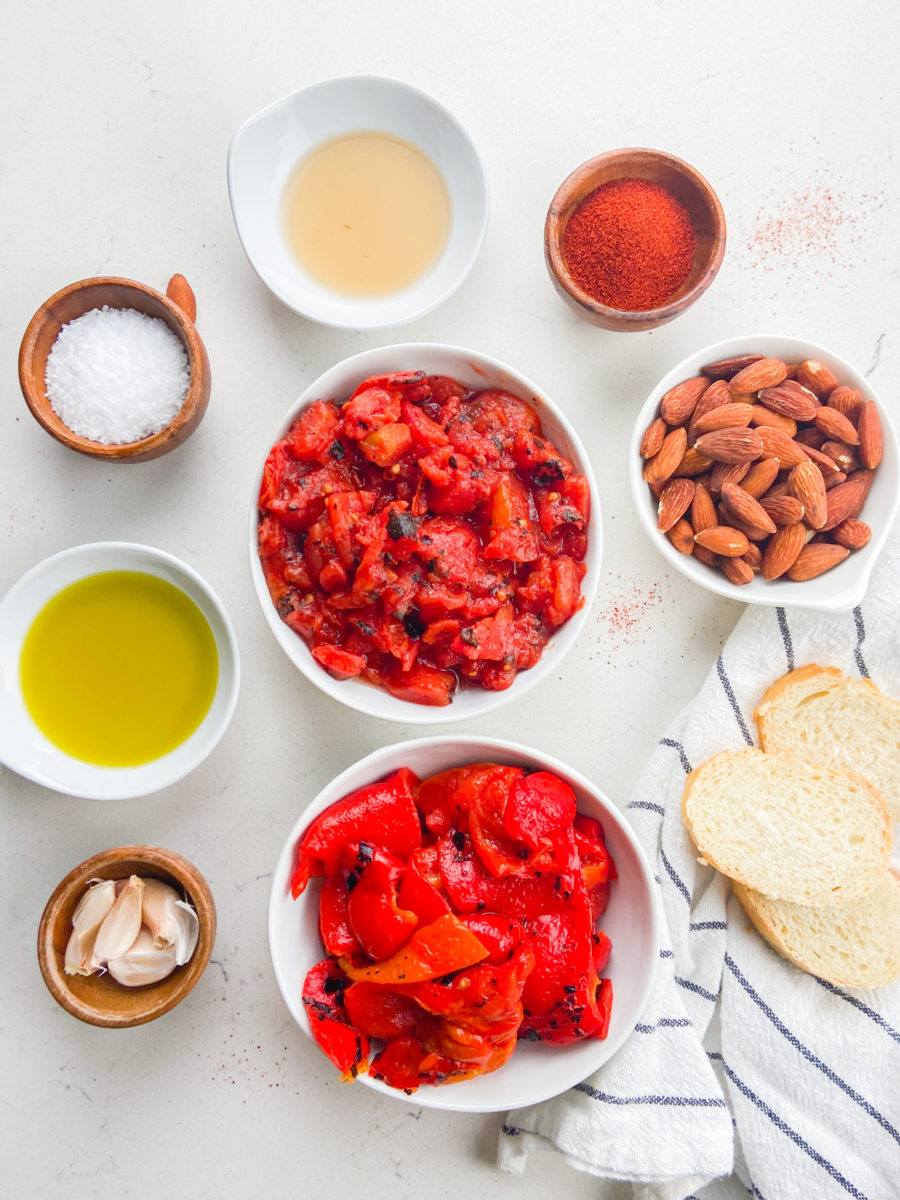 FIRE ROASTED TOMATOES: Using fire roasted tomatoes adds a charred smoky flavor to the sauce.
ROASTED RED PEPPERS: Some traditional Romesco sauce recipes call for dried peppers but the ñora pepper which is most often used, isn't readily available here in the United States so we use Roasted Red Peppers which still give a smoky, peppery taste.
ALMONDS: Are a staple in Romesco sauce that add a nutty flavor.
GARLIC
SHERRY VINEGAR: To add a bit of acidity.
PAPRIKA: Adds smokiness and more color.
BREAD: This helps thicken the sauce.
OLIVE OIL: Because this is a raw dish, use the highest quality of olive oil that you have access too. It'll give you the best overall flavor.
Step by Step Photos and Instructions:
Traditionally, Romesco sauce is made using a mortar and pestle. That can be a bit time consuming and not everyone has one lying around. For this recipe, you'll make it right in your food processor.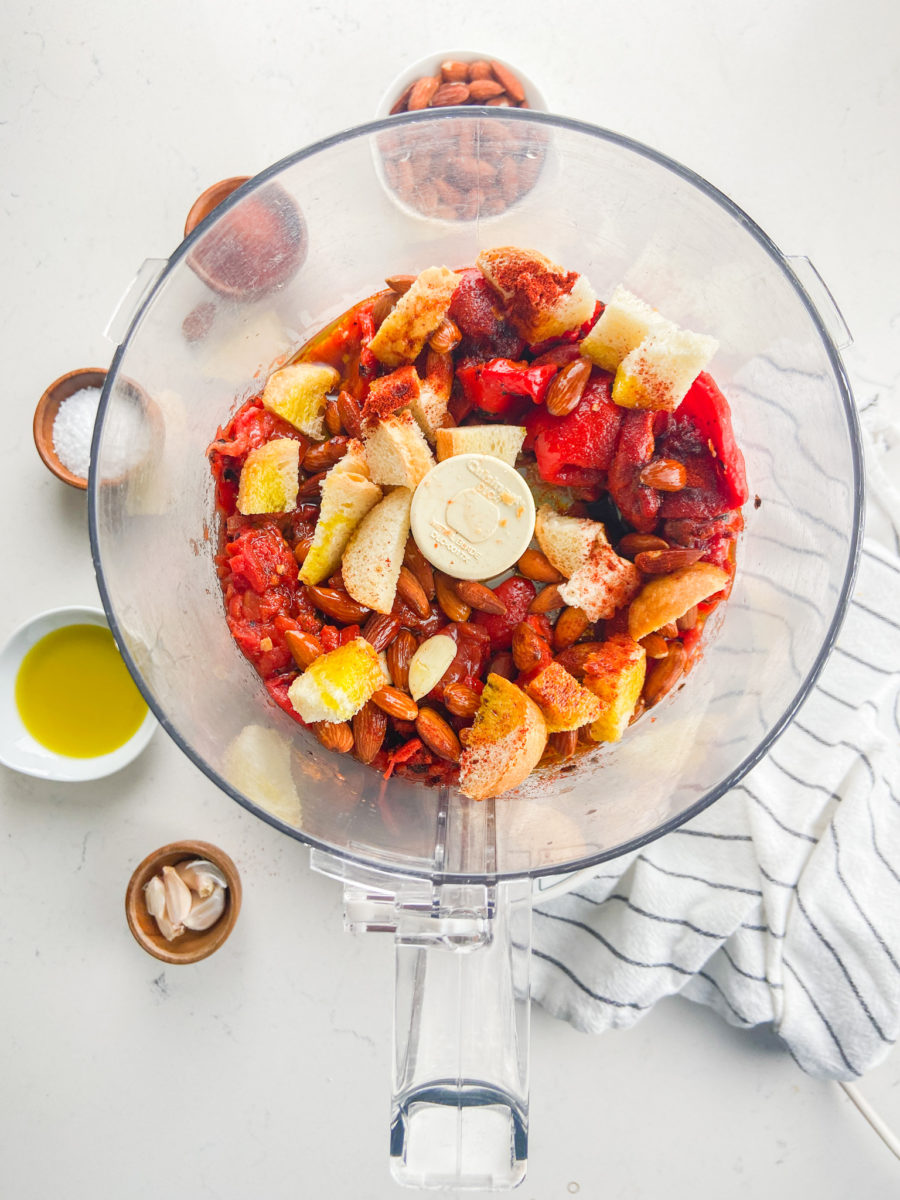 STEP #1: Combine all ingredients together in a food processor.
STEP #2: Process until smooth. Season to taste with salt.
What is Romesco Sauce used for?
Romesco is such a versatile sauce! It can be used for so many things. It's often used as a condiment to add to chicken, fish, and roasted vegetables. It's also great added to pasta, as a spread for sandwiches and, one of my favorite ways, a dip for crusty bread.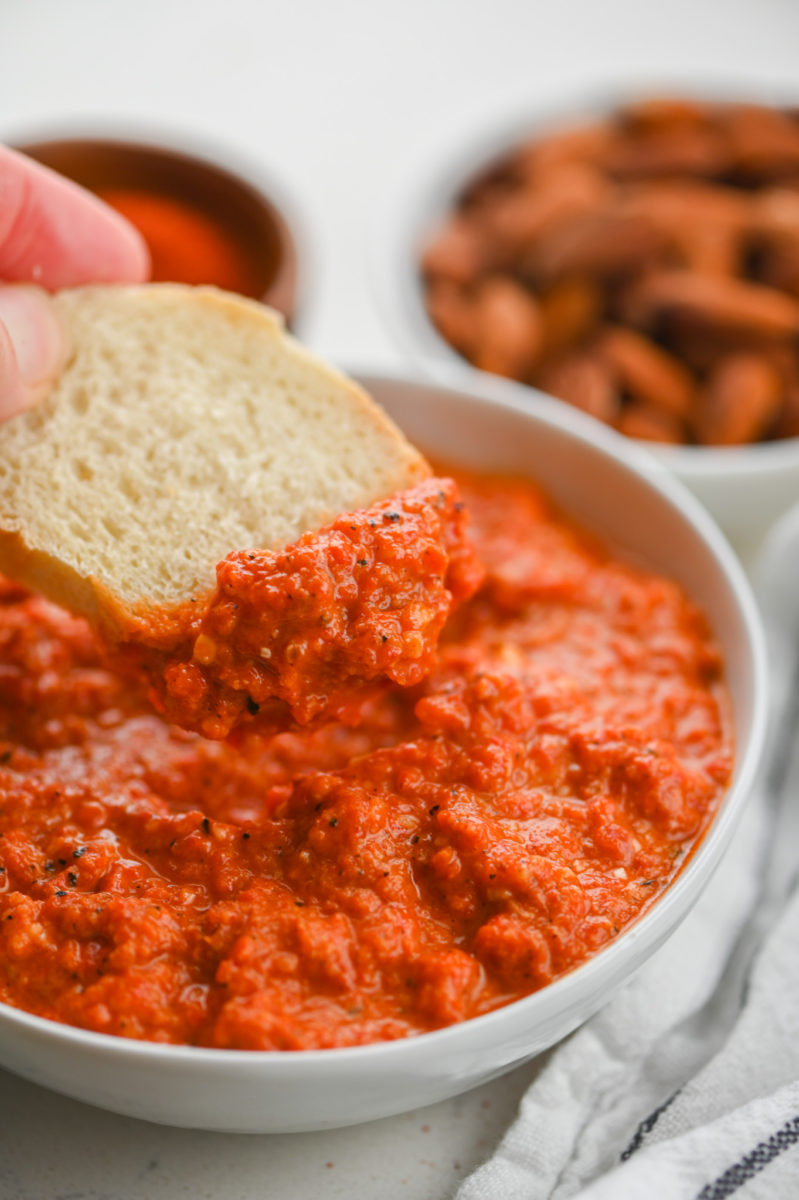 Looking for other condiment recipes? Try these:
Remoulade Sauce is a NOLA classic. This creamy, slightly spicy, sauce is the perfect accompaniment to crab cakes, fried green tomatoes, fried shrimp and more!
A simple tartar sauce recipe for deep fried seafood. With just a few ingredients you can make your own that is better than anything you'd buy!
This Cheater's Garlic Aioli is so easy to make! Serve it as a sandwich spread, dip for fries and chicken strips or to drizzle on salmon.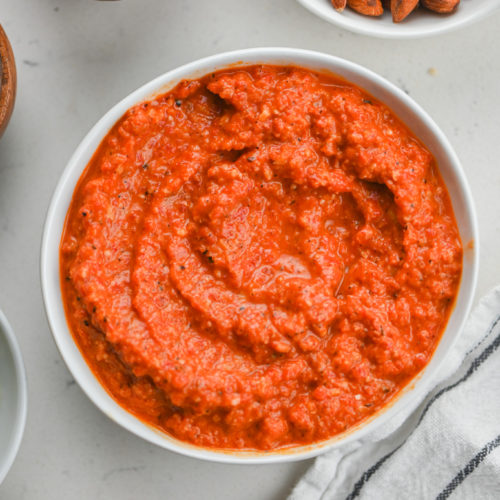 Romesco Sauce
A rich tomato based Spanish sauce made with fire roasted tomatoes, red peppers and almonds. It's full of flavor and great with seafood and bread.
Combine all ingredients in a food processor and process until sauce comes together. Season to taste with salt.
Keep leftovers covered in a the refrigerator and use within a week. The garlic will become stronger the longer it sets.
Nutrition information for estimation purposes only. 
Serving:
2
tablespoons
Calories:
142
kcal
Carbohydrates:
12
g
Protein:
3
g
Fat:
9
g
Saturated Fat:
1
g
Polyunsaturated Fat:
2
g
Monounsaturated Fat:
6
g
Trans Fat:
1
g
Sodium:
930
mg
Potassium:
140
mg
Fiber:
2
g
Sugar:
2
g
Vitamin A:
539
IU
Vitamin C:
29
mg
Calcium:
66
mg
Iron:
1
mg
Keywords:
condiment, Romesco, sauce