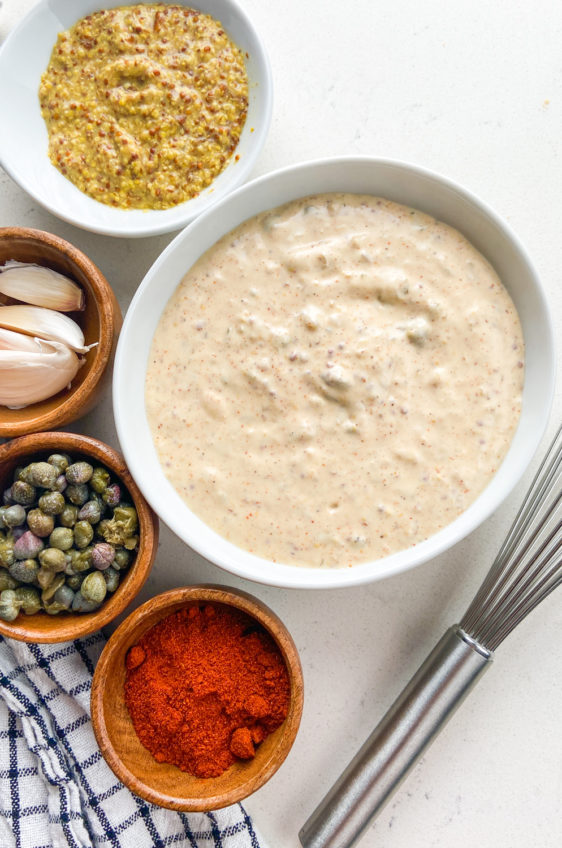 Remoulade Sauce
Remoulade Sauce is a NOLA classic. This creamy, slightly spicy, sauce is the perfect accompaniment to crab cakes, fried green tomatoes, fried shrimp and more!
Prounounced reh-moo-lahd, this classic condiment is popular in Louisiana. It is a creamy mayo based sauce that has a slight kick to it thanks to the Creole seasoning and horseradish.
Because of its bright flavor, remoulade is fantastic on so many different things. Especially seafood like Maryland Crab Cakes, Popcorn Shrimp, and Fried Cod. It would also be fantastic with Fried Green Tomatoes.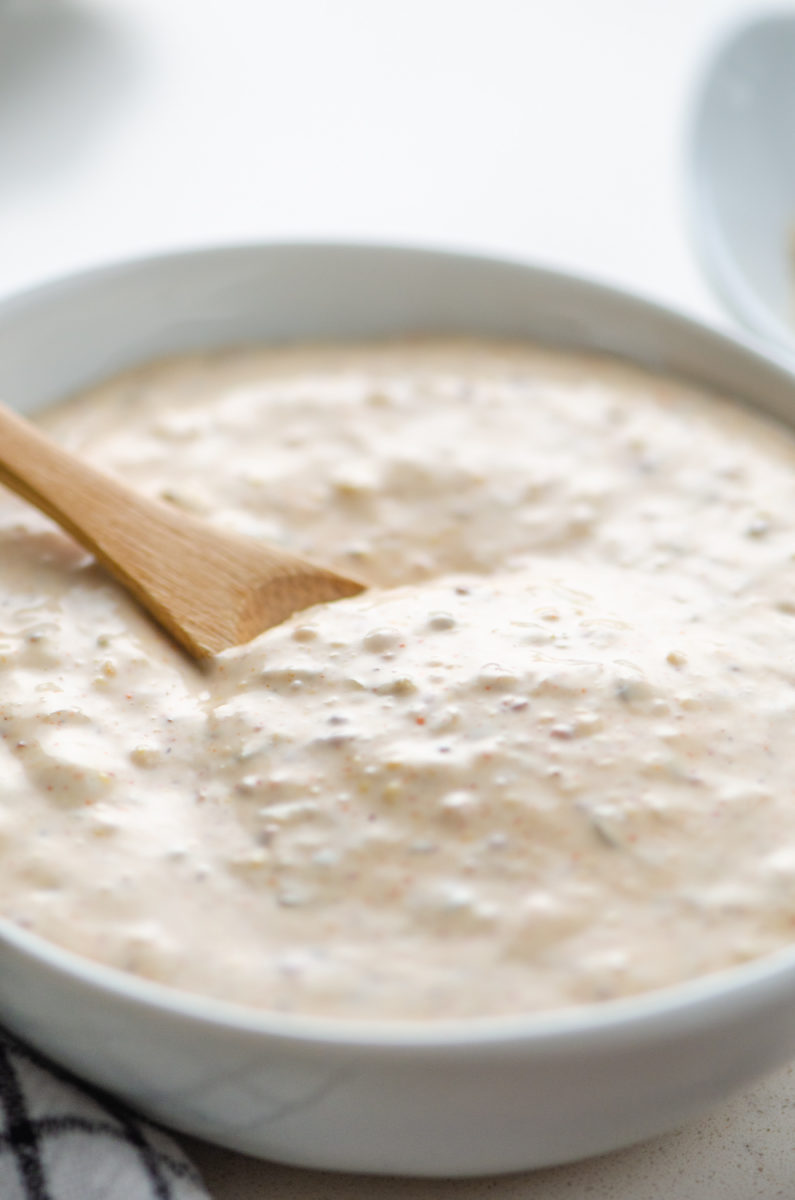 What is Remoulade Sauce made of?
You don't need a ton of fancy ingredients to make this remoulade. Most of the ingredients, aside from capers, you'll likely have on hand.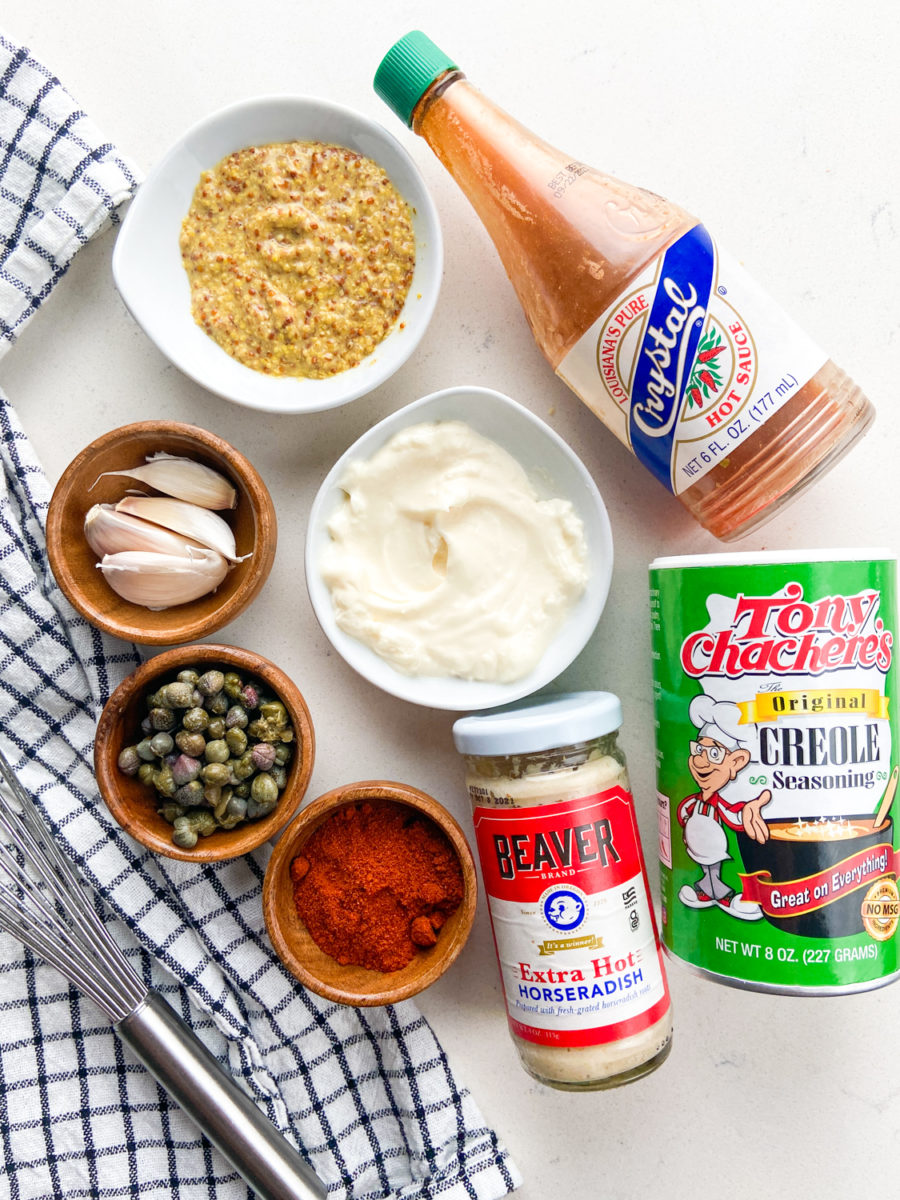 Mayonnaise: Use a high quality mayonnaise. I prefer Best Foods (Hellman's for you readers East of the Rockies).
Stone ground mustard: Creole mustard is traditional but stone ground works. You just want a "coarse" style mustard for flavor and texture. Don't substitute yellow mustard.
Creole Seasoning: I use Tony Chachere's but you can use your favorite blend! If you want it to be a little less spicy use a blackening seasoning.
Capers: If you don't know capers are the bud of a flower and they have a salty briny flavor. Non-peril capers are what I use in this recipe. They are the smaller capers that you'll find in the grocery store.
Paprika: To add color as well as a smoky flavor.
Prepared Horseradish: Adds a kick to the sauce.
Garlic: Mince it fine or grate it into the sauce so you aren't biting into large pieces of raw garlic.
Hot Sauce: Use your favorite Crystal Hot Sauce is traditional but Tabasco works as well.
You may notice that there is no additional salt in this recipe. That is because both the capers and (depending on the brand you use) Cajun seasoning will have salt. If you think you want to adjust the salt, I would wait until after you have let the sauce chill and the flavors meld. Just to make sure it's not overly salty.
How do you make Remoulade from scratch?
Ok seriously. It could not be easier. Simply combine all of the ingredients together in a bowl and whisk.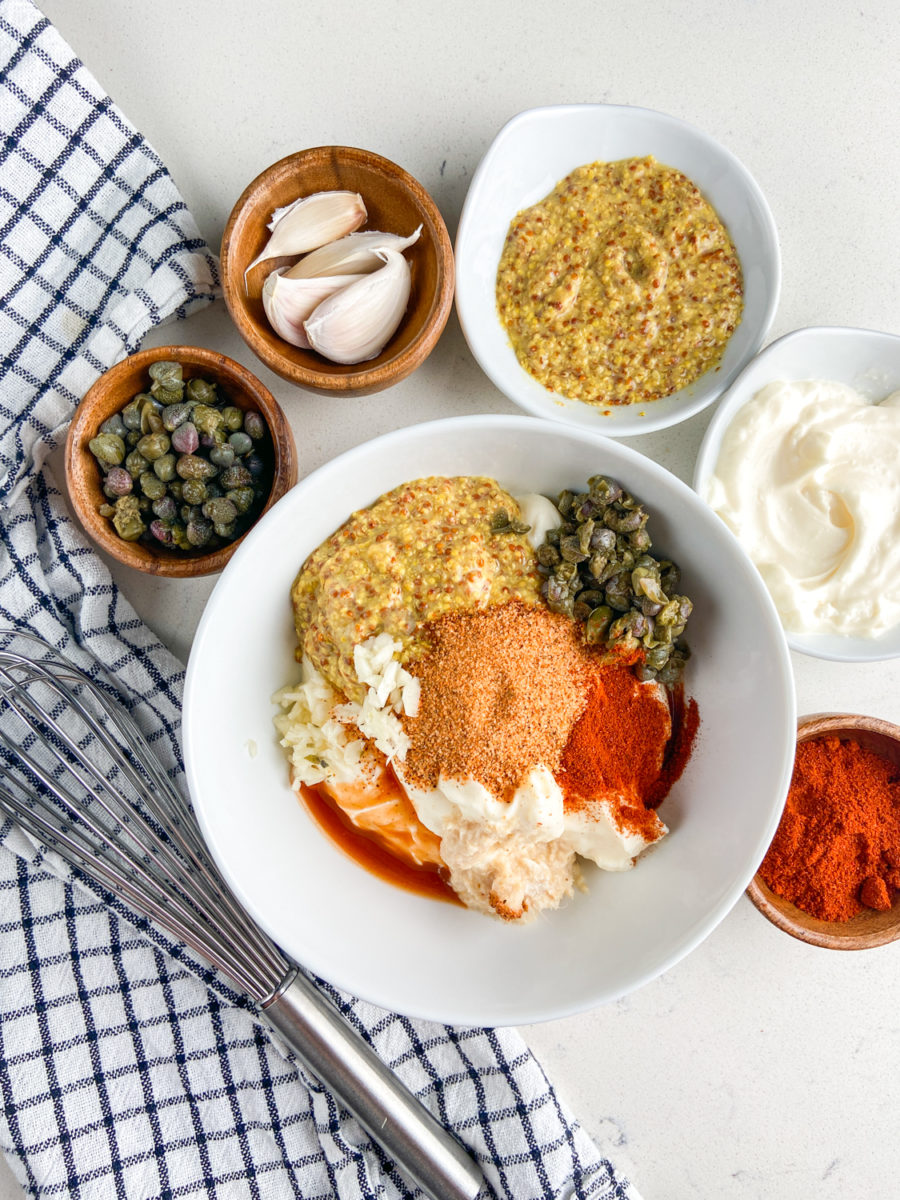 The hardest part about making an easy remoulade is the waiting. It's important to allow the sauce plenty of time to chill. About an hour or so, longer is even better. During this time the flavors have a chance to meld and give this sauce is classic flavor.
This sauce is so great to spoon on just about anything, in addition to the seafood dishes listed above this would also be fabulous with just about any crispy thing you want to dip like Air Fryer Artichoke Hearts or Fried Chicken Tenders.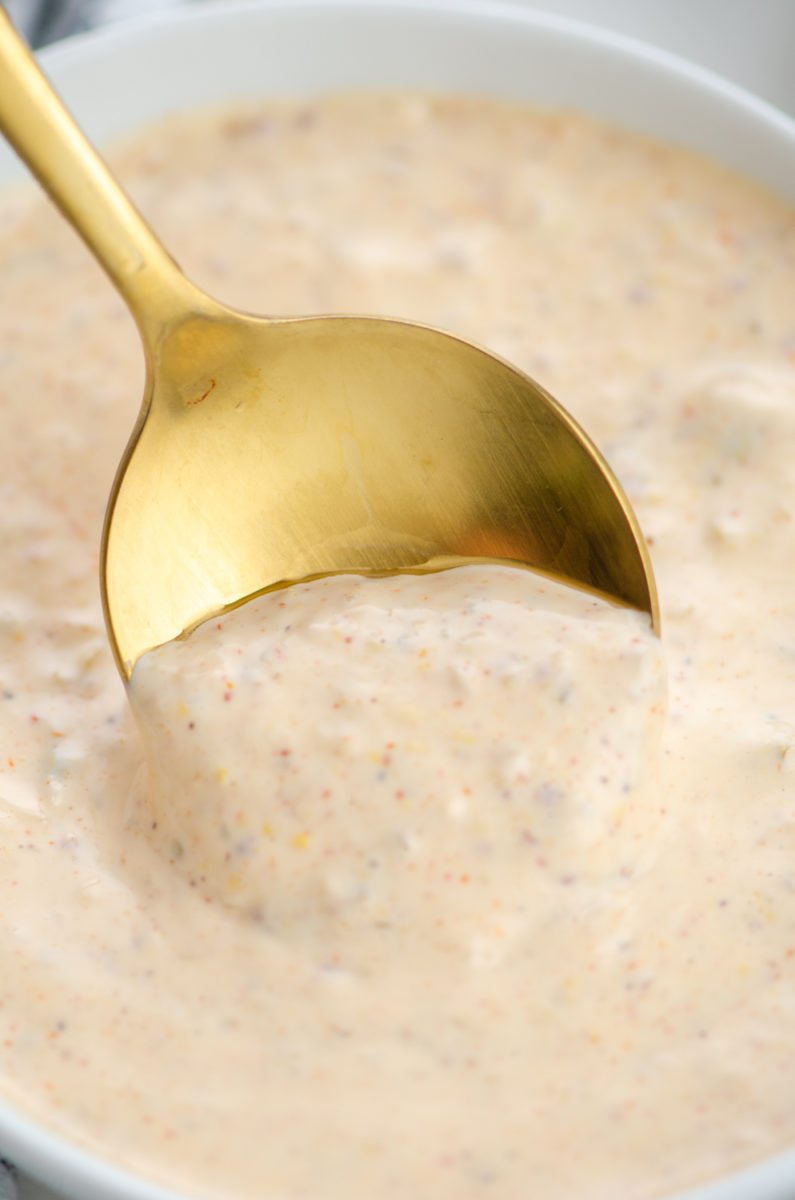 If you liked this Remoulade Recipe and want to make more of your own condiments Check out these other homemade sauce recipes: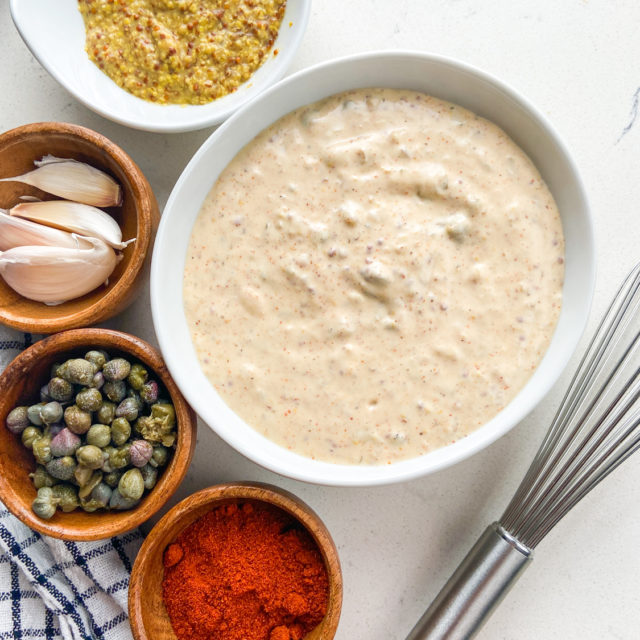 Remoulade Sauce
Remoulade Sauce is a NOLA classic. This creamy, slightly spicy, sauce is the perfect accompaniment to seafood dishes and fried green tomatoes!
Ingredients:
1

cup

mayonnaise

3

tablespoons

stone ground mustard

1 1/2

teaspoon

Creole seasoning

2

teaspoons

capers minced

1

teaspoon

prepared horseradish

1

teaspoon

hot sauce

1/4

teaspoon

paprika

1

clove

garlic

minced
Whisk all ingredients together in a bowl. Cover and chill for at least 1 hour. Will keep for

Keep sauce in a covered container in the refrigerator for up to two weeks.
Capers are salty and Creole seasoning may also have salt which is why there is no additional salt in this recipe. I would wait until after chilling before adding additional salt to suit your tastes.
The chilling gives the flavors a chance to meld, don't skip this step! The longer it sits the better the flavor. You can keep sauce covered in the refrigerator for up to two weeks.
If you want to make this a little less spicy, you can use blackening seasoning. It will have a lot of the same Cajun flavors but a little less heat.
Nutrition information for estimation purposes only.
Calories:
119
kcal
Carbohydrates:
7.7
g
Protein:
0.3
g
Fat:
10
g
Saturated Fat:
1.4
g
Cholesterol:
8
mg
Sodium:
477
mg
Fiber:
0.1
g
Sugar:
2
g
Keywords:
cajun, creole, sauce