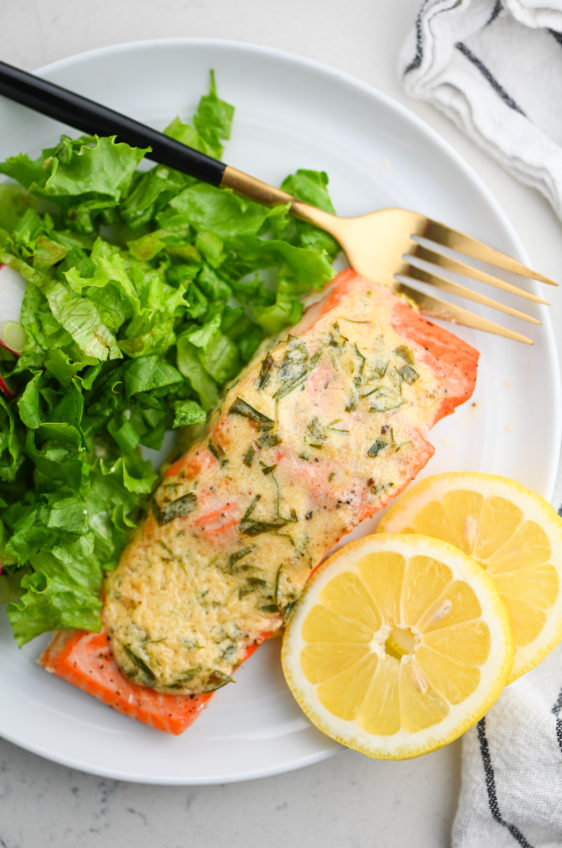 Salmon with Dijon Tarragon Sauce
This Salmon with Dijon Tarragon Sauce is going to be your new favorite way to make salmon. Easy enough for a weeknight but decadent enough for date night!
Here in the Pacific Northwest, Salmon is kind of our thing. You can find fresh, often wild, salmon at just about any grocery store. We are really lucky that way! And because it's such a delicious, nutritious protein to add to your diet, I am always looking for new ways for my family to enjoy it.
My latest attempt was this Salmon with Dijon Tarragon Sauce and while it sounds fancy, it's incredibly easy to make! You'll only need a handful of ingredients and 30-ish minutes in the kitchen and bam! A decadent, gorgeous meal will be on your table.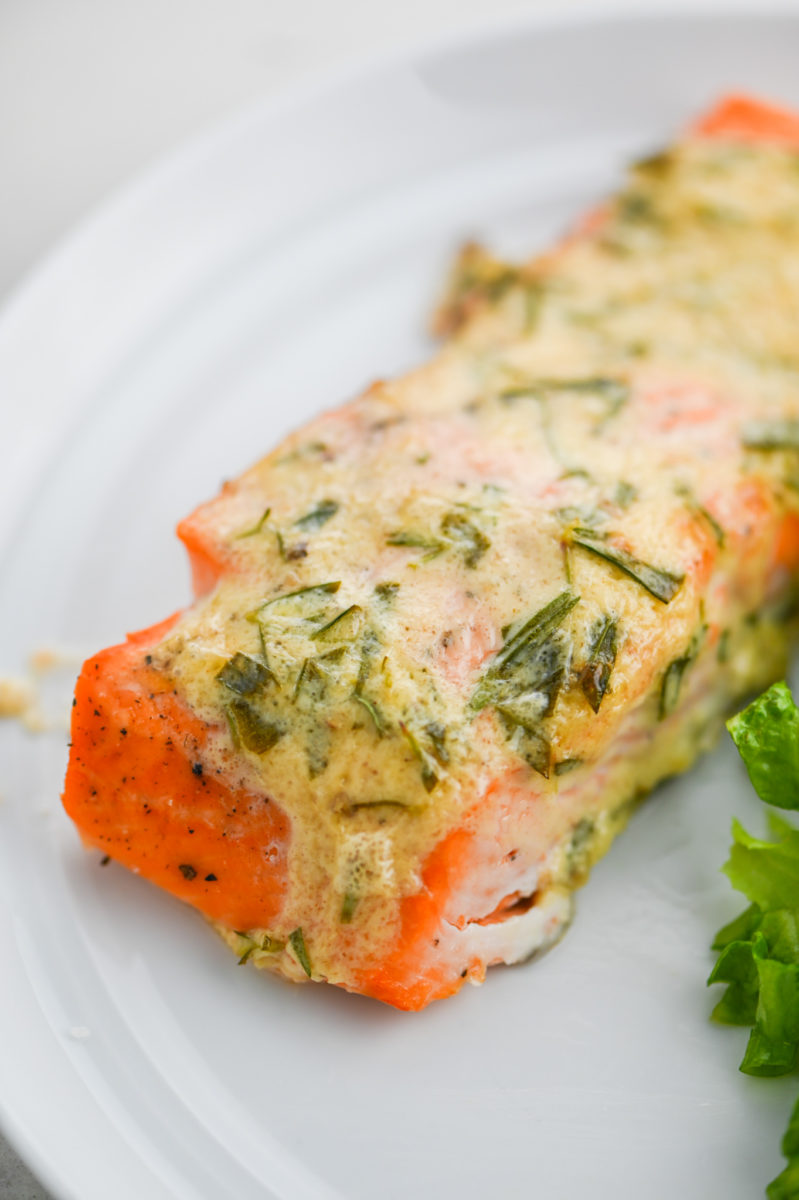 Let's talk about the ingredients that you'll need to make it happen.
Ingredients that you'll need: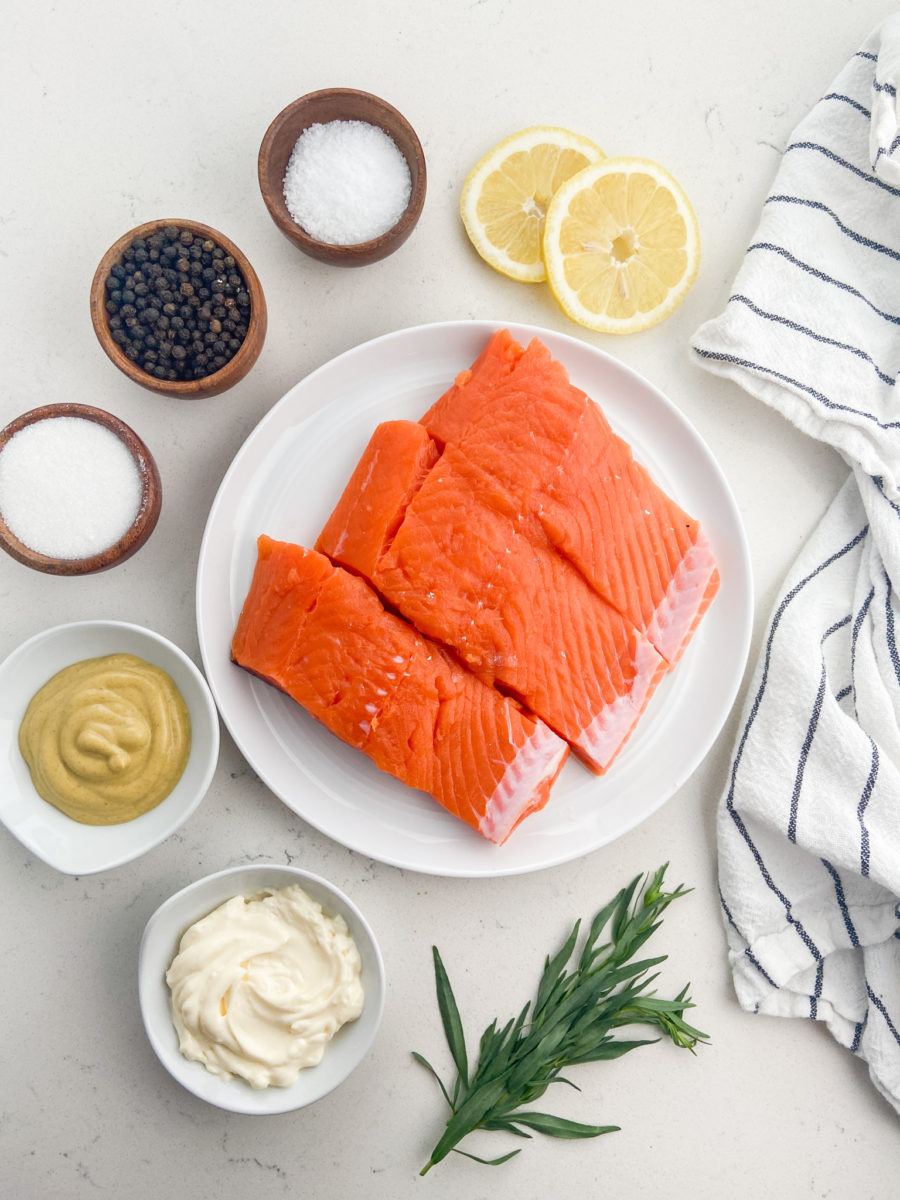 This recipe is essentially broken down into two different recipes: The salmon and the sauce.
SALMON FILLETS: I prefer to use wild king or sockeye salmon for this recipe. It is what I find most often in my local grocery store. You can use which ever salmon fillet that is available and fits your budget.
SALT/PEPPER: This is the only seasoning that the salmon will get. You want the flavor of the salmon as well as the sauce to shine.
MAYONNAISE: This is where the creaminess in the sauce comes from. It might seem odd but mayonnaise an salmon actually work very well together!
DIJON MUSTARD: Be sure to use dijon mustard in this recipe not yellow mustard. Yellow mustard won't give you the right taste or color for this recipe.
FRESH TARRAGON: I usually give you the option to use fresh or dried herbs in most of my recipes but in this case, you're really going to want to use fresh tarragon. You don't get the same flavor from dried.
LEMON JUICE: A fresh squeeze of lemon adds some acidity to the sauce.
SUGAR: Just a pinch!
How do you make Salmon with Tarragon Sauce?
One of the best things about this salmon recipe is just how ridiculously easy it is to make! Let me show you in step by step photos so you can follow along.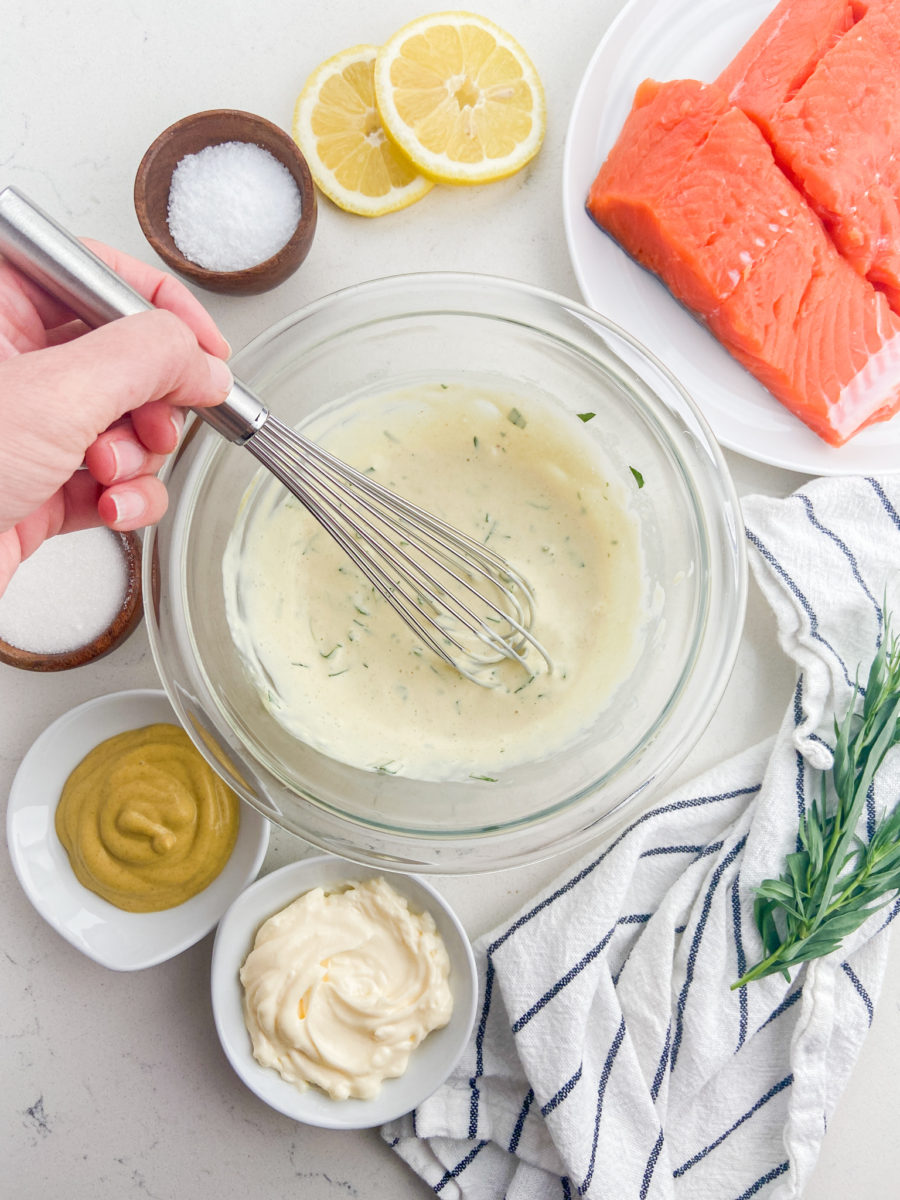 STEP #1: Make your dijon tarragon sauce by whisking all ingredients together in a bowl. Then set aside until you're ready to use.
STEP #2: Season salmon with salt and pepper and place on a foil lined baking sheet. Bake at 400 degrees for 10 minutes.
STEP #3: Remove the salmon from the oven spoon some of the sauce over the top and continue baking for about 5 minutes. The salmon will flake easily when done.
See! Just three easy steps and you're on your way to this gorgeous, light dinner. It's fancy enough for a date night but easy enough to make on a weeknight!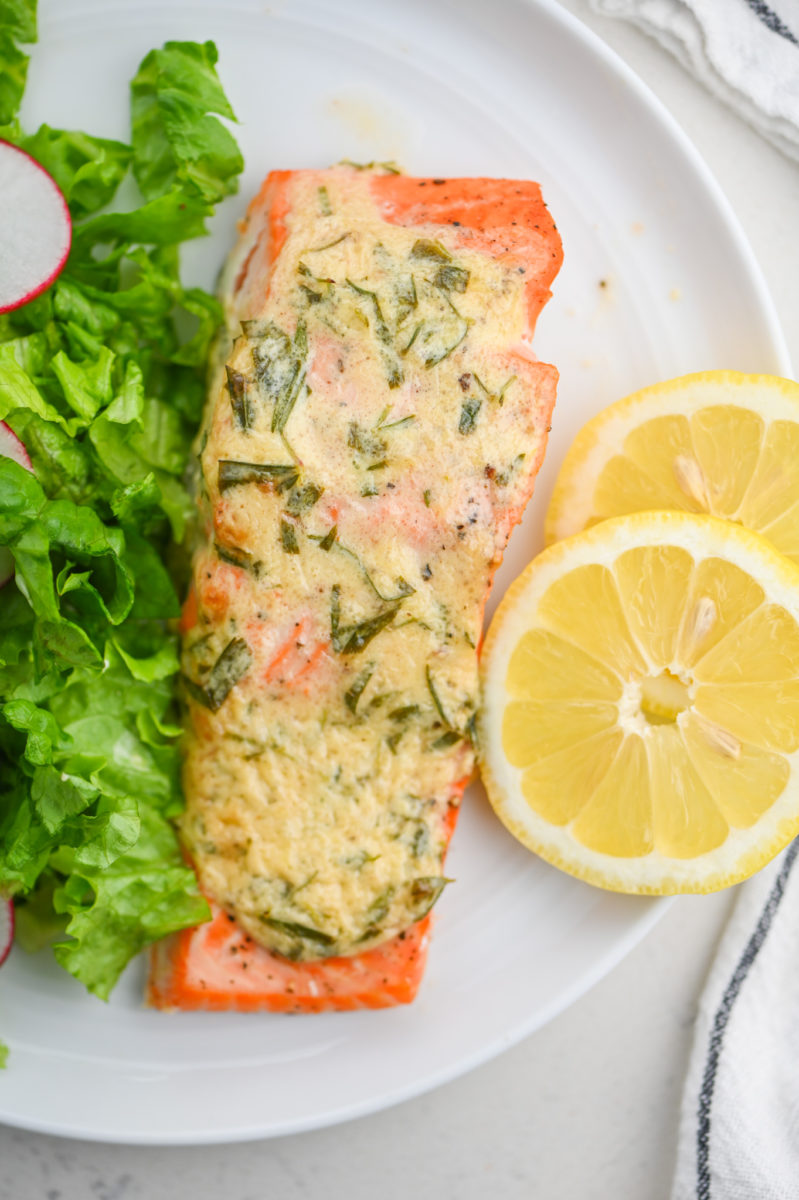 What to serve with Salmon with Tarragon Sauce?
I served this with a green salad that I drizzled with Garlic Vinaigrette and then some Garlic Rice. My family loved it! 
RECIPE FAQ:
What are the different varieties of salmon?
When it comes to salmon there are many different varieties. Chinook/King Salmon is often considered the best tasting. Coho Salmon has more of a red color and delicate in flavor compared to King Salmon. Pink Salmon is the most common. Its flesh is very light in color and flavor. It's often what is used for canned salmon. Sockeye salmon is known for its bright orange flesh and deep flavor.
Can you eat salmon skin?
Yes! It has some of the same nutrients as the rest of the salmon.
At what temperature is salmon considered cooked?
According to the FDA salmon is considered cooked at 145 degrees. This can often lead to a salmon filet that is very firm, and a bit dry. If you'd prefer more medium rare aim for a temperature of 125-135 degrees. Keep in mind that the salmon will continue to cook a bit after it's removed from the heat source.
Looking to incorporate more salmon into your diet? Try these salmon recipes!
This Lemon Caper Salmon has been one of my top recipes for years! For good reason, it is delicious!
Salmon with White Wine Dill Sauce the dill and butter in this sauce helps take this salmon to the next level!
Salmon isn't just for dinner! This Smoked Salmon Dip would make a great addition to any party! 
Note: This recipe was originally published in 2012. It was updated with new photos, dips and nutrition information in 2022.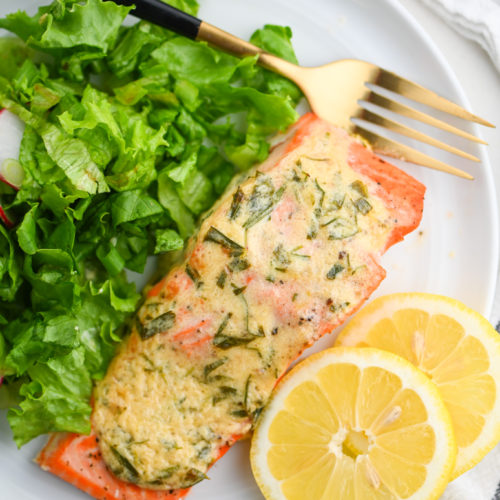 Salmon with Dijon Tarragon Sauce
Baked Salmon topped with a decadent Dijon Tarragon Sauce. It'll be your new favorite way to cook salmon!
Preheat oven to 450 degrees.

Line a baking sheet with aluminum foil and spray with non-stick spray.

Combine mayonnaise, dijon mustard, tarragon, lemon juice and sugar together in a bowl. Mix well. Season to taste with salt and pepper. Set aside.

Place salmon on prepared baking sheet. Sprinkle with salt and pepper. Bake in preheated oven for 10 minutes. Remove from oven and spoon a dollop of sauce over the top. Return to the oven for 5 more minutes. Fish is done when it flakes easily.

Serve with remaining sauce on the side.
You will often find pin bones in salmon. It is a personal preference but I like to remove them before serving. I use a pair of tweezers. You can probably ask the fish monger at the seafood counter do to this for you as well. 
The best way to check the doneness of salmon is to use a meat thermometer and make sure it reaches 145 degrees. The easiest way to check if you don't have a meat thermometer is to press down on the salmon with a fork and flakes easily, it's done. 
This is best eaten the day that it is made. 
Nutrition information for estimation purposes only. 
Calories:
329
kcal
Carbohydrates:
2
g
Protein:
35
g
Fat:
19
g
Saturated Fat:
3
g
Polyunsaturated Fat:
9
g
Monounsaturated Fat:
6
g
Trans Fat:
1
g
Cholesterol:
98
mg
Sodium:
226
mg
Potassium:
956
mg
Fiber:
1
g
Sugar:
1
g
Vitamin A:
227
IU
Vitamin C:
3
mg
Calcium:
66
mg
Iron:
3
mg
Keywords:
dijon, dinner, fish, Recipe, salmon, tarragon sauce