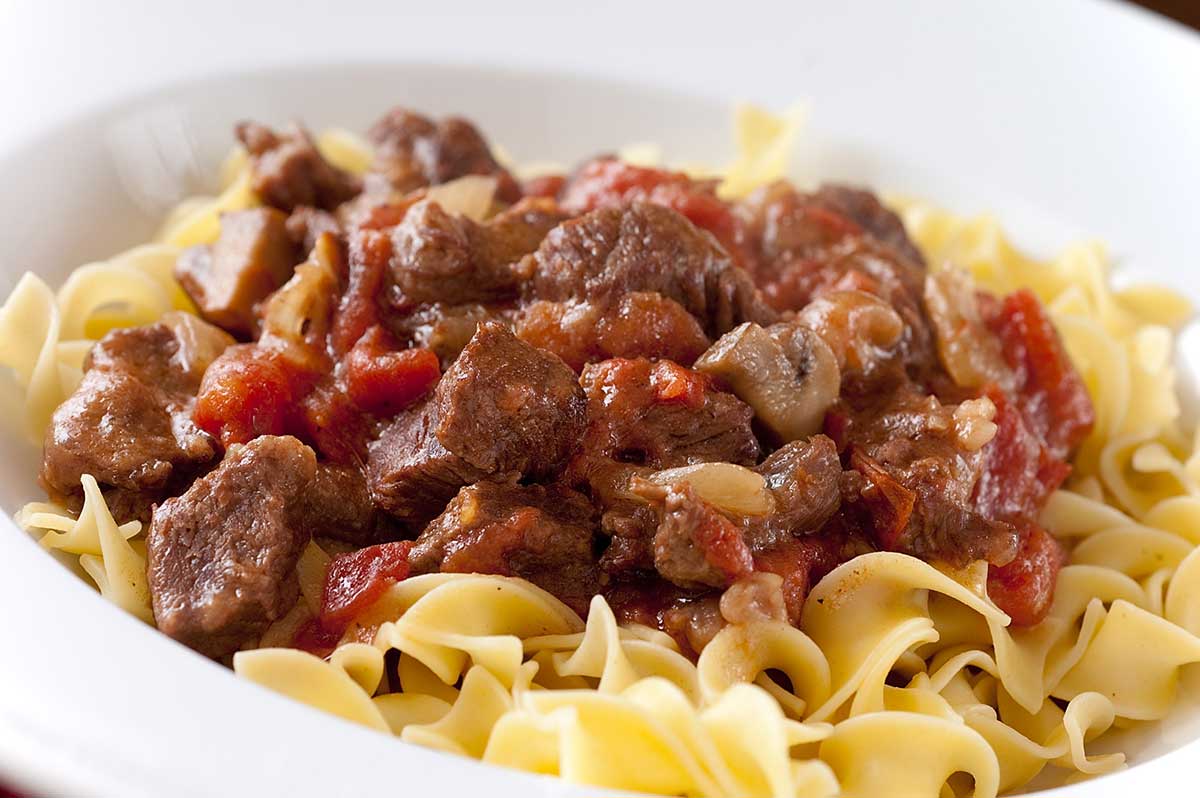 Swiss Steak
I hope you all had a wonderful Christmas. We did. But now I have come down with a little cold or something and haven't gotten out of bed since I got home on Sunday night. Thankfully this little bug has waited until after Christmas but unfortunately it's made it nearly impossible to get in the kitchen. Luckily, I had this little gem of a recipe in the back logs to share with you all today. And for all of you back east dealing with the white stuff, this is the perfect meal to warm you up.
This recipe is a great way to use a really inexpensive cut of beef and turn it into a great, flavorful meal.  Once you get it on the stove it requires very little maintenance which is also really nice. I will mention that chuck steak can be a little on the fatty side so be sure to skim any fat off that accumulates on the top. Other than that you just simply need to let it cook until the meat gets melt in your mouth tender.
Sorry to keep this so short but I'm off to get some more rest. Hope to be back to my self again in a day or two. After all, I have new kitchen gadgets that I want to play with and plenty of new recipes to develop.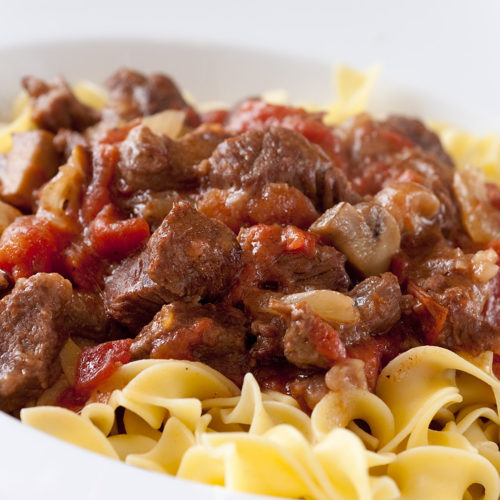 Swiss Steak
Steak, onions and mushrooms braised in tomatoes. Comfort in a bowl for those cold winter days.
Ingredients:
1 1/2

pounds

chuck steak

1/2

cup

flour

1/2

teaspoon

kosher salt

1/2

teaspoon

black pepper

1/4 - 1/2

cup

canola oil

1/2

medium onion

sliced

2

cloves

garlic

minced

12

crimini mushrooms quartered

1/2

cup

beef or mushroom broth

2

14.5 ounce cans diced tomatoes

1

tablespoon

Worcestershire sauce

2

bay leaves

1/2

pound

egg noodles
Cut steak into bite size pieces. Combine flour, salt and pepper in a plastic bag. Place cut meat into the bag and shake to coat completely.

Heat 1/4 cup of oil in a large pot over medium heat. Shake excess flour off of meat and cook just until browned. Add more oil as needed. Transfer to a plate and set aside.

In the same pan that you cooked the beef in, cook onion, garlic and mushrooms for 5 minutes. Return beef to the pan. Pour in broth, diced tomatoes and Worcestershire sauce. Add in bay leaves. Reduce heat to low and let simmer for at least 1 1/2 hours. Stirring occasionally and skimming any fat that accumulates at the top.

When you are just about ready to serve begin boiling the water for the pasta and cook according to package directions.

Remove bay leaves and spoon Swiss steak over the hot noodles and serve.
Keywords:
chuck steak, comfort food, Food, Recipe, swiss steak