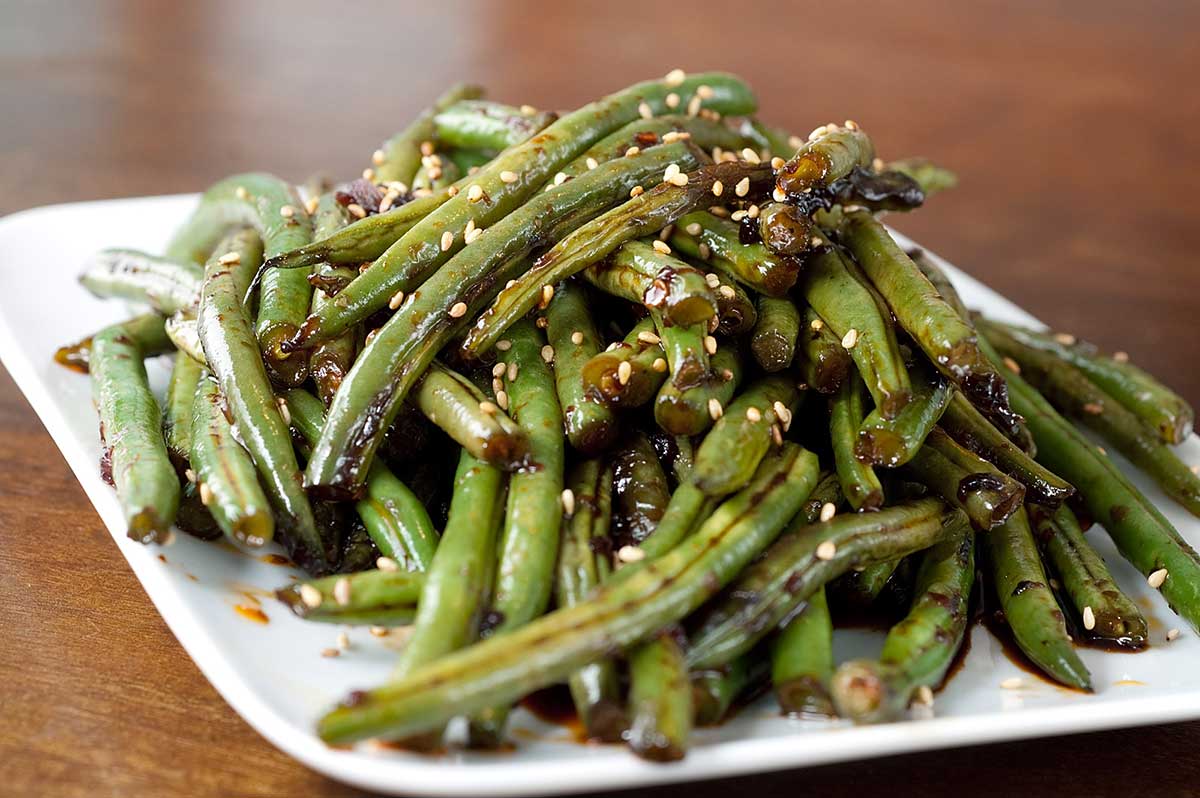 Szechuan Green Beans
Someone sent me an email a while back raving over sezchuan green beans and finally, this past weekend I got to make them and all I have to say is: Thank you.  I mean really, thank you. I thought I loved green beans before but boy was I wrong. Sure sauteed green beans are good and so is green bean casserole but I mean green beans that are crispy and spicy? In the words of Uncle Jessie…have mercy.
Doing some research prior to making these I discovered that many recipes called for the green beans to be deep fried first. However, since i did just eat a plate of these a few days ago, I decided to do a quick pan fry instead of a deep fry. I was very pleased with the result. The beans were crisp and flavorful and I didn't have to use much oil. It's a win win really.
Chinese long beans are the traditional bean used in this recipe but alas, those can be hard to find unless you have an Asian grocery store in your area. If you don't, or if you are too lazy to drive the 5 miles to the Asian grocery store like me,  your standard beans that you find in the grocery store will work just fine.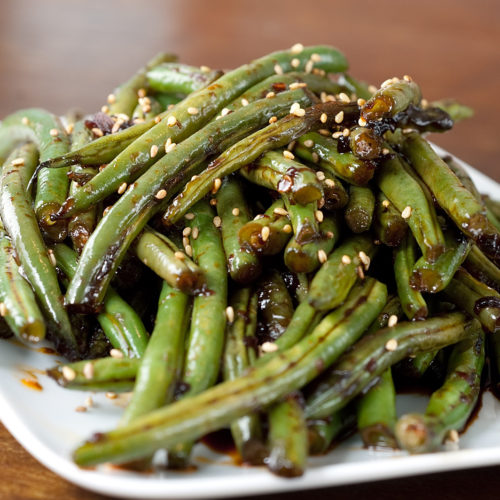 Szechuan Green Beans
Green beans that are crispy and spicy? In the words of Uncle Jesse...Have Mercy.
Ingredients:
2

tablespoons

plus 1 teaspoon peanut oil

1

pound

green beans trimmed and rinsed

2

cloves

garlic

minced

2

tablespoons

plus 1 teaspoon soy sauce

1

tablespoon

sambal oelek chili paste

1/2

teaspoon

kosher salt

2

tablespoons

mirin wine

1

tablespoon

rice vinegar

sesame seeds

optional
Heat 2 tablespoons of peanut oil in a wok or other large skillet over medium high heat. Cook green beans 2 - 3 minutes or until the beans start to crisp slightly. Transfer to a plate.

In the same pan that you cooked the beans in stir in remaining ingredients including remaining peanut oil. Cook for 30 seconds. Be careful not to burn the garlic. Return beans to the pan and continue cooking 3 - 4 minutes or until the beans have softened slightly but are still crisp.

Transfer to a serving platter. Sprinkle with sesame seeds if desired and serve hot.
Keywords:
chinese food, Food, garlic, grean beans, Recipe, sezchuan green beans, spicy