If you are looking for a classic, crispy fried appetizer that is perfect for parties then these Ginger Chicken Egg Rolls are it. They are loaded with ground chicken, mushrooms, green onions, fresh ginger and cilantro and then fried to perfection. Appetizers don't get much more perfect than this.
Egg rolls can be a labor of love. I should know, as part of a Filipino family, I grew up making lumpia, the Filipino version of an egg roll. It was always an all day process. We would make the filling, allow it to cool then would spend a couple of hours gathered around the table rolling it. We'd roll about 100 or so. But oh are they worth the work. They are crispy and crunchy on the outside and loaded with all kinds of goodies on the inside.
This recipe for Ginger Chicken Egg Rolls make far less than the lumpia that I made growing up so they are done in a lot less time. But they are still full of all kinds of deliciousness.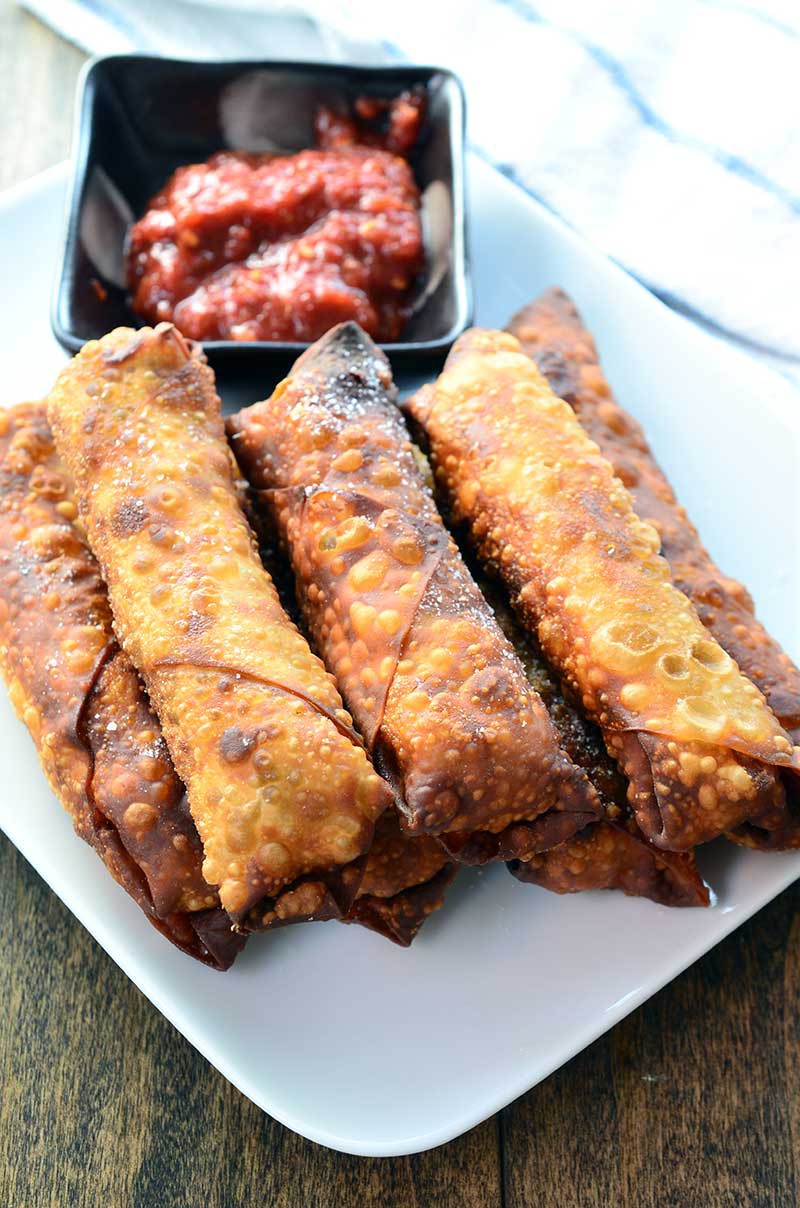 One of my favorite thing about making egg rolls is that you can stuff them with basically whatever you want. I have made them with BBQ pulled pork, a pizza filling and a chipotle chicken filling. When I set out to make these Ginger Chicken Egg Rolls, I wanted to make something a bit more traditional so I stuck with the Asian flavors of ginger, soy, sesame and fish sauce. You should be able to find each of those sauces in the Asian aisle of a well stocked grocery store.
Finally, we should talk about dipping. Egg rolls are great on their own but I really do like dipping them into different sauces. When it comes to these Ginger Chicken Egg Rolls, I prefer to dip them in a garlic chili sauce. I like the contrast of the spicy sauce and the sweet ginger. Ryan, prefers to dip them in sweet chili sauce. Whatever you dip them in, or even if you don't, you are bound to love these crispy, crunchy Ginger Chicken Egg Rolls.

Ingredients:
1 tablespoon avocado oil
1 pound ground chicken
3 teaspoons minced fresh ginger
1 1/2 cup diced mushrooms
1 cup diced green onions
1 tablespoon soy sauce
1 teaspoon fish sauce
1 teaspoon sesame oil
1/3 cup chopped fresh cilantro
salt and pepper to taste
20 egg roll wrappers
oil for frying
Instructions
1
Heat 1 tablespoon avocado oil in a large skillet or wok over medium high heat.

2
Cook chicken just until it starts to brown. Add in ginger, mushrooms, green onions, soy sauce, fish sauce and sesame oil. Cook until chicken is cooked through and mushrooms are softened. Remove from heat and stir in cilantro. Season to taste with salt and pepper.

3
To assemble the egg rolls: using one egg roll wrapper with one point towards you, place 1 tablespoon of filling about an inch from the point closest to you. Working away from you, fold the wrapper over the filling. Next fold in both sides. Dip a pastry brush into the egg and brush the edges. Continue rolling to seal completely. Repeat with remaining filling and wrappers.

4
Heat 1/2 inch of oil in a skillet to 350 degrees. Fry egg rolls, in batches if necessary so you don't crowd the pan, until golden brown, about 3 minutes.

5
Transfer to a paper towel lined plate, sprinkle with salt. Repeat until all egg rolls are fried. Serve with sweet chili or chili garlic sauce for dipping.