Classic Aglio e Olio pasta is one of my favorites and a sure favorite of all garlic lovers!
This Aglio e Olio is a dish that I always have all the ingredients for. After all, there are only 7. And this if you are counting salt and pepper. This pasta is simple. And sometimes a plate of perfectly simple pasta is just want I need. Nothing too complicated. No sauce that has cooked for hours. Very few ingredients and each one shines.
That is exactly what Aglio e Olio is. Pasta, garlic and olive oil are the main ingredients. I throw in a few crushed red peppers too because I love the heat. I also finish it with a hearty grating of Parmesan because…cheese. But, that's it and that's all folks.
And it is pasta heaven.
Linguine Aglio e Olio is one of the first meals that I started making at a young age. It is beyond easy to make. If you can boil water you can make this pasta. The one thing you have got to watch is cooking the garlic. You don't want to burn the garlic. It would make the entire dish very bitter. I've had to start the sauce over a few times over the years as I have gotten distracted and burnt the garlic. For that reason, simply cook the garlic in the oil just until fragrant, 30 – 45 seconds before adding in the pasta. It will cook a little more after you toss in the pasta so you won't be munching on raw garlic.
Which I totally do by the way. Is that weird? Probably. But alas, I love garlic.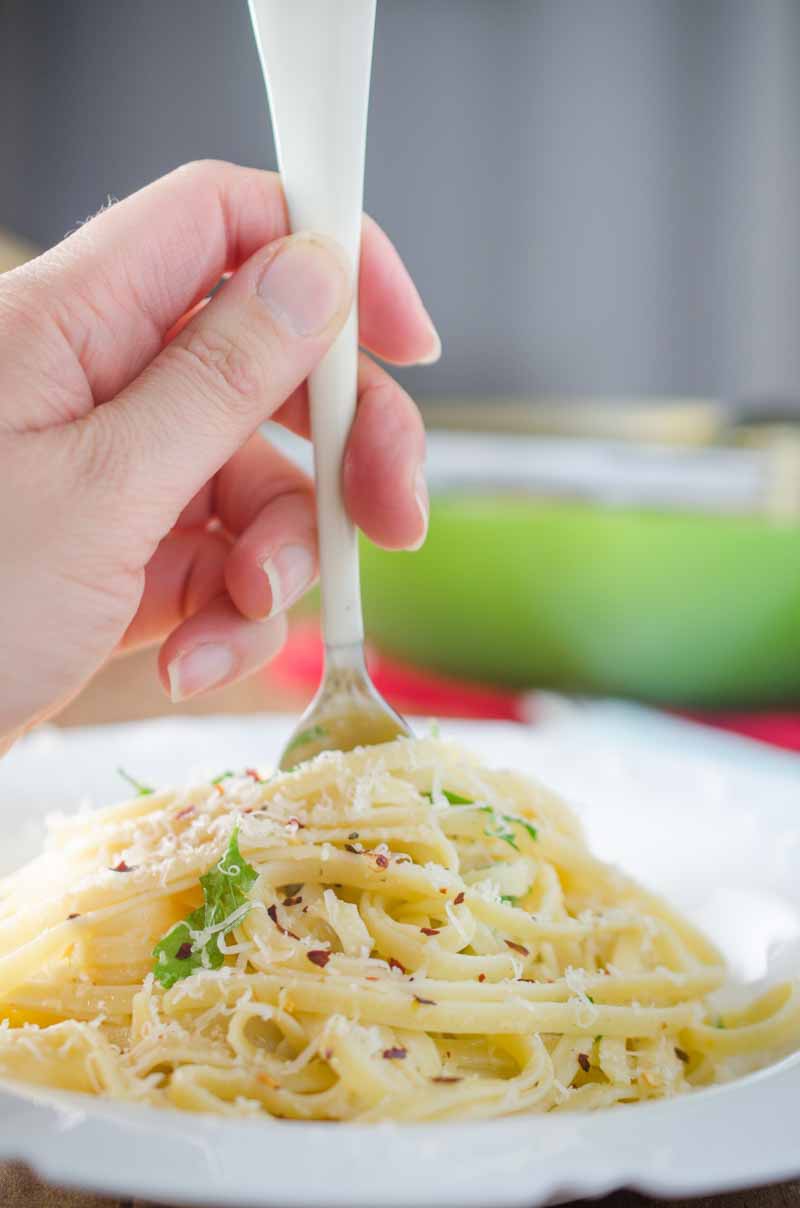 If you are looking for a quick meal, then this is for you too. Basically, if you count the time that it takes to heat the water, cook the pasta and the garlic, you're looking at about 15 to 20 minutes for dinner. Which makes this Linguine Aglio e Olio perfect for busy weeknight meals! Meatless Monday perhaps?

Ingredients:
1 pound linguine
8 cloves garlic, minced
1 teaspoon crushed red pepper (feel free to cut back here a little if you want to lower the spice)
Kosher salt to taste
3 tablespoons olive oil
1 tablespoon chopped Italian parsley
Grated Parmesan for garnish
Instructions
1
Boil 5 quartz of water to a boil and add 1 tablespoon of salt.

2
Cook according to package directions.

3
Strain the pasta and rinse with cold water, you will want to stop the cooking process of the pasta.

4
In a large skillet heat olive oil over med heat.

5
Add garlic, salt and crushed red pepper to the pan and cook for 30 seconds to 1 being careful not to burn the garlic.

6
Add the linguine to the skillet, add parsley and toss to combine.

7
Continue cooking for 2-3 minutes.

8
Transfer to pasta bowl and top with grated Parmesan cheese