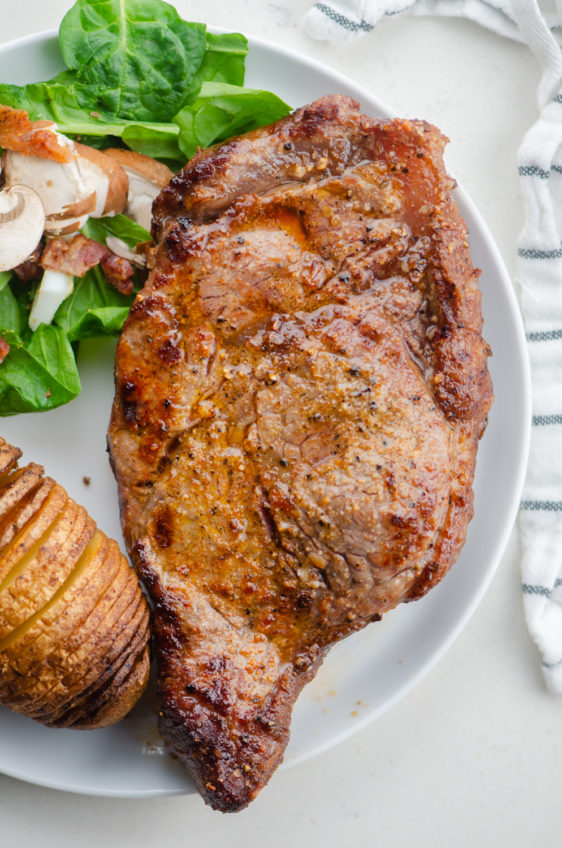 Air Fryer Steak
Want to make a perfectly cooked, juicy steak? You've got to try this recipe for Air Fryer Steak. It is ridiculously easy and oh so good!
Whenever anyone asks what kitchen appliance I cannot live without, the first thing that always comes to mind is my air fryer. Sure, I didn't have one until a couple of years ago, but now I cannot imagine my life without it.
I use it almost daily. Whether I am making Air Fryer Pork Chops for an easy weeknight dinner or Air Fryer Fried Pickles for a snack. Heck, I even used it on Thanksgiving to make an Air Fryer Turkey Breast.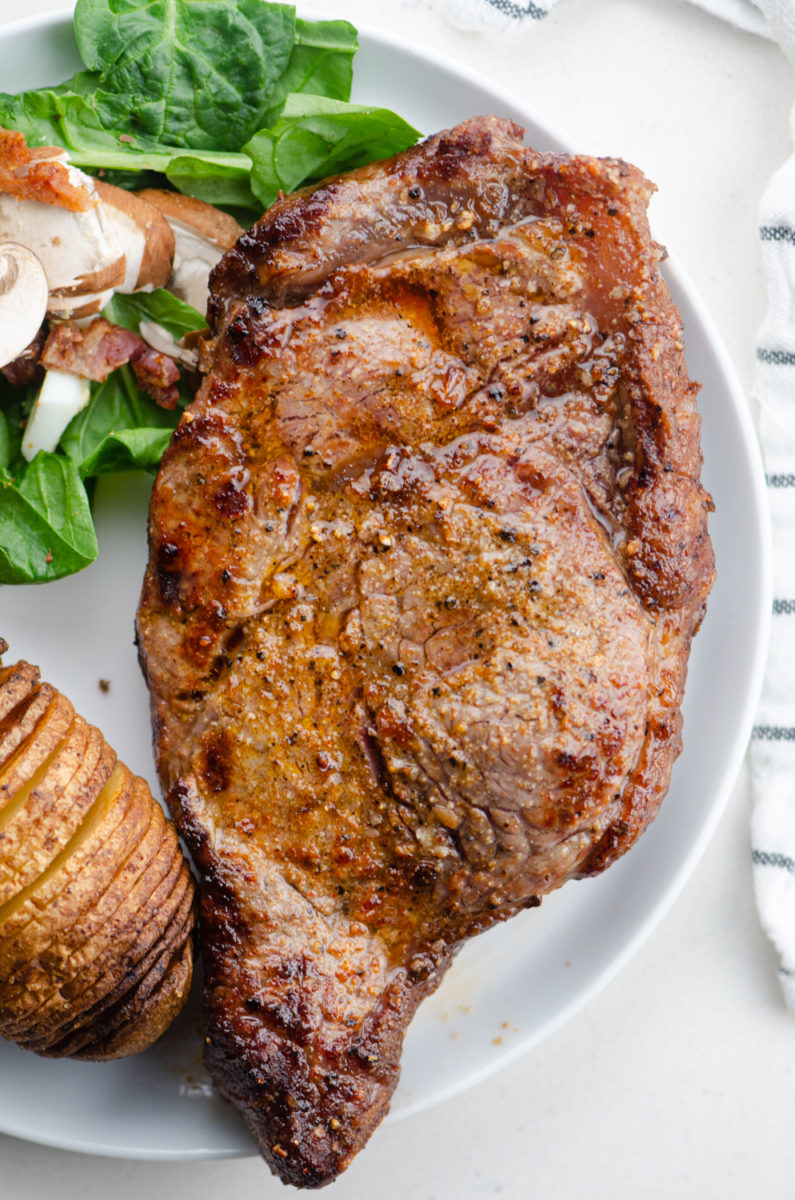 Like I said, there are so many different air fryer recipes you can make. And now, you can use it to make a perfectly cooked, juicy steak.
How do you make steak in an air fryer?
To be honest, when I first heard that people were making steak in the air fryer I thought to myself, there is no way! But guys, air fryer steak is SO good. And it is ridiculously easy to make.
To make steak in your air fryer, all you need to do is rub the steak with olive oil and seasoning. Then place it in the air fryer and cook 4 – 5 minutes per side for medium rare. That's it!
What ingredients do you need?
Just 3 ingredients is also you need:
STEAK: For this recipe, I used NY strip which is one of our favorite cuts. You can use whatever cut of steak that you prefer. Top sirloin would be great as would rib eye. Whatever steak you choose just make sure it's 1 – 1 1/2 inches thick.
OLIVE OIL: To help brown the steak.
STEAK SEASONING: You can make your own steak seasoning using my Homemade Steak Seasoning Recipe or you can use your favorite blend.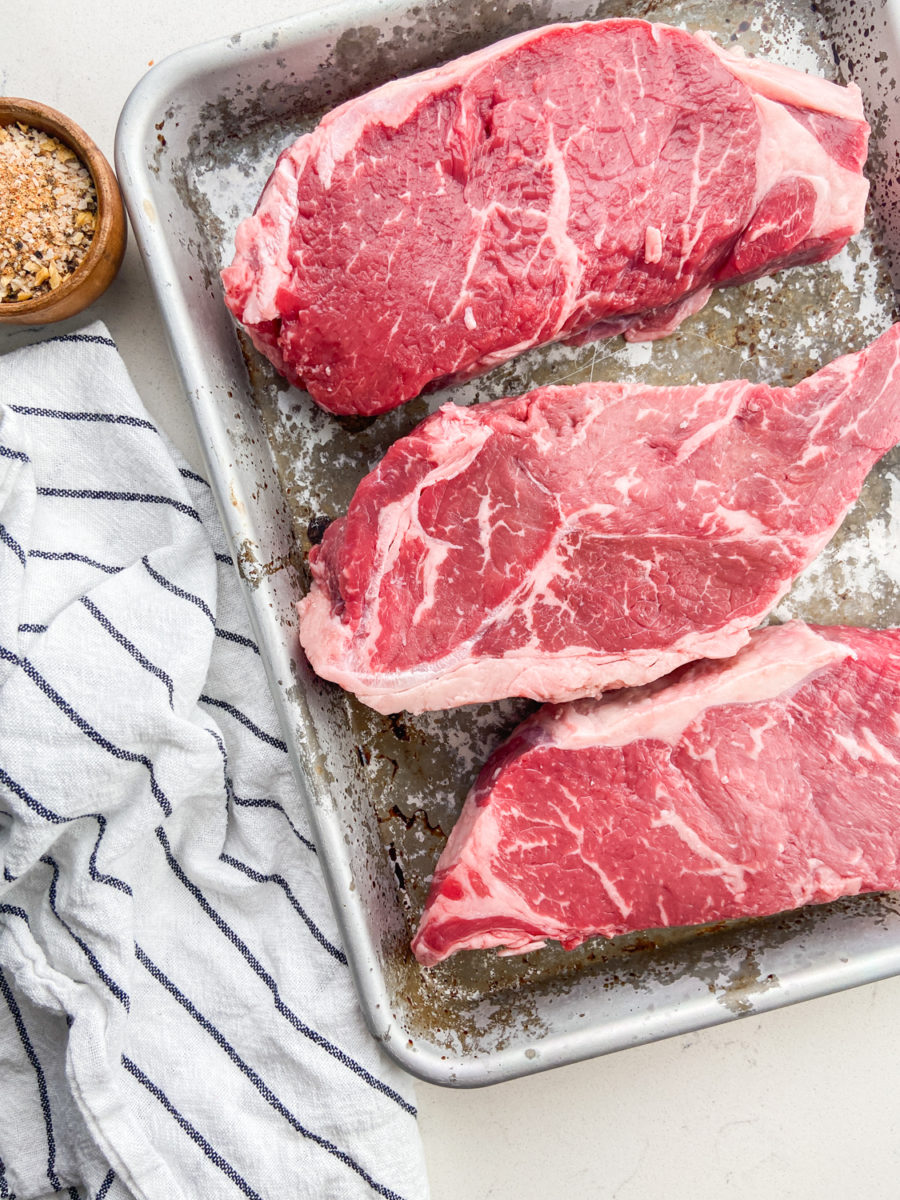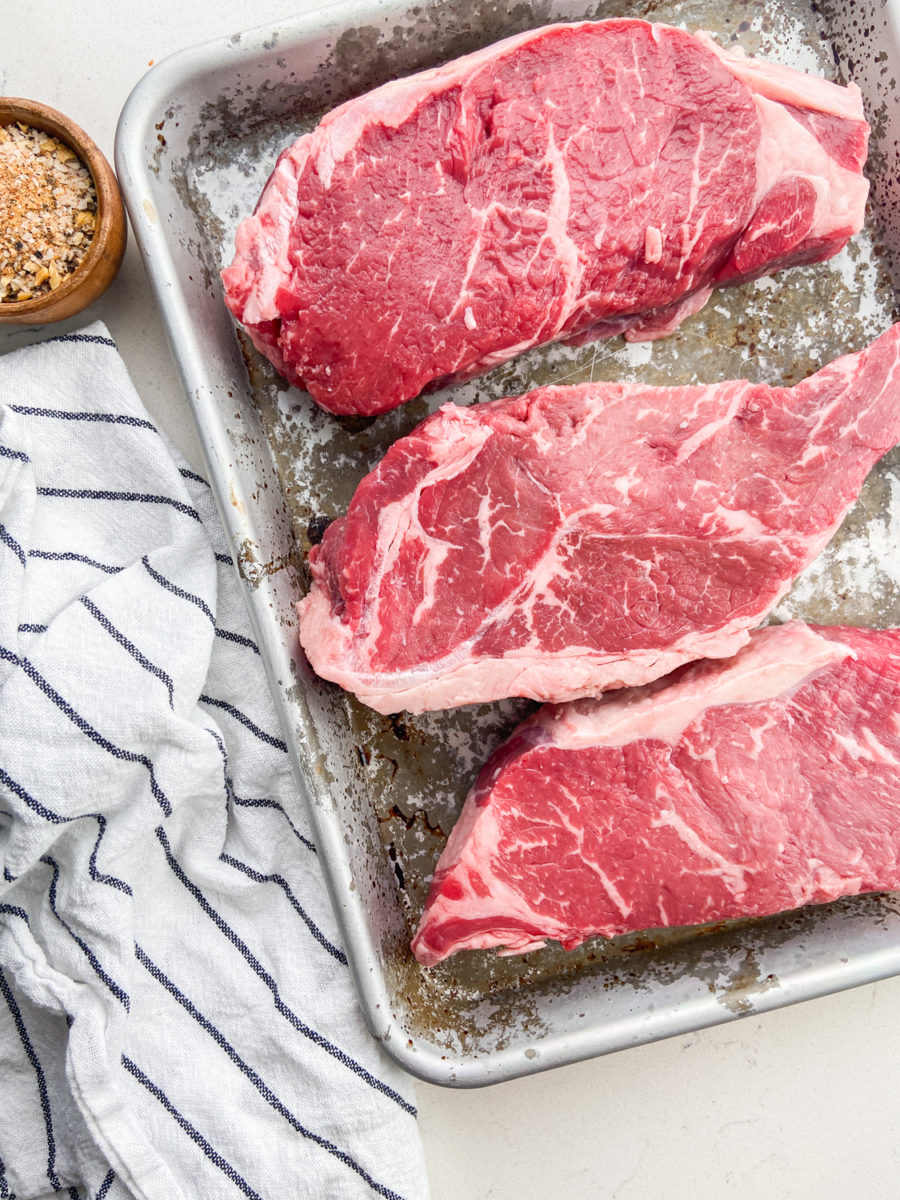 Air Fryer Steak Tips:
This recipe is super easy, but there are a few tips that I think are essential when making steak in your air fryer (or just any steak in general).
TIP #1: Bring the steak to room temperature before cooking. You can do this by taking it out of the refrigerator for 20 – 30 minutes before you're ready to cook.
TIP #2: Depending on the size of your cuts of steak and the size of your air fryer basket, you may need to cook one steak at a time. You want to make sure the basket isn't over crowded. If it is overcrowded, the steak won't get those crispy brown pieces or brown color but will instead will look more grey. This is because it is steaming rather than frying.
TIP #3: Like with all steaks, it is essential that you allow the steaks to rest at least 10 minutes before cutting them. This allows the juices to redistribute and will ensure a juicy steak.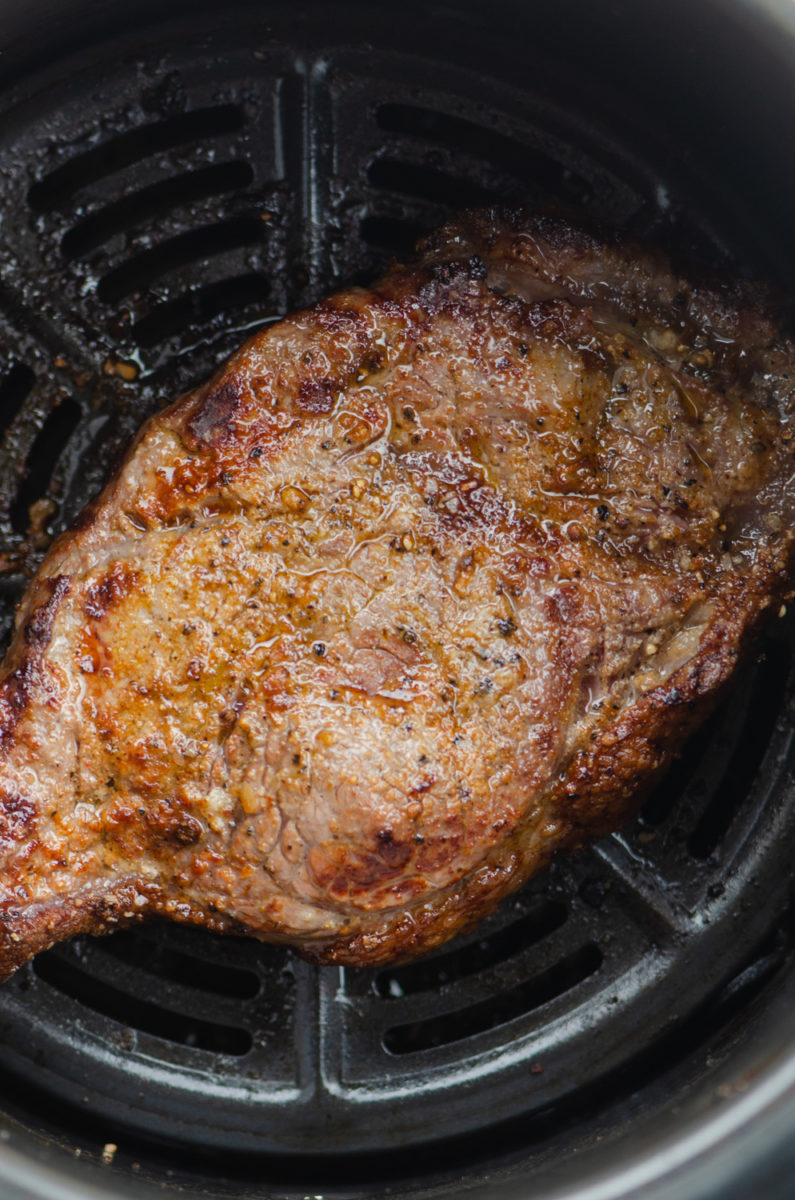 If you're looking for something to serve alongside this Air Fryer Steak, I recommend Air Fryer Hasselback Potatoes. I make them first and then keep them in a warm oven until the steak is done. And don't forget the creamy horseradish sauce for dipping!
Air Fryer Steak Recipe
Ingredients:
4 NY Strip Steaks
2 tablespoons olive oil
1 tablespoon steak seasoning
Instructions
1
Bring steaks up to room temperature by removing from the refrigerator for 20 - 30 minutes before cooking.

2
Drizzle the olive oil over both sides of the steak. Season both sides of the steak with steak seasoning. Rub oil and seasoning into steak.

3
Cook the steak, in batches if needed, at 400 degrees for 10 minutes. Flipping after the first 5. This will give you medium rare steaks.

4
Allow steak to rest for 10 minutes before slicing.
Notes
Make sure the steak is room temperature, this will allow for even cooking.

Don't overcrowd the air fryer basket or the steaks will steam instead of fry.

Resting is essential! Don't cut into the steak too early or the juices will run out and the steak will be dry.

Nutrition facts are for estimation purposes only.
Nutrition information
Calories: 571 , Total Fat: 42.2g , Saturated Fat: 14.9g , Cholesterol: 141mg , Sodium: 112mg , Carbohydrates: 0g , Fiber: 0g , Sugar: 0g , Protein: 45.5g