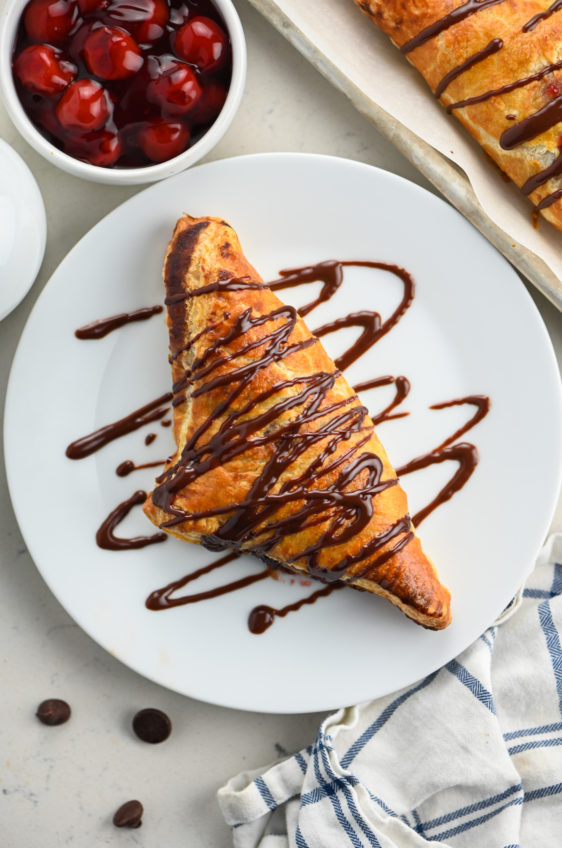 Chocolate Cherry Turnovers
Jump to Recipe
This Chocolate Cherry Turnovers Recipe is simple and decadent! The use of frozen puff pastry makes these incredibly easy to make. Perfect for breakfast or dessert!
If you're looking for the perfect brunch or dessert dish to really wow your guests without you having to do much, you've got to try these Chocolate Cherry Turnovers. They are gorgeous, decadent, perfectly flaky and so incredibly easy to make.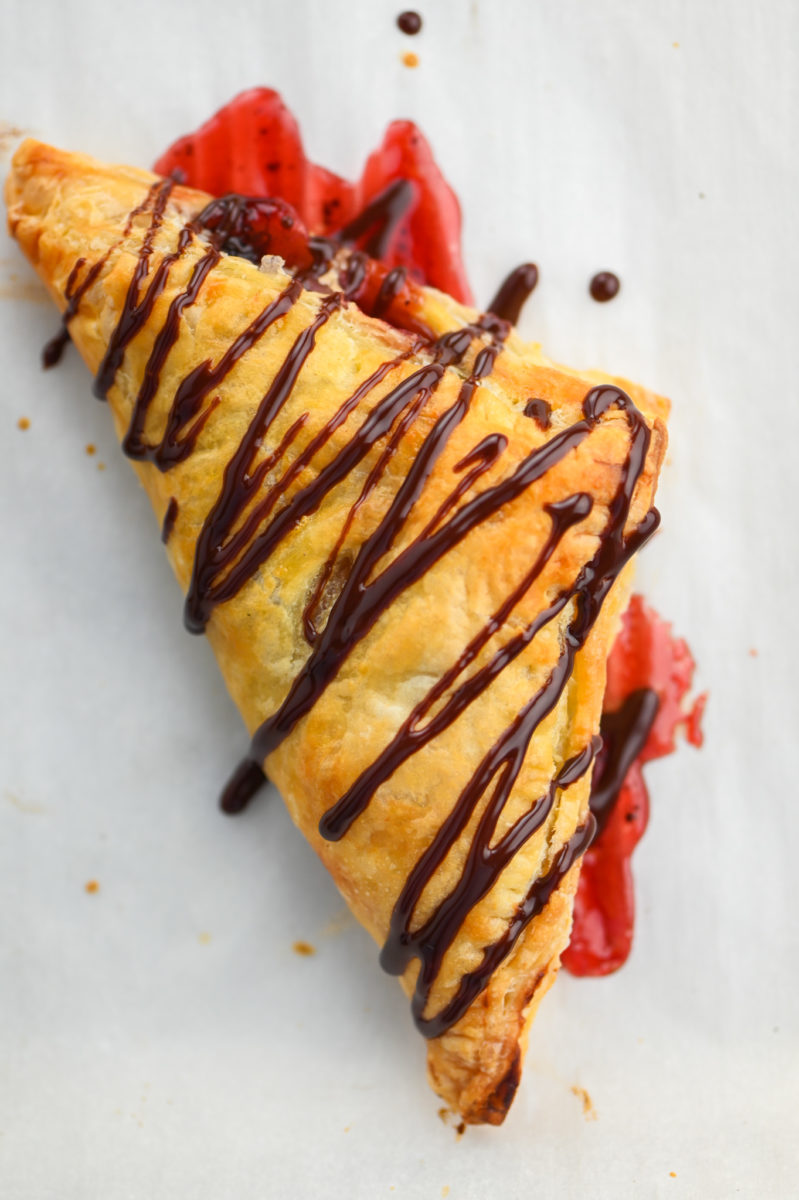 When it comes to breakfast foods, I'll be honest when I say we don't generally do much around here. Most days my kids eat a pastry, I drink my favorite strawberry banana smoothie and my husband has some avocado toast. I usually buy my kiddos their pastries too. Until I started thinking about the fact that I could probably save myself some money if I made them on my own. That's when these Chocolate Cherry Turnovers were born.
You only need a handful of ingredients and they are so easy to make!
INGREDIENTS FOR CHOCOLATE CHERRY TURNOVERS: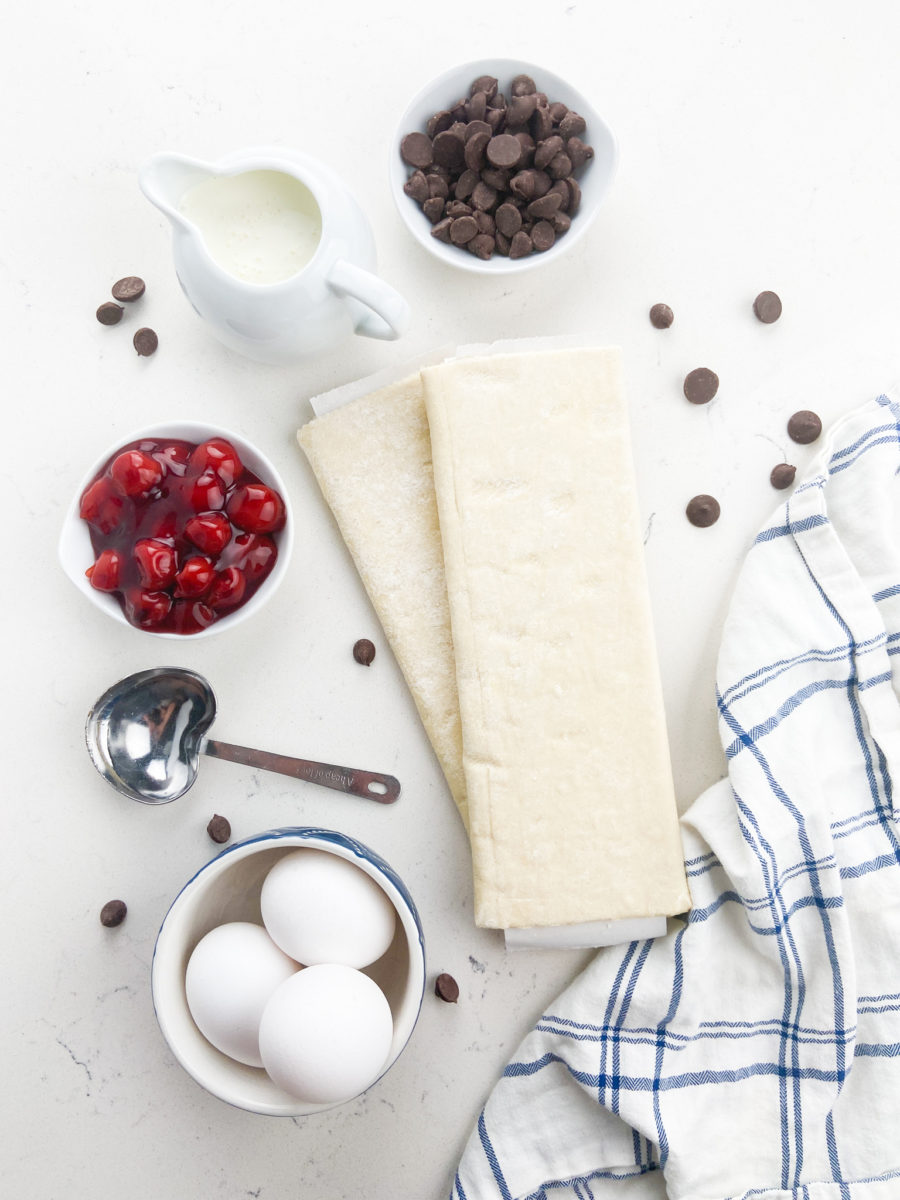 PUFF PASTRY: Frozen puff pastry can be a lifesaver in the kitchen. It's pretty time consuming to make homemade and the frozen stuff is just as good in my opinion.
DARK CHOCOLATE CHIPS: You'll use these for both inside the turnovers as well as the ganache. I chose to use dark chocolate because I prefer it, especially with cherries. If you're not a fan of dark chocolate you could use semi-sweet.
CHERRY PIE FILLING: You can make your own or use store bought. I was going for easy here so I used Lucky Leaf Cherry Pie Filling.
EGG/WATER: Brushing an egg wash over the edges of the turnovers will help seal them. Brushing the egg was over the top of them before baking will help them get golden brown while cooking.
HEAVY CREAM: To make the ganache. Make sure you use heavy whipping cream, not milk or half and half.
HOW DO YOU MAKE CHERRY TURNOVERS WITH PUFF PASTRY?
Like I said, I am all about easy when it comes to making pastries and these cherry turnovers are no different. Here are the step by step photos and instructions showing you exactly how it's done.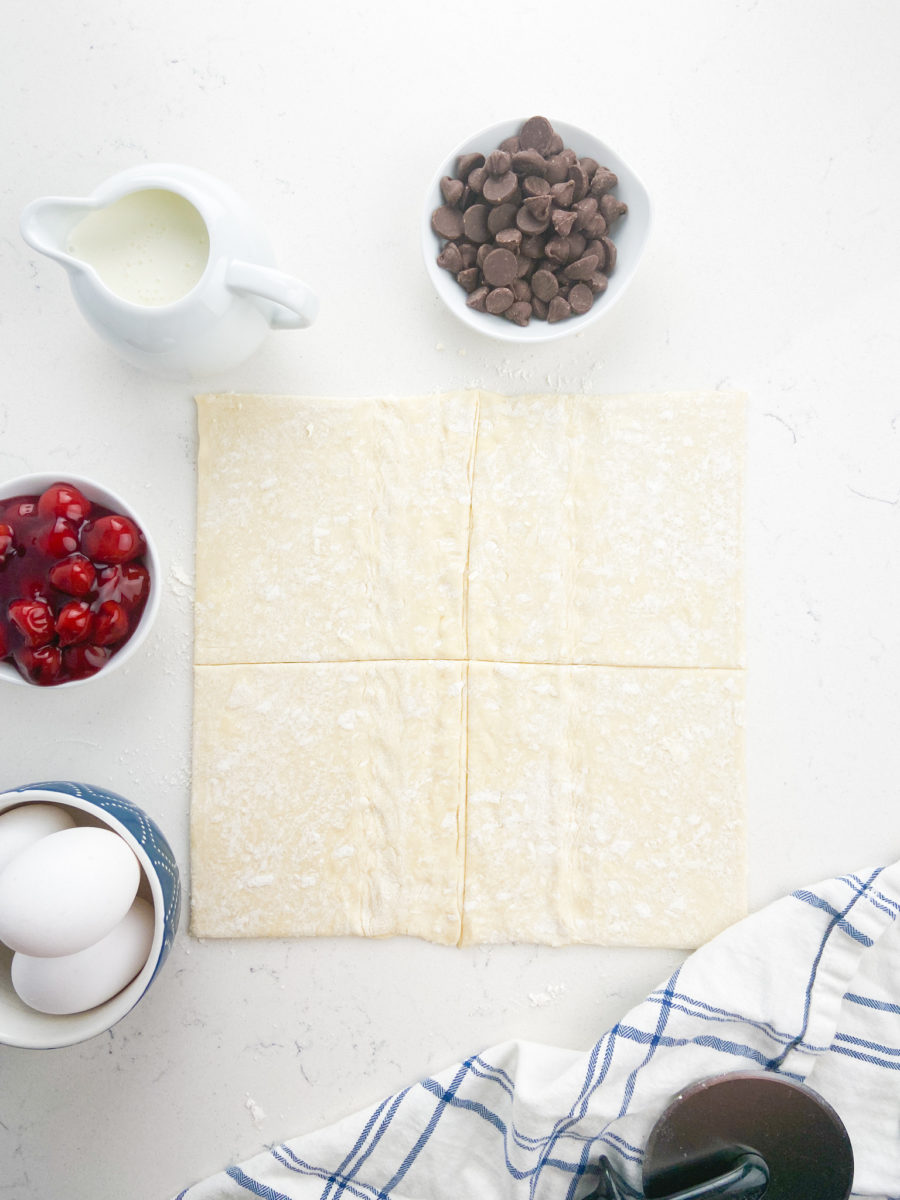 STEP #1: Preheat your oven to 400 degrees F. Using thawed puff pastry, cut it into 4 even squares. I used a pizza cutter, it worked pretty well!
STEP #2: Place about 2 tablespoons of cherry pie filling and 4-5 chocolate chips in the center of each square. Use a pastry brush to brush the edges with the egg wash. Fold over to make a triangle and press to seal. Use a for to crimp the edges.
STEP #3: Cut a slit in the top of each turnover. Make sure to cut all the way through, you should be able to see the filling. Brush with egg wash.
STEP #4: Bake for 15 – 20 minutes or until golden brown.
STEP #5: Make the ganache by heating chocolate chips and cream in the microwave for 30 seconds. Allow to set then stir until smooth. Drizzle over turnovers.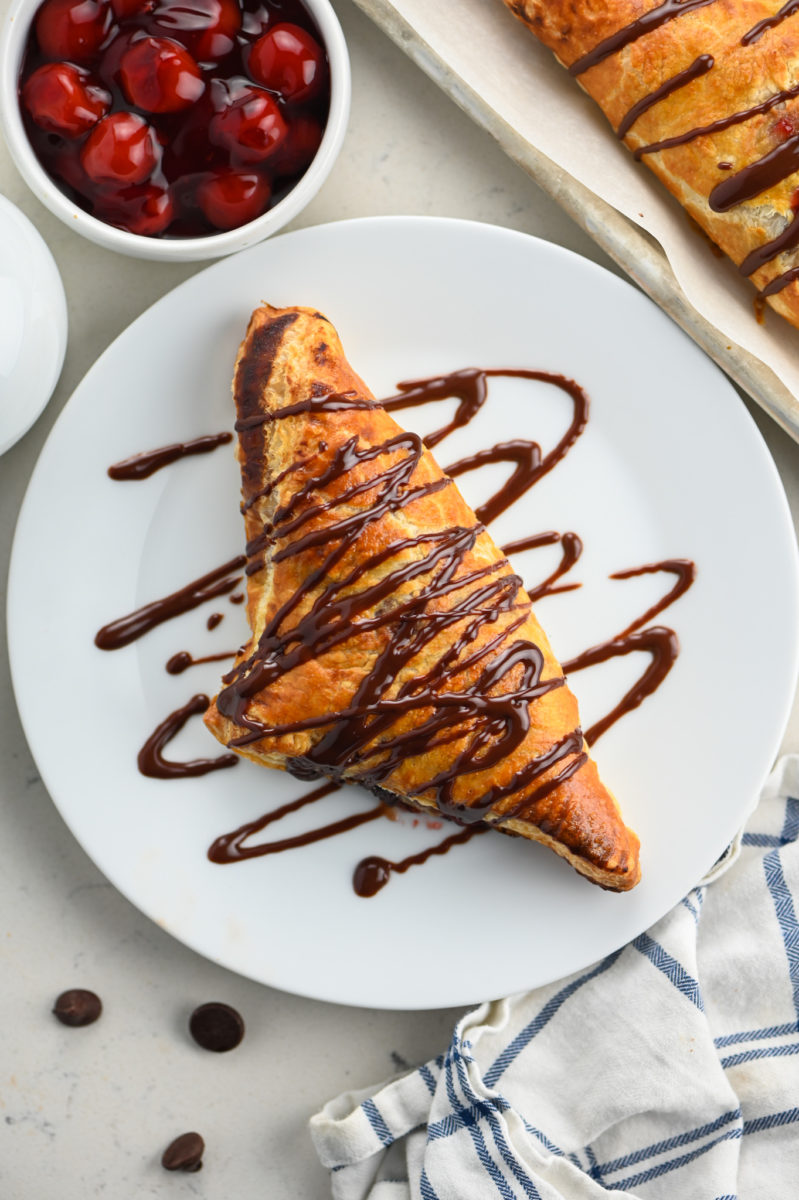 STORAGE AND REHEATING LEFTOVERS:
Because of the ganache, you'll need to store any leftovers in the refrigerator. I find that they reheat really well in the air fryer at 350 for about 3 minutes or so. A toaster oven would also work well!
You can freeze them after cooking and then reheat in an air fryer or toaster oven.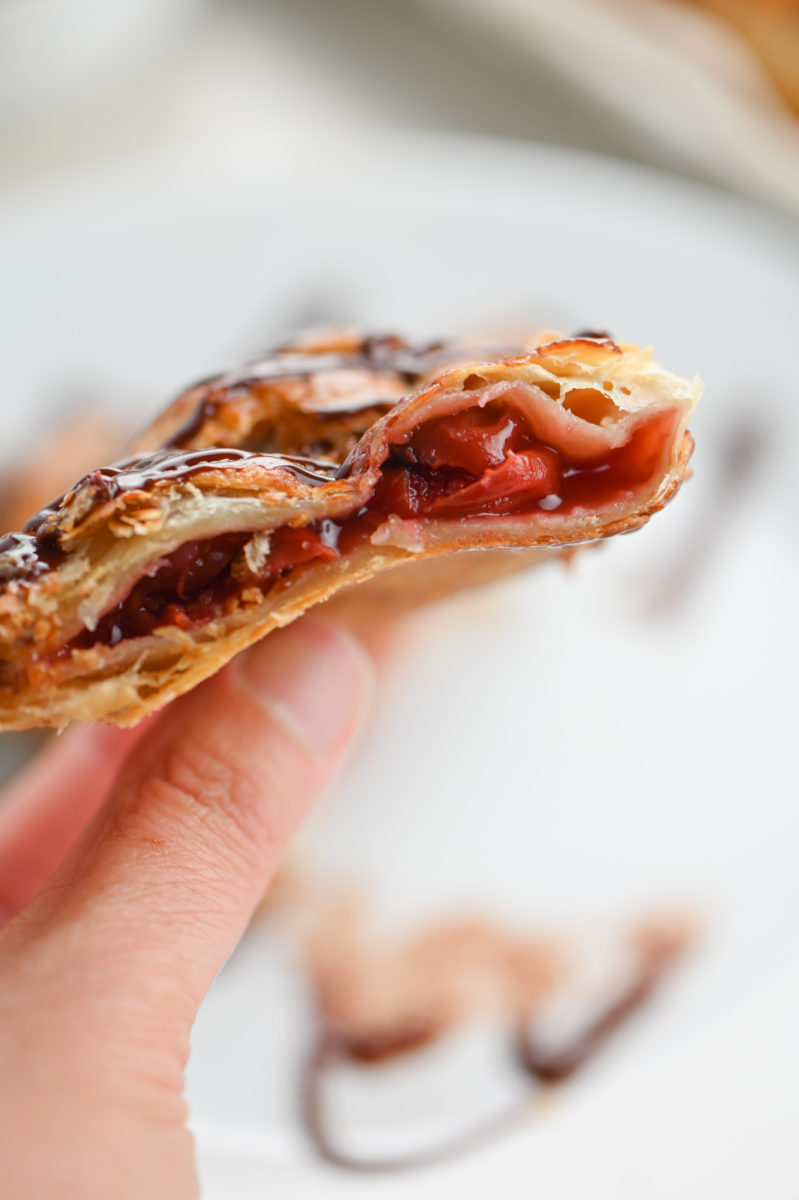 FAQ
Does ganache need to be refrigerated?
Yes, ganache does need to be refrigerated. For this recipe that means to keep any leftover turnovers in the refrigerator. You can also simply wait to drizzle the ganache over the top until just before serving.
Can you reheat ganache?
You can reheat ganache slowly. 30 second bursts in the microwave will help soften it up so you can stir and drizzle it.
Why do you cut a slit in pie crust?
Cutting a slit in the top of a pie acts like a vent allowing steam to escape during the cooking process. This will help prevent fruit, like the cherries in this recipe, from boiling over and seeping out of the edges.
Looking for more ways to use puff pastry? Check these recipes out!
Want more decadent breakfast dishes? Try these: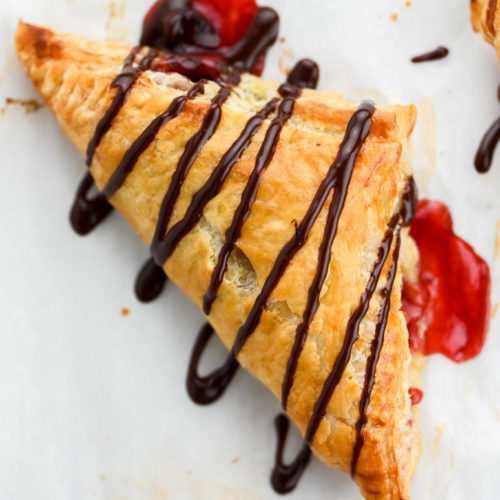 Chocolate Cherry Turnovers
These Chocolate Cherry Turnovers are decadent. Filled with cherry pie filling and chocolate chips then drizzled with ganache. Serve them for breakfast or dessert!
Ganache
1/2

cup

dark chocolate chips

1/4

cup

heavy cream
Preheat oven to 400 degrees. Thaw puff pastry according to package instructions. Unfold the pastry and it on a well floured surface. Cut each pastry into 4 equal squares (8 total).

Whisk together egg and water.

Place 2 tablespoons cherry pie filling and about 5 chocolate chips in the center of each square. Brush the edges of the squares with egg wash. Bring one corner of the puff pastry to the opposite corner and press the edges to seal. Use a fork to seal once more.

Cut one or two small slits in the puff pastry. Brush with egg wash.

Bake at 400 degrees for 15 – 20 minutes or until the pastries are golden brown. Remove from oven.

Place ganache and heavy cream in a microwave safe dish and microwave for 30 seconds. Allow to set for one minute. Stir until ganache thickens and is shiny.

Drizzle ganache over the top of the turnovers. Serve warm.
I used a pizza cutter to cut the puff pastry into 4 equal squares and it worked really well. 
Make sure not to overstuff the pastry and to really seal the edges so that the filling doesn't spill out while cooking. Some may naturally ooze out a bit. 
Venting the top of the turnover with a slit helps allow the steam to escape and prevents the fruit from bubbling over too much while cooking. I used a sharp paring knife. 
Ganache does need to be refrigerated so I recommend keeping leftovers in the refrigerator. Reheat in the oven, toaster oven or air fryer. 
Nutrition information for estimation purposes only. 
Serving:
1
turnover
Calories:
242
kcal
Carbohydrates:
34
g
Protein:
3
g
Fat:
10
g
Saturated Fat:
8
g
Polyunsaturated Fat:
1
g
Monounsaturated Fat:
1
g
Trans Fat:
1
g
Cholesterol:
29
mg
Sodium:
48
mg
Potassium:
235
mg
Fiber:
1
g
Sugar:
8
g
Vitamin A:
294
IU
Vitamin C:
3
mg
Calcium:
84
mg
Iron:
1
mg
Keywords:
Breakfast, cherry, chocolate, frozen puff pastry