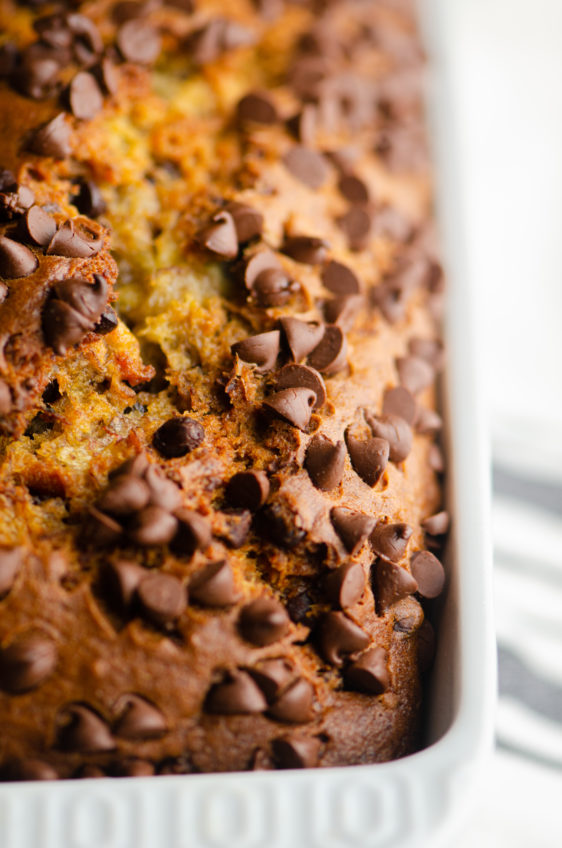 Chocolate Chip Banana Bread
Chocolate Chip Banana Bread because everything is better with chocolate right? This classic banana bread recipe is loaded with mini chocolate chips for a decadent twist. 
Who else has this running joke at their house?
ME: "Oh! Save those bananas! I'm going to make banana bread!"
HUSBAND: "Ok, sure you will"
NARRATOR: She did not actually make banana bread.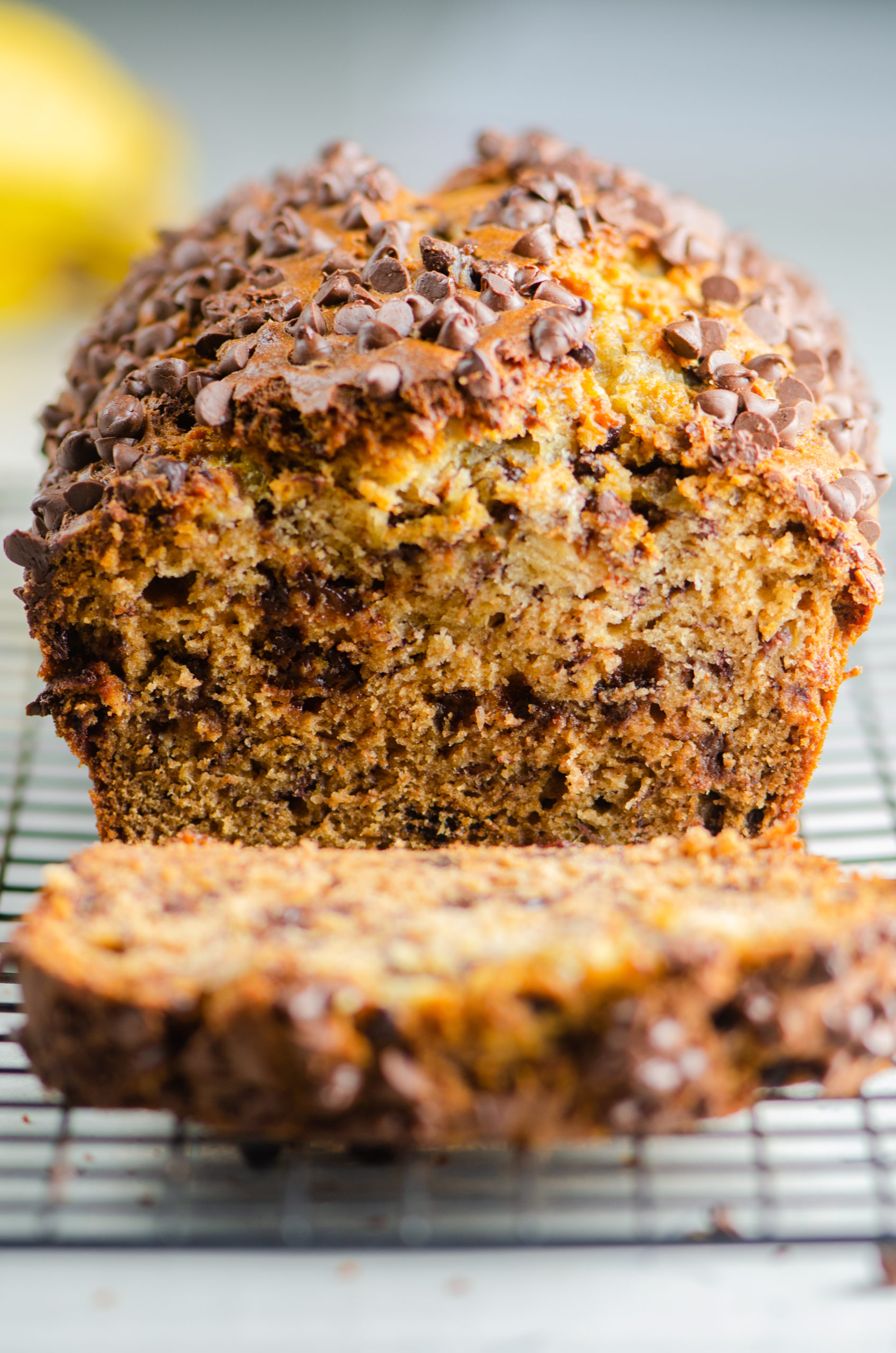 That is basically how it goes anytime I spy some over-ripe bananas sitting on the counter. I have every intention of turning them into banana bread but I rarely do. I'm not sure why though, because banana bread is an easy quick bread that makes a great breakfast or afternoon snack.
Especially when there are chocolate chips in it, obviously.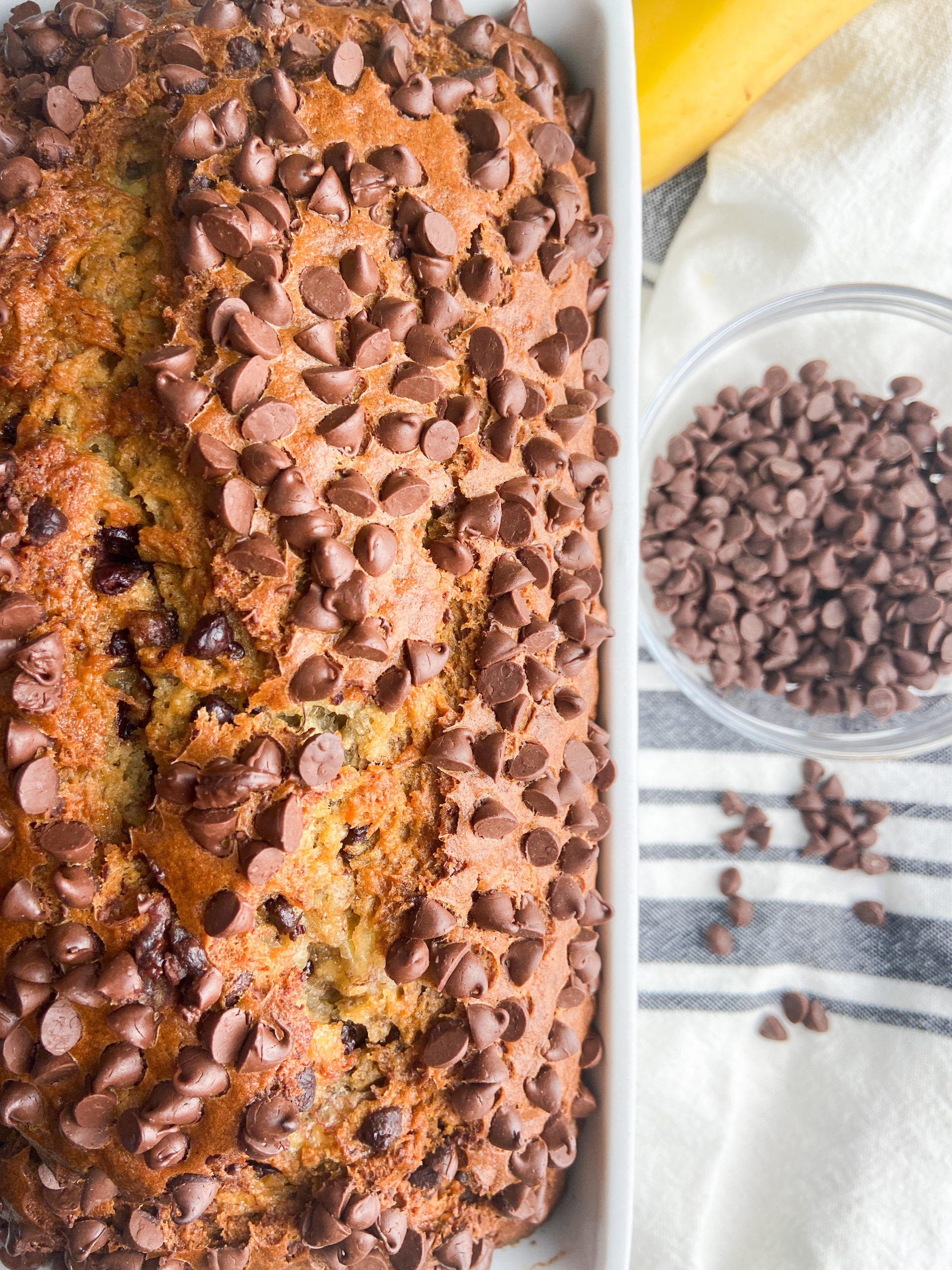 What ingredients do you need:
Since is a classic banana bread recipe with the added mix-in of chocolate chips, you'll need all the classic ingredients: flour, butter, eggs, vanilla, sugar, salt. And of course, over-ripe bananas.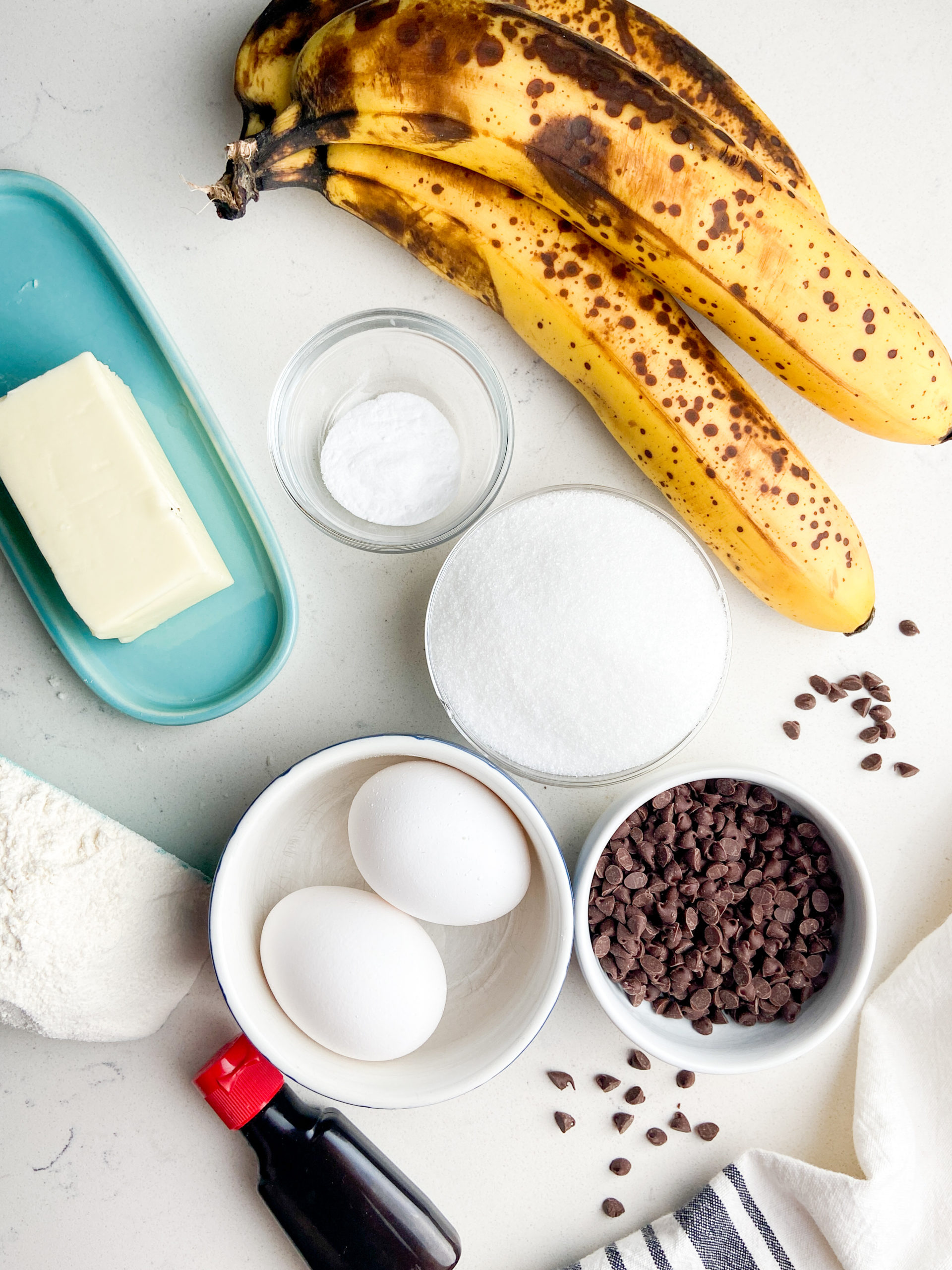 DES' TIP:Make sure you use over-ripe bananas that are heavily spotted. This will result in the sweet banana bread  taste everyone loves! If you don't have time and need to ripen your bananas fast, check out this tutorial on the spruce eats. 
Step by Step Photos and Instructions: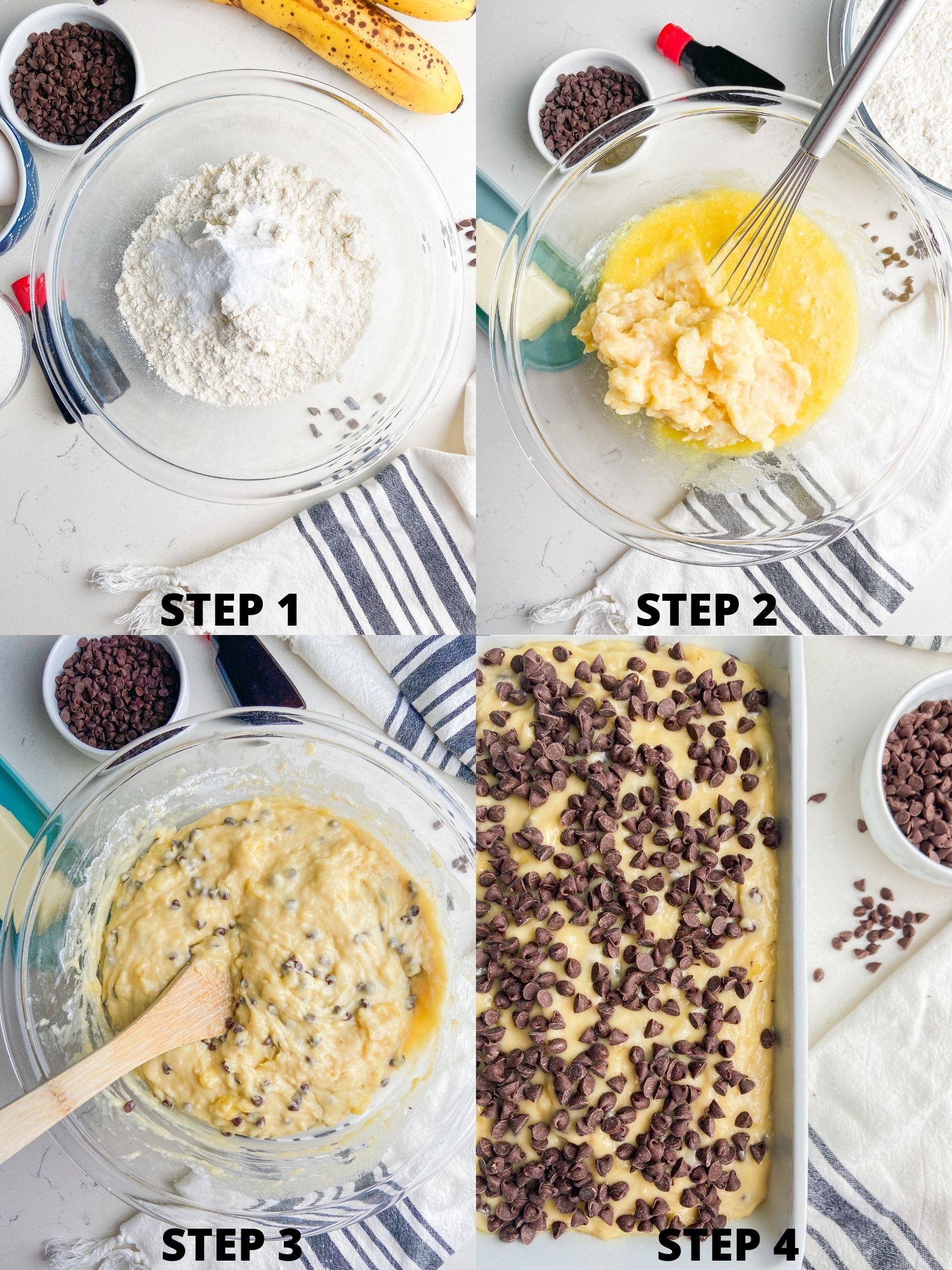 STEP#1: In a medium bowl whisk together flour, baking soda and salt.
STEP #2: In another bowl whisk together eggs, vanilla, butter and mashed bananas. No need to make it smooth, it'll be quite lumpy because of the bananas.
STEP #3: Add in flour. Mix until well combined. Fold in chocolate chips.
STEP #4: Pour batter into a well greased 9×5 inch bread pan. Sprinkle remaining 1/4 cup of mini chocolate chips over the top. Bake in preheated oven for 55 – 70 minutes or until a toothpick inserted comes out with just a few crumbs on it. Allow to cool several minutes in pan before turning it onto a wire rack to cool completely. Once cool, slice.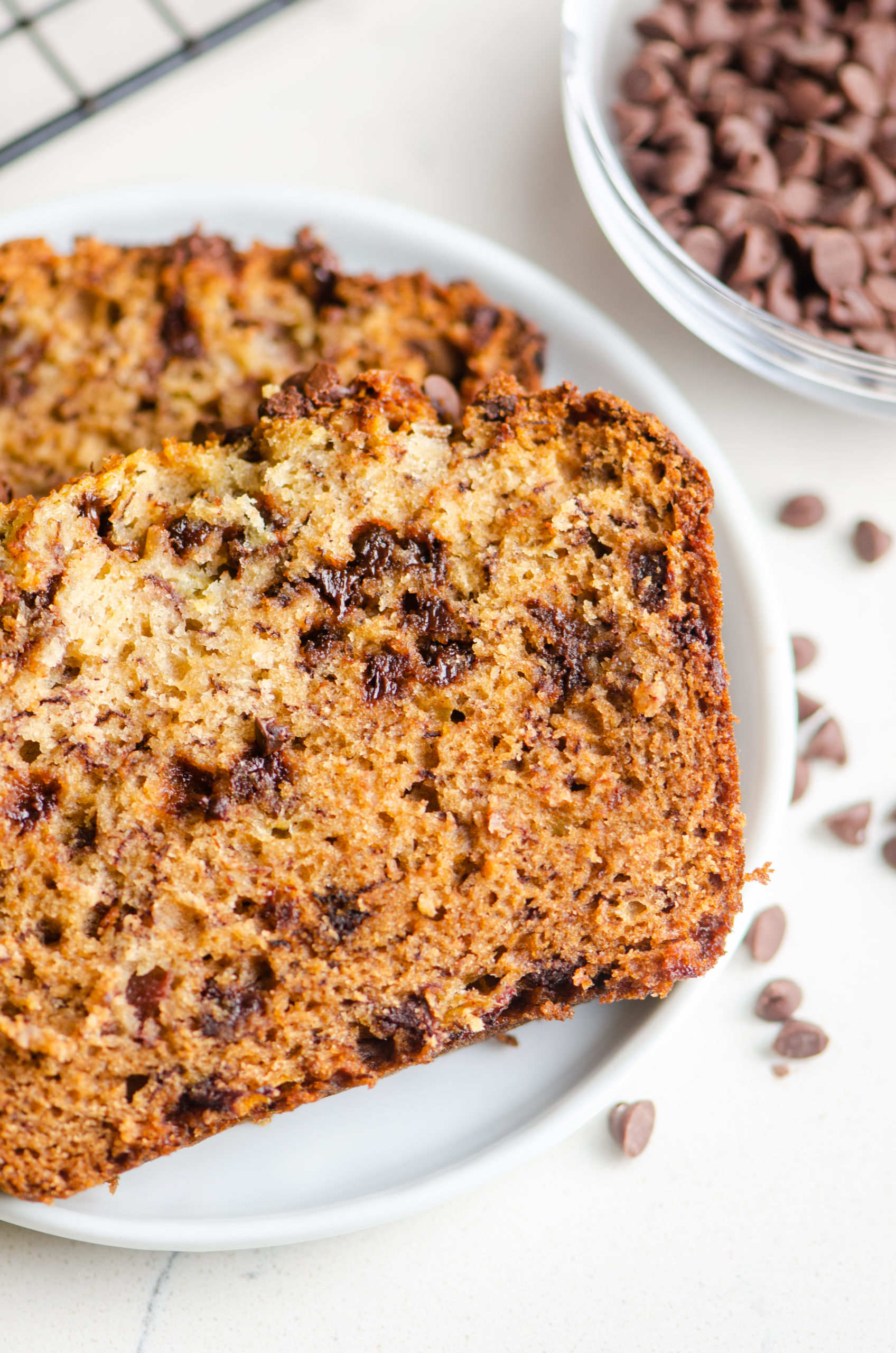 My family loves this banana bread for a quick breakfast on the go. It's also great with my afternoon coffee!
If you love this Chocolate Chip Banana Bread Recipe, you'll also love these twists on the classic:
Can't get enough chocolate? Here are some of my favorites!
Pumpkin Cake with Chocolate Ganache
Note: This recipe was originally posted in 2009. It was updated with new photos, step by step instructions and nutrition facts in 2021.
Chocolate Chip Banana Bread Recipe
Ingredients:
2 cups flour
1 teaspoon baking soda
1/4 teaspoon salt
2 eggs
2/3 cup sugar
1/2 teaspoon vanilla
1/4 cup butter, melted
3 overripe bananas, mashed
3/4 cup mini chocolate chips, divided
Instructions
1
Preheat oven to 350 degrees.

2
In a medium bowl whisk together flour, baking soda and salt.

3
In another bowl, whisk together eggs, sugar, vanilla, butter and bananas. Whisk in flour mixture gradually. Fold in the 1/2 cup mini chocolate chips.

4
Grease a 9 1/2 x 5 1/2 loaf pan with a little butter and pour in mixture. Sprinkle with remaining 1/4 cup chocolate chips. Cook 55-70 minutes or until a toothpick inserted comes out clean. Bread will be golden brown.

5
Remove from oven, cool in pan for several minutes. Remove from pan, place on cooling rack and cool completely before slicing.
Notes
Nutrition facts for estimation purposes only.
Nutrition information
Calories: 388 , Total Fat: 13.3g , Saturated Fat: 7.8g , Cholesterol: 56mg , Sodium: 290mg , Carbohydrates: 64.2g , Fiber: 2g , Sugar: 34.4g , Protein: 5.2g