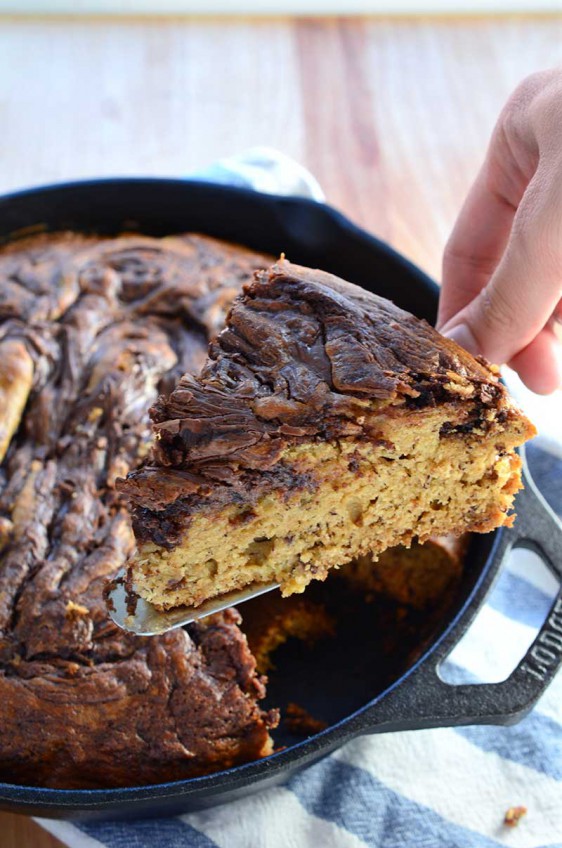 Nutella Banana Bread
Attention parents! My children are OBSESSED with this Skillet Nutella Banana Bread. Obsessed. I am pretty sure if I let them eat this for breakfast lunch and dinner, they totally would. It's perfectly tender, has tons of banana flavor, a swirl of nutella and crisp edges because it's cooked in a cast iron skillet. Honestly, my children aren't the only ones obsessed.
Confession time: sometimes I am a total mess in the kitchen.
There. I said it.
Yes, I am in the kitchen all the time. Yes, I love it. But sometimes I just get these ideas in my head and think I HAVE TO MAKE IT RIGHT NOW. I don't stop to check the time OR make sure I have all the ingredients. Then about halfway through I realize I am out of sugar (like I did in this recipe) or I am short on time.
I should really be a better planner. Maybe that'll be my New Year's Resolution next year.
Again.
But then again, being a mess in the kitchen has led to some beautiful things like this Skillet Nutella Banana Bread. I was actually only going to do a traditional banana bread but silly me didn't check the pantry for granulated sugar because who doesn't have sugar?? (This girl apparently) I also neglected to check the time as I was putting everything together. By the time I did, I realized that I had a little under an hour before I had to leave to pick up Kellan from school. Not enough time to make the bread in a traditional bread pan.  But since I was mid-stir in my nutella banana bread making, I couldn't quit and I decided to spread the bread into a 10 inch cast iron skillet, swirl the Nutella on the top and bake it. It only took about 35 minutes.
Annnnnnnd. I'm pretty sure any banana bread I make from now on will be made in a skillet.
It's just so purty.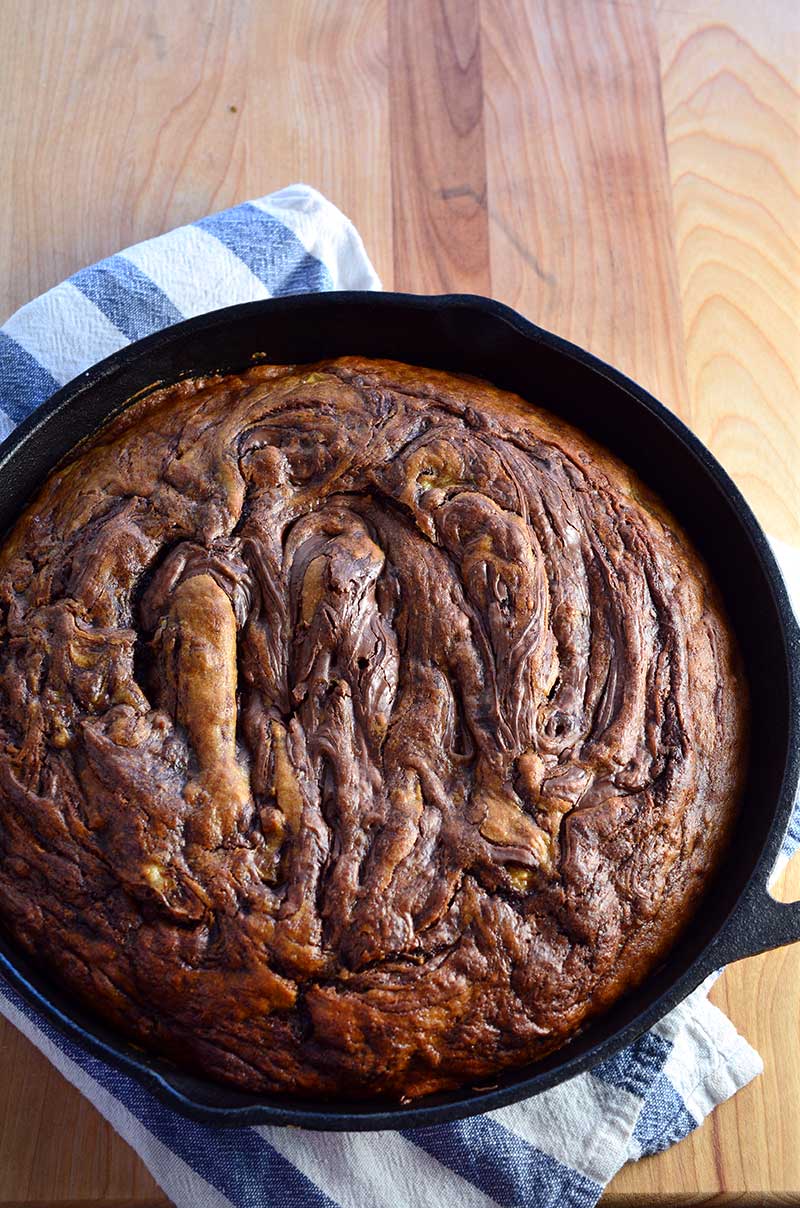 Just look at all that golden brown nutella banana bread goodness!
Oh and you might be wondering how I solved my sugar problem. No, I didn't leave it out. And I didn't ask a neighbor. Instead, I happened to find just enough brown sugar (Add writing a grocery list to the other things I'm a mess at in the kitchen) and used that instead. It worked fabulously so while you could do make this recipe with granulated sugar, I HIGHLY recommend using brown :)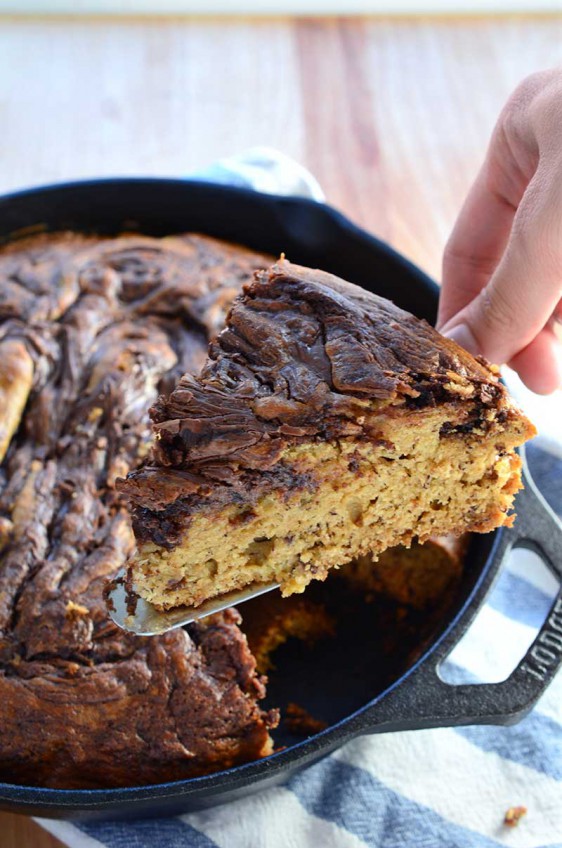 Nutella Banana Bread
Nutella banana bread is moist, decadent and loaded with bananas and Nutella. It makes a great breakfast AND dessert.
Preheat oven to 350 degrees.

In a medium bowl whisk together flour, baking soda and salt.

In another bowl, whisk together eggs, sugar, vanilla, butter and bananas. Add in dry ingredients and mix just until combined.

Spoon and spread batter into a 10-inch cast iron skillet.

Place dollops of nutella over the top of the batter and use a knife to swirl it around.

Bake bread in preheated oven for 30 - 40 minutes or until a toothpick inserted comes out clean.

Transfer to a cooling rack to cool completely. Slice and serve.
Keywords:
banana bread, nutella, skillet banana bread