Fried Coconut Shrimp is a sweet n' salty, crispy are a classic for a reason. This easy to make recipe makes a great appetizer or main dish. 
Way back when, I was a server at a seafood restaurant. It's a job I actually still look back fondly on. But I'm not gonna lie, when I first spotted fried coconut shrimp on the menu, I was not intrigued. I simply did not like coconut. That however did not stop me from using them in my spiel whenever I visited a table. They were hot sellers. People liked them. People really liked them. People liked them so much that I eventually caved and ordered some on my break.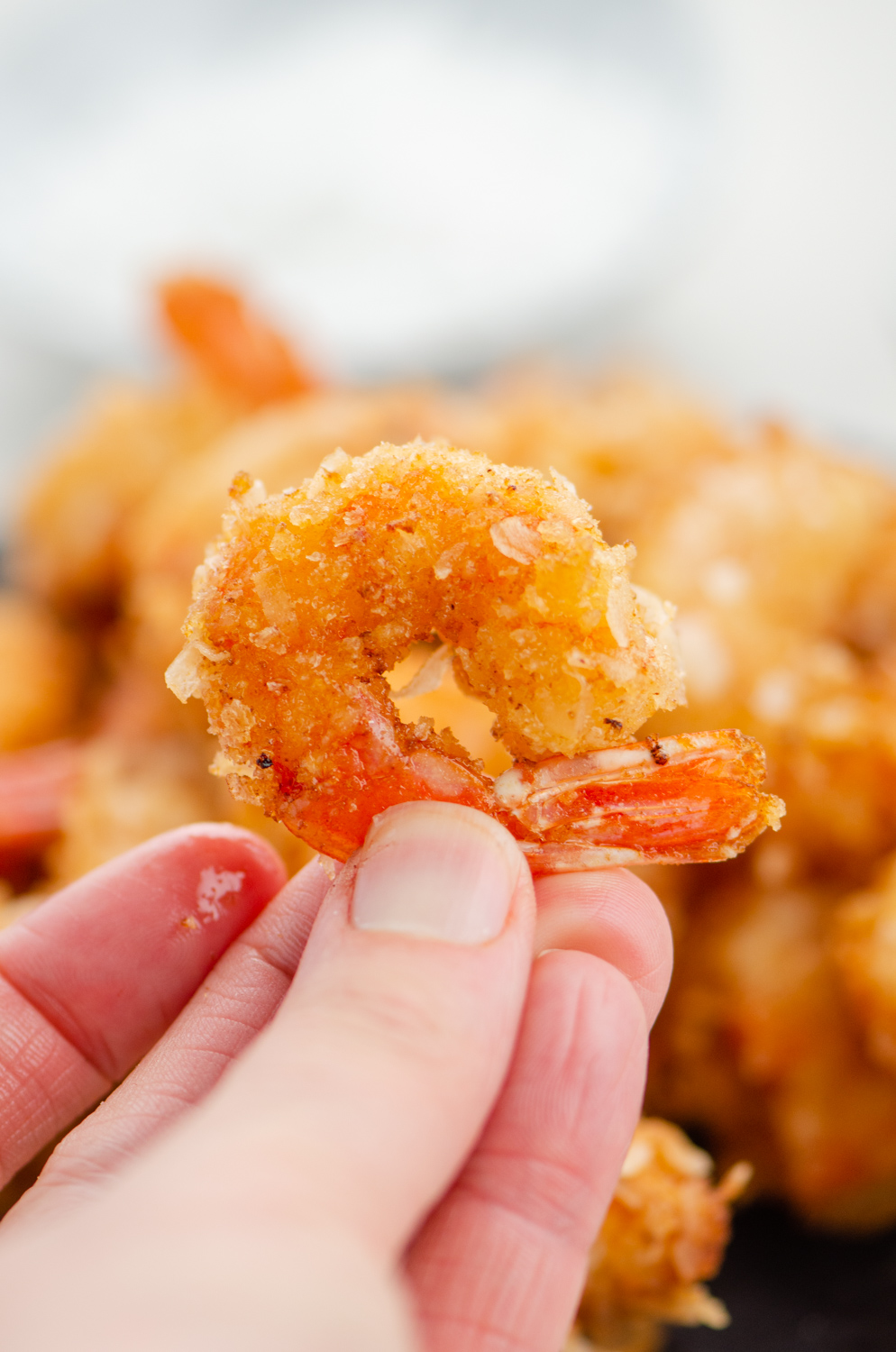 I took my first bite hesitantly as I was fully expecting my mouth to taste like I squirted some Hawaiian Tropic Suntan lotion on my tongue. But alas, that was not the case. They were good. They were crunchy. They were salty. They were sweet. They were everything I was expecting them not to be… including quite addicting.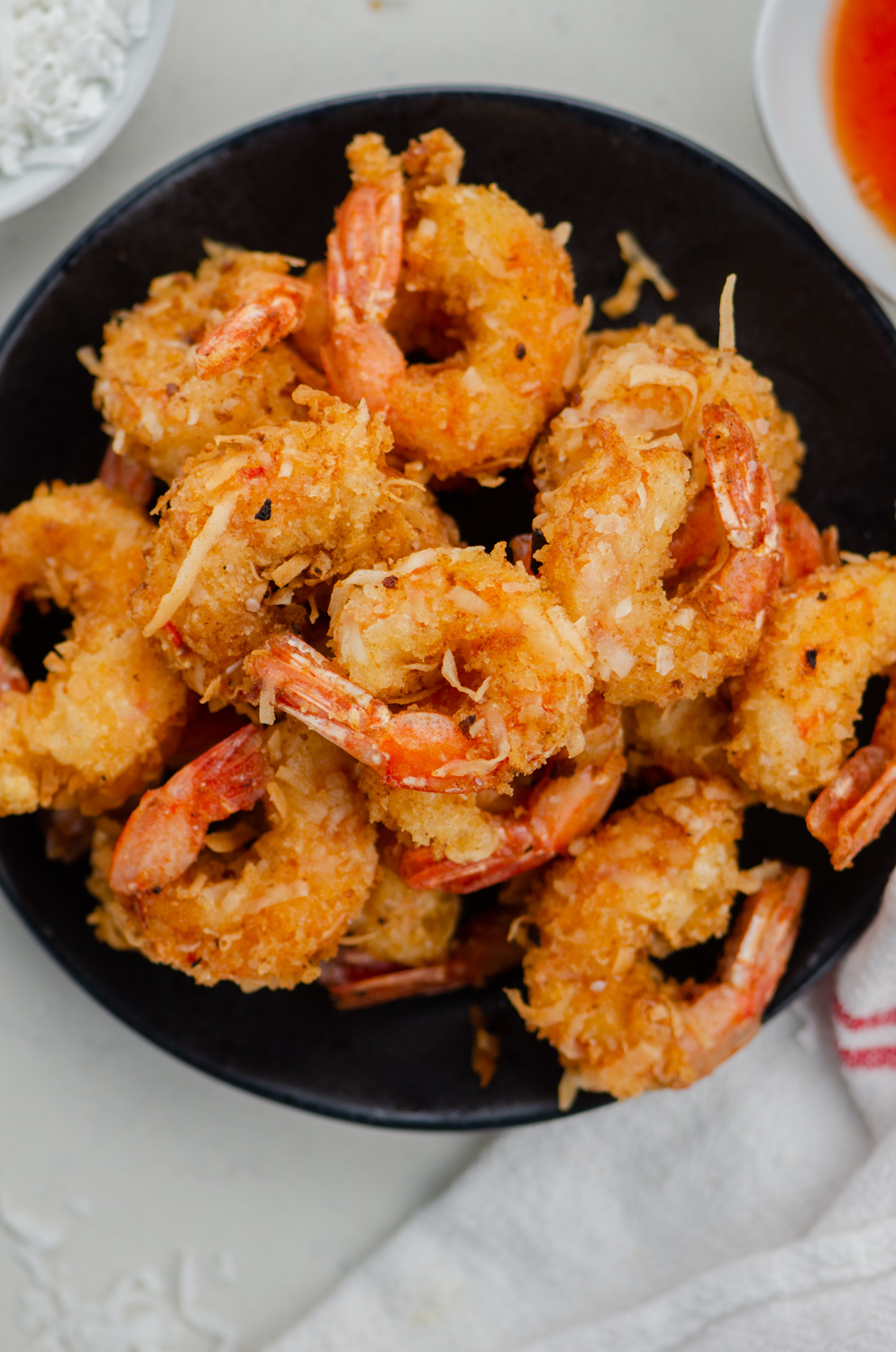 The seafood restaurant I worked at as long since closed but thats OK because I can make these Fried Coconut Shrimp at home now and with this recipe so can you! And guess what: they are super easy!
What ingredients you'll need: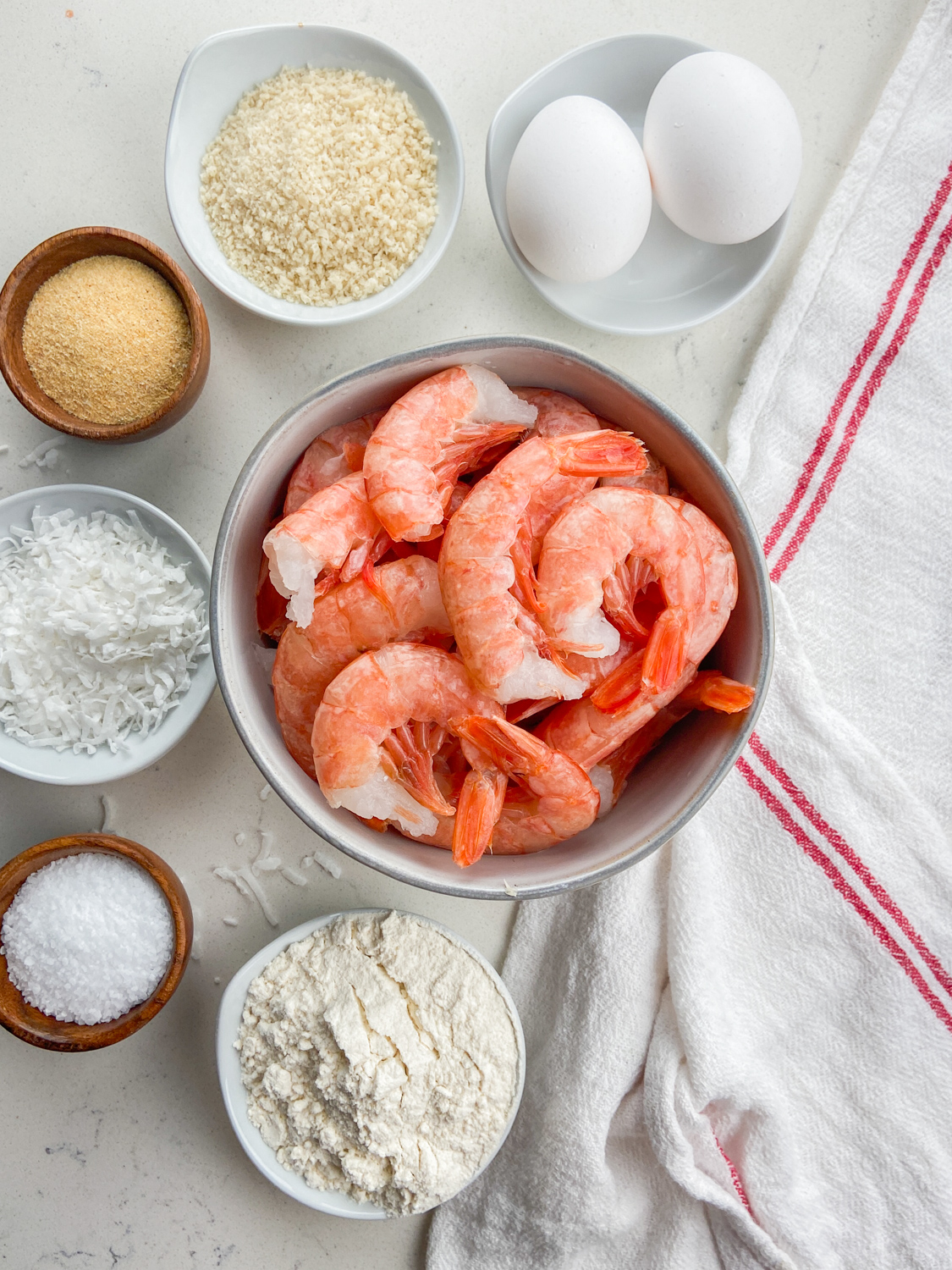 SHRIMP: Use large sized shrimp (about 25 – 30 per pound). I like to buy EZ- Peel Shrimp so that I don't need to do the deveining myself. Makes this easier!
FLOUR/GARLIC POWDER/SALT: This is the mixture that you will dredge the shrimp in before you dip it in the egg whites. It will give the egg whites something to stick to.
EGG WHITES: I like to use this instead of the whole egg because it makes the final coating a bit lighter.
PANKO: This is where the crispiness really comes from. Panko bread crumbs are by far my favorite bread crumb to use in the kitchen.
FLAKED COCONUT: You'll use sweetened flaked coconut in this recipe to give the shrimp a bit of a sweetness.
OIL: Canola, vegetable or peanut oil for frying.
How do you make Fried Coconut Shrimp?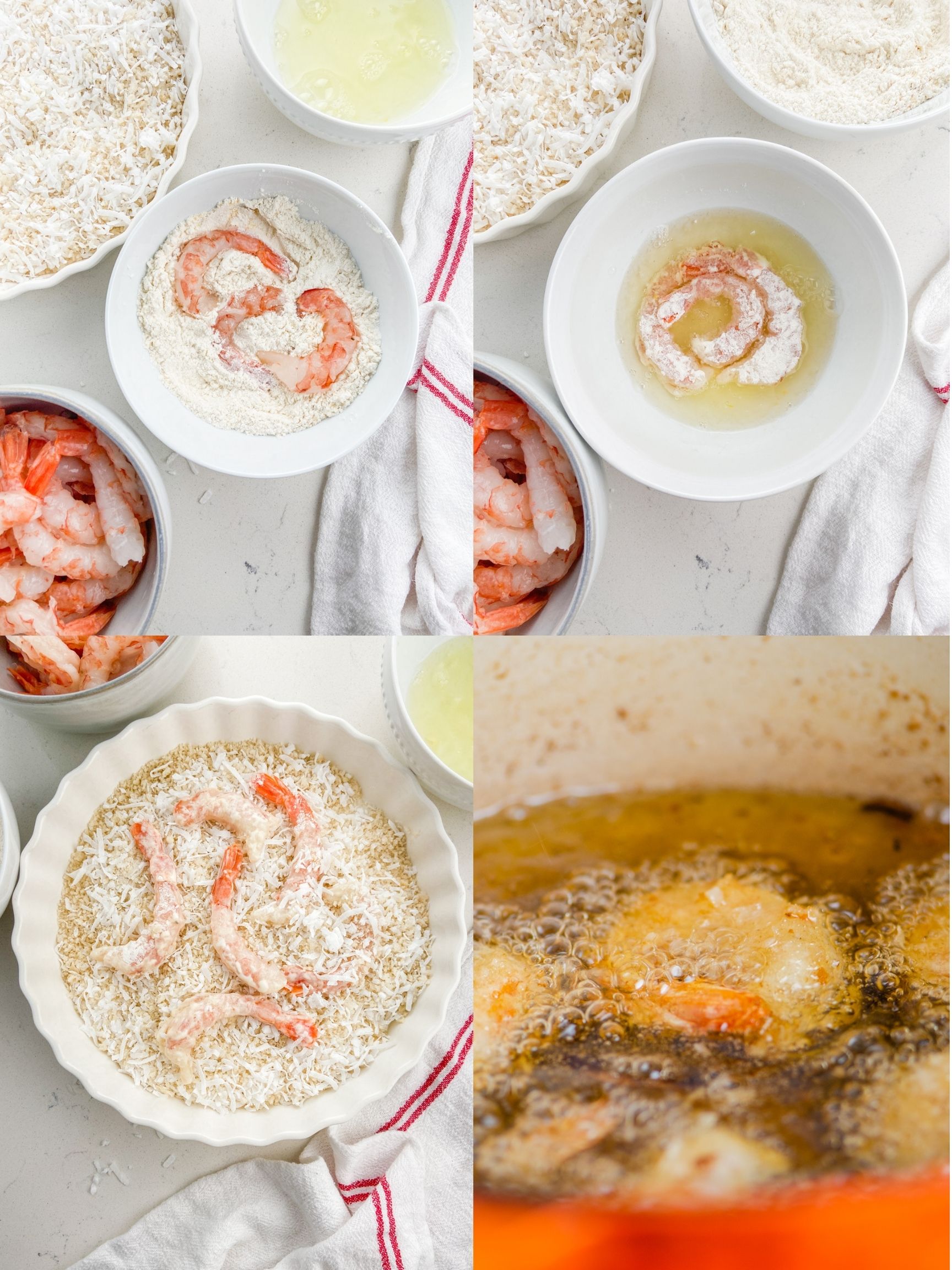 If you've ever done any frying, this coconut fried shrimp follows the same basic "assembly line" preparation.
STEP #1: You'll want to set up an assembly line with 3 different dishes. Combine the flour, garlic powder and kosher salt together in one bowl. In another whisk together the egg whites with 1 tablespoon water. In another bowl combine panko and flaked coconut. 
STEP #2: Press the shrimp into the seasoned flour mixture to coat. Next dip the shrimp into the egg white mixture. Finally, dredge the shrimp into the panko/coconut mixture. Repeat until all shrimp is coated.
STEP #3: Heat 1/4 – 1/2 inch oil in a dutch oven or other heavy bottomed pan to 350 degrees. Fry the shrimp, in batches if necessary, until golden brown and cooked through, about 3 minutes. Transfer to a paper towel lined plate, sprinkle with salt and allow to coo slightly before serving.
For the ultimate sweet n' salty, slightly spicy, bite dip these Fried Coconut Shrimp in sweet chili sauce.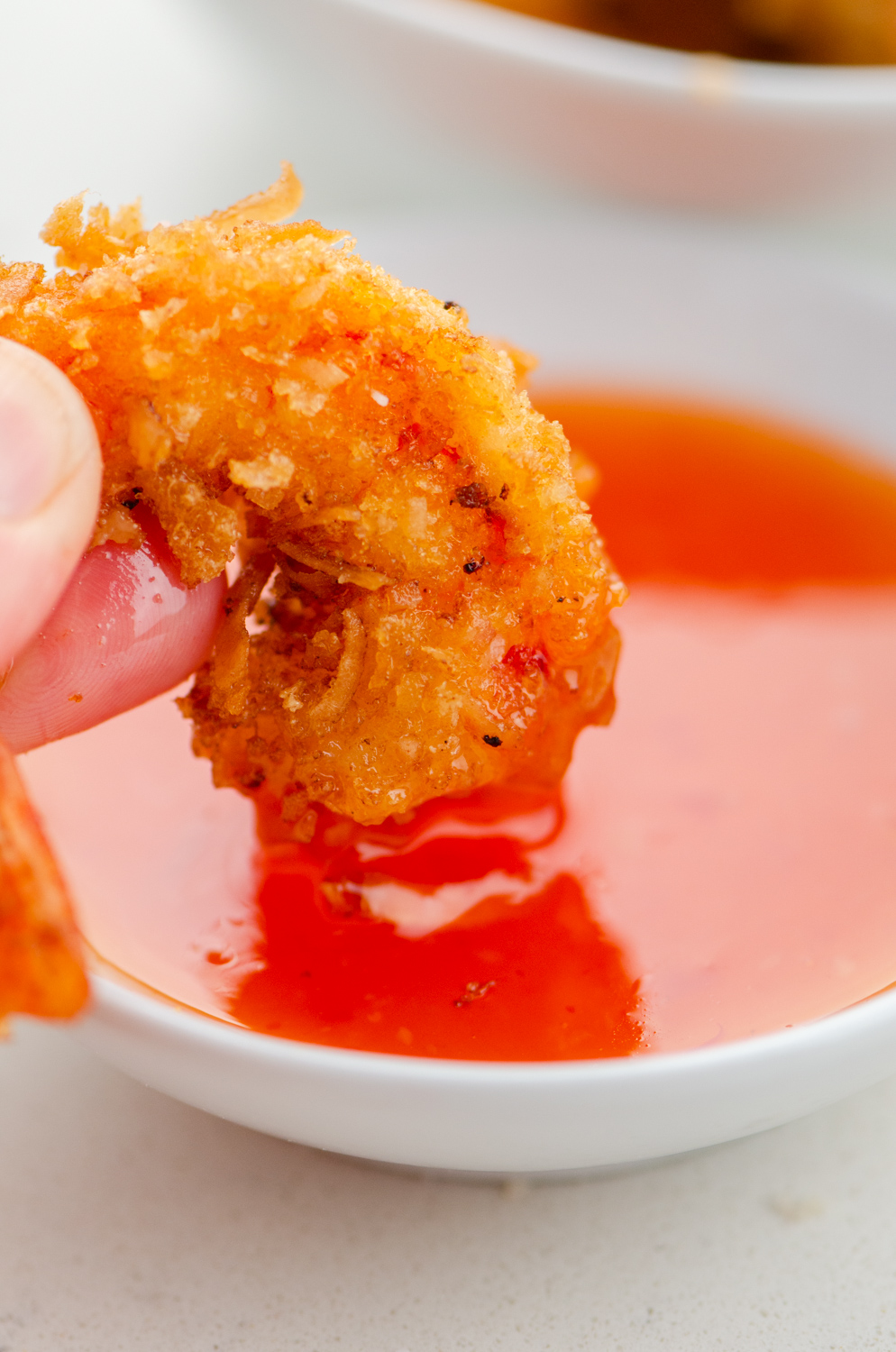 Note: This post was originally posted in 2010. It was updated in 2021 with new photos and nutrition information.
Looking for more Shrimp Recipes? Try these: 
Shrimp Tacos with Cilantro-Lime Sour Cream
Shrimp Linguine with Zucchini and Tomatoes