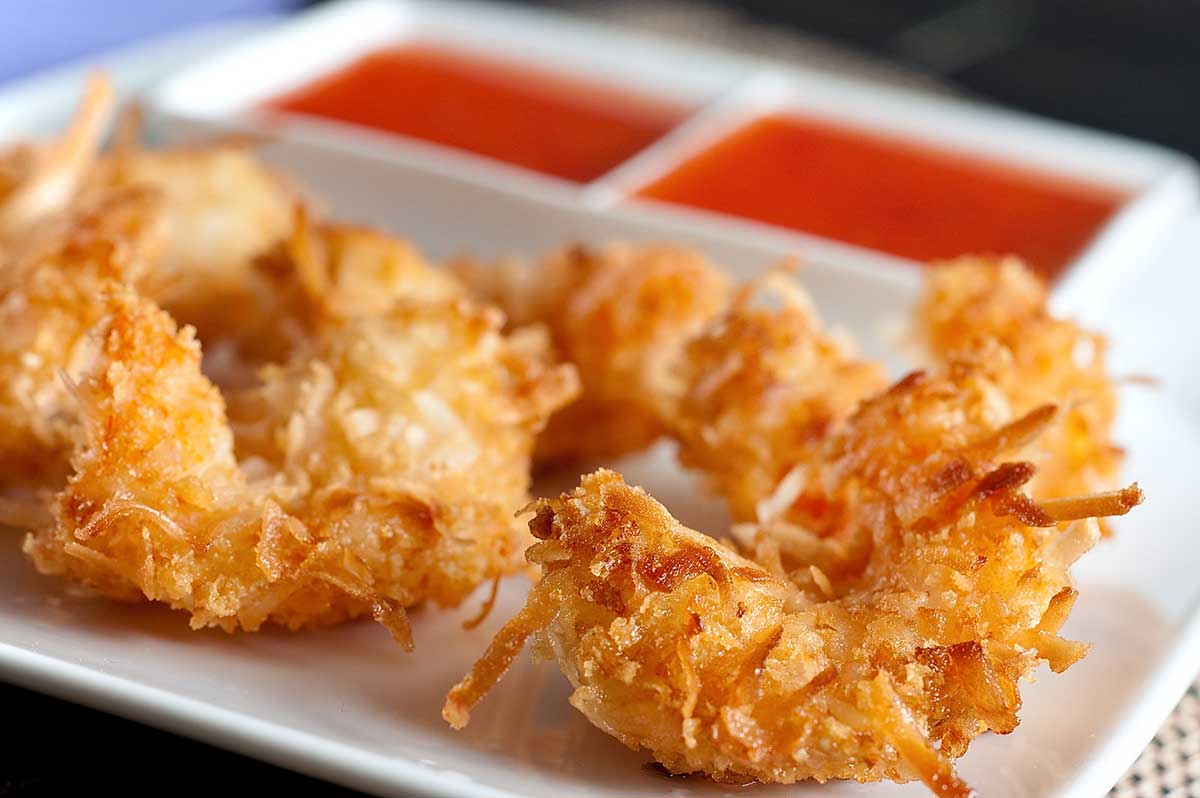 Coconut Prawns
I'm not gonna lie, when I first spotted these on the menu of the restaurant I used to work at, I was not intrigued. I simply did not like coconut. That however did not stop me from using them in my spiel whenever I visited a table. They were hot sellers. People liked them. People really liked them. People liked them so much that I eventually caved and ordered some on my break. I took my first bite hesitantly as I was fully expecting my mouth to taste like I squirted some Hawaiian Tropic Suntan lotion on my tongue. But alas, that was not the case. They were good. They were crunchy. They were salty. They were sweet. They were everything I was expecting them not to be… including quite addicting.
Despite them being so scrumptious, I didn't make them at home until recently. But they are surprisingly easy to make. All you need is shrimp, some seasoned flour, egg whites a little coconut, panko and a little oil for frying and you're good to go. You can serve them as an appetizer or as an entrée whichever you like. They can be ready in about half an hour. Not bad eh?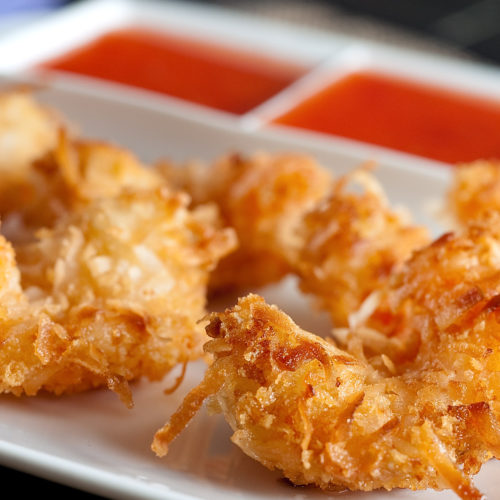 Coconut Prawns
Salty, sweet, and fried until golden brown and crunchy.
Ingredients:
15

26 - 30 count prawns, peeled, deveined, tail-on if possible

1/3

cup

all purpose flour

1/4

teaspoon

garlic powder

1/2

teaspoon

kosher salt

2

egg whites

beaten

1/2

cup

panko bread crumbs

1

cup

flaked coconut

oil for frying
Using a small knife cut the prawns down the back, but do not cut through. This will butterfly the prawns so that they lay flat.

Combine flour, garlic and kosher salt in a bowl. Place egg whites in another bowl. In a third bowl combine panko bread crumbs and coconut.

Press prawns into flour to coat. Dip in egg batter and then press into coconut/panko mixture. Repeat until all prawns are breaded. At this point you can refrigerate the prawns for up to two hours until you are ready to cook.

Heat 1/4 inch of oil in a large skillet over medium heat. Sprinkle some panko bread crumbs into the oil, if they sizzle the oil is hot enough. Begin frying the prawns in batches until golden brown and cooked through, about 3 minutes. Transfer to a paper towel lined plate. Allow to cool slightly. Serve.
Serve with your favorite dipping sauce. I like a little orange marmalade or sweet Thai chili sauce. Enjoy!
Keywords:
appetizer, coconut, coconut prawns, coconut shrimp, Food, Prawns, Recipe, seafood, shrimp