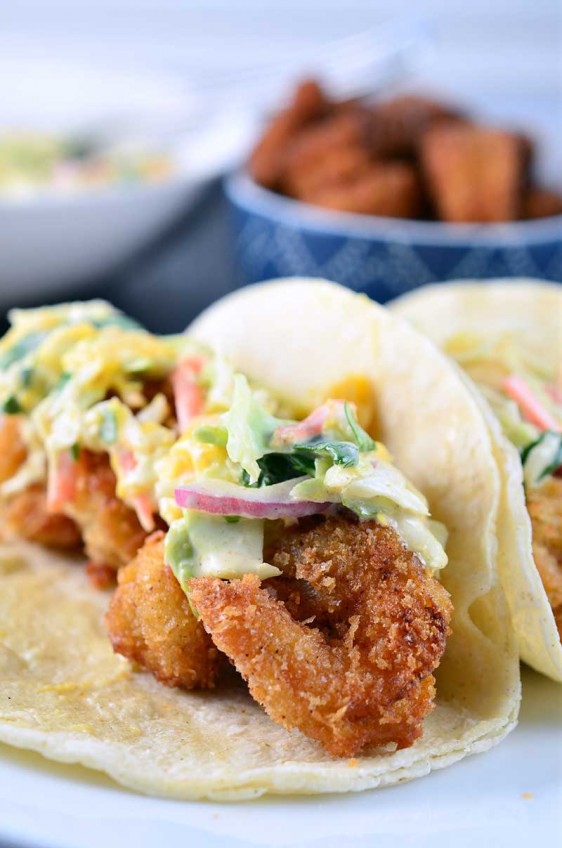 Fried Shrimp Tacos
If you are looking for the perfect fried shrimp tacos with slaw these are it! Fried shrimp tacos are loaded with crispy golden fried shrimp and topped with a creamy mango slaw.
Guys, it was 70 degrees in Seattle last week. SEVENTY. And there were blue skies, fluffy white clouds and sunshine. That, my friends, my favorite weather because that means it's time crack open a corona and make tacos. And obviously when I say "tacos" I mean these Fried Shrimp Tacos with Mango Slaw.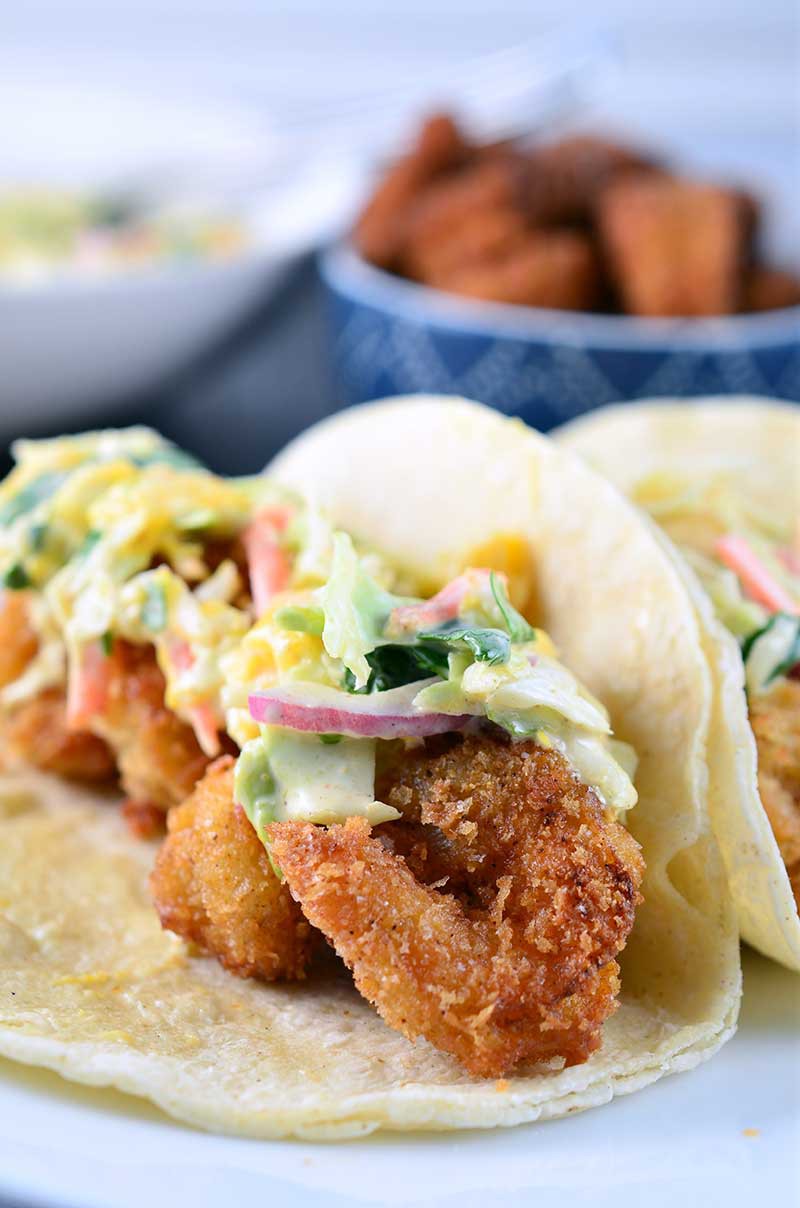 Shrimp tacos have always been one of my favorites. And judging by my search traffic, shrimp tacos have a lot of fans. In fact, the most popular recipe on my blog, by far, is my recipe for Shrimp Tacos with Cilantro Lime Sour Cream. And it's good. Really good. Now, I know you shouldn't mess with a good thing, but I thought it was time to create a crispy version of shrimp tacos so I decided to make these Fried Shrimp Tacos with Mango Slaw.
They've got the whole crispy, crunchy, sweet, spicy and creamy thing going on. And you are going to LOVE them.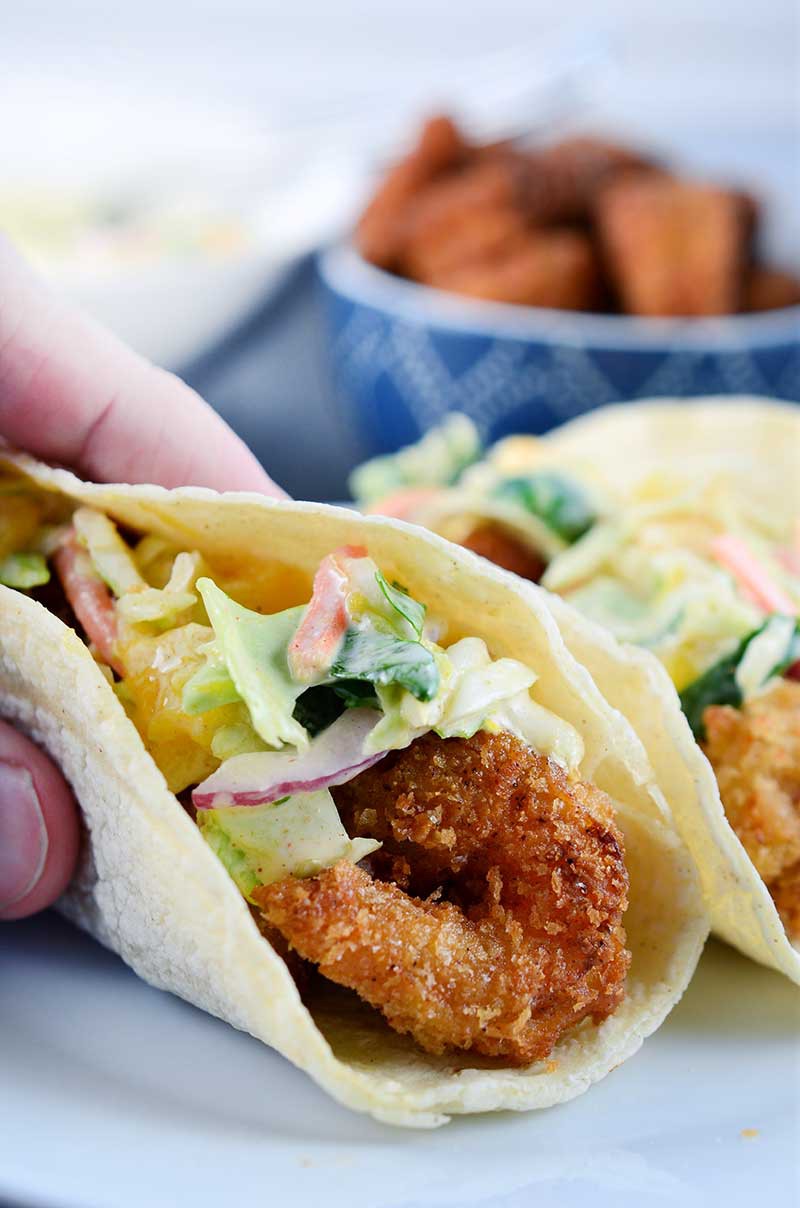 The breading in these crispy shrimp tacos is the classic: flour, egg/milk wash and panko combo. It's my go to combo when I'm frying. In this recipe, it makes the shrimp perfectly crunchy and crispy.
As much as I love the crispy shrimp, because I mean really, you can't go wrong with fried shrimp, I think the mango slaw might be my favorite part of these tacos. It's sweet thanks to the mango and spicy thanks to a jalapeño. Crunchy thanks to coleslaw mix and red onion. And it's creamy and tangy thanks to a quick and easy dressing. It is the perfect compliment to the crispy shrimp.
So if the spring weather is getting you excited for tacos too then these Fried Shrimp Tacos with Mango Slaw NEED to be on your menu. And I am thinking that the next Taco Tuesday would be perfect.

Fried Shrimp Tacos Recipe
Fried Shrimp Taco Ingredients:
1 pound medium shrimp (51-60 count), peeled and deveined
1/4 teaspoon chili powder
1/4 teaspoon cumin
1/2 teaspoon granulated garlic
1/2 teaspoon kosher salt
1/2 cup all purpose flour
1 egg
1/4 cup milk
1 cup panko bread crumbs
oil for frying
10 - 12 taco shells
Mango Slaw Ingredients:
3 tablespoons mayonnaise

3 tablespoons distilled vinegar

1 teaspoon lime juice

1/4 teaspoon cumin

1/4 teaspoon chili powder

1 cup diced mango

2 cups coleslaw mix

1 jalapeno, sliced

1/4 cup chopped red onion

1/4 cup chopped fresh cilantro

salt

Instructions
1
Make the slaw first. Whisk together mayonnaise, vinegar, lime juice, cumin and chili powder.

2
In a bowl mix together mango, coleslaw mix, jalapeño, red onion and cilantro. Pour mayonnaise mixture over the top. Toss to coat. Season to taste with salt. Cover and refrigerate until ready to use.

3
In a bowl combine shrimp chili powder, cumin, granulated garlic and salt. Toss to coat.

4
Make an assembly line to coat the shrimp. Place the flour on one plate. Whisk together the egg and milk in a bowl. On another plate place panko.

5
Dredge the shrimp in the flour, dip in the egg/milk mixture and finally press into the panko to coat. Repeat until all shrimp are coated.

6
Heat 1/4 inch of oil in skillet to 350 degrees. Fry shrimp, in batches if necessary until, golden brown and cooked through, about 3 minutes.

7
Heat tortillas according to package directions.

8
To assemble a taco, place 4 - 5 shrimp in a taco shell and spoon slaw over the top. Serve.