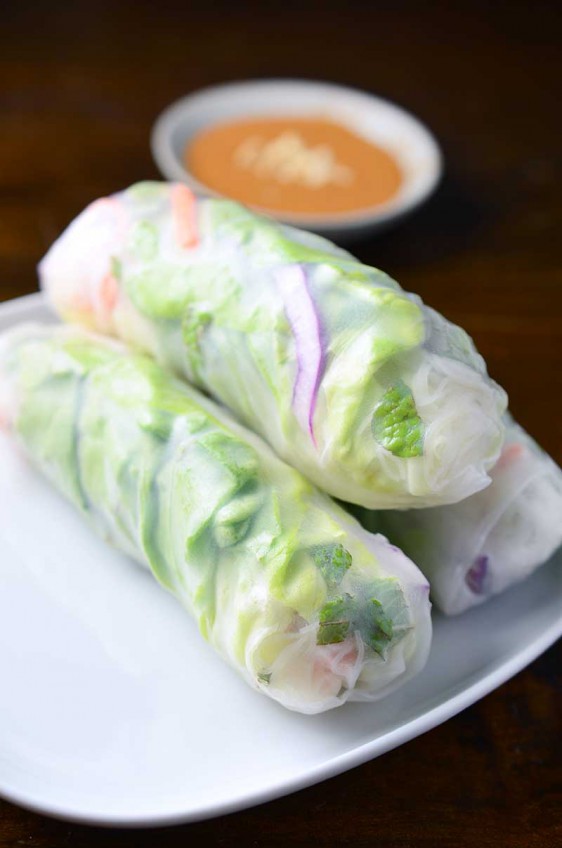 Fresh Spring Rolls with Spicy Peanut Sauce
Fresh Spring rolls with spicy peanut sauce are a healthy lunch, loaded with fresh veggies. They're easy to make and a great option to replace sandwiches.
As a stay at home mom, I am always looking for new things to eat for lunch. My three year old may be content eating a peanut butter and jelly sandwich every day, but I need a little more variety. Something that makes me excited about eating lunch, and a big bonus if it helps me get in another serving or two of veggies. That is where these Fresh Spring Rolls with Spicy Peanut Sauce come in handy. They are super filling, loaded with veggies and dipped in the most luscious spicy peanut sauce. It's the perfect way to jazz up any lunch.
When it comes to lunches, I've never been much of a sandwich person. Ryan and Kellan on the other hand can eat sandwiches every day and be totally fine. Occasionally, I'll let my inner child loose and have a PB&J but only once in a while. I'll have quesadillas some times and if there is dinner leftovers, I'll reach for those. But all in all, I hate to admit it, lunches around here can get pretty boring. To the point where I'm eating it thinking "ok what's for dinner?"
Then I made these Fresh Spring Rolls with Spicy Peanut Sauce and they are a total game changer.
You can really put anything you want in them. There's a great post on White on Rice Couple on How to Roll Fresh Spring Rolls. They have a ton of awesome info there that helped me create this recipe.
First, I wanted them to be hearty so I wanted to make sure the rice noodles were there. Second, I wanted the noodles to have a bit of flavor to them so I added a little Tessamae's Soy Ginger dressing. It gave the noodles a nice flavor but not too overpowering. You could use any soy ginger dressing you like, that just happens to be my fave :)
Next, I wanted to make sure it was loaded with veggies that I love. There is lettuce for crunch, fresh cucumber, carrots and cabbage. Then, following Diane's advice I also added some chopped fresh mint.
All of these things made for hearty, fresh Spring rolls. But I thought it needed something a bit more so I made a Spicy Peanut Sauce to go along with it. It has peanut butter, sriracha, garlic, hoisin, soy sauce, lime juice and water. And that's it. Guys, it is SO easy to make.  All you have to do is whisk all the ingredients together and voila! Spicy Peanut Sauce. You're gonna want to dip all the things in it, but I highly recommend that you start with the fresh Spring rolls.
Fresh Spring Rolls Recipe Notes:
Note 1: The peanut butter I used is simply peanuts and salt. If the peanut butter you are using has sugar, I would add the hoisin a little bit at a time to ensure the sauce doesn't become too sweet.
Note 2: This recipe makes 10 – 12 rolls so it's perfect for a couple of days worth of lunches. Make sure that when you are storing them you wrap them individually in plastic wrap so that they don't stick together.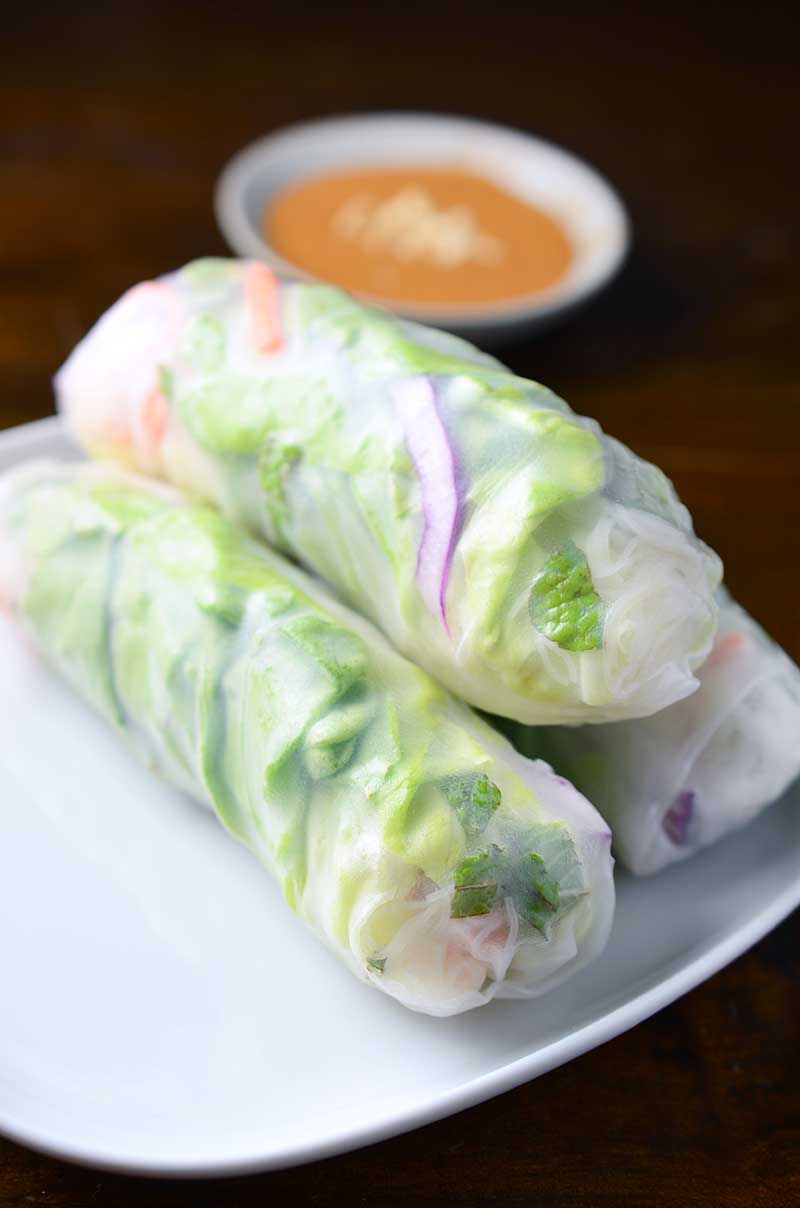 Fresh Spring Rolls with Spicy Peanut Sauce Recipe
Spring Roll Ingredients:
4 ounces thin rice noodles
2 - 3 tablespoons Soy ginger dressing (such as Tessamae's)
10 - 12 bib lettuce leaves, rinsed and pat dry
1/2 medium cucumber, peeled and julienned
1 1/2 cup finely sliced red cabbage
1 1/2 cups julienned carrots
2 tablespoons chopped fresh mint
10 - 12 rice paper wrappers
Spicy Peanut Sauce
1/4 cup creamy peanut butter

1 clove garlic, minced

2 - 4 tablespoons water

2 teaspoons sriracha sauce

1 1/2 teaspoons hoisin

1 1/4 teaspoons soy sauce

1 teaspoon lime juice

Instructions
1
Make the peanut sauce first so it has time for the flavors to mingle. Simply whisk together peanut butter, garlic, 2 tablespoons water, sriracha, hoisin, soy sauce and lime juice. If sauce seems too thick continue adding water until desired consistency. Cover and refrigerate until ready to use.

2
Cook the noodles according to package directions. Drain and pat dry between paper towels.

3
Pour dressing over the top of noodles and toss to coat.

4
Arrange all of your ingredients in an assembly line.

5
To make one roll: Soak 1 piece of rice paper in the water for about 30 seconds or until it becomes soft and pliable. Carefully lay the wet wrapper on a flat surface. Place a lettuce leaf about about one inch from the edge of the wrapper closest to you. Place a few cucumbers, some cabbage and carrots on top of the lettuce. Place some noodles on top and sprinkle with mint. Be careful not to overfill or the wraps will tear. Working away from you, carefully fold the wrapper over the mixture. Next fold in both sides and then continue rolling away from you to seal. Place finished roll seam side down on the serving platter. Repeat with remaining filling and wraps making sure the rolls do not touch on the serving platter. Serve with peanut sauce.

6
Leftovers can be wrapped individually in plastic wrap and stored in the refrigerator. Eat within a few days.