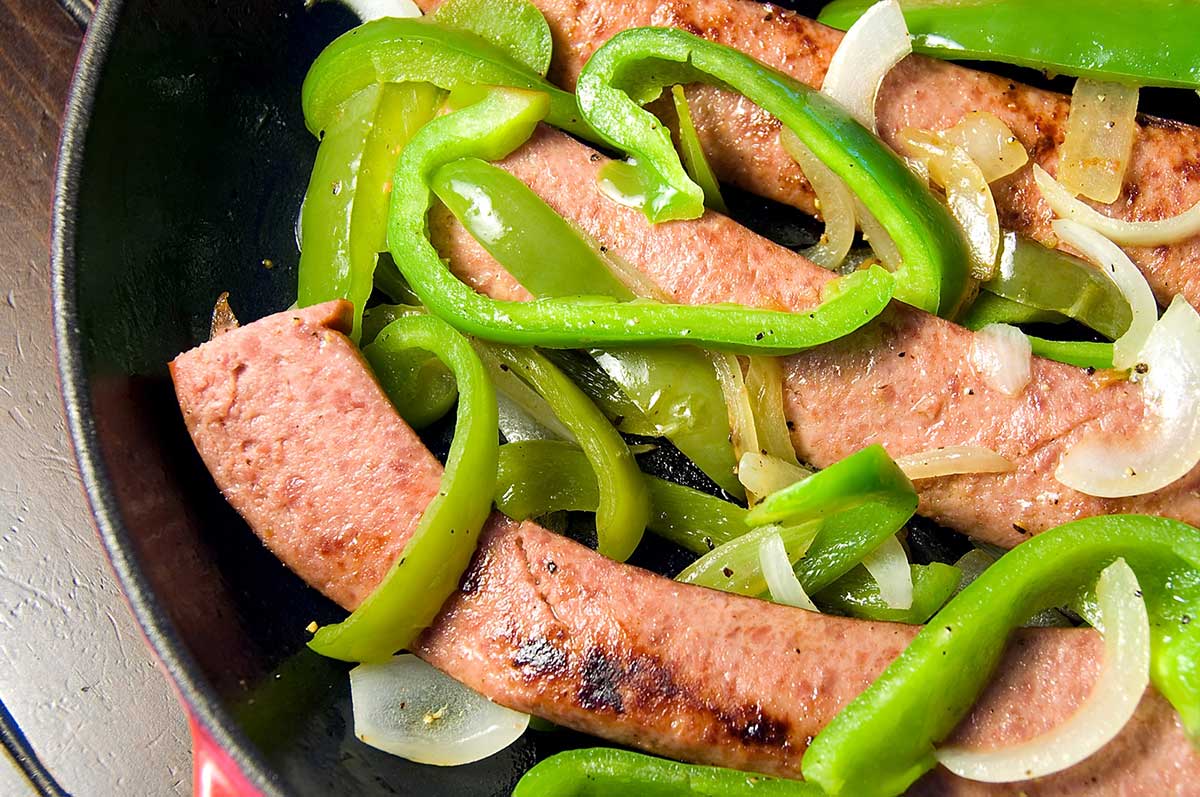 Kielbasa with Peppers and Onions
By now almost everyone is back to school and our regular routines are kicking in. For some this will mean getting kids to school or after school activities and helping them with homework. For others, it means that you will be again spending hours upon hours of doing homework. Either way, time can be a little tight when the school year starts, which can lead to one too many trips to the drive-thru. But instead of rushing to the nearest fast food chain why not try making some hearty quick meals at home? Pre-cooked kielbasa, a bell pepper and an onion can make that happen.
For as long as I can remember I have been a big fan of kielbasa. My mom used to make it for quick weeknight meals with some fried potatoes and it was always a crowd pleaser. And like  many of my recipes, I continue to cook it today. However, I have made one small change.  I have since found turkey kielbasa and prefer that over beef. It still tastes like kielbasa but without all the grease, a nice change.
Oh and if you ever talk to my mom she will tell you that she tried to introduce me to turkey substitutions for beef a long time ago and I flat out refused to eat them. Lies I tell you, all lies. Well maybe except for when she made me turkey bacon, that should just be illegal.
Kielbasa with Peppers and Onions Recipe
Ingredients:
1 tablespoon unsalted butter
1 tablespoon olive oil
1 large green bell pepper, sliced
1 medium yellow onion, sliced
1 (14 ounce) package turkey kielbasa, cut at the curve and then halved lengthwise
salt and pepper to taste
Instructions
1
In a large, heavy bottom skillet ( I prefer cast iron), heat olive oil and butter over medium heat. Once butter has melted, add onions and peppers. Cook, stirring occasionally until softened, about 5 minutes.

2
Place the kielbasa in the pan, flesh side down. Cook until browned, about 6 minutes.

3
Transfer sausage to to a serving platter, spoon peppers and onions over the top. Serve.
Notes
This also makes unbelievably good sandwiches. Cut the kielbasa into smaller slices. Toast some ciabatta bread, place sliced kielbasa, peppers and onions on the bottom half, spread a little mayo on the top and serve. Enjoy!