Pan Seared Sea Scallops
You can make restaurant quality scallops right at home! This simple recipe for Pan Seared Sea Scallops only needs a few ingredients and is a show stopper.
For the longest time Seared Scallops was a dish that I reserved for whenever we'd dine out. I never thought to make them at home. Maybe I was intimidated but guys, I don't know why because they are BEYOND easy to make yourself.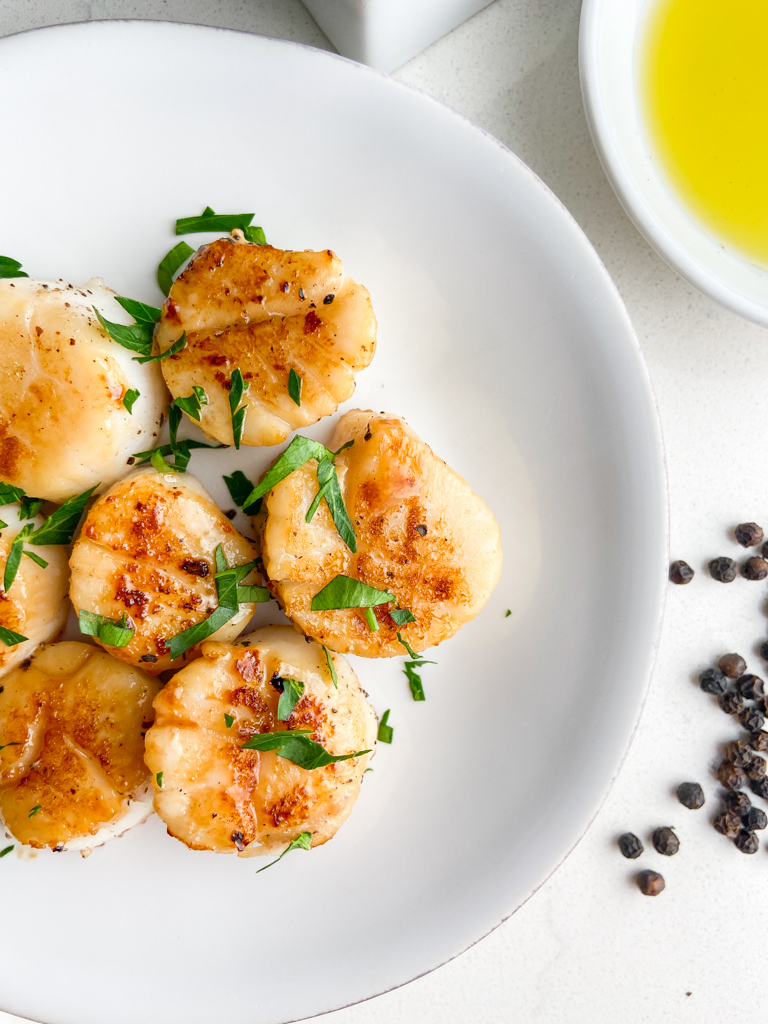 We're talking like 10 minutes tops and you've got a restaurant quality dish on your dinner table. Let me show you just how easy it is so you can do it too!
What are scallops?
Scallops, if you aren't familiar with them, are bivalves. That just means that they have to shells. They are tender. Slightly sweet and buttery. Think of them as a cross between clams and crab or lobster. They are also considered one of the healthiest seafoods with 80% protein and a low fat content.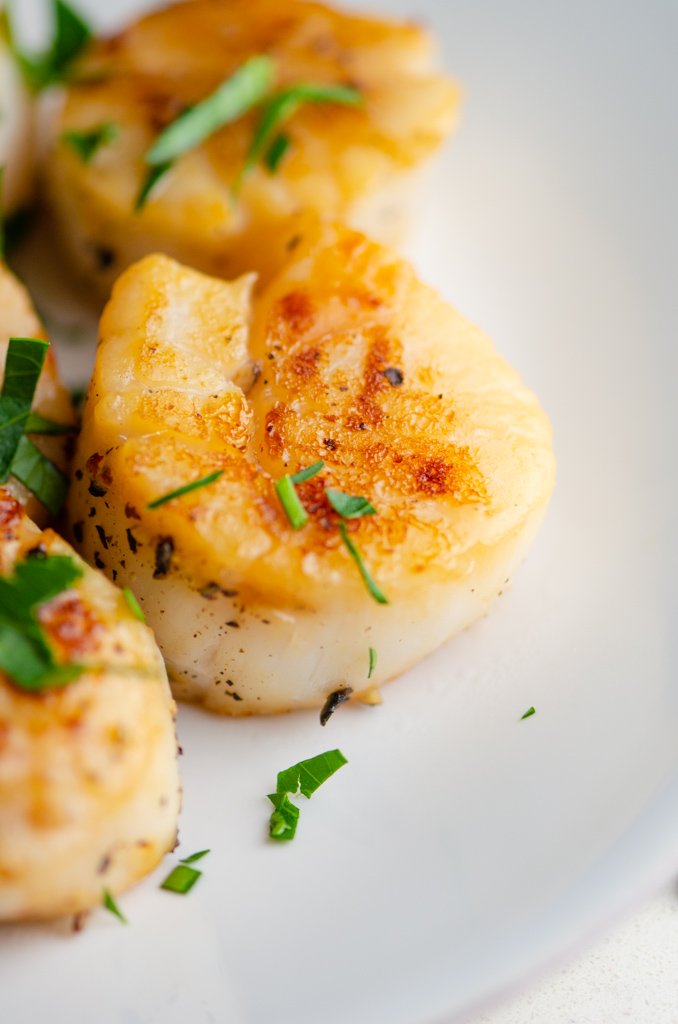 What ingredients do you need?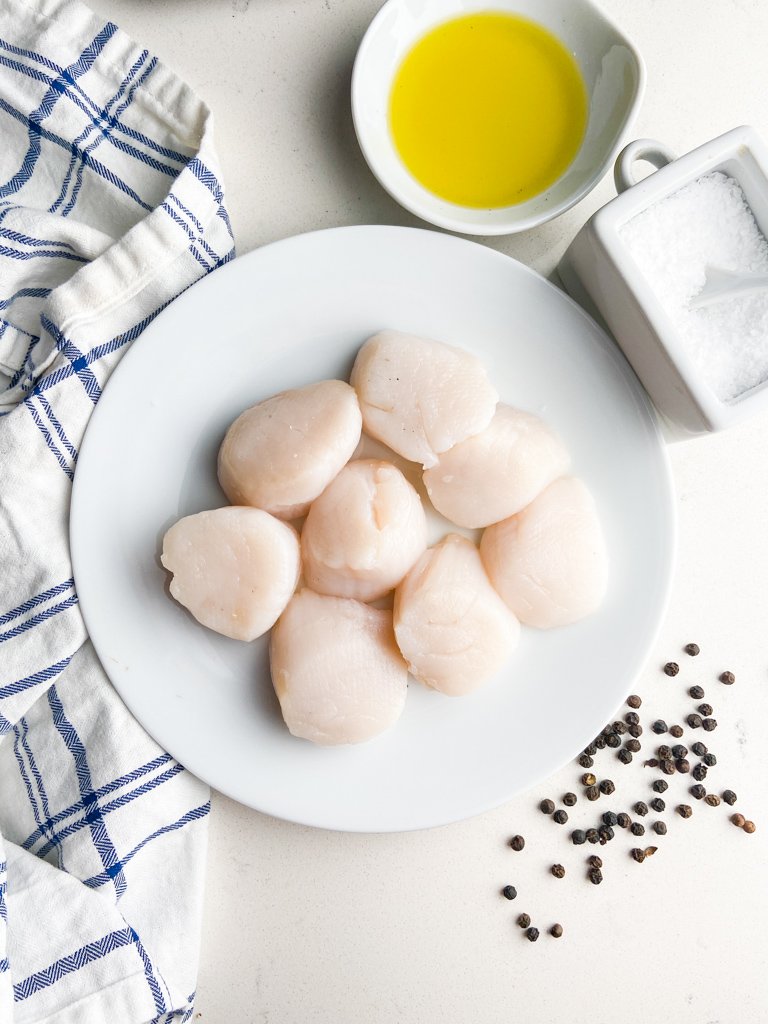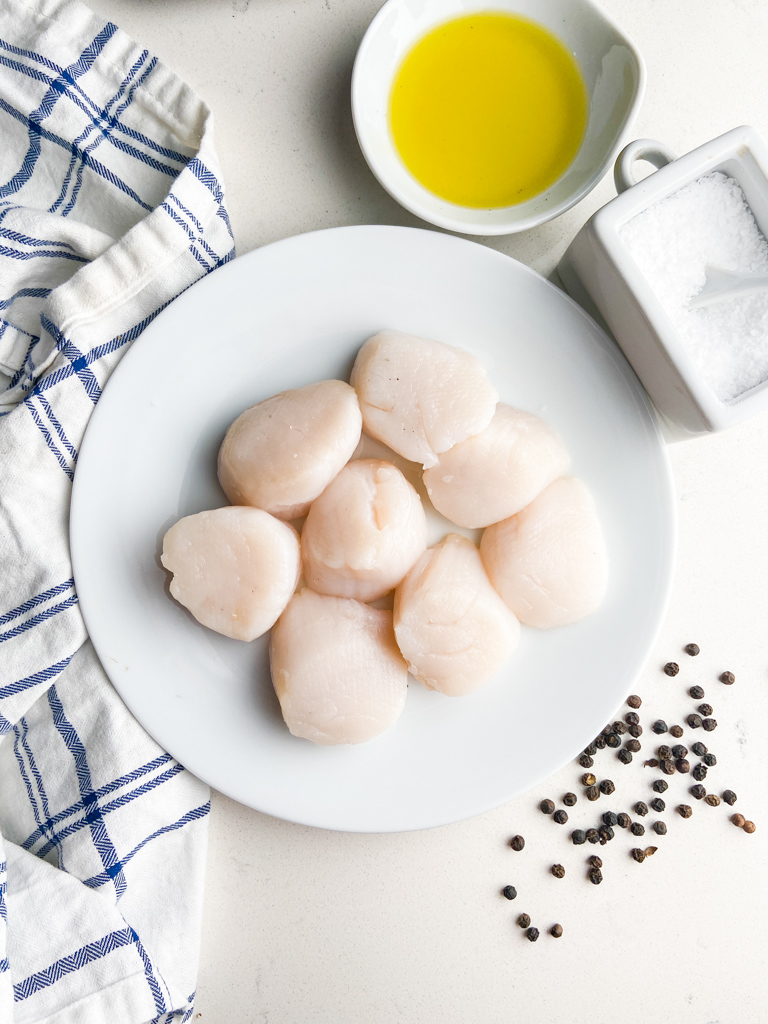 JUMBO SEA SCALLOPS: If you can find them fresh that's great. Keep in mind when picking them out fresh scallops shouldn't smell fishy. They should have a fresh, slightly sweet smell. If you are using frozen, you need to make sure that they are thawed completely before cooking.
OLIVE OIL: Just enough to lightly coat the bottom of the skillet.
SALT AND PEPPER:
BUTTER: Added at the end of cooking for a little more richness.
How to sear scallops:
It's super easy! Let me show you how.
First, in order to get that gorgeous brown crust, make sure that you pat the scallops dry. Do this gently with a paper towel.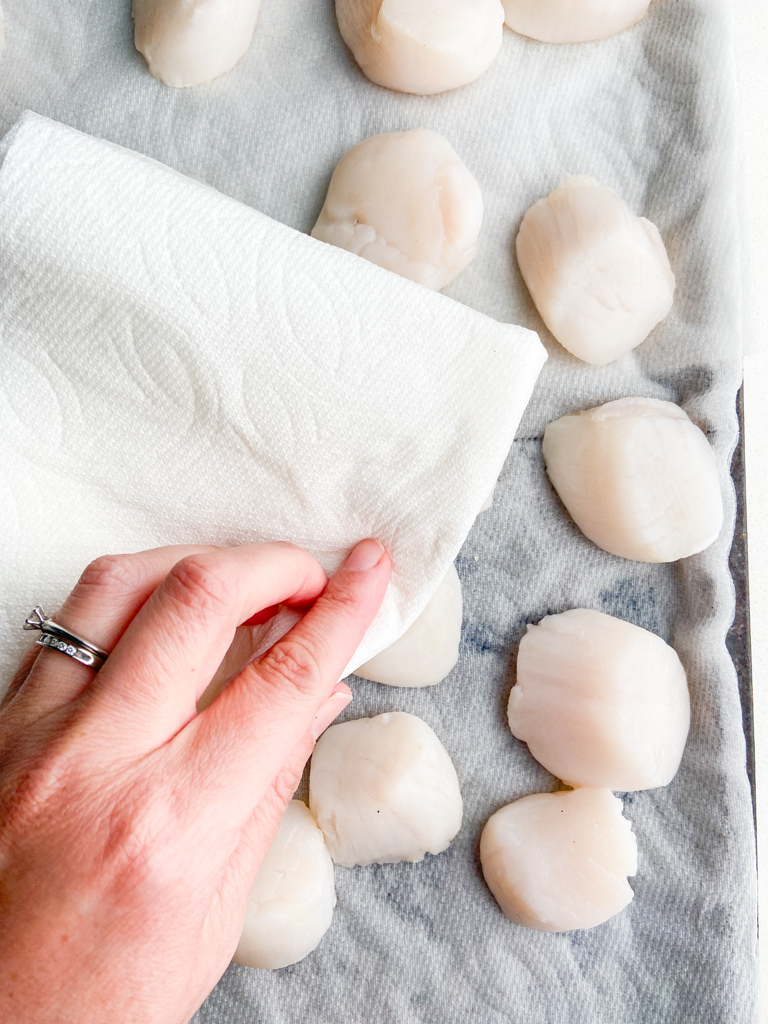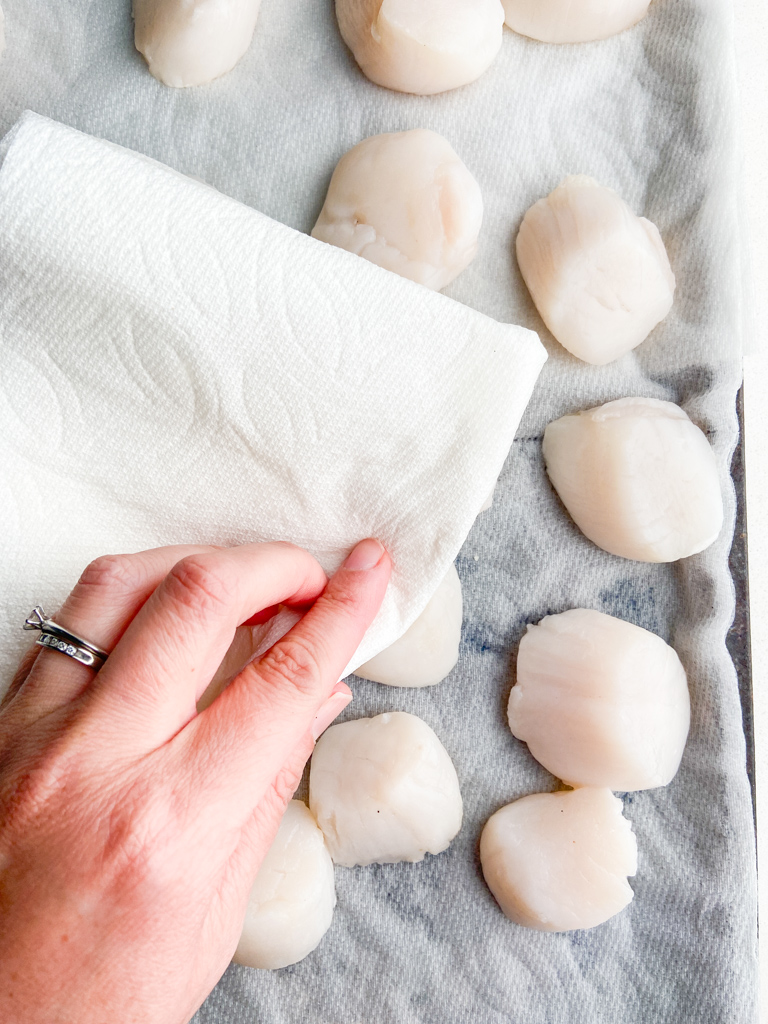 Next, sometimes scallops will have a tough rectangular tag of tissue on the side (sometimes this is removed before you buy them) It is not necessary but I like to remove it because it can be tough. To remove the side muscle of scallops simply pinch it between your thumb and first finger and pull it off.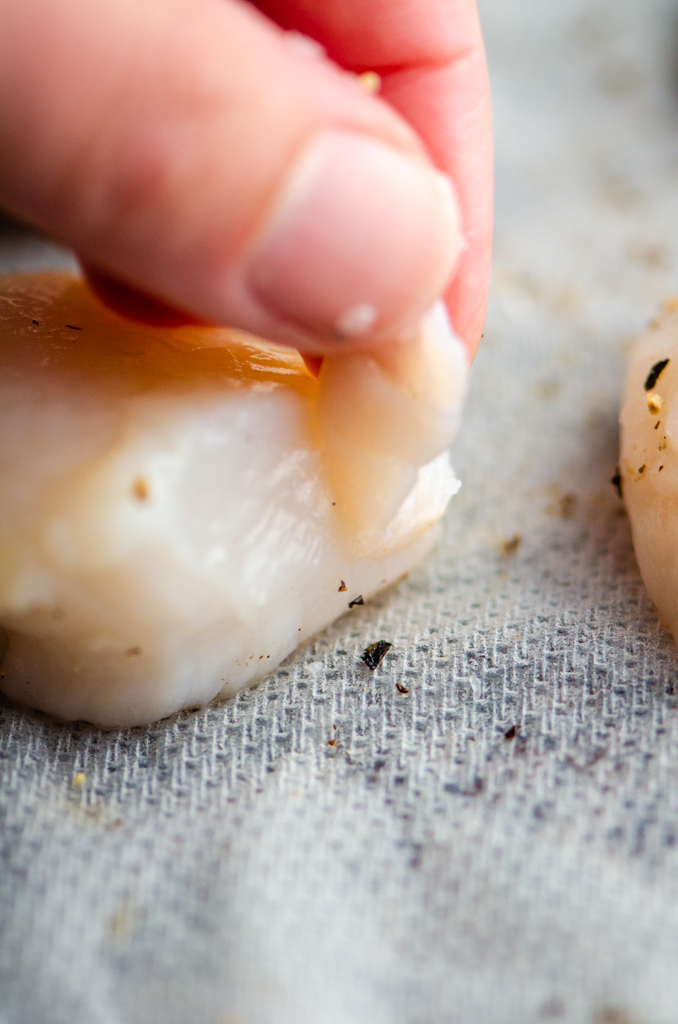 Simply season both sides of the scallops with salt and pepper.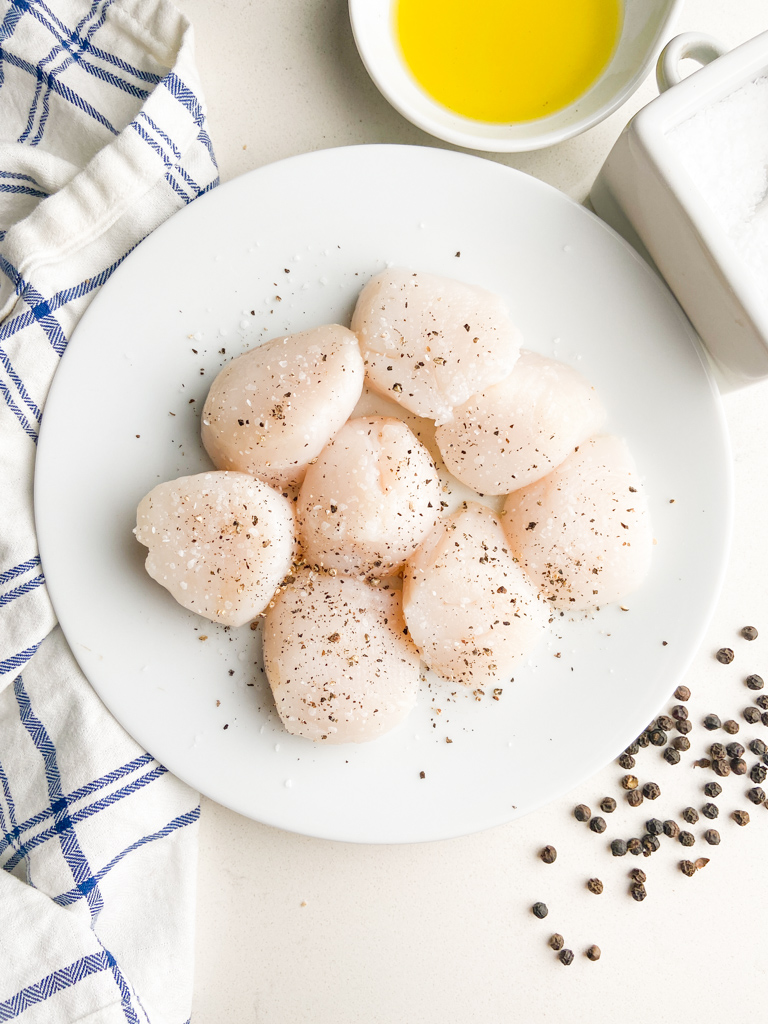 Finally, heat oil in a pan over medium high heat. A cast iron skillet works the best! Add scallops to the hot pan. Be sure not to overcrowd the pan. Overcrowding will steam them rather than sear. Sear the scallops 2 minutes on the first side. Flip and sear on the other side. Add the butter at this time. As it melts spoon it over the top of the scallops.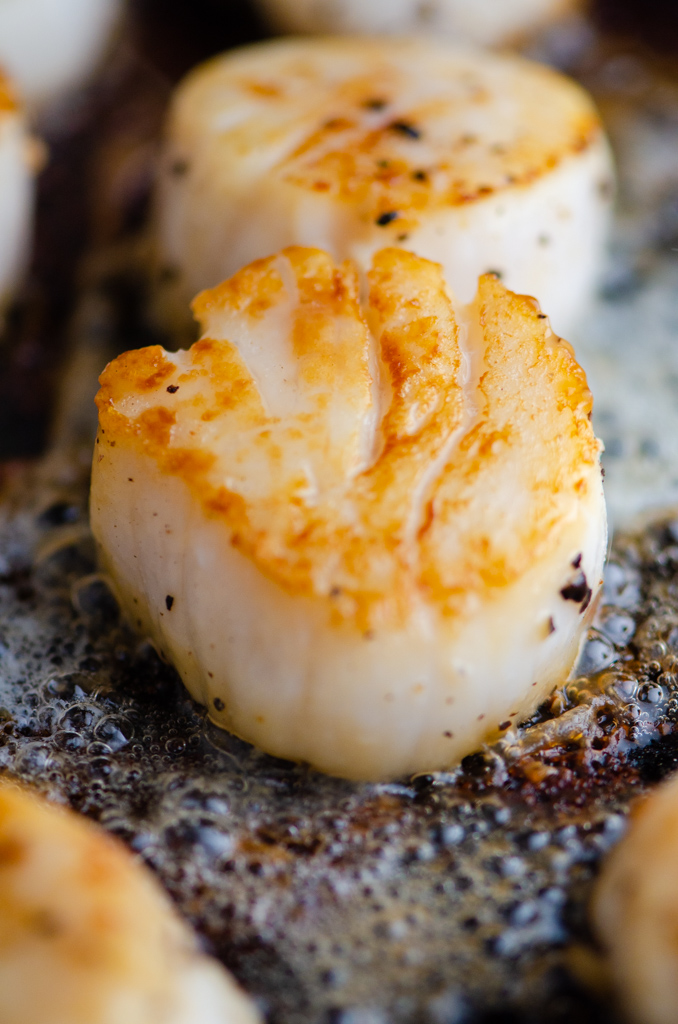 Remove to a serving platter and serve immediately.
See! Look at how gorgeous these are! Whether you are looking for a meal to make for a special occasion, date night at home or just a night when you want to indulge in delicious seafood, this pan seared sea scallops recipe is the recipe you need! They are truly a restaurant quality dish that you can easily make at home.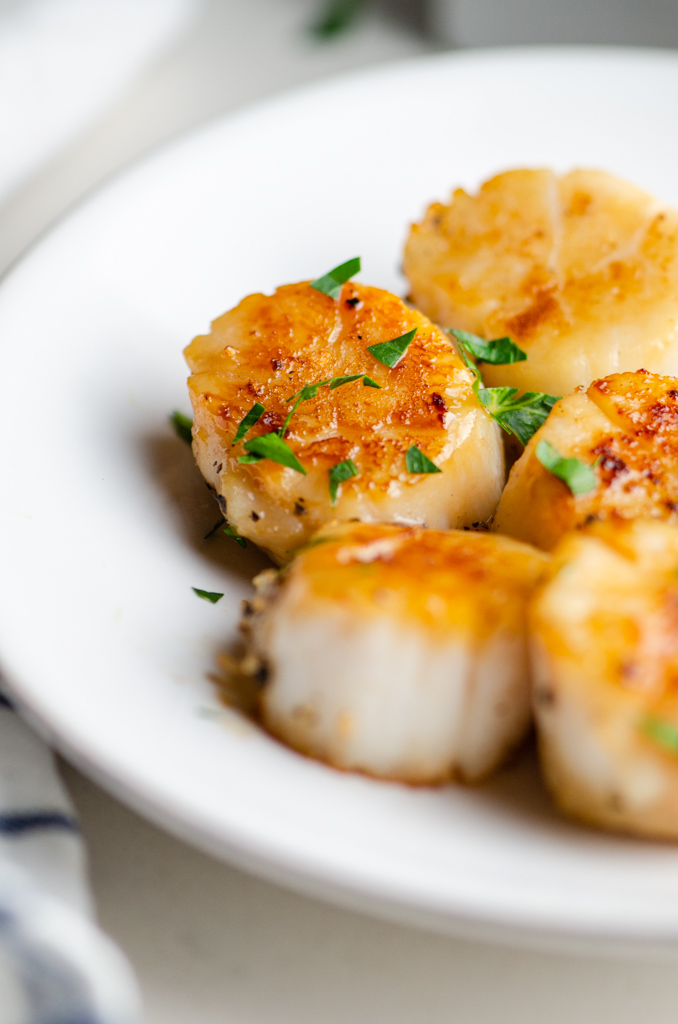 Looking for easy side dishes to serve alongside these pan seared scallops?
Want more seafood recipes? Here are some of my most popular:
Note: This recipe was originally posted in 2009. It was updated in 2021 with new photos and nutrition information.
Pan Seared Sea Scallops Recipe
Ingredients:
20 jumbo sea scallops
2 tablespoons of olive oil (or enough to lightly coat the bottom of the pan you are using)
Kosher salt and pepper
1 tablespoon of butter
Instructions
1
Place scallops between two paper towels and gently pat dry. Season both sides with salt and pepper.

2
In a skillet large enough to fit all of the scallops without over crowding them, heat oil over medium-high heat. Once the oil is hot, lay the scallops in gently. Cook 2 minutes per side.

3
Add the butter to the skillet. As it melts spoon it over the scallops. Remove the scallops to a platter and serve.
Nutrition information
Calories: 218 , Total Fat: 11g , Saturated Fat: 2.9g , Cholesterol: 57mg , Sodium: 553mg , Carbohydrates: 3.7g , Fiber: 0.1g , Sugar: 0g , Protein: 25.2g