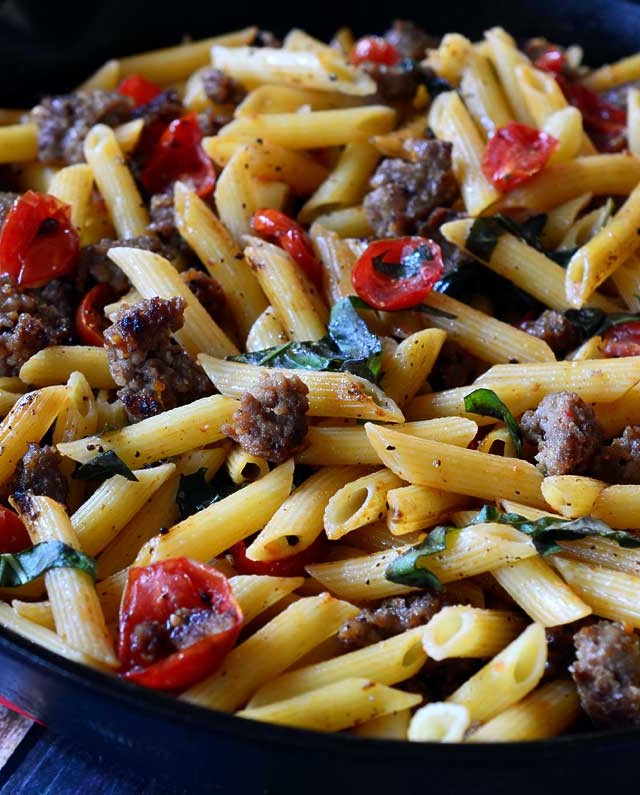 Penne with Sausage and Roasted Tomatoes
I have had two friends give birth in the last two weeks. We were all actually due within three weeks of each other. We all had boys. We used to talk about what it was going to be like once we all had our babies. We'd jump from 1 kid per adult when we met for play group to being out numbered just like that. It seemed like it was so far away but alas, all baby boys are here, happy and healthy.
When I gave birth to Preston just about 8 weeks earlier then expected, both of them, well into their 7th month of pregnancy, brought us food. It was so nice to have those meals while we were running back and forth between home and the NICU. It really meant a lot that they would do that. So when they both gave birth this month, I wanted to do the same thing.
It didn't take me long to decide what to bring them. I wanted something light yet comforting. I brought them this pasta because it's pure comfort food and one of my favorites. The roasted tomatoes totally make it. They are roasted low and slow so that the sweet tomato flavor is concentrated. I also roast them with whole garlic cloves so there are those in there too. And savory sausage. And sweet basil.
It also comes together really quickly and couldn't be easier to make.
And I'm happy to say it got rave reviews. Even from my friend's 3 year old daughter who keeps asking her mom for Des' special pasta.
See why it's my favorite?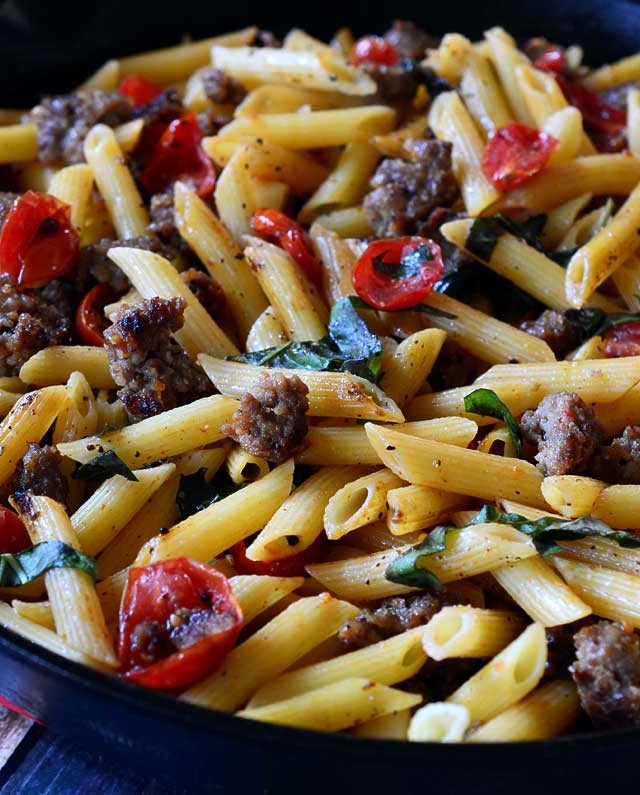 Penne with Sausage and Roasted Tomatoes
Penne pasta tossed with savory sausage, slow roasted tomatoes, roasted garlic and sweet basil.
Ingredients:
2

cups

halved grape tomatoes

9

cloves

garlic

divided

2

tablespoons

olive oil

divided

1/2

teaspoon

kosher salt

1/4

teaspoon

fresh ground black pepper

1

pound

dried penne pasta

1

pound

ground mild Italian sausage

8

basil leaves
Preheat oven to 225 degrees. Line a baking sheet with aluminum foil.

Peel 6 cloves garlic and toss with tomatoes, 1 tablespoon olive oil, salt and pepper. Roast on prepared baking sheet in preheated oven for 45 minutes. Remove from oven and set aside.

When the there is about 15 minutes left for the tomatoes, bring a large pot of water to boil. Cook pasta according to package directions. Drain but reserve 1/4 cup pasta water.

While pasta is cooking, cook sausage in a large skillet over medium high heat until cooked through. Drain and reserve 1 tablespoon pan drippings.

Add remaining tablespoon of olive oil to pan drippings. Return sausage to the pan. Add garlic, cook 30 seconds. Add in pasta. Stir. Pour tomatoes, garlic and any pan juices that accumulated on the aluminum foil into the pan. Gently toss to combine. If pasta appears dry, add reserved pasta water. Sprinkle with basil and serve.
Keywords:
entree, pasta, sausage, tomatoes