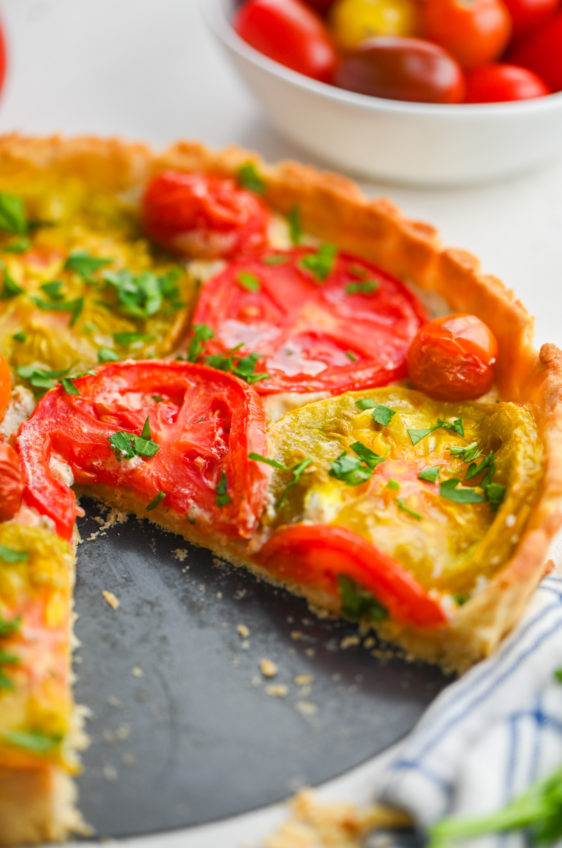 Tomato Tart
Jump to Recipe
This savory Tomato Tart is perfect for lunch or a light dinner! This gorgeous tart has layers of buttery crust, spreadable cheese and fresh summer tomatoes. You'll love it!
One of my absolute favorite things about summer has got to be sun-ripened tomatoes. They are sweet yet savory. So full of tomato flavor and come in so many beautiful colors. And I use them in just about any time I can get my hands on them. Whether I'm making tomato salad, a tomato sandwich or adding them to my favorite sandwiches, tomatoes are a big part of our diet around here.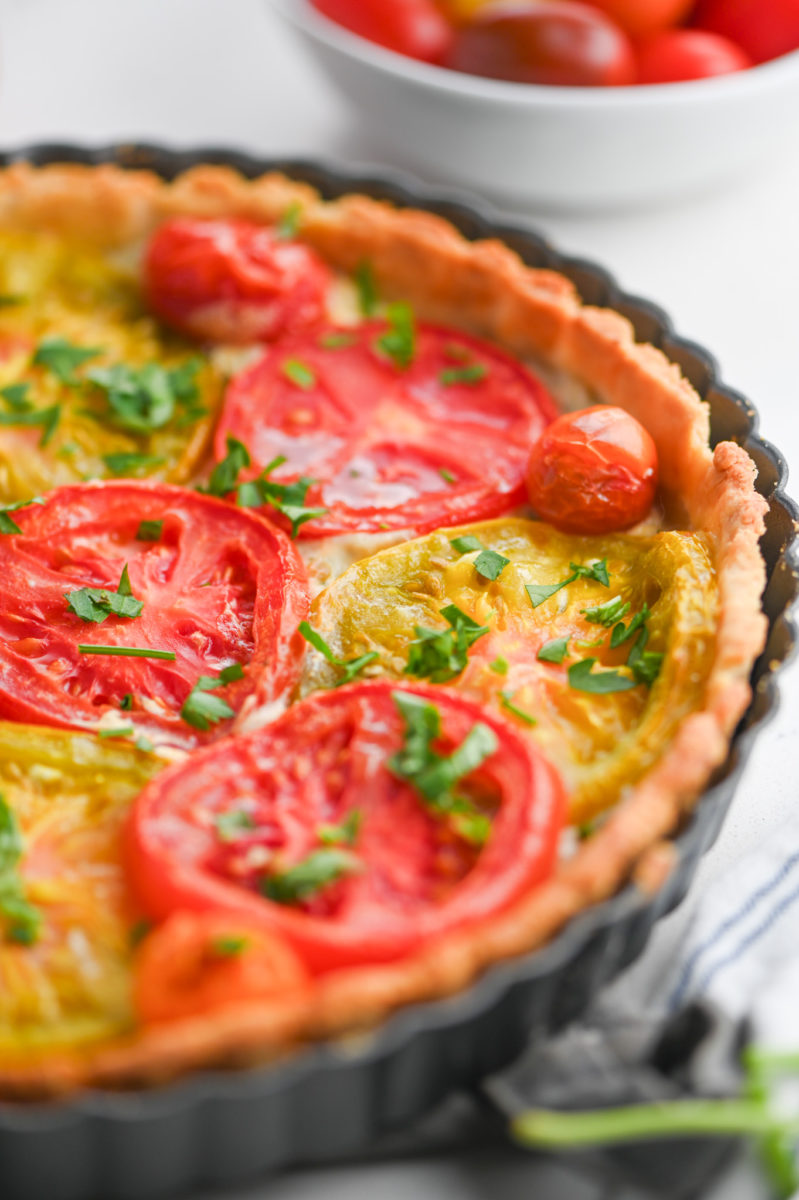 And today, I've got a new way to enjoy them! This Savory Tomato Tart. You guys, it is delectable. The crust is buttery and crumbly and then there is a layer of garlic and herb spreadable cheese and finally the star of the show: the tomatoes. Whatever variety you've got on hand will be perfect.
Let's talk about the ingredients that you'll need to make it:
Tomato Tart Ingredients: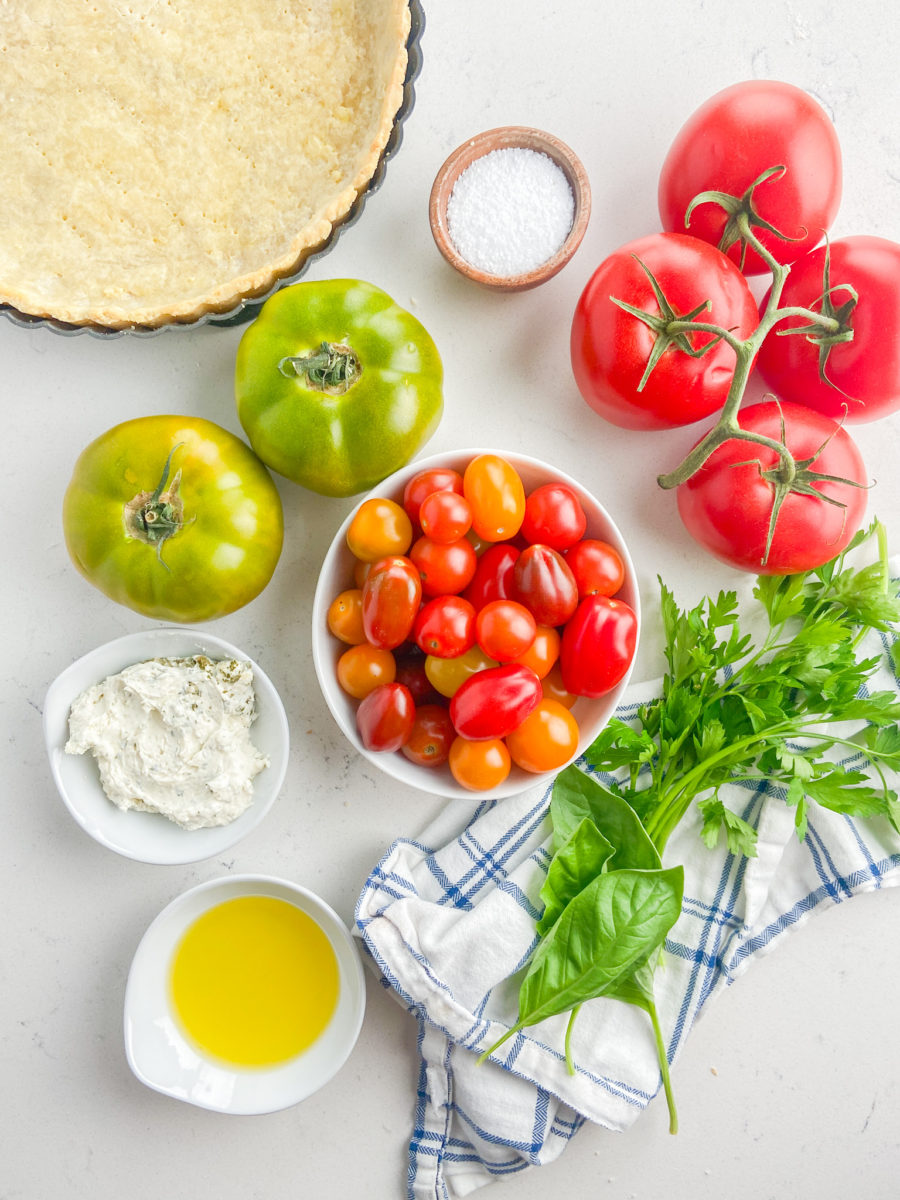 TART CRUST: For this recipe, I make my own using this Savory Tart Crust Recipe. It's really easy, you'll just need flour, butter, salt, water and an egg.
TOMATOES: For this recipe I used both heirloom tomatoes and a medley of cherry tomatoes. Slice the larger tomatoes thin and then the cherry tomatoes in half.
OLIVE OIL: To drizzle over the tart before it bakes.
SALT
BASIL AND PARSLEY: To add a pop of green color and freshness to the tart after baking.
Step By Step Instructions:
Even with making the tart crust from scratch, you'll find that this tomato tart recipe is really easy to make! Follow along with these step by step photos and instructions to help you along the way.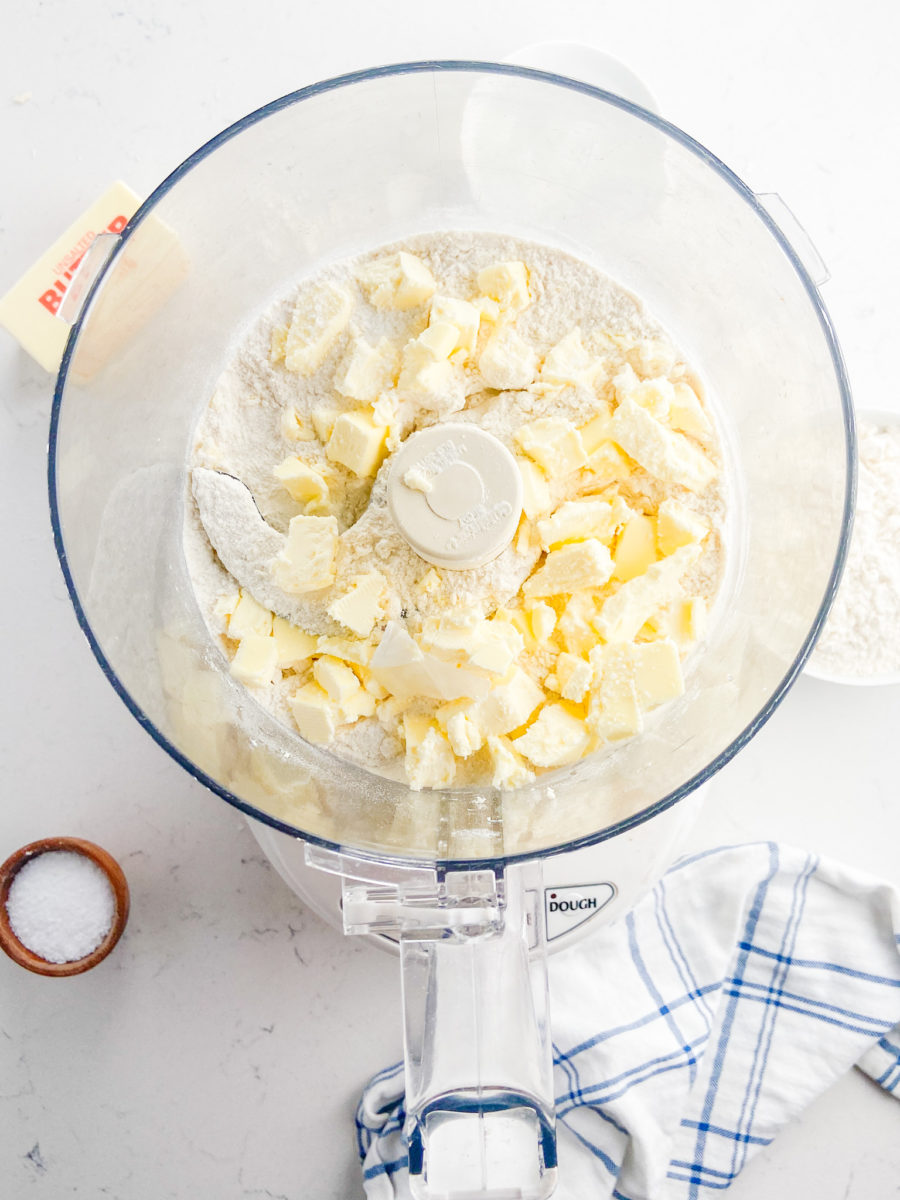 STEP #1: Make the tart crust by pulsing flour, butter, salt and water together in a processor until crumbly but can hold its shape if pressed together. Wrap dough (it will be crumbly) in plastic wrap and shape into a disc. Chill for 20 minutes.
STEP #2: After dough has chilled press into a 9-inch tart pan. No need for rolling! Bake at 450 for 10 minutes. Prick with a fork, brush with egg wash and bake for another 2 – 3 minutes or until golden brown. This will help seal the crust so that the juice from the tomatoes won't make it soggy. Allow to cool slightly.
STEP #3: Spread the cheese onto the baked crust. Top with sliced tomatoes in a single layer. Drizzle with olive oil.
STEP #4: Bake in preheated oven for 20 minutes or until tomatoes have softened and crust is golden. Allow to cool slightly, sprinkle with salt, chopped fresh basil and parsley. Cut and serve.
Storage and Leftovers:
This tomato tart is really best eaten the day that it is made, however you can reheat individual slices in the microwave for 15 – 30 seconds.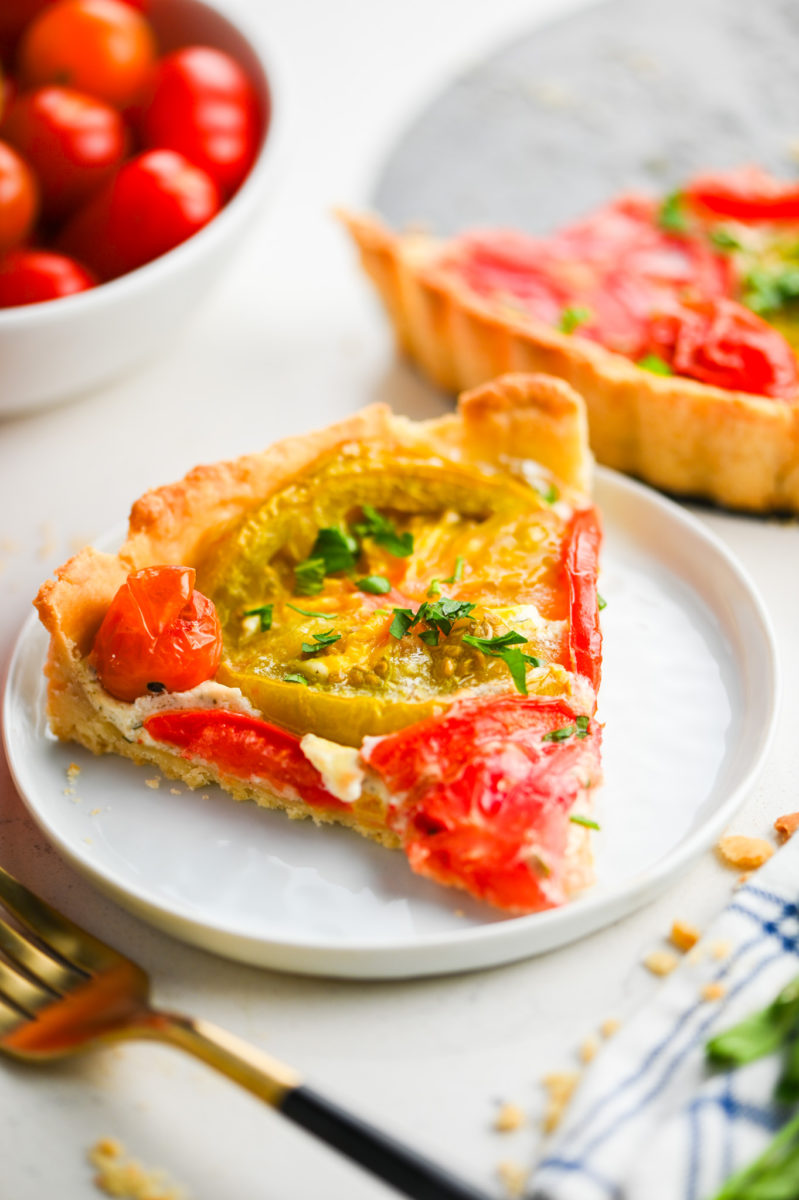 Recipe FAQ
Can I use a pie crust to make a tart?
You can! You will still need to put it in a tart pan. Simply fit the crust into the pan and trim the excess with kitchen shears or a sharp knife. Then proceed with the rest of the recipe, including the pre-baking.
What is a tart pan?
A tart pan is shallower than a pie pan. And generally fluted sides which gives tarts the distinctive shape. Using a tart pan with a removable bottom makes serving easy!
Want more tomato recipes? Check these out:
Oven Roasted Tomatoes are little bursts of tomato flavor. Perfect for snacking, adding to pastas or salads
Chicken with Olives and Tomatoes is a great weeknight dinner!
Baked Tomatoes make a great appetizer!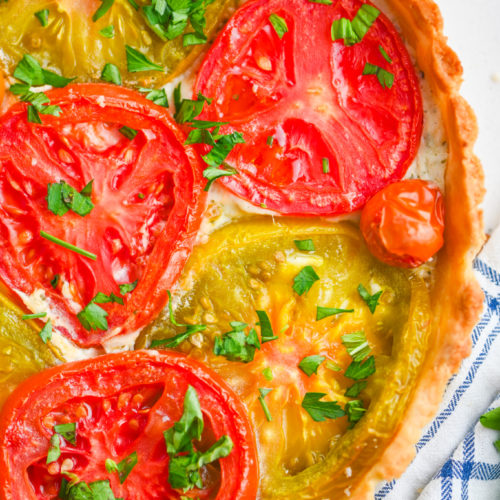 Tomato Tart
This savory Tomato Tart is perfect for lunch or a light dinner! This gorgeous tart has layers of buttery crust, spreadable cheese and fresh summer tomatoes. You'll love it!
Tart Crust Ingredients
1 1/2

cups

all purpose flour

1/2

cup

cold butter

diced

1/2

teaspoon

salt

3

tablespoons

ice water

1

egg
Make the crust. Pulse flour, butter, salt and ice water together in a food processor until they start to come together. Mixture will be very crumbly but should hold together if you squeeze it with your hands.

Place mixture on plastic wrap and press togehter to form a ball of dough. Wrap and gently flatten. Refrigerate for at least 30 minutes.

Preheat oven to 450 degrees. Remove from plastic wrap and press dough into tart pan. Use a sharp knife or kitchen shears to trim any excess crust from the pan.

Place aluminum foil (or parchment paper) on top of the crust and top with pie weights. Bake for 10 minutes.

Whisk together egg and 1 tablespoon of water.

Remove the aluminum foil and pie weights. Prick the tart crust with a fork and brush with egg wash. Bake for another 2 – 3 minutes or until golden brown.

Spread cheese on baked tart crust. Arrange tomatoes in a (mostly) single layer. Drizzle with olive oil and bake at 450 degrees for 20 minutes or until the tomatoes have softened and the crust is brown.

Remove from the oven, sprinkle with basil and parsley. Serve.
Depending on the size of your heirloom tomatoes you'll need 1 – 2. I used two: 1 green and 1 red.
Arrange the tomatoes in any way that they will fit. Some overlapping is ok. I like to nestle the halved cherry tomatoes in the little spaces between the larger tomatoes. 
Nutrition information for estimation purposes only. 
Calories:
368
kcal
Carbohydrates:
27
g
Protein:
6
g
Fat:
27
g
Saturated Fat:
16
g
Polyunsaturated Fat:
1
g
Monounsaturated Fat:
6
g
Trans Fat:
1
g
Cholesterol:
88
mg
Sodium:
545
mg
Potassium:
172
mg
Fiber:
1
g
Sugar:
2
g
Vitamin A:
1110
IU
Vitamin C:
8
mg
Calcium:
32
mg
Iron:
2
mg
Keywords:
baking, tart, tomatoes