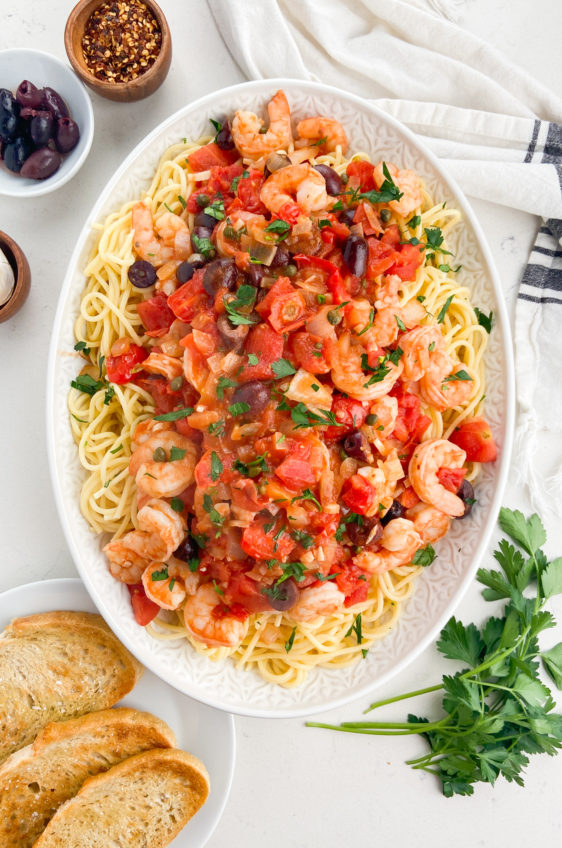 Puttanesca Pasta with Shrimp
Jump to Recipe
Puttanesca Pasta with Shrimp is a hearty aromatic dish made with pantry staples. Loaded with flavor thanks to capers, olives, tomatoes and anchovies.
If you find yourself short on time but also craving a bold, flavor packed pasta, you have got to make this Puttanesca Pasta with Shrimp ASAP. It is chock-full of all kinds of goodies like tomatoes, briny olives & capers, anchovies, onions, garlic and sweet shrimp.
Like I said, this pasta is a flavor power-house. And best of all it comes together quickly so you can have this meal on the table in 30 minutes. That makes it a great meal to make for busy weeknights.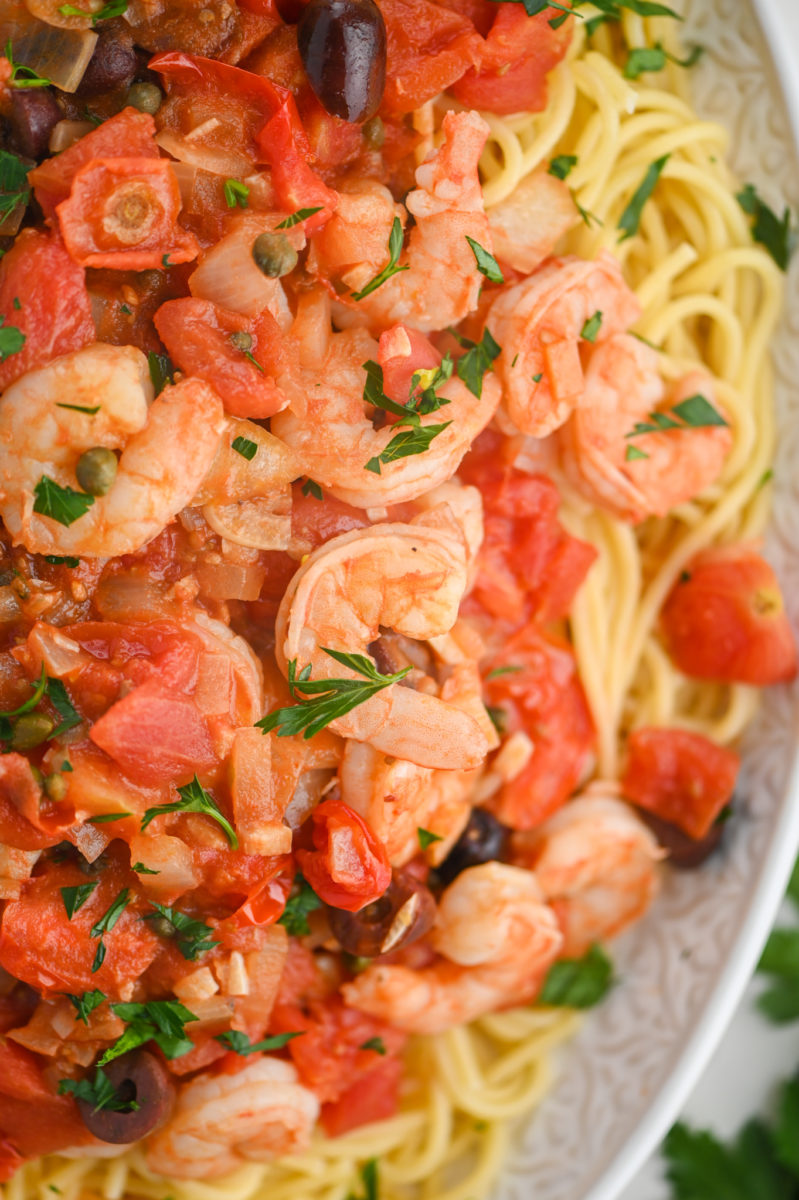 First, some of you may be asking "what is puttanesca pasta?". It is a classic Italian dish with a storied history. Translated into Italian it actually means "In the style of the prostitute". It is believed it was developed in brothels around WWII. Basically the cooks would use whatever they had on hand and it was a no-frills, easy dish to just "throw together". To learn more about the history of Puttanesca sauce check out "Pasta Puttanesca: What's with the Name?"by Italy Magazine.
I'm certainly glad they did because, man, Puttanesca pasta is sooooo good, guys.
Let's talk about the ingredients that you'll need.
Ingredients in Puttanesca Pasta: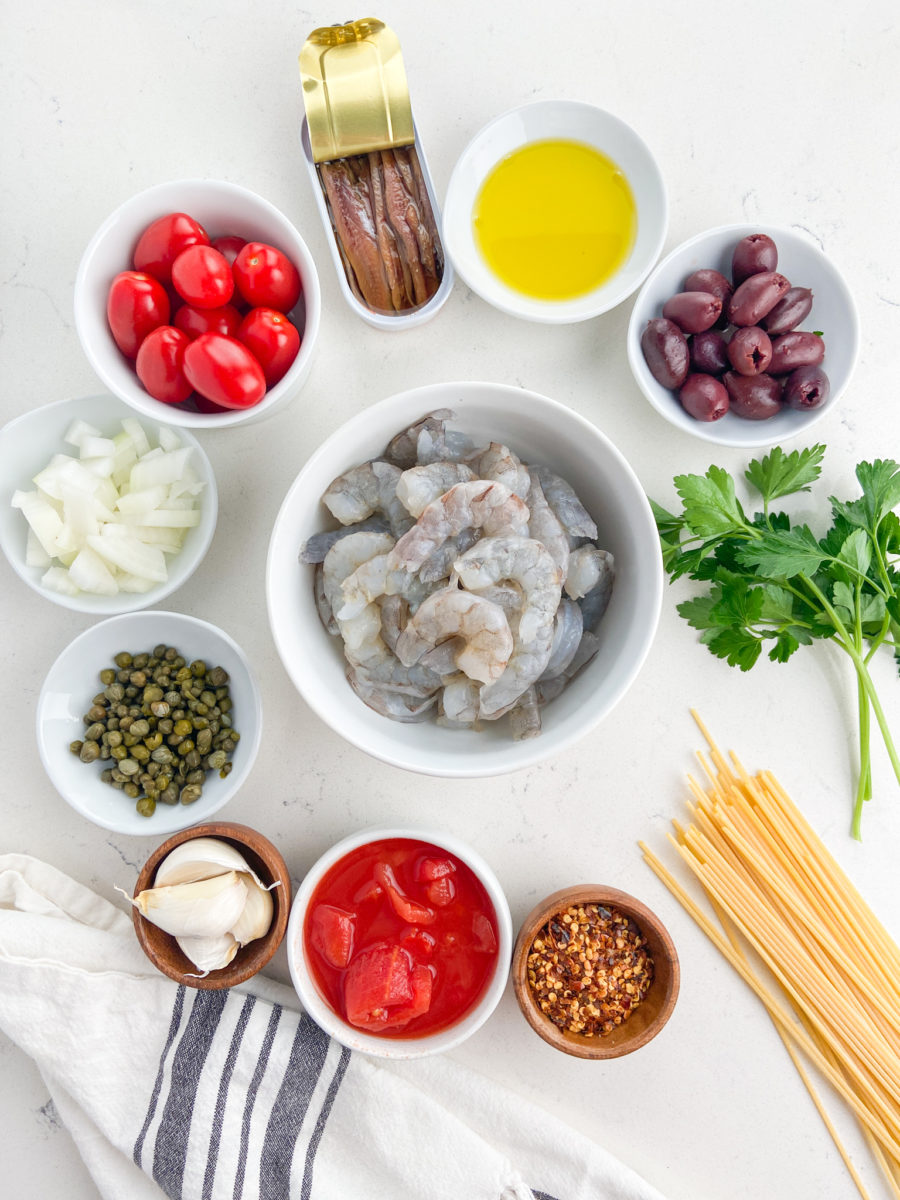 OLIVE OIL: To saute the onions, anchovies and crushed red pepper. You can use extra virgin or regular olive oil.
GRAPE TOMATOES/CANNED DICED TOMATOES: This is a tomato based dish and you'll be using both fresh grape tomatoes and canned diced tomatoes. No need to drain the canned tomatoes, the juice in the can adds to the sauce.
ONIONS
GARLIC
CRUSHED RED PEPPER: This adds a bit of heat. Start with 1/4 teaspoon and then work your way up if you'd like more heat.
ANCHOVIES: Of all the ingredients, this might give people the most pause. Trust me, you need the anchovies in this dish for the depth of flavor. They will dissolve in the sauce and won't make it taste overly "fishy".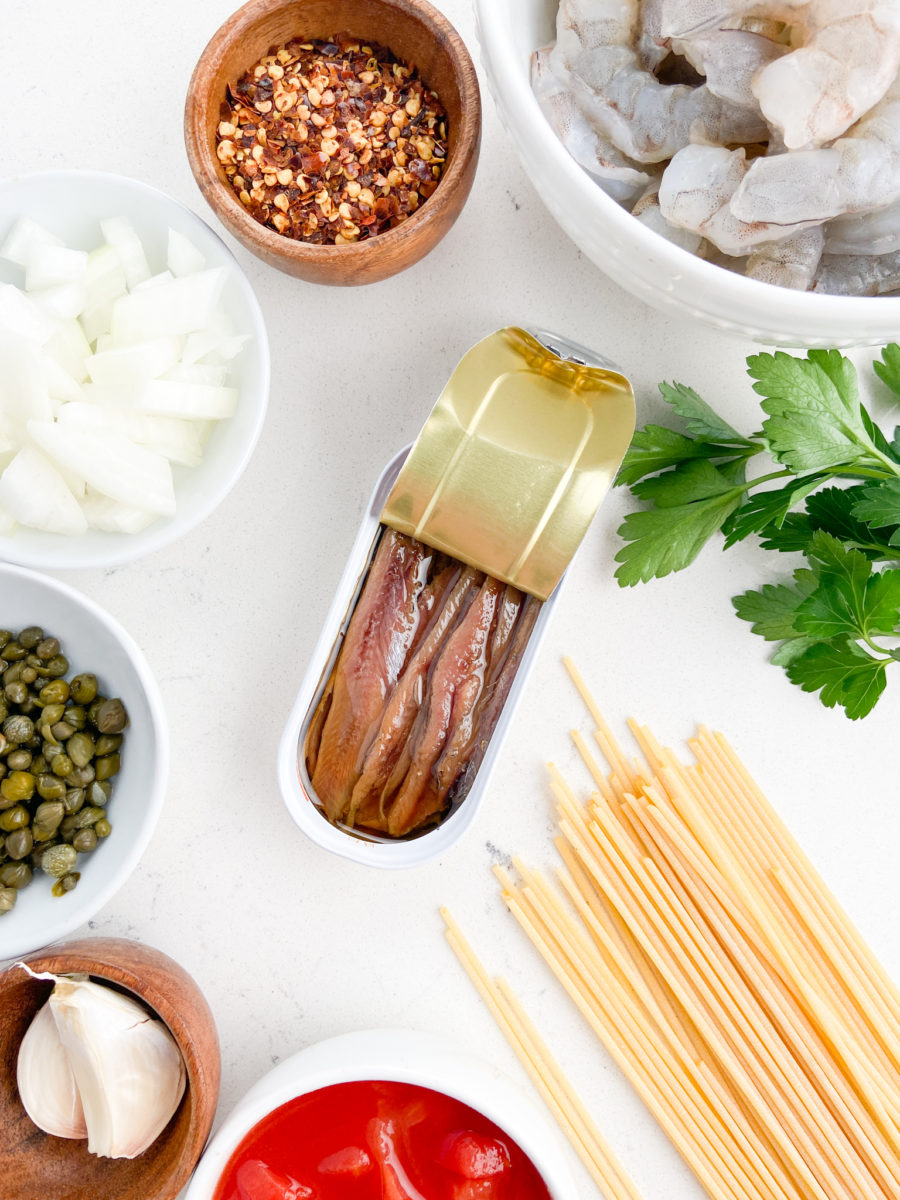 KALAMATA OLIVES: Kalamata olives are less bitter than black olives and have a fruity aftertaste. If you don't have them on hand, you can substitute black olives.
CAPERS: You guys, I adore capers! They are actually the buds of a flower and have a salty briny taste.
SHRIMP: If you're not sure how to prep your shrimp for pasta, be sure to check out my step by step guide for how to peel and devein shrimp .
SPAGHETTI: Spaghetti is the traditional pasta served with puttanesca sauce. With that said, you can use any long pasta that you have on hand. If you use angel hair, use half a pound instead of a full pound.
STEP BY STEP PHOTOS AND INSTRUCTIONS:
Follow along with these step by step photos and instructions showing you just how easy it is to make this Pasta Puttanesca!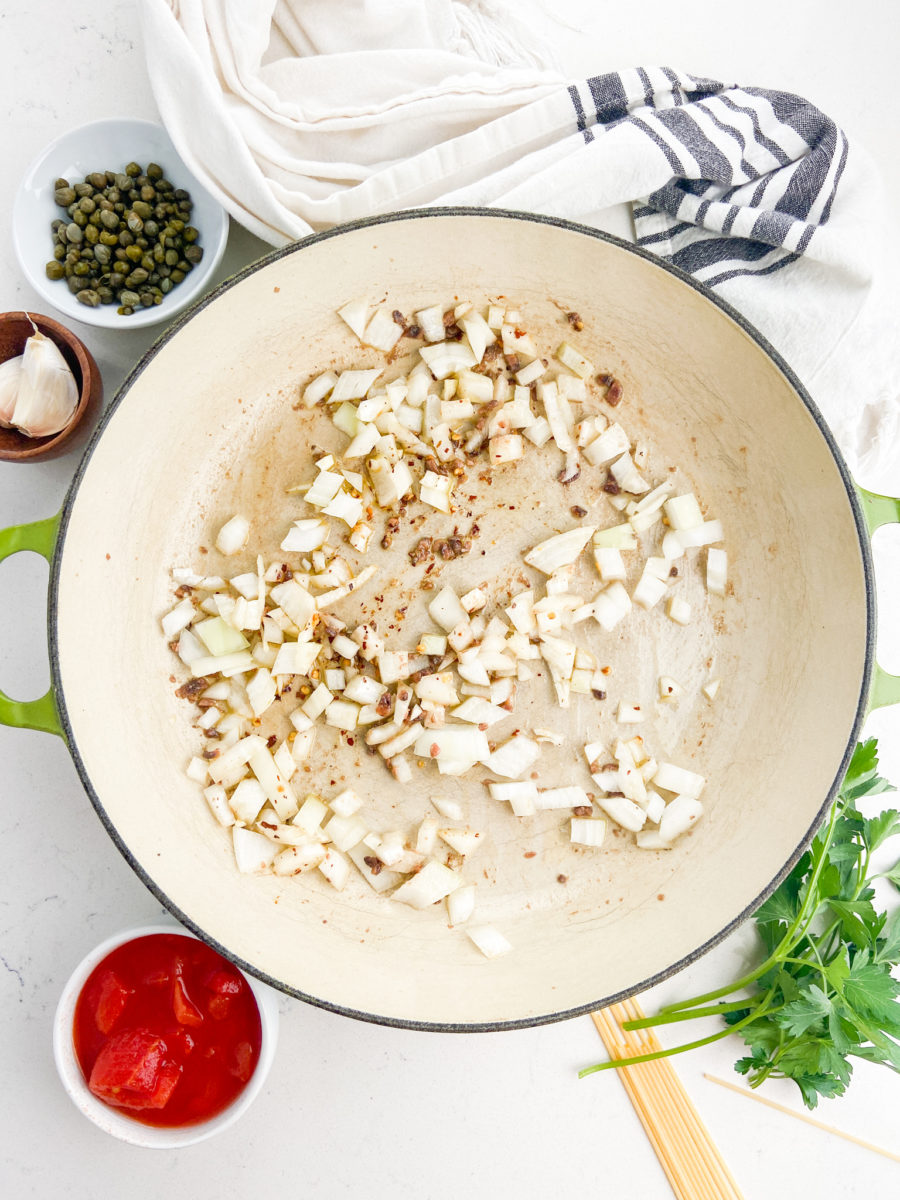 STEP #1: Cook pasta according to package directions and drain.
STEP #2: Make your sauce while the pasta is cooking. Do this by sauteing the onions, anchovies and crushed red pepper first. Then add the grape tomatoes and garlic. Finally adding the diced tomatoes, olives and capers.
STEP #3: Once the sauce has simmered, ddd the shrimp to the sauce and let cook.
STEP #4: Place pasta on a serving dish and top with puttanesca sauce. Alternatively, you can toss the pasta with the sauce.
Isn't this just the prettiest pasta dish? I love that it comes together quickly enough to be a weeknight meal but it's also just pretty enough that it is perfect to serve on special occasions. Be sure to serve this with some of my The BEST (and Easiest!) Garlic Bread to soak up all of that leftover sauce!
Storing Leftovers:
Store leftovers covered in the refrigerator for up to 2 days. While the sauce and pasta reheats pretty well, the shrimp do tend to get a little tough once reheated.
FAQ:
WHAT REGION DOES PUTTANESCA COME FROM?
It comes from Naples, Italy. And originated during WWII.
IS PUTTANESCA SPICY?
Puttanesca does get a bit of heat from the use of crushed red pepper. In this recipe, I recommend starting out with 1/4 teaspoon and then go up from there depending on the heat level you're looking for.
WHAT KIND OF PASTA DO YOU SERVE WITH PUTTANESCA SAUCE?
Traditionally puttanesca sauce is served with capellini (angel hair) or spaghetti.
Looking for more shrimp recipes? Here are some of my most popular.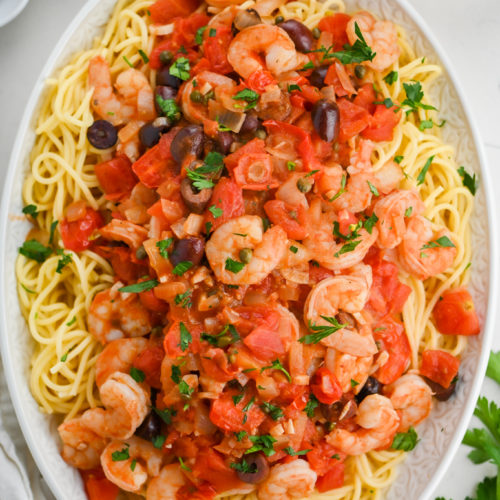 Puttanesca Pasta with Shrimp
Puttanesca Pasta with Shrimp is a hearty pasta dish made with pantry staples. This classic sauce is loaded with flavor thanks to olives, capers and anchovies.
2

tablespoons

extra virgin olive oil

10

ounces

grape tomatoes

halved

6

cloves

garlic

minced

5

fillets

anchovies

minced

1/2

whole

yellow onion

2

tablespoons

non-pareil capers

1/4 – 1/2

teaspoon

crushed red pepper

14.5

ounces

diced tomatoes

1/2

cup

kalamata olives

halved

1

pound

shrimp

peeled and deveined

1/4

cup

parsley

diced

1

pound

dried spaghetti
Cook pasta according to package directions.

Heat olive oil in a large pan over medium heat. Add onions, crushed red peppers and anchovies. Cook until onions have softened and anchovies have dissolved.

Add in fresh tomatoes and garlic. Cook just until the garlic is fragrant 30 seconds to 1 minute.

Add in canned tomatoes, capers, olives and simmer 10 minutes.

Add shrimp to the sauce and cook just until shrimp is cooked through about 5 minutes.

Place pasta on a serving platter and top with puttanesca sauce. Alternatively, you can toss the sauce with the pasta.
If you mince the anchovies fine they will dissolve into the sauce adding an umami flavor. 
Spaghetti is the traditional noodle with this recipe but you can use another long pasta like linguine or fettuccine, if you like. 
Nutrition information for estimation purposes only. 
Calories:
434
kcal
Carbohydrates:
63
g
Protein:
27
g
Fat:
8
g
Saturated Fat:
1
g
Polyunsaturated Fat:
1
g
Monounsaturated Fat:
5
g
Trans Fat:
1
g
Cholesterol:
124
mg
Sodium:
363
mg
Potassium:
658
mg
Fiber:
4
g
Sugar:
5
g
Vitamin A:
808
IU
Vitamin C:
17
mg
Calcium:
112
mg
Iron:
3
mg