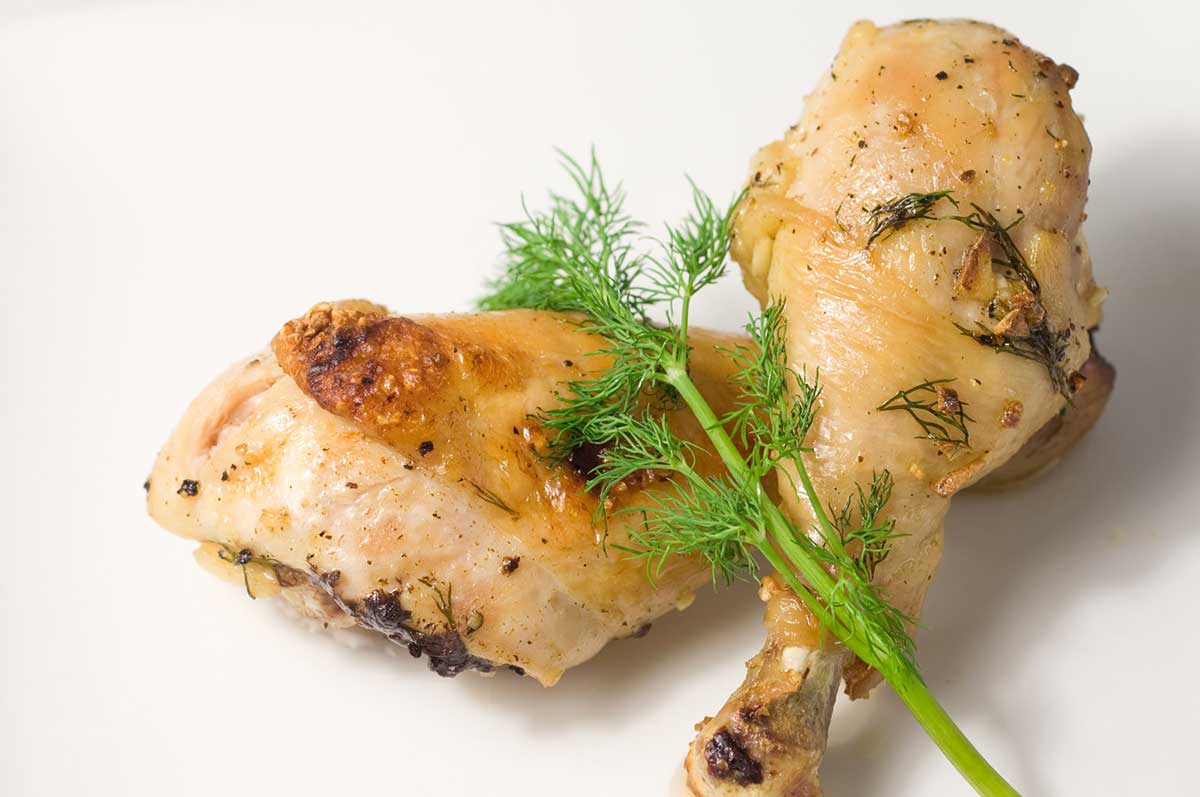 Roasted Chicken Drumsticks with Dill
I love fresh dill.  Just the smell makes my mouth water and I begin to think of all of the wonderful things I can do with it.   I can use it to make homemade ranch dip, and of course pickles, and as I found out from this recipe, it also pairs nicely with chicken. To start, I marinated the chicken drumsticks in a quick marinade of olive oil, fresh dill, red wine vinegar, salt and fresh cracked pepper. I then roasted the drumsticks in the oven until the skin was golden brown and crispy.  The smell coming from the kitchen was almost as good as the first juicy bite.
I used chicken drumsticks in this recipe because they were on sale at my local grocery store. You could also substitute chicken thighs or even a whole fryer chicken cut into 8 pieces so you can get a little bit of dark and white meat.
Note: You need to marinate this chicken for at least 2 hours, be sure to plan accordingly.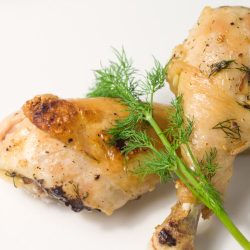 Roasted Chicken Drumsticks with Dill
Chicken drumsticks marinated in dill and roasted until the skin is crispy.
Ingredients:
3

tablespoons

olive oil

3-5

sprigs fresh dill

chopped

2

teaspoons

red wine vinegar

1/2

teaspoon

kosher salt

1/4

teaspoon

fresh cracked pepper

6-8

chicken drumsticks
In a large bowl whisk together olive oil, dill, red wine vinegar, kosher salt and fresh cracked pepper.

Add chicken to bowl and toss to coat. Cover and marinate for at least 2 hours or overnight. As with most marinades, the longer the better :)

Preheat oven to 375 degrees.

Place marinated chicken in a glass baking dish. Pour any remaining marinade over the top. Bake in the preheated oven for 30-45 minutes or until chicken is cooked through. Turn on the broiler for 2-3 minutes or until the skin turns golden brown.

Transfer to a serving platter and garnish with a few fresh dill sprigs, if desired. Serve.
Keywords:
chicken, chicken drumsticks, chicken legs, dill, Food, fresh dill, marinated chicken, Recipe, red wine vinegar, roasted chicken, spring meal