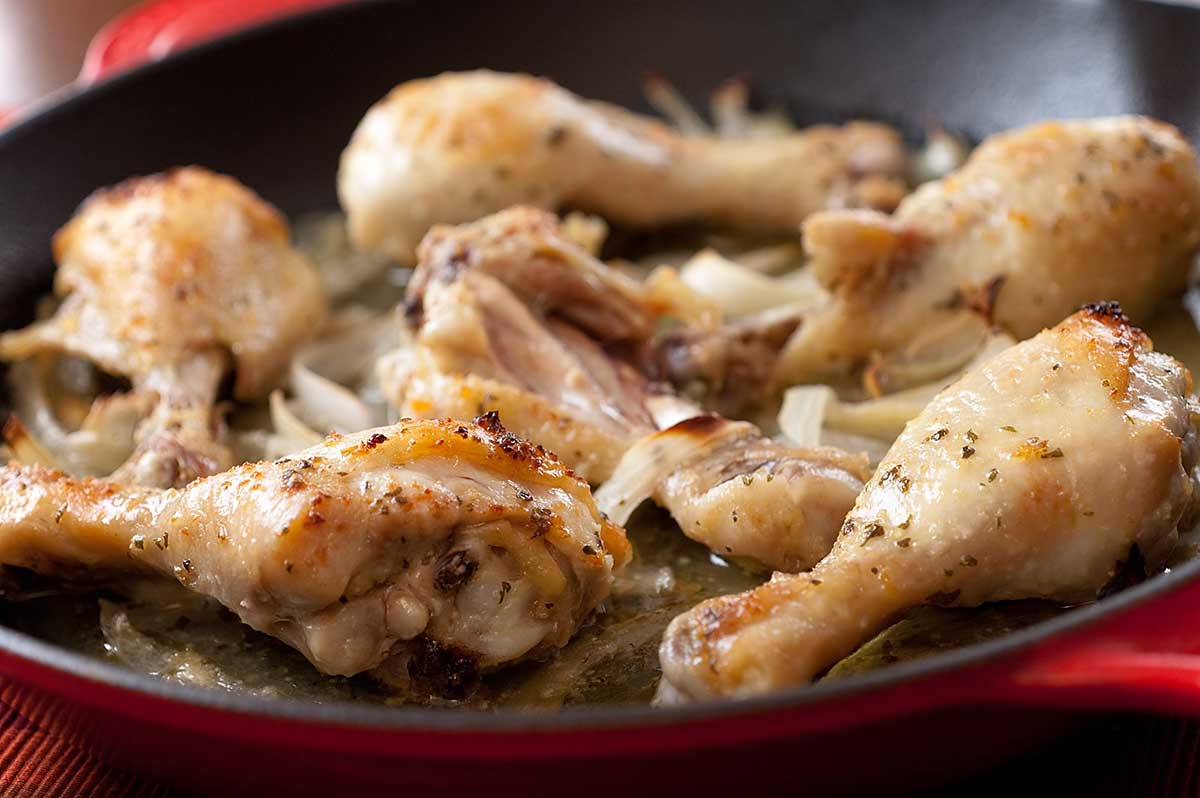 Roasted Habanero Chicken
Ryan once said to me "you make a lot of chicken". I suppose that is true. I do make a lot of chicken. I like chicken. I like chicken curry, fried chicken, chicken sandwiches, grilled chicken and Lord knows I love me some chicken wings and wings and wings and wings. However, despite the frequency that chicken graces our dinner table we seem to gobble it up each time. This recipe showcasing the spicy sweetness that you get from roasting habanero peppers is no exception.
When you read the word "habanero" in a recipe title do cartoon images of yourself with steam coming out of your ears and sweat dripping off your face flood your mind? No? Well maybe that's just me. But weird imagery aside, you don't have to worry about that with this dish. Yes, there is a habanero in it. Yes, habaneros are the spicy pepper. Yes, eating one raw straight off the vine would probably make you cry. But in this dish, the seeds are removed, and the habanero roasted leaving you will a spicy yet sweet burst of flavor that is perfect with this chicken.
Note: This chicken requires marinating for at least 2 hours. Plan ahead.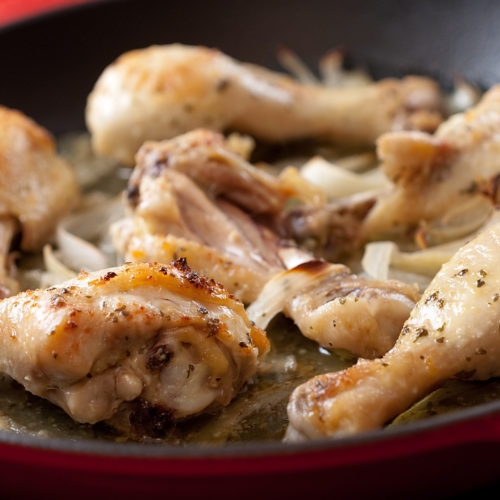 Roasted Habanero Chicken
Habaneros aren't always make you cry spicy. Don't believe me? See for yourself with this roasted habanero chicken
Ingredients:
1

habanero pepper

cut in half seeds removed

1/2

cup

olive oil

1/4

cup

white vinegar

3

garlic cloves

minced

2

teaspoons

salt

1

teaspoon

dried cilantro or 1 tablespoon fresh

1

tablespoon

lime juice

6

chicken drumsticks rinsed and pat dry.

1/2

medium onion

sliced
Preheat oven to 400 degrees.

Place habanero pepper on a baking sheet and roast for 10 - 15 minutes or until soft.

Combine roasted habanero pepper, olive oil, vinegar, garlic, salt, cilantro and lime juice in a food processor. Process until well blended.

Place chicken in a bowl. Pour marinade over the top. Cover and refrigerate for at least 2 hours.

When ready to cook. Preheat oven to 400 degrees.

Place chicken in a baking dish or oven proof pan. Pour marinade over the top. Lay sliced onions around chicken. Cook in preheated oven for 35 - 40 minutes or until chicken is cooked through and browned.

Transfer chicken to a serving platter and spoon sauce over the top. Serve.
Keywords:
baked chicken, chicken, chicken legs, Food, habanero, habanero chicken, marinated chicken, Recipe, rice