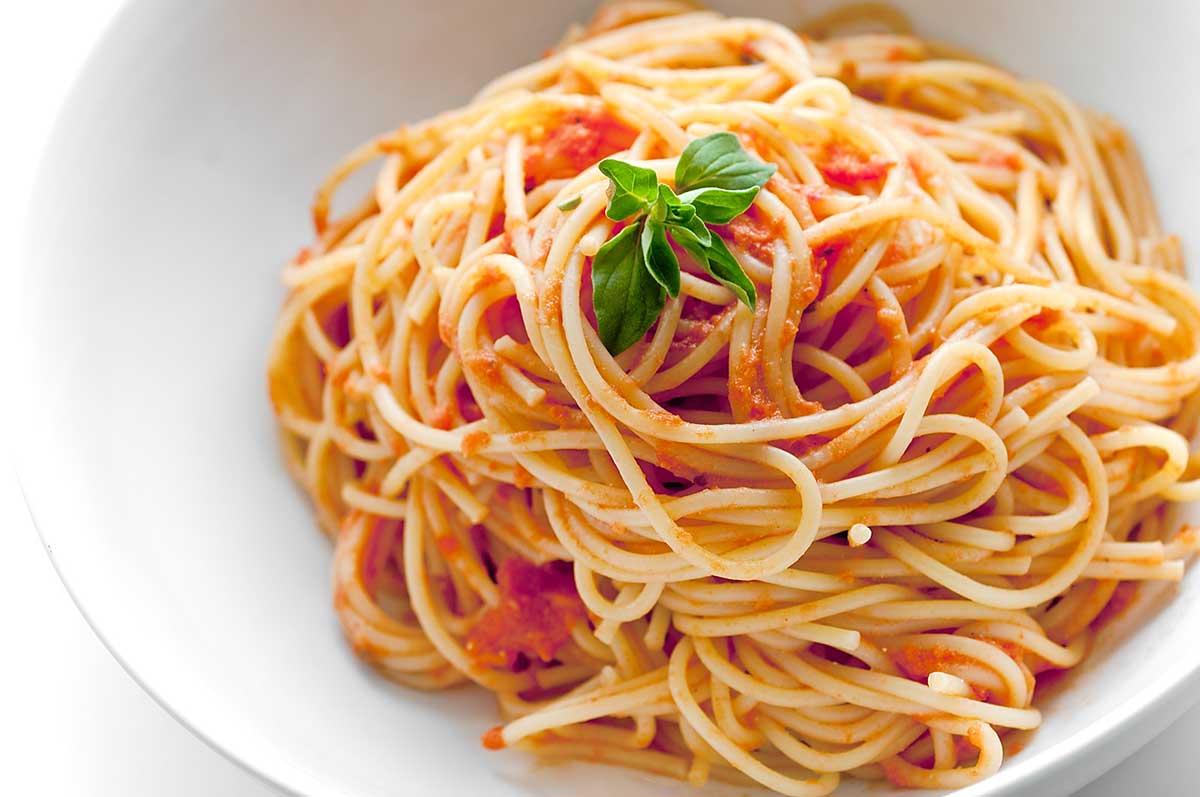 Spaghetti with Creamy Marinara
Generally when I make spaghetti, I'm all about adding some spicy Italian sausage or every once in a while plump juicy meatballs. But the other day I was craving a little bit of a lighter sauce. To curb my craving, I opted to forgo the sausage and meatballs and cooked up this creamy marinara instead. It has flavors of slow cooked tomatoes, garlic, fresh oregano and little twist from an unlikely ingredient.
When most people think creamy sauce, they probably think heavy cream or maybe even half and half is added. However, for this recipe I decided to go with goat cheese. It adds a creaminess to the sauce but also a tangy flavor. And a bonus, its a little better for you than heavy cream.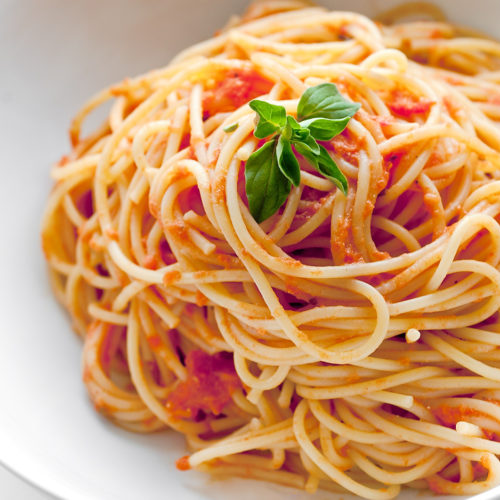 Spaghetti with Creamy Marinara
Slow cooked tomatoes, garlic, fresh oregano and little twist from an unlikely ingredient make this pasta sauce one of my favorites.
Ingredients:
2

tablespoons

olive oil

1/2

medium onion

sliced

4

cloves

garlic

sliced

1/2

teaspoon

crushed red pepper

2

28 ounce cans whole tomatoes

1

tablespoon

fresh oregano

4

ounces

goat cheese

kosher salt and fresh cracked pepper

1

pound

dried spaghetti
Preheat oven to 325.

In a large oven proof pot or dutch oven heat olive oil over medium heat. Add onions, garlic and crushed red pepper. Cook until onions are translucent, about 5 minutes. Pour in whole tomatoes.

Place tomato sauce in the oven and bake for 1 1/2 hours. Stirring occasionally.

Remove from oven. Using an immersion blender puree until smooth (Note: If you don't have an immersion blender, carefully transfer, in batches, to a blender and blend until smooth). Place on stove top over medium heat. Stir in oregano and goat cheese. Season to taste with salt and pepper. Reduce heat to low and allow to simmer while you prepare the noodles.

Prepare the noodles according to package directions.

Divide noodles evenly among bowls and spoon sauce over the top. Serve.
Keywords:
dinner, entree, Food, Goat Cheese, italian, marinara, pasta, Recipe, sauce, spagehtti, tomato sauce, whole tomatoes