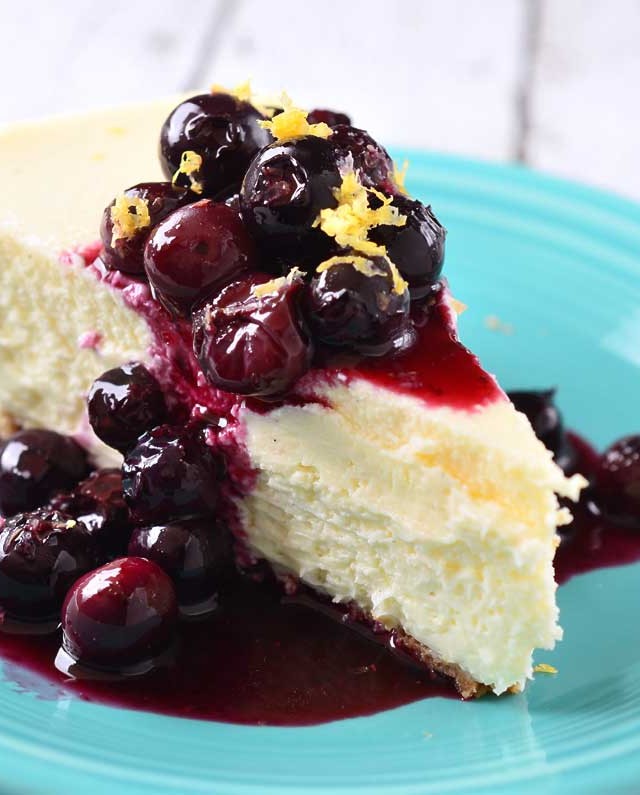 Vanilla Bean Cheesecake with Blueberry Lemon Sauce
If you don't have an Easter dessert plan then make this. Heck, if you have an Easter dessert plan, change it and make this. There is really no reason not to. It's cheesecake. A cheesecake topped with a sweet blueberry sauce. A sweet blueberry sauce with just a hint of lemon. Like I said, no reason not to make it.
And while I can't say that I removed all of the fat and calories from the dessert, I can say that I removed some! Although not entirely on purpose.
I've had a basic cheesecake recipe for a while now. One that I just tweak every now and then adding different flavors and toppings. That cheesecake has always had sour cream in it. Well even though I planned to make this ahead of time, I didn't have any sour cream on hand. Blasphemy!
I did however have some Greek yogurt left over from when I made these Crispy Dill Chicken Wings. I was a little nervous about using it because it was fat free, which are two words that should never be uttered when mentioning a cheesecake. But it was all I had and I was mid mix of the cake so I just tossed it in. And guys, it worked. It worked beautifully. You can't even tell the difference and you save a few calories. Win!
But that is not to say that this cheesecake isn't indulgent. It is. But it is worth every silky, blueberry-y (is that a word?) bite.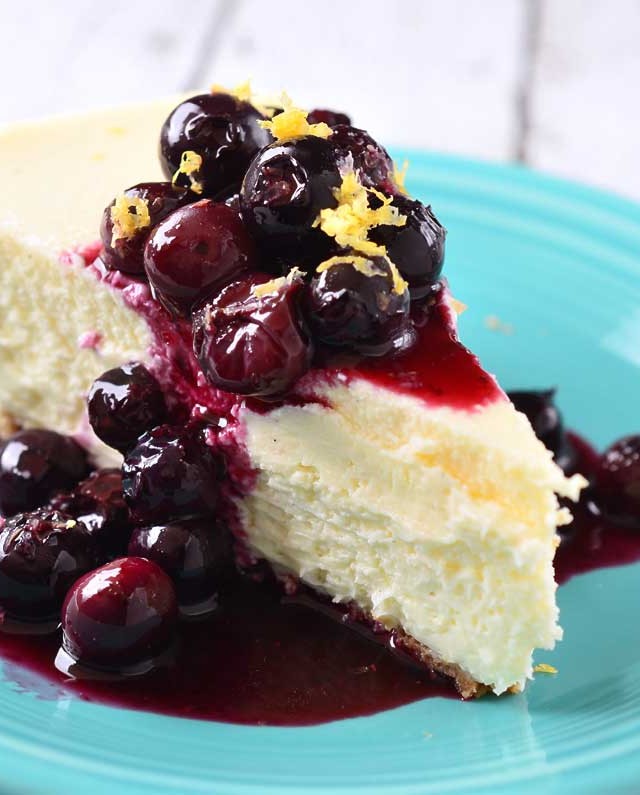 Vanilla Bean Cheesecake with Blueberry Lemon Sauce
A silky smooth vanilla bean cheesecake topped with a sweet blueberry sauce with just a hint of lemon.
Blueberry Lemon Sauce
12

ounces

fresh blueberries

rinsed

2

tablespoons

sugar

2

tablespoons

lemon juice

1

teaspoon

lemon zest
Preheat oven to 350 degrees. Place the spring form pan in the middle of two large pieces of heavy duty aluminum foil. Bring the foil up the sides of the pan. Crimp the pieces together around the pan. Make sure it is tight and secure so no water gets in during the baking process.

Begin to boil a pot of water.

Combine graham crackers and melted butter together in a bowl. Mix well.

Press graham crackers into the bottom of the springform pan. Bake for 10 minutes. Remove and allow to cool.

While the crust is cooling, beat cream cheese and 1 cup of sugar together in the bowl of a stand mixer until smooth. Beat in eggs 1 at a time being sure to scrape down the sides of the bowl after adding each egg.

Carefully slice the vanilla bean down the center lengthwise to expose the beans and gently scrape the beans into the cheesecake mixture. Beat in the heavy cream and the Greek yogurt. Continue beating until the mixture is silky and smooth. Pour mixture into the cooled crust.

Place cheesecake into a roasting pan. Place in the oven and pour the boiling water into the roasting pan, quickly close the door. Bake for 50 - 60 minutes or until the cheesecake is set. The middle will still be jiggly. Turn off oven, keep oven door closed and allow cheesecake to cool 1 hour in oven. It will finish cooking during this time.

Remove cheesecake from oven, carefully remove it from the water bath. Remove the aluminum foil, being careful of any water that may have worked its way in.

Chill cheesecake in the refrigerator 6 to 8 hours or overnight. Uncovered is best so that no condensation forms on top of the cheesecake.

You can also make the blueberry sauce the night before. Place the blueberries, sugar, lemon juice and lemon zest in a small saucepan. Cook just until the blueberries start to pop and release their juices but still hold their shape, 5 - 7 minutes. Allow to cool completely. Cover and refrigerate until ready to use.

When ready to serve, use a knife to gently loosen the cheesecake from the sides of the pan and then remove the sides of the springform pan. Slice the cheesecake, spoon blueberry lemon sauce over the top, serve.
Keywords:
blueberries, cheesecake, dessert