Parmesan crusted tilapia with tomato-basil cream sauce is a quick and easy dinner recipe that the whole family will love. Pan fried tilapia with Parmesan and panko breading, is topped with a delectable creamy tomato-basil sauce. 
During high school and collage, I worked at a seafood restaurant. During my 6 years there, I was introduced to a wide variety of fish including tilapia. Tilapia has since become one of may favorite pieces of fish to cook. Not only is it mild but it is also very inexpensive and easy make at home.
For this easy fish recipe, tilapia is coated with shredded Parmesan cheese and bread crumbs, pan fried to golden brown, then topped with creamy tomato sauce. It is fast, delicious and the perfect summer meal.
It took me a few tries to get the coating just right for this Parmesan Crusted Tilapia. The first time I tried there was virtually no Parmesan breading left on the fish. Not one to give up, I did a little more testing. What I found was that it was best to lightly dust the fish in seasoned flour first, then dip it in egg before finally dredging it in the Parmesan and frying it. By using this method, the fish was coated in a perfectly crunchy Parmesan crust.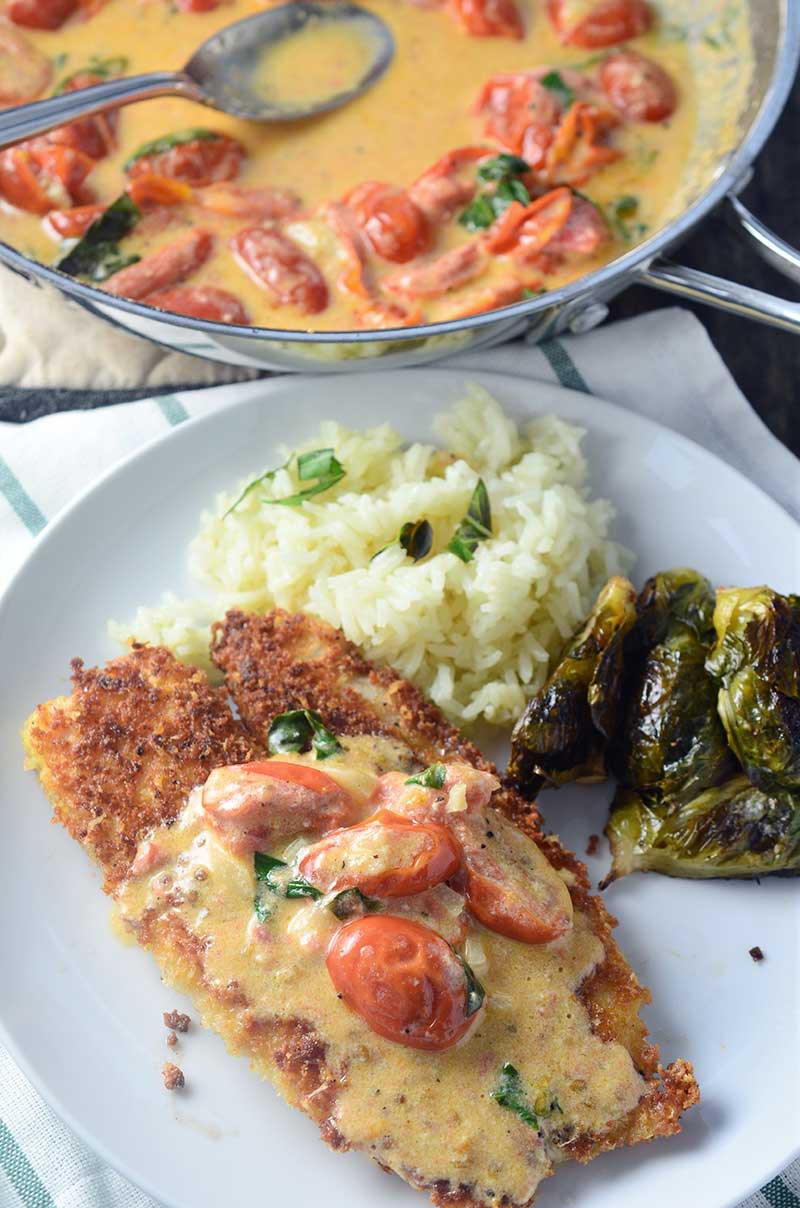 I could've just left it like that. Parmesan Crusted Tilapia is pretty great on it's own. But with it being summer, I figured why not add in some quintessential summer flavors. That is where the basil and tomato come in.  And believe me, friends, the tomato basil cream sauce really sends this dish over the top. It's not too heavy. It's is just creamy enough and the tomatoes and basil add a slightly sweet flavor that contrasts nicely with the salty parmesan.
I wouldn't be surprised if you wanted to lick the plate clean. However, if you've got company try soaking up any leftover sauce with some crusty herb garlic bread. You'll love it.
Note: This recipe for Parmesan Crusted Tilapia was originally published in 2009 and republished with updated photos in 2016.

Parmesan Crusted Tilapia with Tomato-Basil Cream Sauce
Print Recipe
Ingredients:
2 tablespoons olive oil
4 cloves garlic, minced
1 1/2 cups cherry tomatoes, halved
3/4 cup cream
small handful of fresh basil leaves
4 tilapia fillets
kosher salt and fresh cracked pepper
1/2 cup flour
2 eggs, beaten
1 cup shredded Parmesan cheese
1 cup panko breadcrumbs
1 teaspoon granulated garlic
oil for frying
Instructions
1
Heat olive oil in a small skillet over medium heat. Add garlic and cook 1-2 minutes. Add cherry tomatoes and cook for 2 minutes. Reduce heat to medium low and add cream. Let simmer for 15 minutes. Sauce will turn slightly pink and coat the back of the spoon. (Note: It is okay if the sauce boils slightly.) Season to taste with salt and pepper.

2
Meanwhile, pour enough oil just to coat the bottom of a skillet and heat over medium heat.

3
Rinse and pat dry the tilapia fillets. Season both sides with kosher salt and fresh cracked pepper.

4
Combine Parmesan, panko and granulated garlic.

5
Dredge the seasoned tilapia fillets in the flour. Shake off excess. Dip in egg. Press into Parmesan/panko mixture.

6
Place fish in heated skillet, in batches if necessary and cook 3-4 minutes per side. Fish will be golden brown and will flake easily when done.

7
When you remove the fish, chiffonnade the basil (Note: To do this, simply roll up a few basil leaves and gently chop). Stir the basil into the sauce. Season with salt and pepper if needed.

8
Lay fish on a serving platter and spoon sauce over the top. Serve.