Sweet n' Spicy Shrimp and Ramen Noodle Salad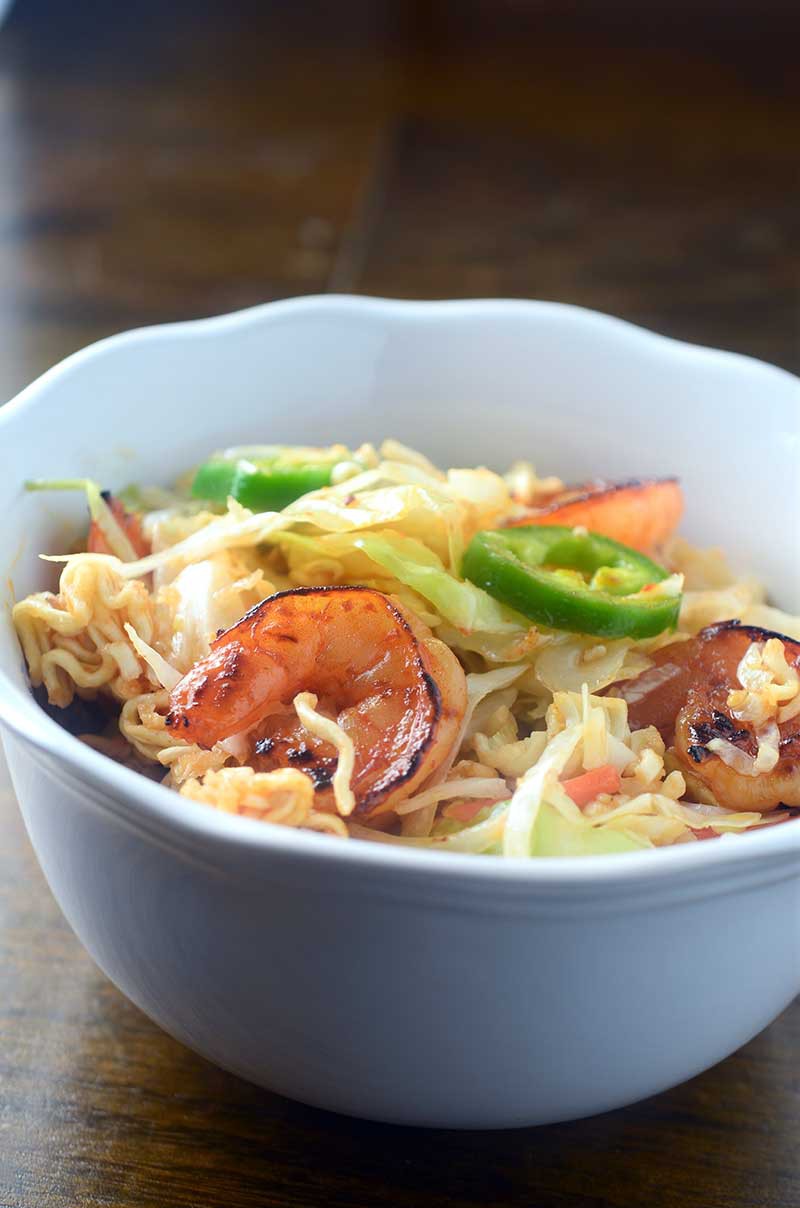 For the last few months I have been seeing ramen noodle salads popping up all over pinterest. I've seen it here and here too. And each time I see it I think to myself I HAVE to try that. It wasn't until a recent mini-road trip with my little family that I did. And it was awesome, but like every awesome recipe I try, I've got to put my own spin on things so I present to you: Sweet N' Spicy Shrimp and Ramen Noodle Salad.
When I made my first ramen noodle salad, I looked at a bunch of different recipes and kind of did a hodge podge of what I liked. A few things I discovered:
1. The dressing tends to be on the sweeter side and most forgo the ramen seasoning packet.
2. Ramen noodle salad tastes better if it has a chance to marinate at least an hour.
3. The ramen noodles are an awesome crunchy addition on day one. Day two…not so much.
4. It can easily become a meal with the addition of a protein.
So I took all of these things that I discovered and decided to do my own thing. First, the sweet dressings totally worked, but you know me, I need a kick so I added some sriracha. I also added some jalapeno to the mix for another extra crunchy kick. Second, I made sure to make this salad a few hours a head of time so that the cabbage had a chance to soak up all of the sweet n' spicy dressing. Third, there is really no way around this. The salad is good the next day but the noodles are just not as crunchy. And finally, this salad is pretty hearty on it's own because of the cabbage, but add some protein and you've got yourself a meal.
For my protein I decided to add some shrimp. To keep with the sweet n' spicy theme, I wanted the shrimp to be sweet n' spicy too so I made them honey sriracha shrimp. They are sweet but not too sweet and spicy but not too spicy and were the perfect addition to the crunchy ramen noodle salad. Just be careful when they are cooking because the honey can burn quickly.
Once you cook the shrimp, toss it with the crunchy salad and you're good to go. It's quick, easy and just might be my new favorite salad.