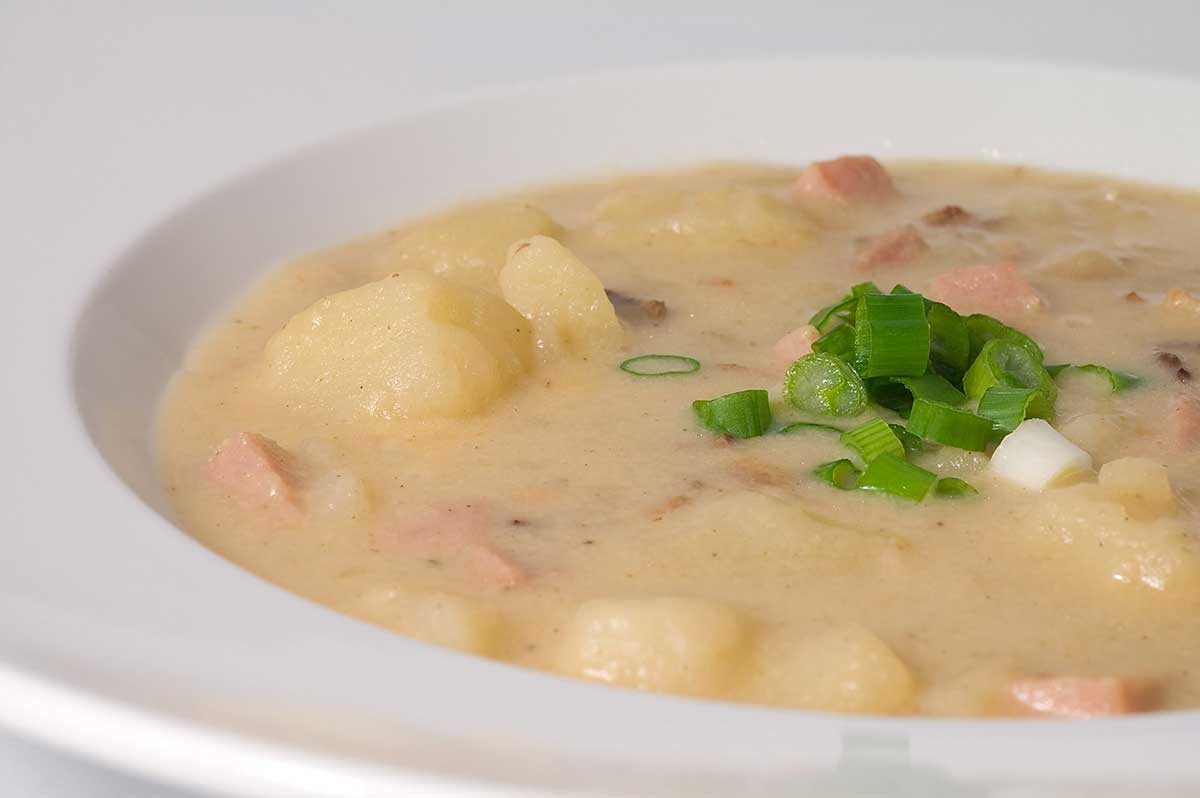 Baked Potato Soup
It has been rainy and cold for the past week or so here in Seattle and there is no sign that that is going to change anytime soon. The only good thing about this weather is that it makes me want to get warm and what a better way to do that then with a bowl of baked potato soup? For this recipe I basically took everything that I put into my Cheesy Twice Baked Potatoes: the bacon, the two cheeses, sour cream, the green onions and of course the potatoes and made it into a yummy, tummy warming soup perfect for these last few days of winter.
Now for my potato soup I don't like to use heavy cream or even half and half, instead I used fat free milk and chicken broth for my liquids and let the starch from the potatoes do the thickening. I think that this lets the flavor of the potatoes shine through.
Note: This recipe uses baked potatoes that were prepared in advance. To do this: scrub the baking potatoes, pierce with a fork  a few times. Bake in a 400 degree oven for 45-50 minutes or until soft.
Baked Potato Soup Recipe
Ingredients:
6 slices bacon, chopped
3 tablespoons flour
2 1/2 cups chicken broth
2 1/2 cups fat free milk
2 tablespoons light sour cream
1 cup shredded cheddar cheese
1 cup shredded pepper jack
1 1/2 cup diced ham
1 medium onion, diced
3 large baking potatoes, baked, peeled and chilled, diced into bite size pieces
3 green onions, diced
Instructions
1
In a large dutch oven or soup pot cook bacon until crispy. Remove and set aside. Reserve 3 tablespoons pan drippings.

2
Add 3 tablespoons of flour to the pan drippings. Whisk and cook one minute over medium heat (Note: Cooking the flour for a minute or so helps prevent your soup from having a pasty taste.) Whisk in the chicken broth. Slowly, whisk in the milk. Cook for 2-3 minutes or until the milk is warmed through. Whisk in sour cream. Add in cheddar and jack cheeses and stir soup until the cheeses have melted. Add in cooked bacon and remaining ingredients except for green onions. Simmer on medium-low heat for 35-40 minutes or until the soup thickens. Stirring occasionally. Do not let boil or you soup will separate.

3
Ladle into soup bowls, top with green onions. Serve hot.
Notes
We may not have any control of the cold weather outside, but at least we can warm up with this tasty soup. Enjoy!