Cajun Chicken Sandwiches
Well that was no fun! Some of you may have noticed that the blog was down for a few hours today, not exactly sure why it happened but my lovely husband was able to get it all figured out and we're up and running again. Yay! It is a good thing he was able to fix it so quickly because I really wanted to share this recipe with you today. Ryan is a huge sandwich fan so I am always trying to think of new sandwiches to make. I like hearty sandwiches because  they are perfect for lunch or dinner and are generally really simple to make. For this sandwich recipe I coated chicken breasts with Cajun seasoning and while that would be yummy on it's own, to take it to another level I made a quick coleslaw to go on top, added some crunchy red onion rings and sandwiched it all between a toasted onion hamburger bun. I think it may be my new favorite sandwich.
Some people may be a bit leery of the spice of the Cajun seasoning but the tangy, creamy coleslaw balances the flavors out nicely, so while the sandwich has a little kick it is not too spicy. Please note, when when making these sandwiches, it is best to make the coleslaw in advance to give the flavors a chance to meld together.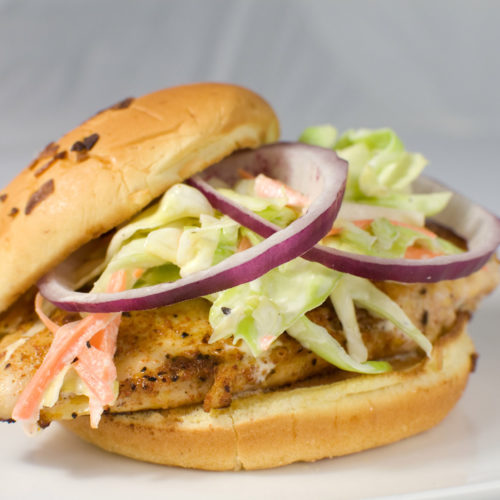 Cajun Chicken Sandwiches
Spicy chicken, tangy coleslaw and red onion rings sandwiched between a toasted hamburger bun.
Ingredients:
1/3

cup

mayonnaise

1/4

cup

white wine vinegar

1/2

teaspoon

granulated garlic

1/2

teaspoon

celery salt

kosher salt and pepper taste

4

cups

shredded cabbage

1

cup

shredded carrots

4

chicken breasts

trimmed

1

tablespoon

plus 1 teaspoon Cajun seasoning

I use Weber's

1

tablespoon

olive oil

red onion ring slices

4

onion hamburger buns
To make the coleslaw whisk together mayonnaise, vinegar, granulated garlic, celery salt and kosher salt and pepper. Add shredded cabbage and carrots. Toss to coat. Cover and refrigerate for 1 hour.

Place the chicken breasts between two pieces of plastic wrap, use a mallet or rolling pin flatten the chicken breasts so they have a uniform thickness, about 1/2 to 3/4 inch thickness.

Season both sides of the chicken breasts liberally with Cajun seasoning, about 1/2 teaspoon per side. Rub the seasoning into the chicken.

Heat olive oil in a large skillet. Cook the chicken in the skillet until cooked through, about 3 minutes per side. Remove from heat and let rest.

Turn your oven broiler setting on. Once heated, place the onion hamburger buns under the broiler and cook until golden about 1-2 minutes.

Once the buns have toasted, place the chicken breast on the bun, top with coleslaw and onion rings and top of bun. Serve.
Be sure to put out some extra napkins as these sandwiches can get a little messy, but that is all part of the fun right? If you're looking for a side dish, I served them with a salad and Crispy Parmesan Onion Rings but they would also be delicious with Homemade Potato Chips . Enjoy!
Keywords:
4th of July Recipes, cajun, chicken, dinner, Food, hoagie rolls, lunch, Recipe, sandwich