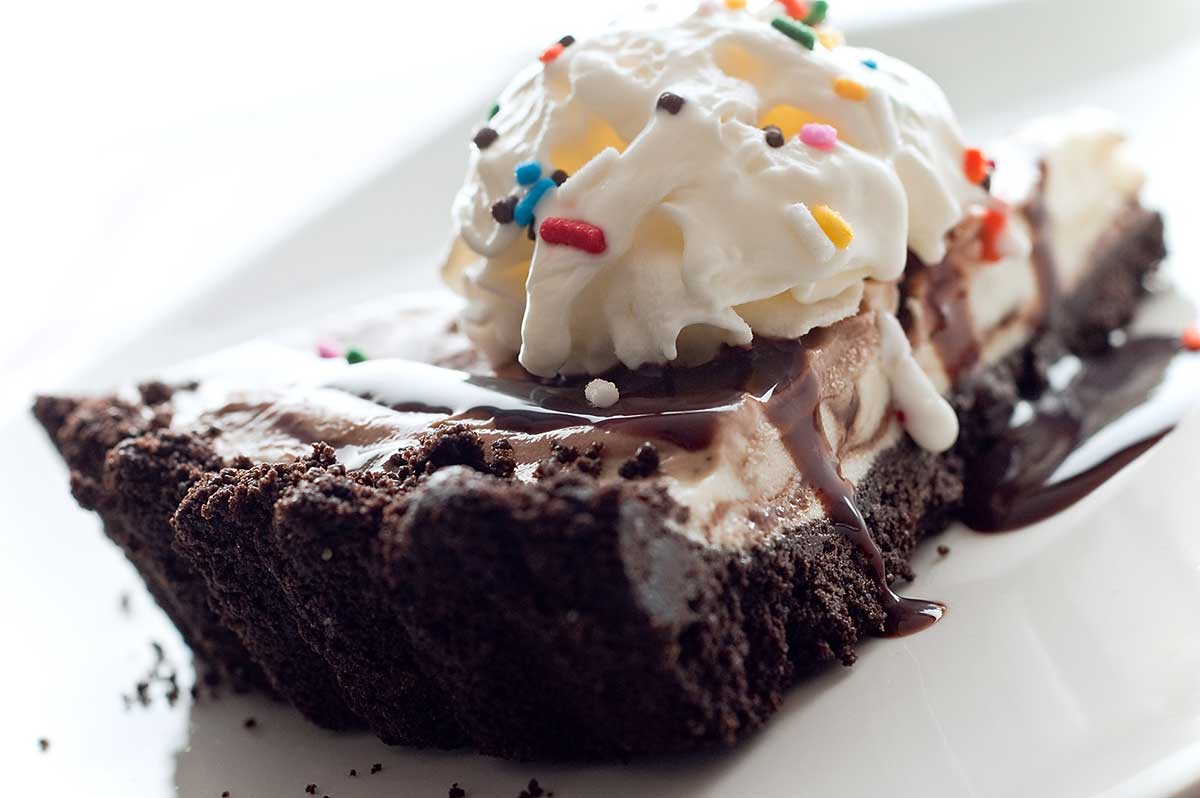 Cake Batter Ice Cream Tart
I have a confession. I am in love with cake batter ice cream. I crave it. I have dreams about it. While Ryan thinks I'm making dinner, I sneak a few bites from the carton in the freezer. I also sneak a couple of bites before I go to bed. It may be bordering on the lines of obsession but what's a girl to do? How about make it even more irresistible? Like say, spread luscious cake batter ice cream on top of a chocolate cookie crust and top it with all of my favorite sundae toppings: chocolate syrup, whipped cream and sprinkles. Say it with me: O. M. G.
Now that I have talked up cake batter ice cream you are probably wondering where to get it. It can be hard to find but I have seen it in my local supermarket on a few occasions. For this recipe I used a pint of Ben and Jerry's Cake Batter Ice Cream with Chocolate Swirl. The chocolate swirl made for a deliciously pretty presentation. But I was first introduced to Cake Batter Ice Cream at Cold Stone Creamery a few years ago and you can pick it up there to bring home.
I do realize that some of you won't be able to give your taste buds the wonderful gift that is cake batter ice cream because its simply not available in your area. If this is you, use a chocolate vanilla swirl or your favorite ice cream. It may not be the same, but its still ice cream on top of a cookie crust with whipped cream, chocolate syrup and sprinkles so it can't be that bad.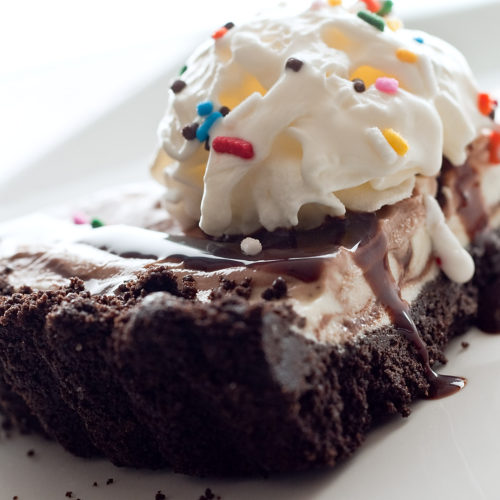 Cake Batter Ice Cream Tart
Luscious cake batter ice cream on a cookie crust with chocolate syrup, whipped cream and sprinkles. Say it with me: O. M. G.
Ingredients:
2

cups

chocolate cookie crumbs

5

tablespoons

unsalted butter

melted

1

pint

cake batter ice cream

chocolate syrup

whipped cream

sprinkles
Preheat oven to 325 degrees.

Combine cookie crumbs and butter in a bowl and stir until crumbs are moistened. Press crumbs firmly onto bottom and up sides of a 9 inch tart pan with removable bottom. Bake until set, about 10 minutes. Remove from oven and cool completely.

While crust is cooling, set ice cream on the counter to soften.

Once the crust has cooled and the ice cream is soft enough to spread, spread the ice cream onto the crust.

Freeze until the ice cream is firm, about 1 hour.

Remove from freezer. Use a knife to loosen the sides of the crust and gently press up tart bottom to release it from the sides.

Slice into 8 - 10 pieces. Drizzle each piece with chocolate syrup, top with whipped cream and sprinkles. Serve.
If you aren't serving 8 - 10 people, just slice a piece for yourself and cover and freeze the rest of it. That is what Ryan and I did and we've been enjoying it for about a week now.
Keywords:
cake batter ice cream, chocolate cookie crust, cookie crust, dessert, Food, frozen dessert, ice cream, ice cream pie, Recipe, sundae, sweet, treat