Cheesy Baked Chicken Tacos
Have you read the book Dragons Love Tacos? My kids love it. It's actually one of my favorite children's books too. The dragons love all kinds of tacos except for spicy. Those make them breath fire. It's pretty cute. And it has made my kiddos love tacos even more, which is a great thing, because this mama LOVES tacos too. Especially these Cheesy Baked Chicken Tacos.
Tacos are pretty much a regular occurrence in our house. We're talking weekly. We usually have fish tacos, shrimp tacos, fried avocado tacos or steak tacos. This is the first time however, that I have made baked tacos. And it is so not going to be the last.
These Cheesy Baked Chicken Tacos were a hit with the whole family and couldn't be easier to make.
First, you're going to need some of those stand n' stuff taco shells. They are going to give you all the room that you need to really load these things up. Next you'll want to place them in a baking dish and bake them according to the package directions. You want to bake them empty first. I found that they stayed crunchier longer that way.
Once they have been warmed up, load them with black beans, shredded chicken and plenty of pepper jack cheese. Then bake them until all the cheese is melty and gooey. Finally comes my favorite part, load them up with all of your favorite toppings. For us it meant that we were loading our Cheesy Baked Chicken Tacos with guacamole, sour cream and pico de gallo.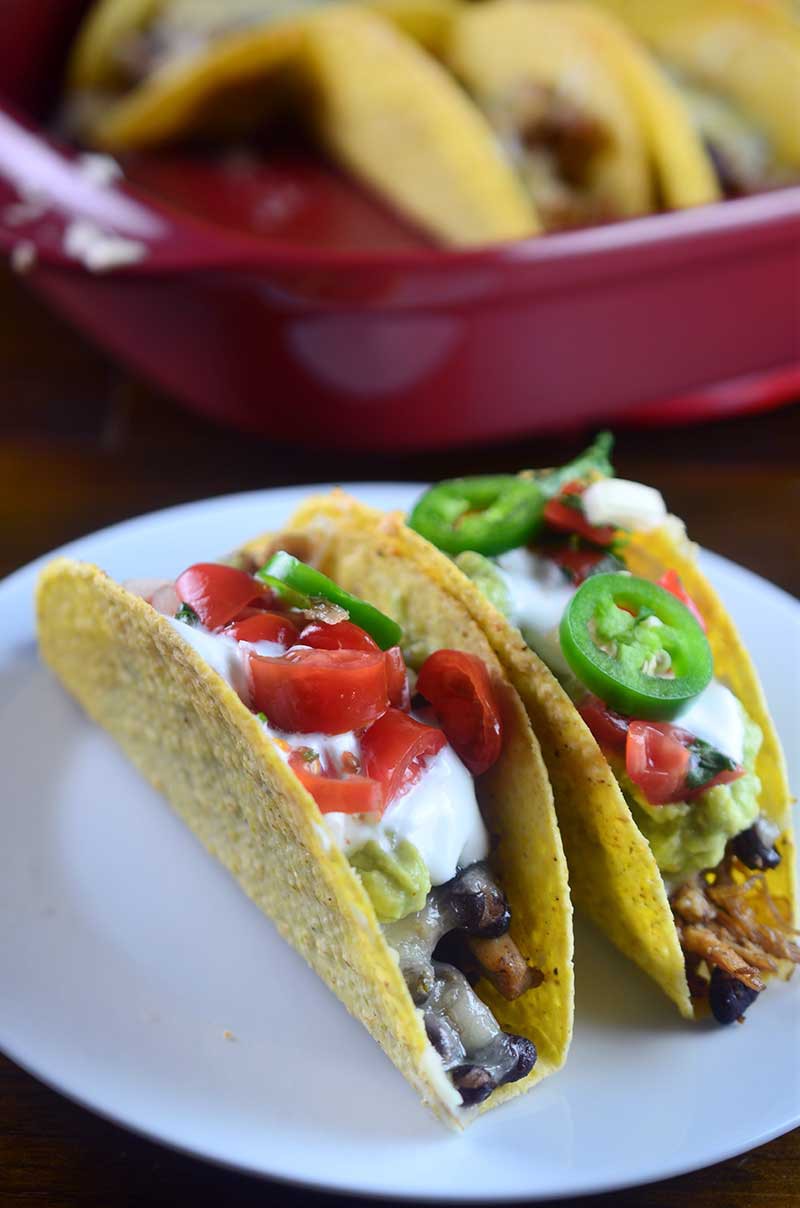 And unlike the dragons, I love spicy tacos so I loaded mine up with jalapeños too. But if they are going to make you breath fire, I recommend leaving them off ;)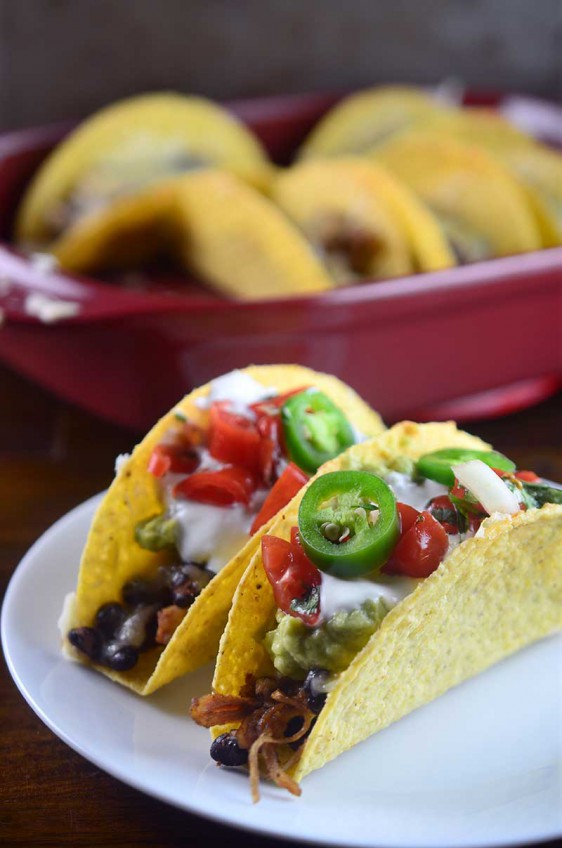 Cheesy Baked Chicken Tacos
Loaded with chicken, pepper jack cheese, guacamole, sour cream and pico de gallo, these Cheesy Baked Chicken Tacos are pretty much awesome.
Preheat oven to 325 degrees. Place 8 - 10 taco shells in a baking dish. Warm taco shells according to package directions.

Heat avocado oil in a skillet over medium heat. Add onion and cook 2 minutes. Add in chicken, cumin and garlic and cook until chicken is warmed through. Season to taste with salt. Stir in black beans.

Increase oven temperature to 400 degrees. Divide chicken filling evenly among taco shells. Sprinkle pepper jack cheese over the top. Bake in preheated oven for 5 - 10 minutes or until the cheese is melted.

Remove tacos from oven. Top each taco with guacamole, sour cream, pico de gallo and jalapeños. Serve immediately.
Keywords:
chicken, pepper jack cheese, tacos