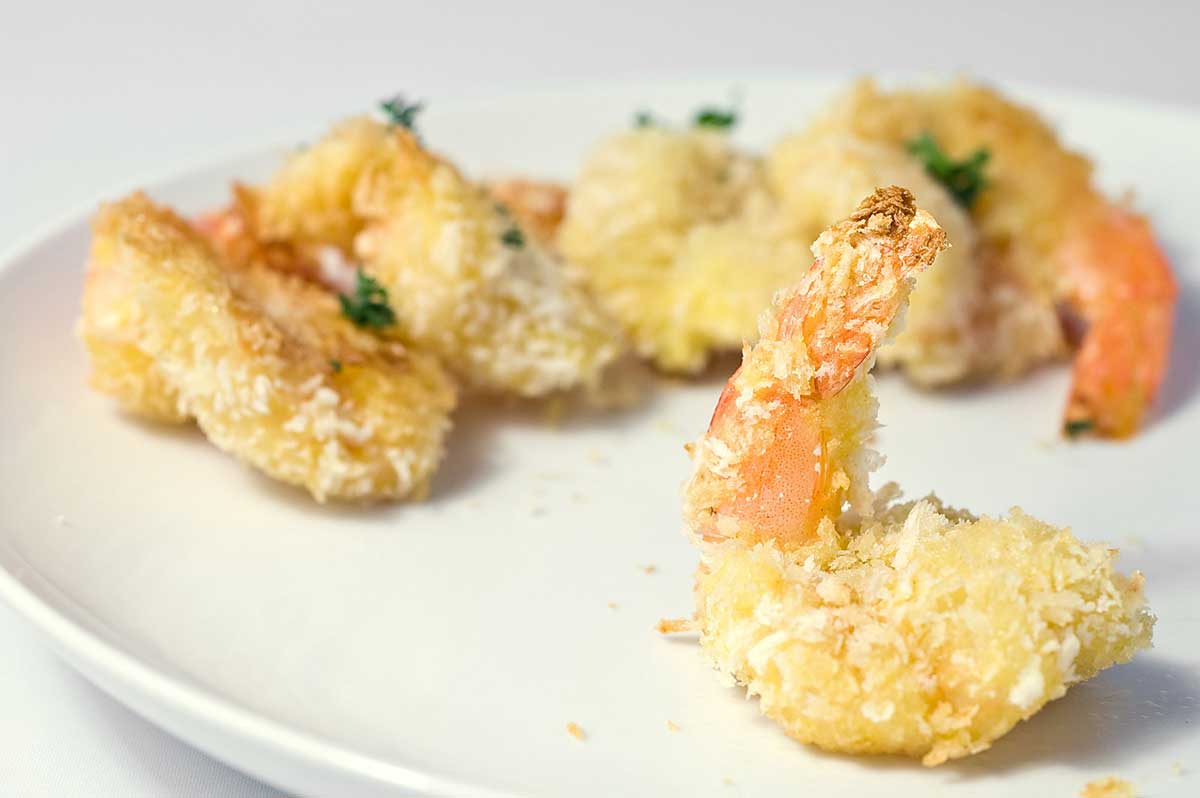 Crispy Oven Baked Prawns
The other day I went to lunch with a friend  to one of those places where you walk through a line of food, put it in your container and then pay by the weight. It was a pretty good place, I was trying to be healthy so I made a simple salad, but one of the last things in the line was freshly fried crispy prawns. My mouth immediately started watering, I love love love fried prawns but I don't usually eat them because well, they are fried. After fighting the urge to pile 10 of them on my plate, I decided that when I got home I was going to try baking some. First I dusted the prawns in seasoned flour, dipped them in egg and then coated them in panko bread crumbs. Next, I drizzled them with a little olive oil and baked them in the oven until they were golden brown and crispy.
I have said this before in some of my other recipes, but I'll say it again, panko bread crumbs are wonderful. They are Japanese style bread crumbs that can be found in Asian markets and I have even found them at my local small grocery store so you should be able to find them. Don't substitute regular bread crumbs in this recipe, the panko is what makes these crispy.
Crispy Oven Baked Prawns Recipe
Ingredients:
12 (51/60 count) prawns, peeled and deviened, tail-on
1/2 cup all purpose flour
1/2 teaspoon kosher salt
1/4 teaspoon fresh cracked pepper
1 egg, beaten
1 cup panko bread crumbs
olive oil for drizzling
non-stick spray
Instructions
1
Preheat oven to 450 degrees. Spray a baking sheet with non-stick spray

2
Using a small knife, carefully slice the prawns down the back so that they lay flat. Be careful not to slice through the prawn. Set aside. Repeat until all prawns are completed.

3
In a bowl combine flour, salt and pepper. In another bowl beat egg. Place panko bread crumbs in a third bowl.

4
Dredge each prawn in flour. Shake off excess. Dip in egg and then press into panko bread crumbs to coat.

5
Place finished prawns on prepared baking sheet and bake on the middle rack at 450 for 6-7 minutes. Turn on broiler and cook for an additional 2 minutes or until the prawns turn golden brown.

Notes
I like to serve these with sweet Thai chili sauce or plum sauce for dipping. For something a little different, and a little spicy try dipping these in hot Chinese style mustard. Enjoy!