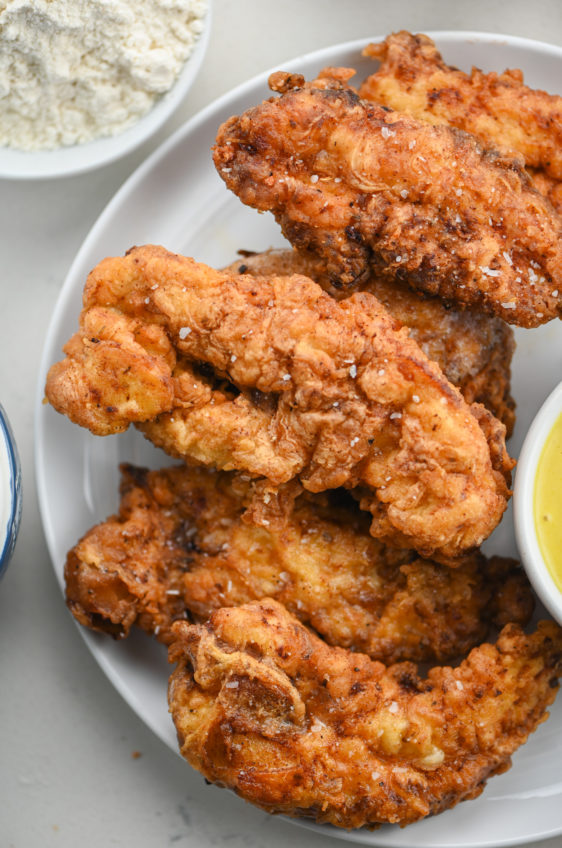 Cajun Chicken Tenders
Cajun Chicken Tenders are kid and adult approved! These tender chicken strips are full of flavor and perfect for dunking in your favorite dipping sauce.
Whether you call them chicken tenders, chicken fingers or chicken strips, there is no doubt that deep fried pieces of chicken is always a favorite. Kids love them because they are finger food and fun to eat. Adults love them because…well for the same reasons. They are just plain fun to eat! Not to mention delicious.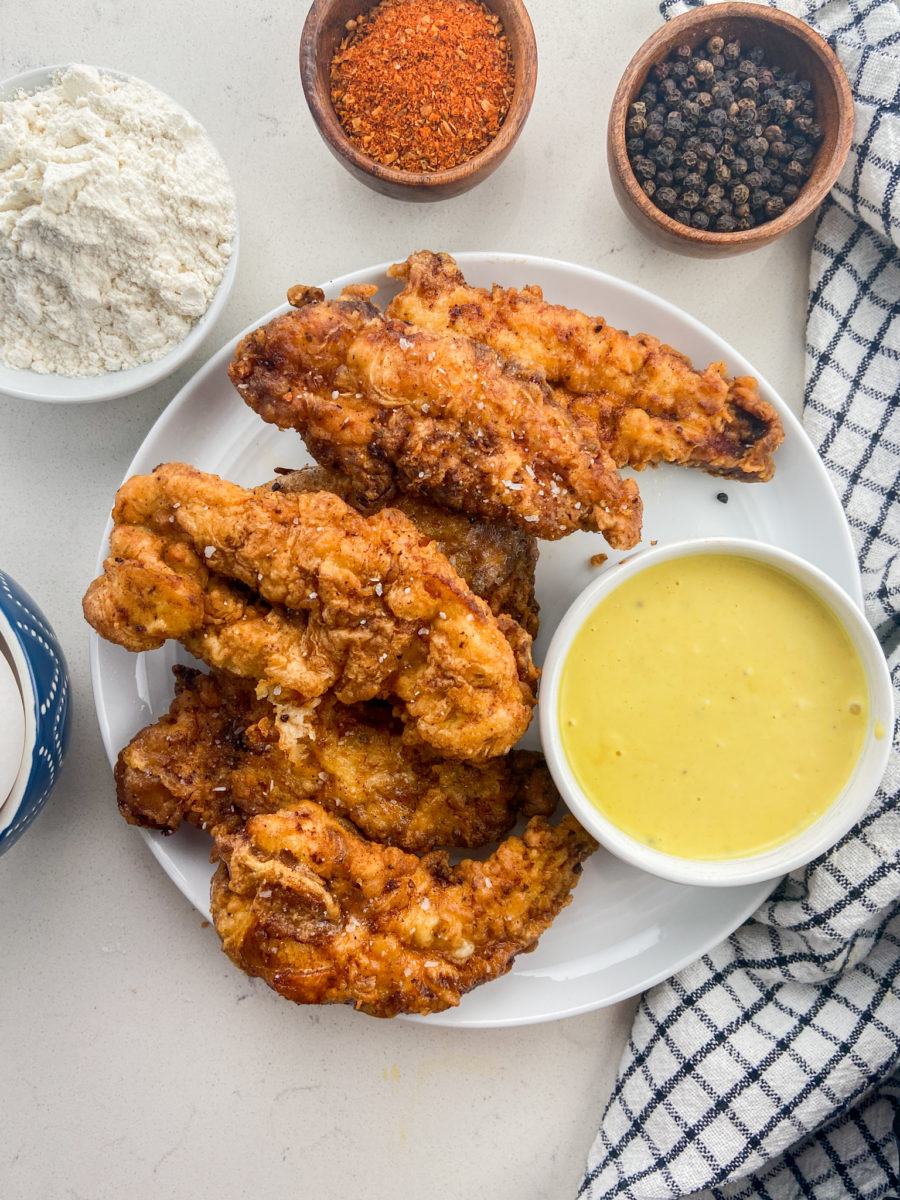 Especially when the chicken strips are seasoned every step of the way like they are in this recipe. They are first marinated in a cajun buttermilk mixture, then double coated in a cajun seasoned flour mixture before being deep fried to perfection. The result is a crunchy, tender, flavorful bite that the whole family is sure to love.
What ingredients you'll need to make Cajun Chicken Tenders: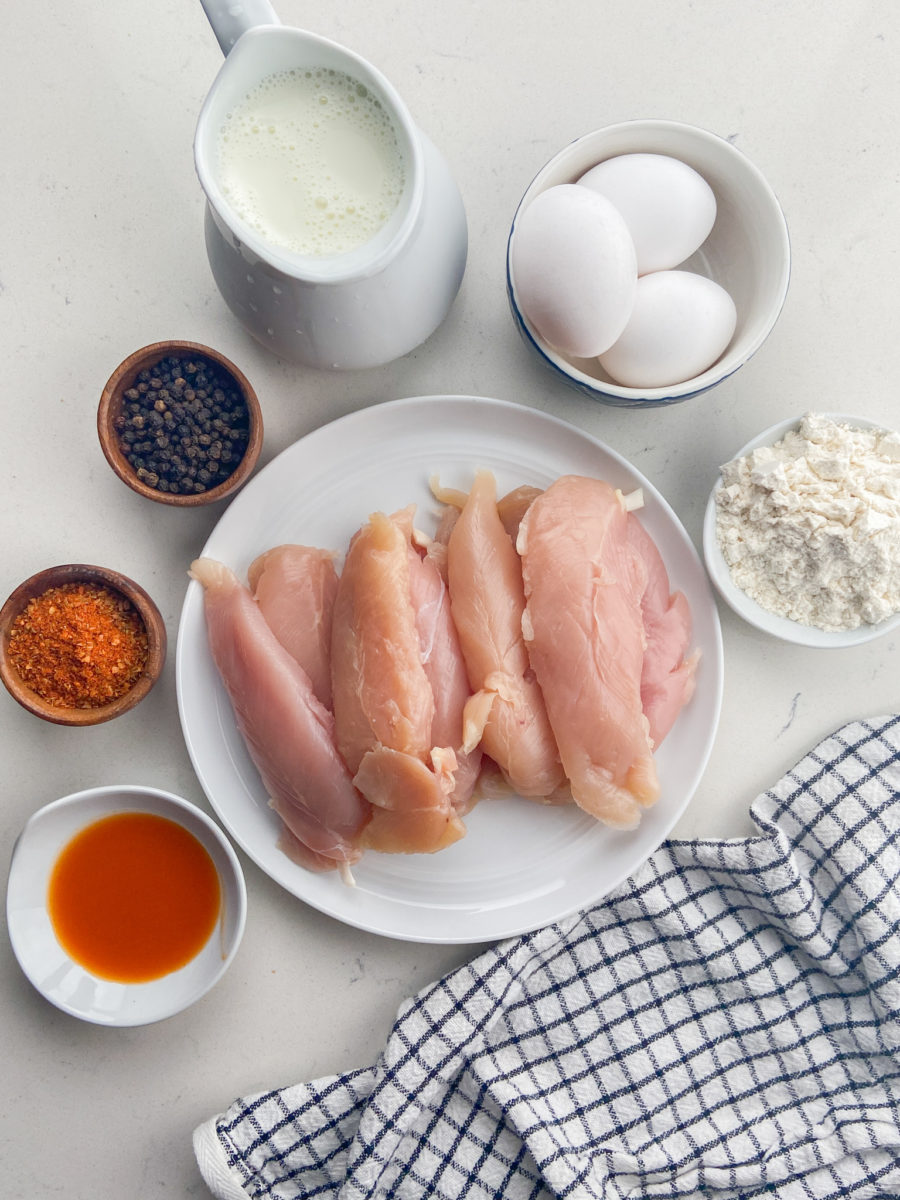 CHICKEN TENDERLOINS: Chicken tenderloins are the long muscle strip beneath the breast. For this recipe, you can use chicken breasts that you've cut into strips as well.
BUTTERMILK: Buttermilk helps to tenderize the chicken which is why it is used so often when making fried chicken.
HOT SAUCE: To give a little kick to the marinade. I use Crystal for this but you could also use something similar, like Franks.
FLOUR/CORNSTARCH: A combo of the two is what is going to give you that crispy exterior.
EGG/MILK: This will give the flour something to stick to.
CAJUN SEASONING: You can make your own DIY cajun seasoning or you can use your favorite.
BLACK PEPPER: Adds a touch of smoky heat to the flour.
Step by Step Photos and Instructions:
Whenever I make coated fried food I like to set up an assembly line of sorts. It helps keep things moving smoothly. Just follow along in the step by step photos to see just how I do it.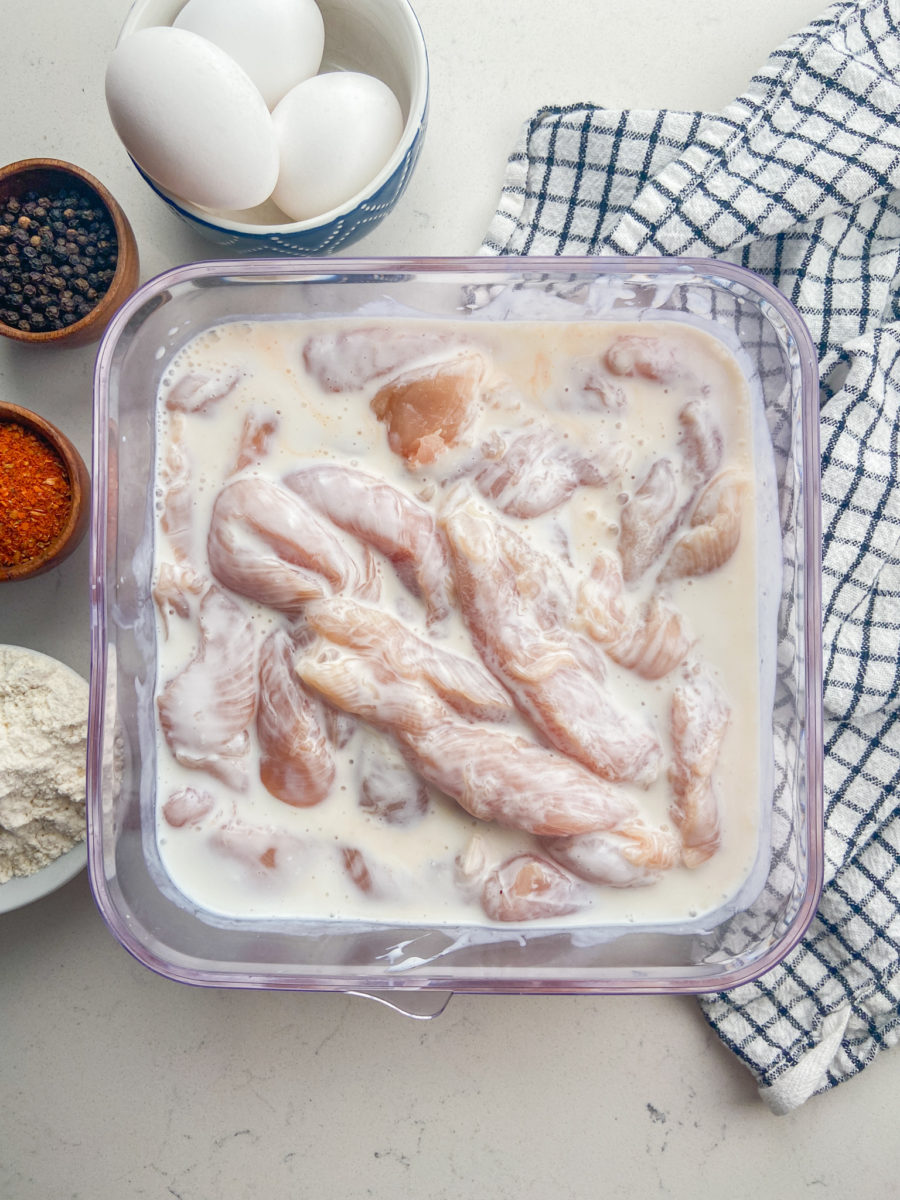 STEP #1: Marinate your chicken in buttermilk and cajun seasoning. You'll want to do this for at least 2 hours. After it has marinated pat it dry.
STEP #2: Set up your assembly line with the dried chicken tenders, seasoned flour and an egg wash.
STEP #3: Coat the chicken. First dredge the chicken in flour, then dip in the egg wash and then once more into the flour mixture.
STEP #4 Fry chicken, in batches so you don't overcrowd the pan, at 350 degrees F until browned and cooked through. Transfer to a paper towel lined plate. Sprinkle with salt as soon as your remove them from the oil.
What dip do you use with chicken tenders?
The dip you choose when you're eating chicken tenders is almost just as important as the tenders themselves. After all, dunking food in a sauce is also part of the fun. Around here we like to dip ours in homemade honey mustard, creamy ranch dip, and garlic aioli.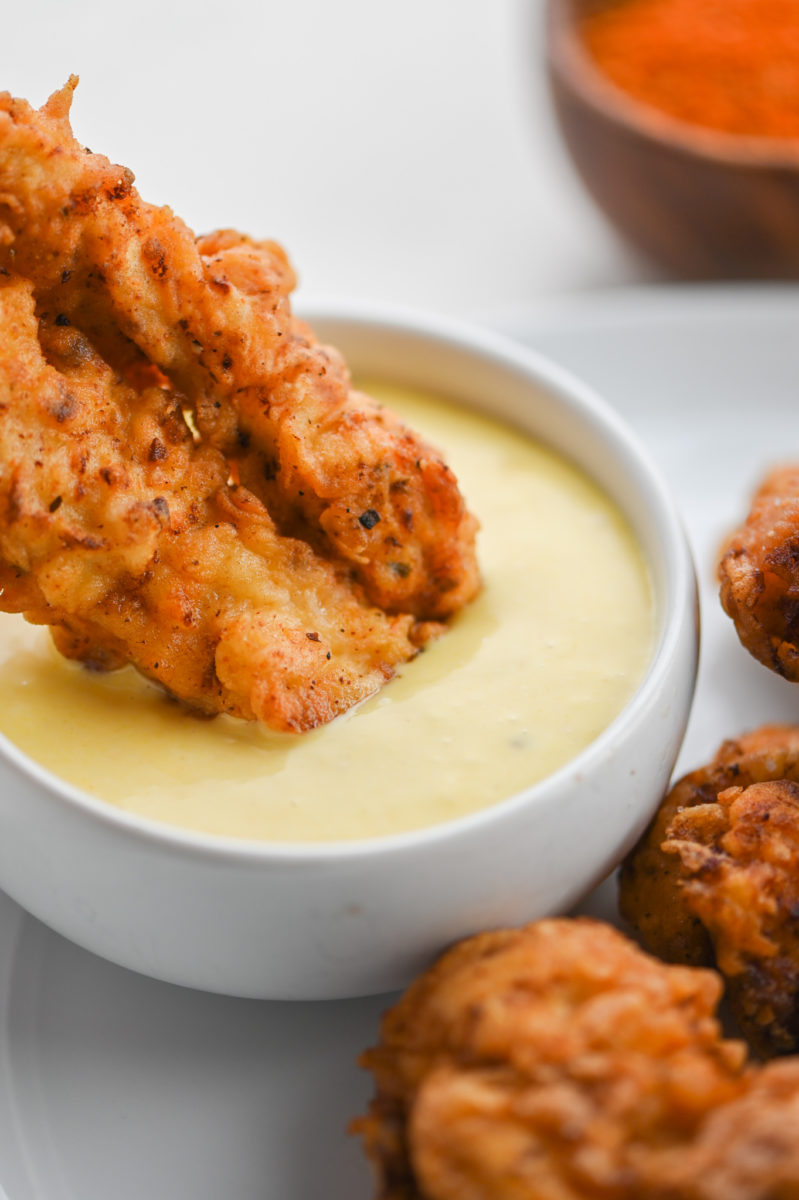 When it comes to sides, I like to serve these with air fryer french fries or homemade mashed potatoes like they do when you get the Cajun Chicken Littles at the Cheesecake Factory!
Storage and Leftovers:
These are best eaten the day that they are made but will crisp up in the air fryer!
FAQ:
What is a chicken tenderloin?
It is the long muscle underneath the breast of the chicken and is the most tender part of the bird.
Do you have to remove the tendon from chicken tenderloins?
You do not need to remove the tendon! It is a personal preference but the tendon is edible. I've done it both ways and honestly, removing the tendon can be more effort than it's worth.
Where is cajun spice from?
Cajun spice hails from Louisiana. It's a blend of spices that usually includes paprika, cayenne, garlic, onion and
Can't get enough cajun flavor? Try these other Cajun recipes:
Note: This post was originally published in 2009. It was updated with a modified recipe, new photos and nutrition information in 2022.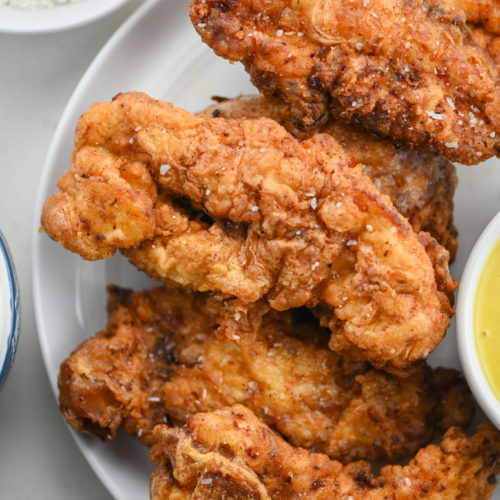 Cajun Chicken Tenders
Chicken Tenders are kid and adult approved! These tender chicken strips are full of flavor and perfect for dunking in your favorite dipping sauce. 
Ingredients:
1/2

cup

buttermilk

1

teaspoon

hot sauce

2

tablespoons

Cajun seasoning

divided

2

egg

1/4

cup

milk

1 1/2 - 2

pounds

chicken tenders

2

cups

flour

2

tablespoons

cornstarch

1/2

tablespoon

black pepper

1 1/4

cup

canola oil

for frying
In a bowl whisk buttermilk and 1 tablespoon of Cajun seasoning. Add chicken tenders and mix them around until they are all coated. Cover and refrigerate for at least 2 hours. Once chicken is done marinating, remove from buttermilk mixture and pat dry.

In one bowl whisk together eggs with 1/4 cup milk. In another bowl combine flour, corn starch, remaining Cajun seasoning and black pepper.

Working in an assembly line dredge the dried chicken in the flour mixture then dip in the egg then dredge once more in the flour to "double coat" the chicken.

In a large pan, heat oil over medium heat to 350 degrees F. Once the oil is hot add chicken tenders and fry until golden brown. Don't overcrowd the pan! Fry in batches if needed, about 3 minutes per side. Once browned, remove from fryer, lay on paper towels sprinkle with a little salt. Serve immediately.
Please plan ahead as the chicken tenders do need to marinate for 2 hours. 
My number one rule when frying anything: DON'T OVER CROWD THE PAN. If you do this temperature of the oil will drop and your chicken won't get as crispy as you like as it will steam rather than fry. If your pan isn't big enough to fit all of the chicken without overcrowding simply cook the chicken in batches. 
You do not need to remove the tendon from the tenderloin. It is a personal texture preference. 
Nutrition information is for estimation purposes only. 
Calories:
751
kcal
Carbohydrates:
37
g
Protein:
32
g
Fat:
53
g
Saturated Fat:
5
g
Polyunsaturated Fat:
14
g
Monounsaturated Fat:
31
g
Trans Fat:
1
g
Cholesterol:
131
mg
Sodium:
198
mg
Potassium:
588
mg
Fiber:
2
g
Sugar:
2
g
Vitamin A:
1316
IU
Vitamin C:
2
mg
Calcium:
63
mg
Iron:
3
mg
Keywords:
cajun chicken littles, cajun seasoning, chicken, chicken tenderoloin, honey mustard