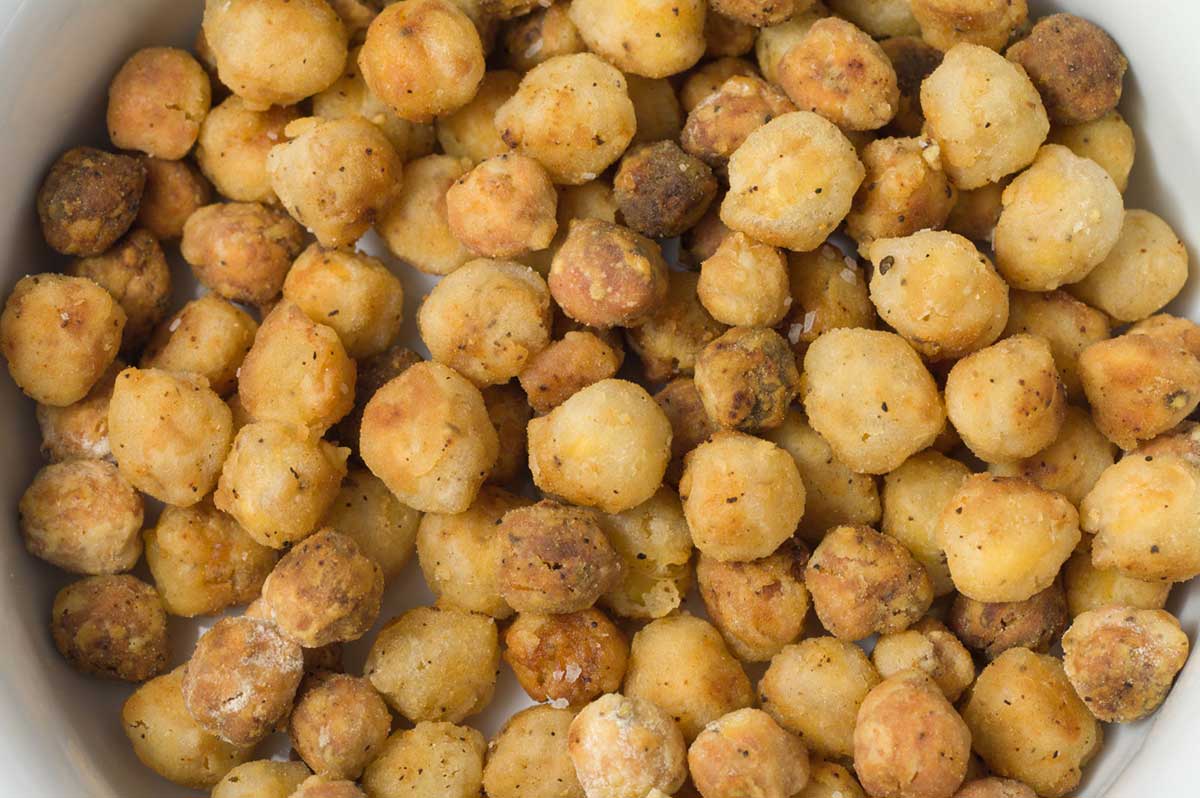 Roasted Garbanzo Beans
I have not had much experience with garbanzo beans. Not that I am against them in any way, I just had not cooked with them before. I bought a can a couple of months ago with every intention of making hummus, but never got around to it. I forgot about the can way back in the corner of my cabinet until yesterday when I was putting groceries away. I had heard about people frying or baking these so I decided to give it a try. I simply seasoned the garbanzo beans with a little salt and pepper, tossed them with some seasoned flour and roasted them in the oven until they were golden brown and crispy. These just might be my new favorite snack.
I did try frying these, but I was not too pleased with the results. The oven roasted ones were crunchier and stayed crunchy while the fried variety got a little soft.  So since it is tastier and healthier I recommend roasting them in the oven.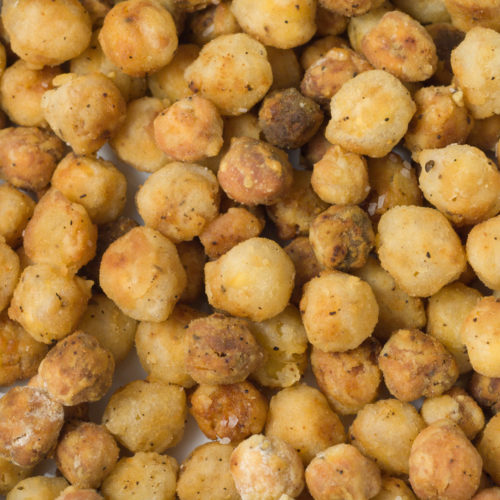 Roasted Garbanzo Beans
A perfect snack of crispy roasted garbanzo beans.
Ingredients:
1

14.5 ounce can of Garbanzo beans

kosher salt and pepper

1/3

cup

flour

1/2

teaspoon

granulated garlic

Extra virgin olive oil for drizzling
Preheat oven to 400 degrees.

Drain the garbanzo beans and gently pat dry. Season lightly with salt and pepper.

In a resealable plastic bag shake together flour, 1/2 teaspoon kosher salt, 1/4 teaspoon fresh ground pepper and granulated garlic. Add garbanzo beans and toss to lightly coat.

Shake off any excess flour. Lay garbanzo beans in a single layer on a baking sheet. Drizzle with extra virgin olive oil. Bake 25-35 minutes, shaking the baking sheet every 10 minutes or so to roll the beans around. When they are done they will be golden brown and crunchy. (Note: Keep an eye on them towards the end, if they look like they are getting too dark remove them, a few of mine burned and let me tell you a burnt garbanzo bean is not so tasty.)
When I gave Ryan one to try he replied "Well that is different." Those are not really words that a cook wants to hear, I mean different could meant awesome and delicious, or it could mean that that is the most disgusting thing I have ever eaten. However, my worries disappeared when he ate the whole bowl and asked for more. :) Enjoy!
Keywords:
appetizer, chick peas, diet, Food, garbanzo beans, kosher salt, olive oil, oven roasted beans, pepper, Recipe, snack