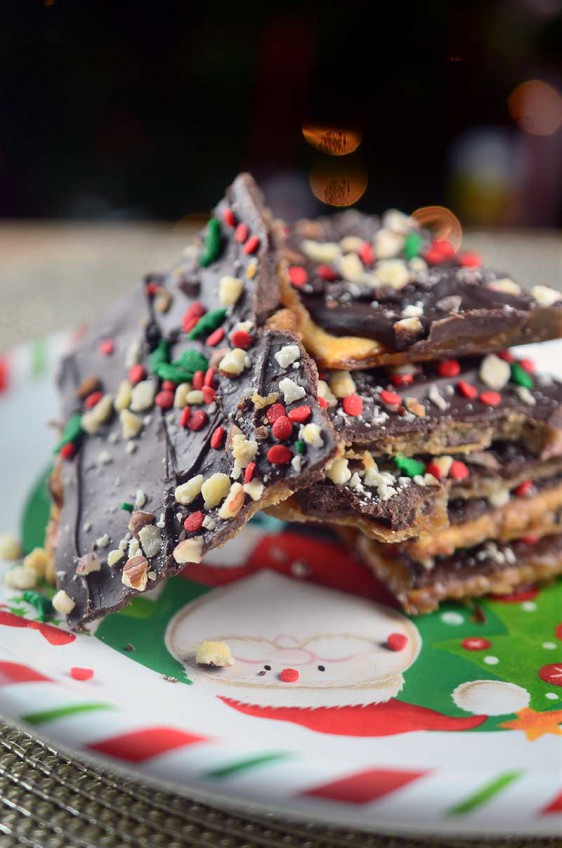 Saltine Coffee Toffee
One week to go. That's it. I can't believe how fast this holiday season has gone. Have you done all of your shopping yet? If you are still looking for that last minute gift consider putting together a gift basket for those remaining on your list. A gift basket that has this Saltine Coffee Toffee at the center, of course.
One of my favorite gifts to give has always been a basket of treats along with the recipe and all non-perishable ingredients you need to make those treats. For example, I might give a basket with a batch of our family's favorite fudge, the chocolate, the marshmallows, the sweetened condensed milk and the recipe to go right along with it. Using this formula a Saltine Coffee Toffee gift basket would be not only super easy, but I'm guessing pretty well received. I mean seriously, Saltine. Coffee. Toffee.
Guys, it's delicious.
Coffee and sweets is always a winning combination, so when the nice people at Dunkin' Donuts® contacted me asking me to showcase their coffee I just knew I had to make some kind of Christmas treat with it.
I was immediately intrigued by the Dunkin' Donuts® Bakery Series when I found it at my local Walmart. Particularly, the Caramel Coffee Cake. That sounded like dessert in a cup and obviously I am all for that.
Once home I decided that I wanted to make a quick and easy holiday treat that I happened to already have all the ingredients for: Saltine Toffee. I am all for tradition, but this time I decided to do a coffee twist and add a little brewed Dunkin' Donuts® Caramel Coffee Cake Coffee to the mix.
Verdict: My new obsession.
Besides being beyond easy to make, this Saltine Coffee Toffee is down right addicting. The crunchiness of the saltines, the sweet caramel, the chocolate and just a hint of coffee. I'm telling you, this stuff is amazing.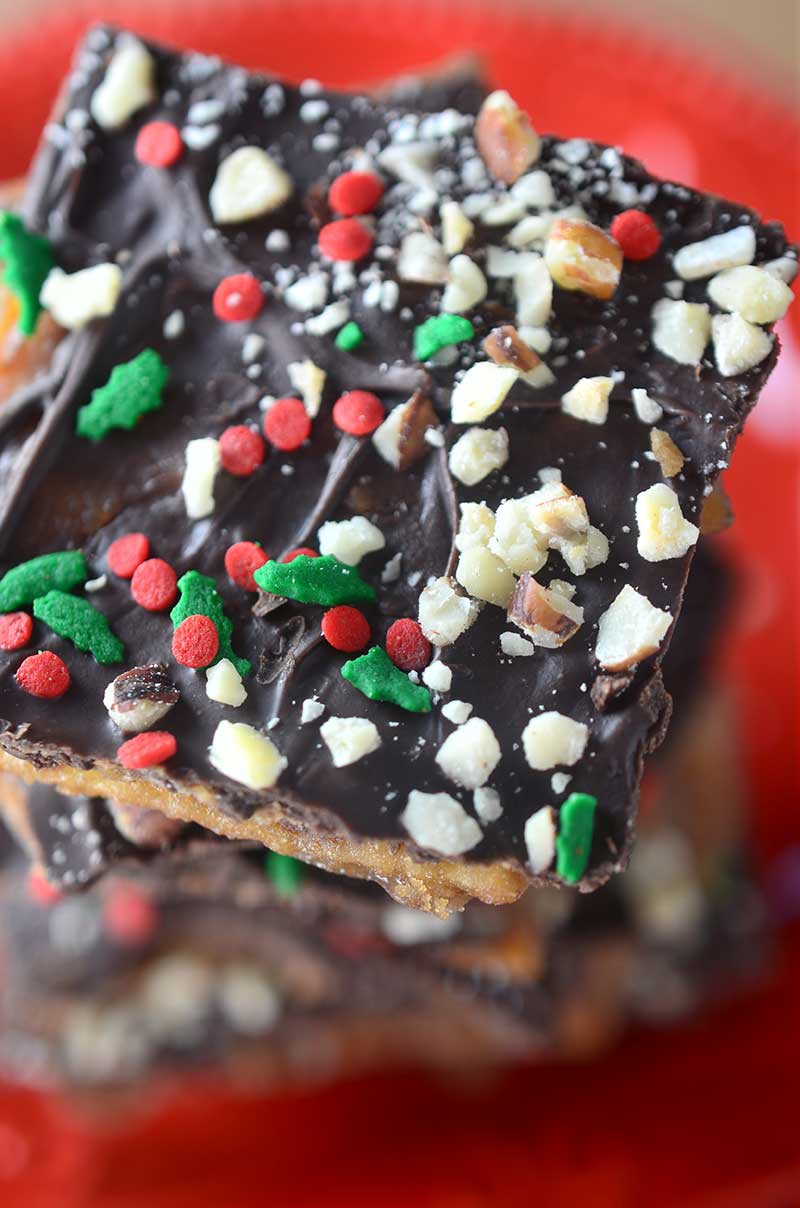 And hey, if you give your friends, family or neighbors a gift basket with a batch of this Saltine Coffee Toffee, a copy of the recipe and the ingredients to make it, they just might make it for you. Which, of course, would be a total win.

This is a sponsored conversation written by me on behalf of Dunkin' Donuts® . The opinions and text are all mine.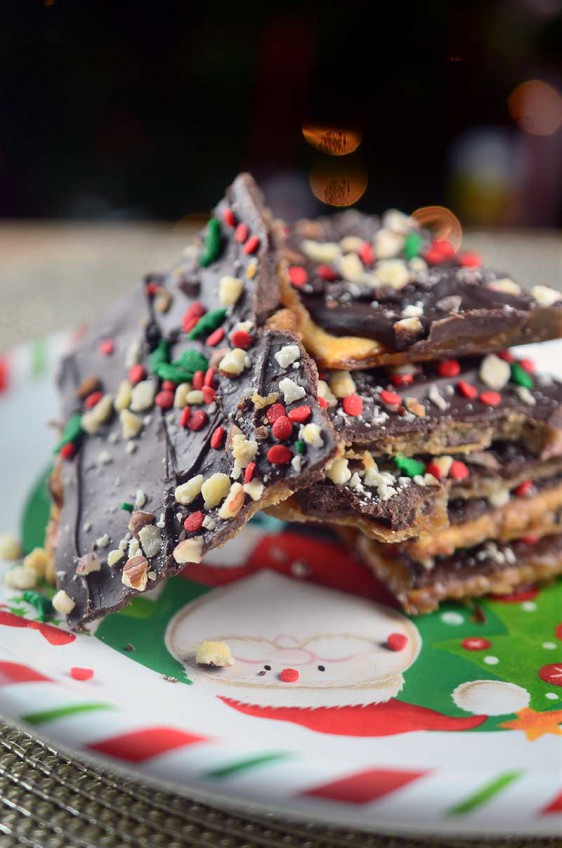 Saltine Coffee Toffee
Saltine Coffee Toffee. Butter, sugar, saltines, coffee and chocolate. Meet your new sweet treat obsession.
Ingredients:
1

cup

unsalted butter

1

cup

dark brown sugar

3

tablespoons

brewed Dunkin' Donuts® Caramel Coffee Cake Flavored Coffee

1

sleeve saltine crackers

about 40 crackers

2 1/4

cups

semi-sweet chocolate chips

1/4

cup

chopped hazelnuts

sprinkles
Preheat oven to 400 degrees.

Combine butter, sugar and coffee together in a pot. Cook over medium heats until it begins to boil. Allow to boil for 3 minutes untouched. Stir and continue cooking 1or 2 more minutes or until thickened.

Line a 10 x 15 inch jelly roll pan with parchment paper.

Line crackers on to prepared baking sheet. Pour sugar, butter sauce over the top. Cook in preheated oven for 5 minutes.

Remove from oven and sprinkle chocolate chips over the top. Allow to set for 30 seconds - 1 minute. When the chocolate starts to melt spread it over the crackers. Sprinkle with hazelnuts and sprinkles. Allow to cool to room temperature then chill for 2 hours.

Once chilled and hardened, remove from fridge and break into pieces. Store in airtight container.
Keywords:
christmas crack, dunkin' donuts, saltine toffee, sponsored, toffee