Spaghetti Carbonara
Spaghetti Carbonara is a classic Roman pasta dish made with eggs, cheese, cured pork and pepper. This easy pasta dish is perfect for weeknights!
Everyone knows that eggs and cured pork make a delicious combo. Here in the US, we most often we enjoy the combo as scrambled eggs and bacon. It's also fantastic when added to salads like Spinach Salad. But one of my absolute favorite way to enjoy the combo is the classic Roman Pasta dish Spaghetti Carbonara.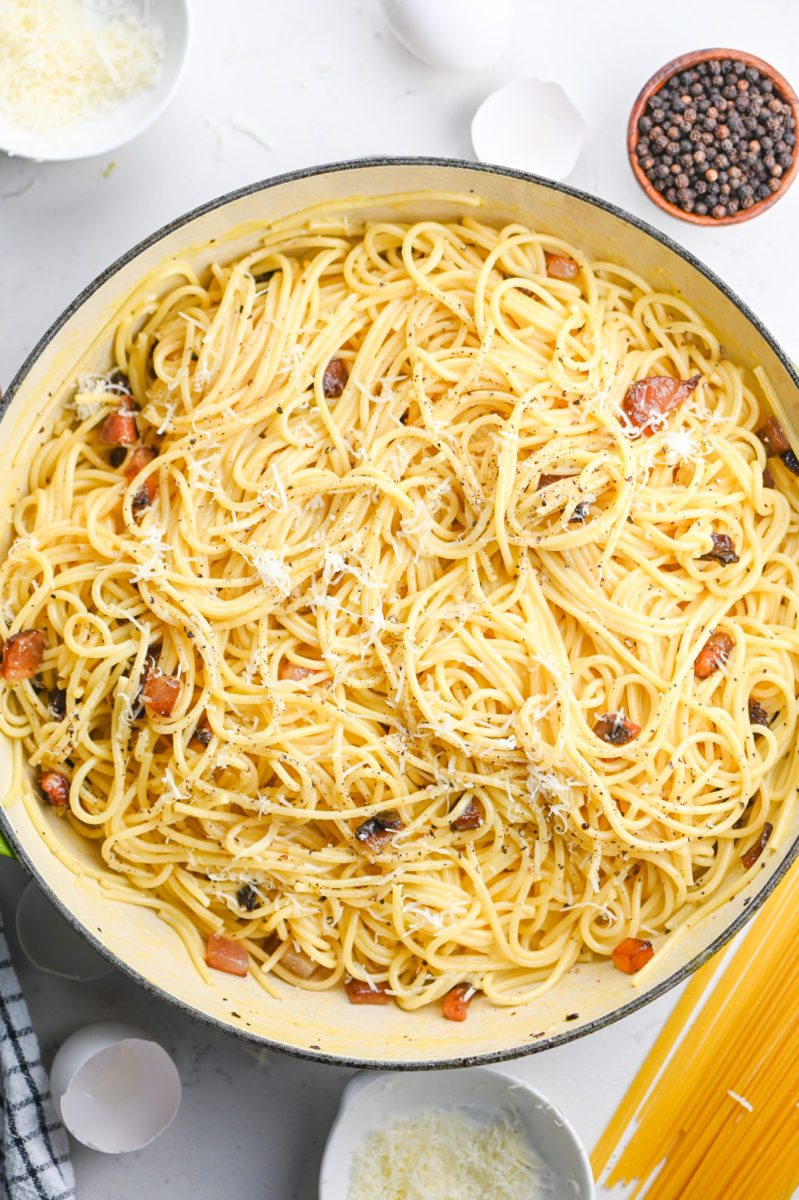 Despite what you may have tried at some restaurants, Spaghetti Carbonara actually has no cream in it. None. Instead the spaghetti is coated in a deliciously velvety sauce made with eggs, Parmesan and Romano Cheese. And guys, you won't even miss the cream. Trust me.
Let's talk about everything you'll need to make it.
Ingredients you'll need:
One of the best things about carbonara, for me, is that it uses such humble ingredients and turns them into a truly decadent pasta. Here's what you'll need: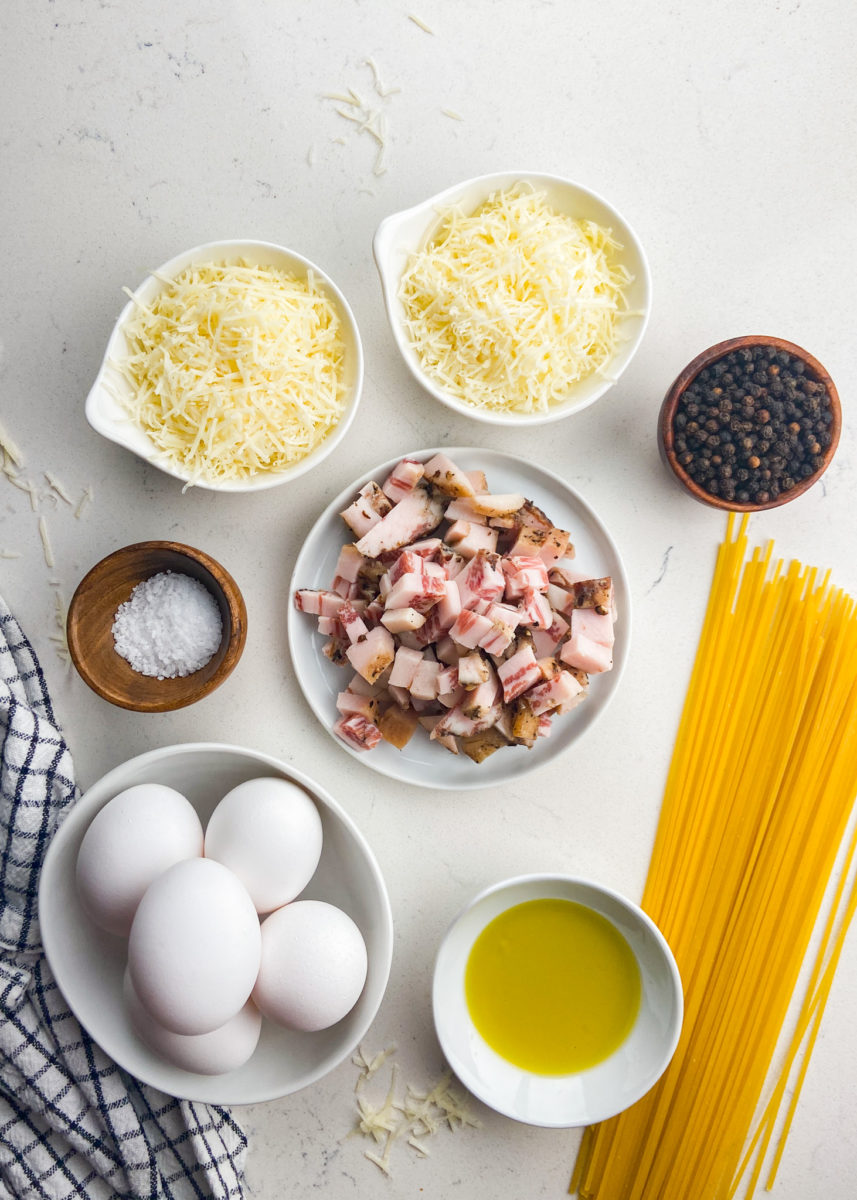 SPAGHETTI: Spaghetti is classic but you can use any pasta you prefer. Long pasta noodles work the best.
GUANCIALE: Guanciale is an Italian cured pork. It is what is typically used when making carbonara. That being said, it can be hard to find here in the US. If you can't find it substitute pancetta or slab bacon. It'll taste different but it will still be good!
EGGS: When looking at different carbonara recipes you'll see both whole eggs and egg yolks only. When I originally posted this recipe, I used a combo of whole eggs and egg yolks. I retested the recipe recently and used only egg yolks and it's my new favorite way to prepare it! The heat of the pasta will heat the eggs but if you are nervous about food-borne illness use pasteurized eggs.
PARMESAN CHEESE/ROMANO CHEESE: I love the blend of the two cheeses together. Parmesan cheese has a nuttier flavor while Romano is a bit saltier.
OLIVE OIL
Step by Step Photos and Instructions:
Carbonara comes together SO quickly making it perfect for weeknight dinners. With that in mind, you're going to need to work fast or you'll end up with scrambled eggs in your pasta. This has happened to me on a few occasions and I've finally figured out how to make sure that doesn't happen. Follow along with these step by step photos and instructions.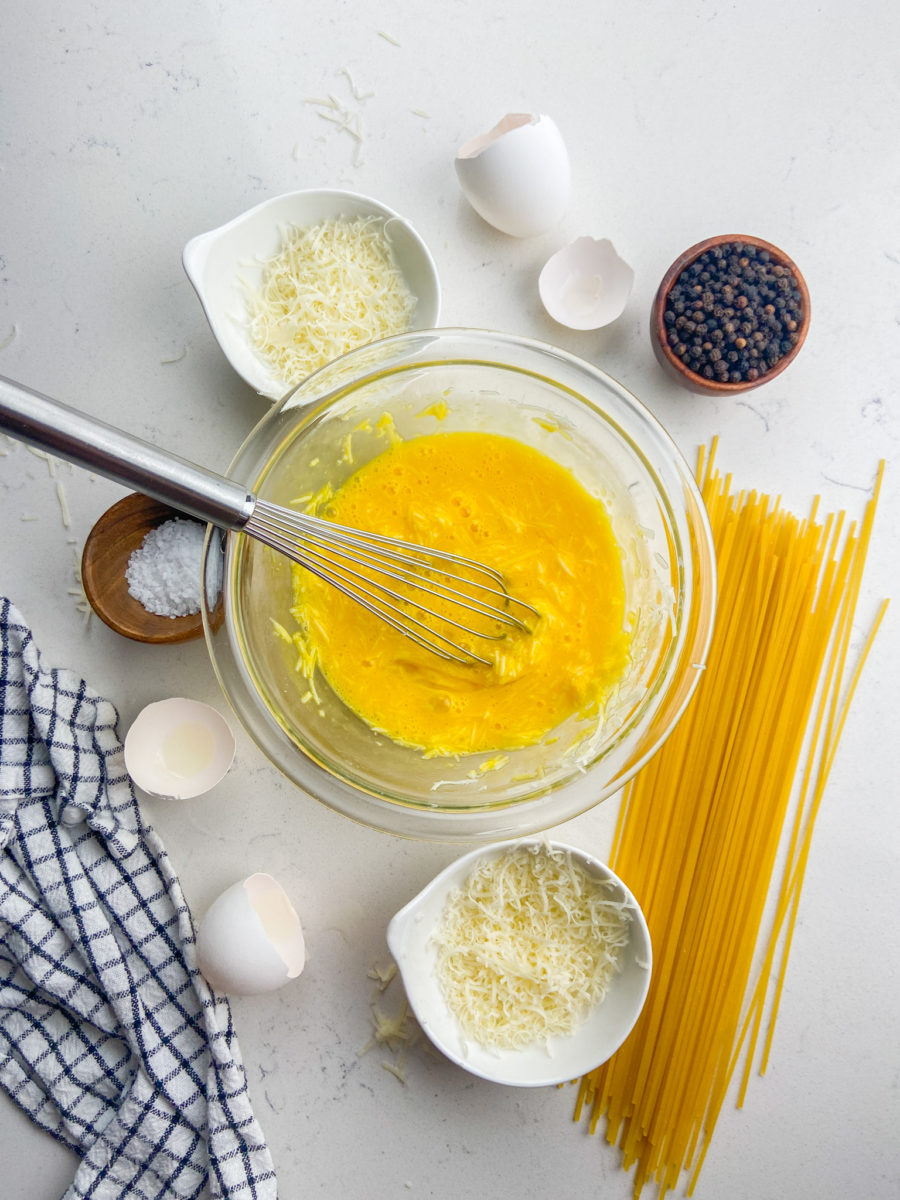 STEP #1: Whisk together egg yolks and cheese.
STEP #2: Heat olive oil in a large pan over medium heat. Cook guanciale until it is browned and cooked through. Drain but reserve 2 tablespoons of pan drippings.
STEP #3: While you're cooking the guanciale, cook the pasta according to package directions. Reserve 1/2 cup of pasta water. Drain pasta.
STEP #4: Working quickly, while the pasta is still hot, add to the pan you cooked the guanciale in. Toss the pasta in the pan drippings and remove the pan from the heat.
STEP #5: While the pasta is still hot, pour the egg mixture over the pasta and use tongs to toss to coat. Adding reserved pasta water as needed to make the sauce creamy. Season to taste with salt and pepper.
Storage and Leftovers:
Pasta carbonara is best when eaten the day that it is made. I find that the creamy sauce doesn't reheat that well.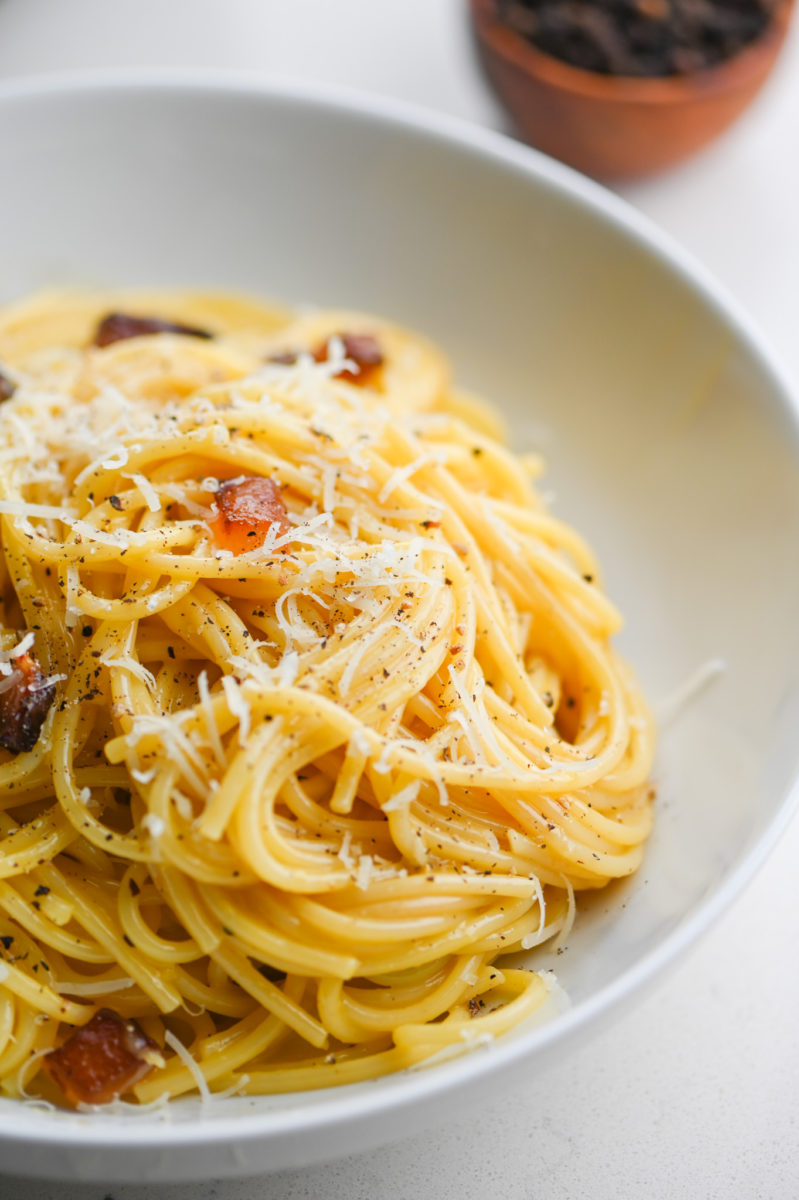 I served this Spaghetti Carbonara with a Caesar salad and my easiest garlic bread. It was a meal the whole family loved and I personally loved that it was on the table in about 30 minutes! 
Looking for more pasta dishes? Try these:
Fettuccine Alfredo is a classic! This creamy version is our absolute favorite.
Filipino Pancit is one of my favorite Asian inspired noodle dishes!
Penne alla Vodka is a classic for a reason!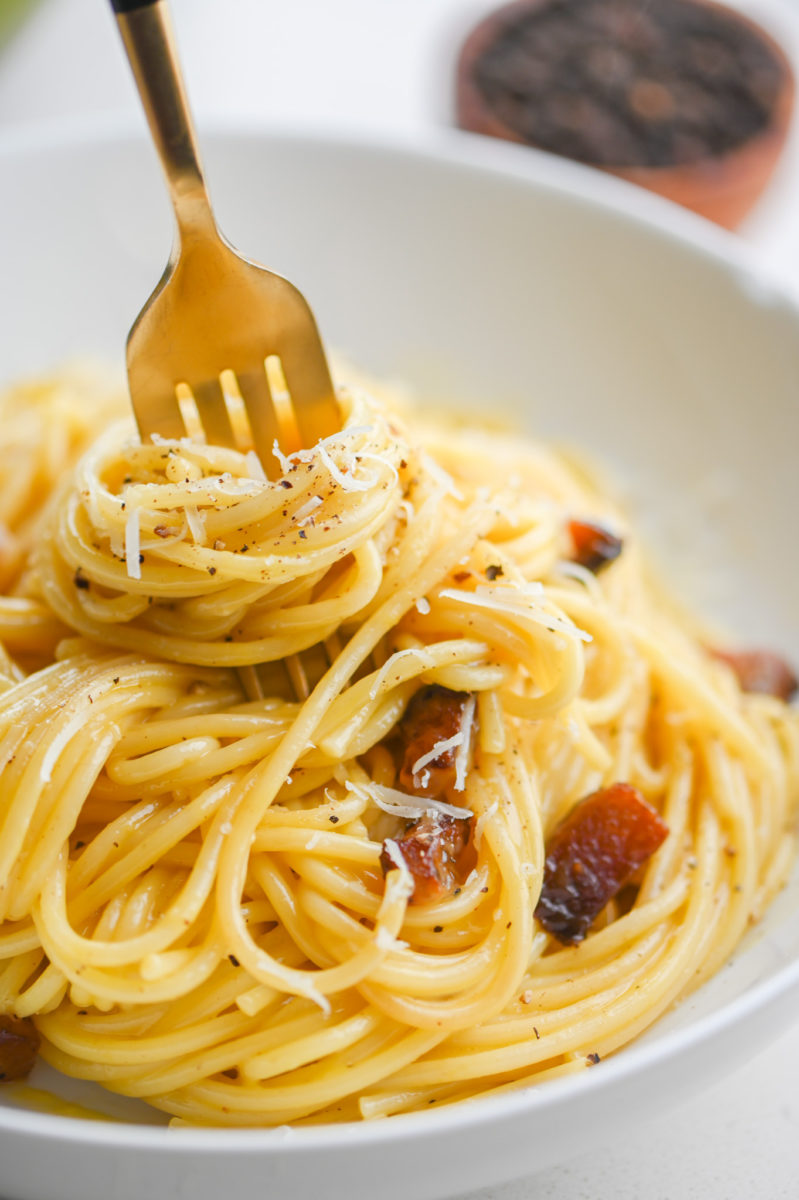 Note: Originally published in 2009. It was updated in 2023 with a new recipe, photos and nutrition information.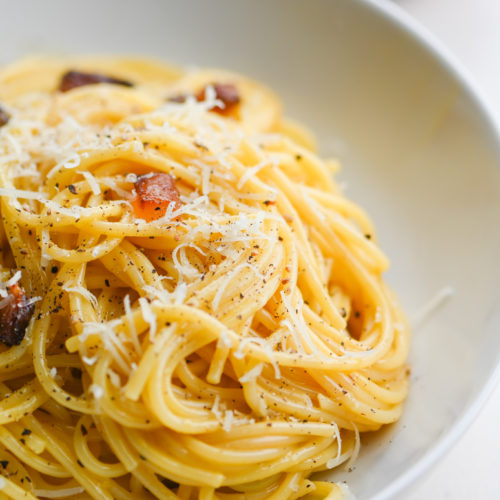 Spaghetti Carbonara
Spaghetti Carbonara is a classic Roman pasta dish made with eggs, cheese, cured pork and pepper. This easy pasta dish is perfect for weeknights! 
Ingredients:
1

pound

dried spaghetti

about 2 tablespoons kosher salt for pasta water

4

ounces

Guanciale

diced

1/2

cup

freshly grated Romano cheese

1/2

cup

freshly grated Parmesan cheese

5

egg yolks

salt and pepper
Bring 4-6 quarts water to boil, add salt and stir in pasta. Cook until al-dente 9-11 minutes. Strain, reserve 1/4 cup pasta water.

Meanwhile, in a large pan cook guanciale. Strain on paper towel. Reserve 2 tablespoons pan drippings.

Add pasta to pan drippings. Toss with tongs to coat the pasta in the bacon drippings. Remove from heat.

Beat together eggs and both cheeses. Pour egg mixture over hot pasta and toss with tongs constantly until the pasta is coated. Add reserved pasta water if pasta seems dry or is sticking together. Season with salt and pepper.
You do use raw eggs in this recipe, the pasta will heat the eggs but if you are concerned about food-borne illness use pasteurized eggs. 
Nutrition information for estimation purposes only. 
Calories:
529
kcal
Carbohydrates:
58
g
Protein:
20
g
Fat:
24
g
Saturated Fat:
10
g
Polyunsaturated Fat:
1
g
Monounsaturated Fat:
3
g
Cholesterol:
197
mg
Sodium:
407
mg
Potassium:
200
mg
Fiber:
2
g
Sugar:
2
g
Vitamin A:
316
IU
Calcium:
223
mg
Iron:
2
mg
Keywords:
carbonara, eggs, italian, parmesan cheese, pasta, romano cheese