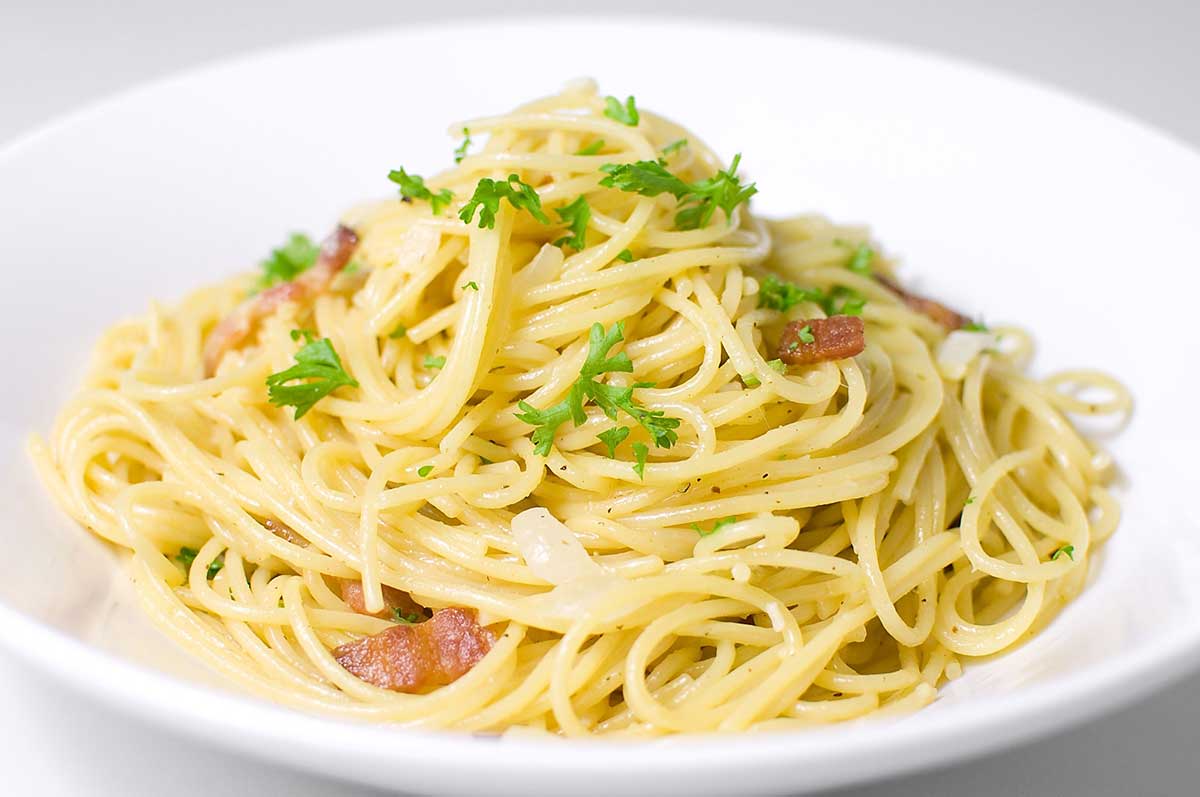 Spaghetti Carbonara
Yesterday when I shared my recipe for Fried Stuffed Zucchini Blossoms, I was reminded of the entree that Ryan ordered that same night in Rome:  Spaghetti Carbonara. For those of you that have never had or even heard of it before, it is spaghetti with bacon, onions, eggs and cheese. What is not to love? It is a little creamy, salty and best of all, super quick and easy to make.
While I love scrambled eggs and bacon as much as the next girl, they aren't exactly what I am looking for in this recipe. It has taken me a couple of tries before figuring out the perfect way to ensure I don't end up with scrambled eggs in this dish. The trick is beating the eggs with cheese and then tempering the eggs with a little reserved pasta water. Next, while the pasta is still hot, but not on the heat anymore, I pour the egg mixture over the top and toss with tongs like a mad woman.  Don't worry, the heat from the pasta will cook the eggs, but instead of scrambled you will have a sauce that will deliciously coat the pasta.
If you have made this before then you may notice that this recipe calls for wine. Traditionally this recipe doesn't have any wine in it but I had some so I thought what the heck, what could it hurt? I added it to the pan right after I sauteed the onions and garlic. I found it gave a very nice subtle flavor.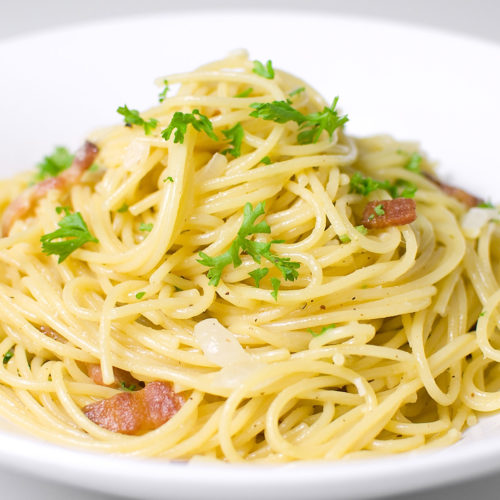 Spaghetti Carbonara
A creamy dish with bacon, eggs and plenty of Parmesan and Romano cheeses.
Ingredients:
1

pound

dried spaghetti

about 2 tablespoons kosher salt for pasta water

7

slices

thick cut bacon

diced

1/2

onion

diced

2

cloves

garlic

minced

1/4

cup

dry white wine

1/4

cup

freshly grated Romano cheese

1/4

cup

freshly grated Parmesan cheese

2

eggs

fresh cracked pepper

fresh chopped parsley
Bring 4-6 quarts water to boil, add salt and stir in pasta. Cook until al-dente 9-11 minutes. Strain, reserve 1/4 cup pasta water.

Meanwhile, in a large pan fry bacon until crispy. Strain on paper towel. Reserve 2 tablespoons bacon drippings.

Add onion and garlic to bacon drippings. Cook until softened, about 3 minutes. Pour wine over onions and garlic. Cook 3 minutes. Return bacon to pan.

Add pasta to pan with onion, garlic and bacon. Toss with tongs to coat. Cook until the pasta is hot and absorbs the sauce about 1 minute.

Beat together eggs and both cheeses. Slowly add a couple of tablespoons of reserved pasta water to temper the eggs. Remove the pasta from the heat. Pour egg mixture over the pasta and toss with tongs constantly until the pasta is coated. Add remaining pasta water if pasta seems dry or is sticking together.

Sprinkle with fresh cracked pepper and chopped fresh parsley. Toss once more. Serve immediately.
If you want even more cheese sprinkle some more grated Parmesan or Romano over the top. If you are looking for something to serve along side, Fried Stuffed Zucchini Blossoms and a green salad make the perfect accompaniments to this dish. Enjoy!
Keywords:
bacon, carbonara, dried pasta, eggs, Food, italian, parmesan cheese, pasta, Recipe, romano cheese