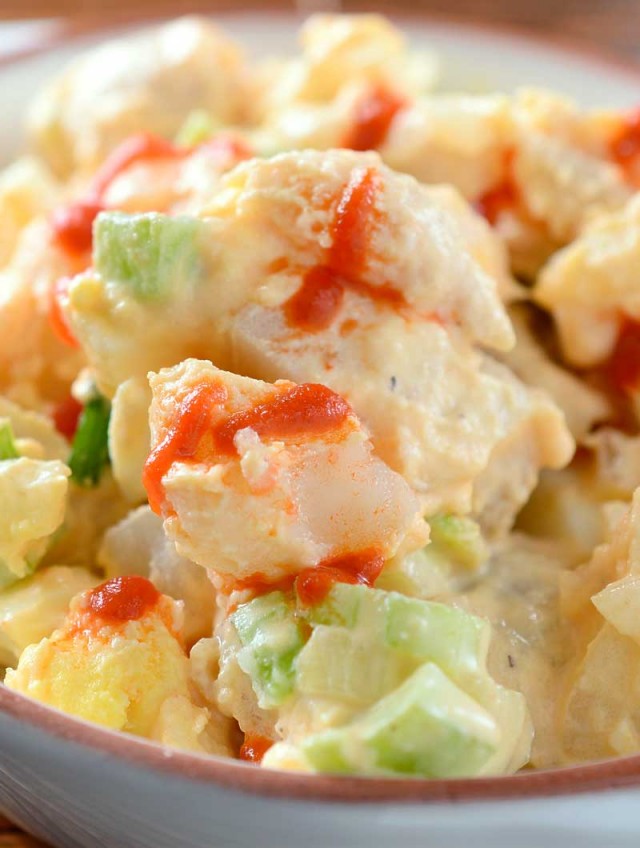 Sriracha Potato and Macaroni Salad
Macaroni or potato? That is the question that I often struggle with on the 4th of July. And after asking around on Facebook it seems that it's kind of a toss up. Half of the people that responded they liked potato salad more while the other half responded that they liked macaroni salad more. And then a couple people said that both macaroni and potatoes together in one salad is the way to go. They, my friends, struck the nail on the head. Say hello to your new favorite summer salad.
This salad is just all kinds of non-tradtional. I think that's a good thing. It's good to change things up once in a while.
Unless of course you are a macaroni or potato salad purest. In which case you may want to look away right now.
Still there? I hope so.
So what makes this so non-traditional? Well the potatoes AND macaroni for one. I never would've thought it worked but it does.
Next up, I cut out half of the mayo that I would normally use and opted for fat free greek yogurt.
Still there? Good.
Fat free greek yogurt is one of my favorite ways to add a touch of creaminess to stuff without the added guilt. Sure there is still a little mayo, because to be honest, I like the taste. But some macaroni or potato salads can really be bogged down with mayo. On the other hand, using the fat free greek yogurt makes the whole salad feel a little lighter. Try it, you'll love it.
The final thing that makes this non-traditional is the sriracha.
I know you're still there. How do I know? Because everyone loves sriracha! But who puts it in macaroni and potato salad? THIS GIRL! Because this girl puts sriracha on everything.
I remembered from my sriracha deveiled eggs and my sriracha egg salad that I really like the taste of sriracha with mayo, mustard and eggs so it only seemed logical that I would like it in this salad. And I did, and I'm pretty confident that you will do.
And since we're only a week away from the 4th I thought I'd share a couple links to a few other recipes that are must have's for your outdoor BBQ
Creamy Bacon, Tomato and Avocado Pasta Salad– Just in case you want another pasta salad. THIS is the one to make.
Caramelized French Onion Dip– 'tis not a 4th of July party at our house without it.
Caramelized French Onion Dip Burger– Well if you're going to make the dip you might as well pile it on a burger too.
Spicy Pepper Steak- Another dish that was present at every BBQ I ever had growing up and it's a tradition I'm happy to keep.
Grilled Corn with Jalapeno Butter– Veggies are always good at BBQs. Especially fresh sweet corn on the 4th of July.
And a sweet bite to finish things off
Chocolate Mascarpone Stuffed Strawberries– Enough said.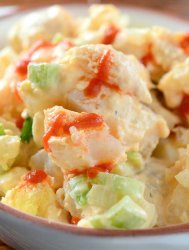 Sriracha Potato and Macaroni Salad
A twist on your favorite BBQ side dish with potatoes, macaroni and sriracha. Say hello to your new favorite summer salad.
Ingredients:
3

medium russet potatoes

peeled and diced

1

cup

dried shell pasta

1/2

cup

fat free greek yogurt

1/4

cup

mayonnaise

1

tablespoon

vinegar

1/4

teaspoon

pepper

3/4

teaspoon

salt

1

teaspoon

garlic powder

2

teaspoons

sriracha

1/2

medium yellow onion

diced

2

hard boiled eggs

diced

3

celery ribs

diced

3

green onions

diced
Boil potatoes in a large pot of water just until fork tender. Drain. Do not over cook or they will be mushy in the salad. Allow to cool while you're prepping the rest of the salad.

Bring another large pot of water to a boil and cook pasta according to package directions. Drain. Run under cool water.

In bowl whisk together greek yogurt, mayonniase, vinegar, pepper, salt, garlic powder and sriracha. Fold in yellow onion, eggs, celery, green onions, cooled potatoes and pasta. Mix well. Cover and refrigerate for at least 4 hours to help the flavors meld. Serve.
Keywords:
4th of July Recipes, Food, labor day, macaroni salad, memorial day, potato macaroni salad, potato salad, Recipe, side dish, spicy macaroni salad, spicy potato salad, sriracha