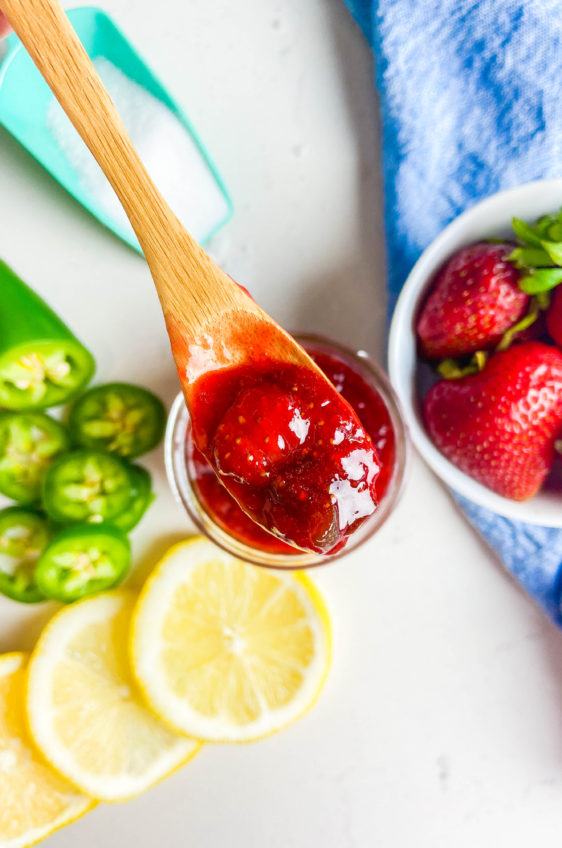 Strawberry Jalapeño Jam
This Strawberry Jalapeño Jam is a sweet n' spicy jam that is the perfect addition to any cheeseboard. And this small batch, refrigerator jam is a snap to make!
One of the best things about summer is the fresh produce. Especially the fresh, sweet summer berries. And what is the best way to savor those summer berries? A jam of course!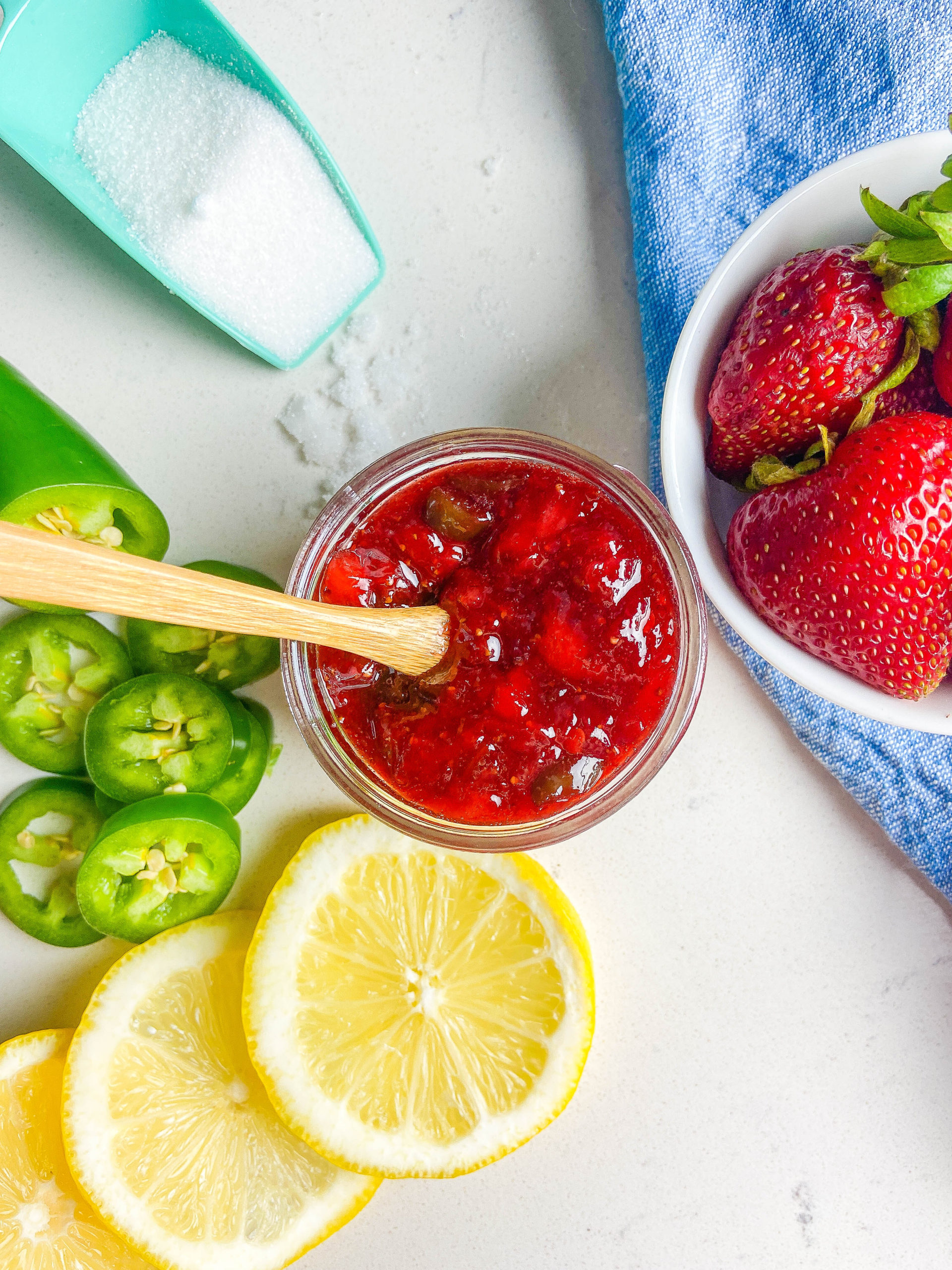 Now, I don't know about you but I don't always have the time nor the energy to can. But sometimes, I just want some sweet homemade jam. A small batch that can be made quickly.
That is when I love making small batch jam like this Strawberry Jalapeño Jam.
What is the difference between small batch jam and traditional jam: 
This jam recipe requires no pectin or canning equipment. You can also make this using clean jars instead of sterile jars. All of this means that it doesn't long of shelf life as canned jam.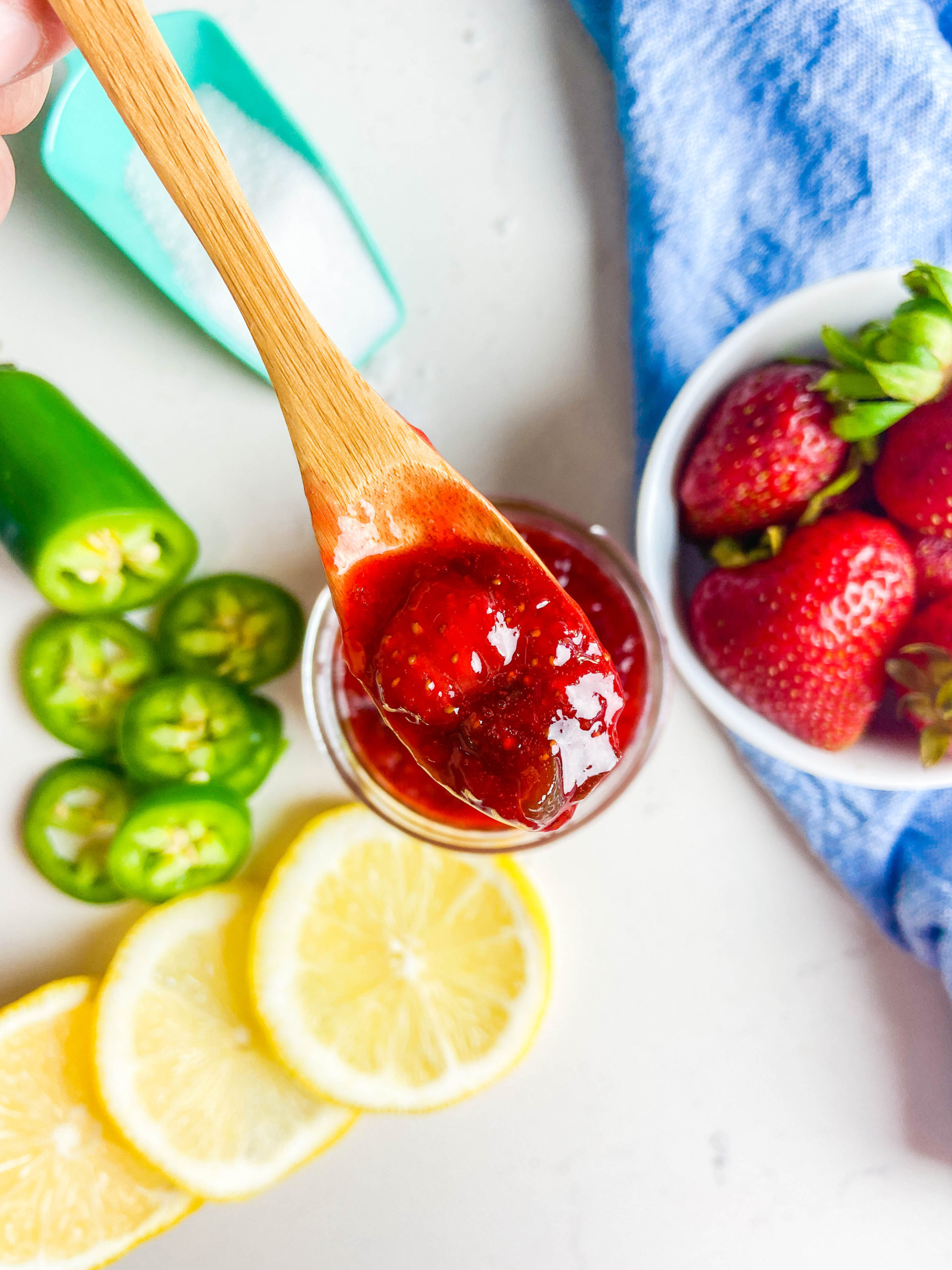 It's so delectable though, it'll be gone in a flash! 
What ingredients do you need for Strawberry Jalapeño Jam?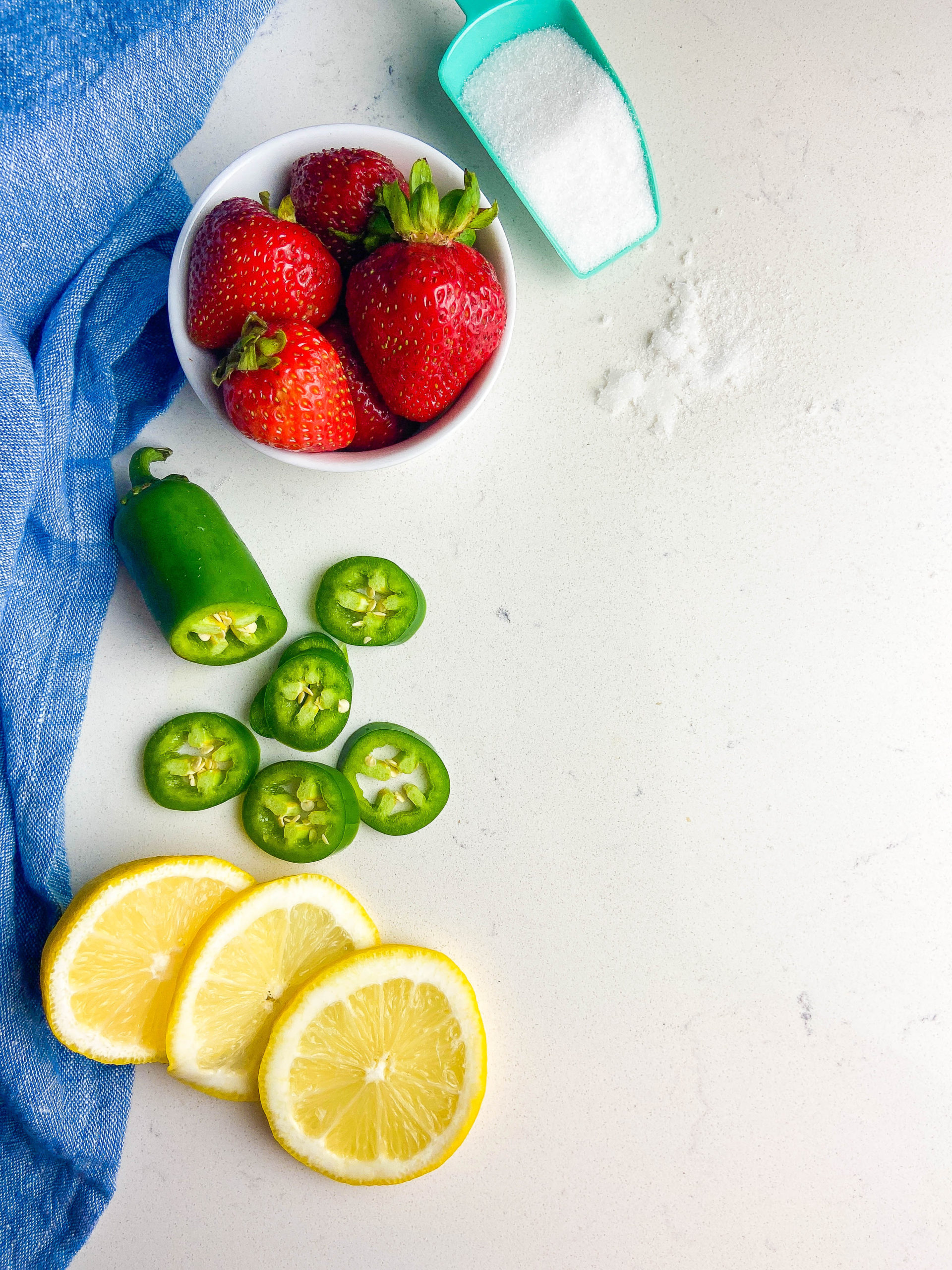 STRAWBERRIES: Perfectly ripe red strawberries are best here but I have used some that were almost on their way out. Just make sure to cut off any bruised parts. You'll want the strawberries to be about the same size so cut larger strawberries into quarters and smaller strawberries in half.
LEMON JUICE: Not only does it add a brightness to the flavor, lemon also helps the jam set.
SUGAR: White granulated sugar.
JALAPEÑOS: This jam definitely has a bit of a kick but it is not overly spicy. To cut back the spice even more remove the ribs and the seeds of the jalapeño before adding it to the jam. If you want a simple strawberry jam, simply leave out the jalapeño all together. To learn more about chilies check out my guide to chile peppers.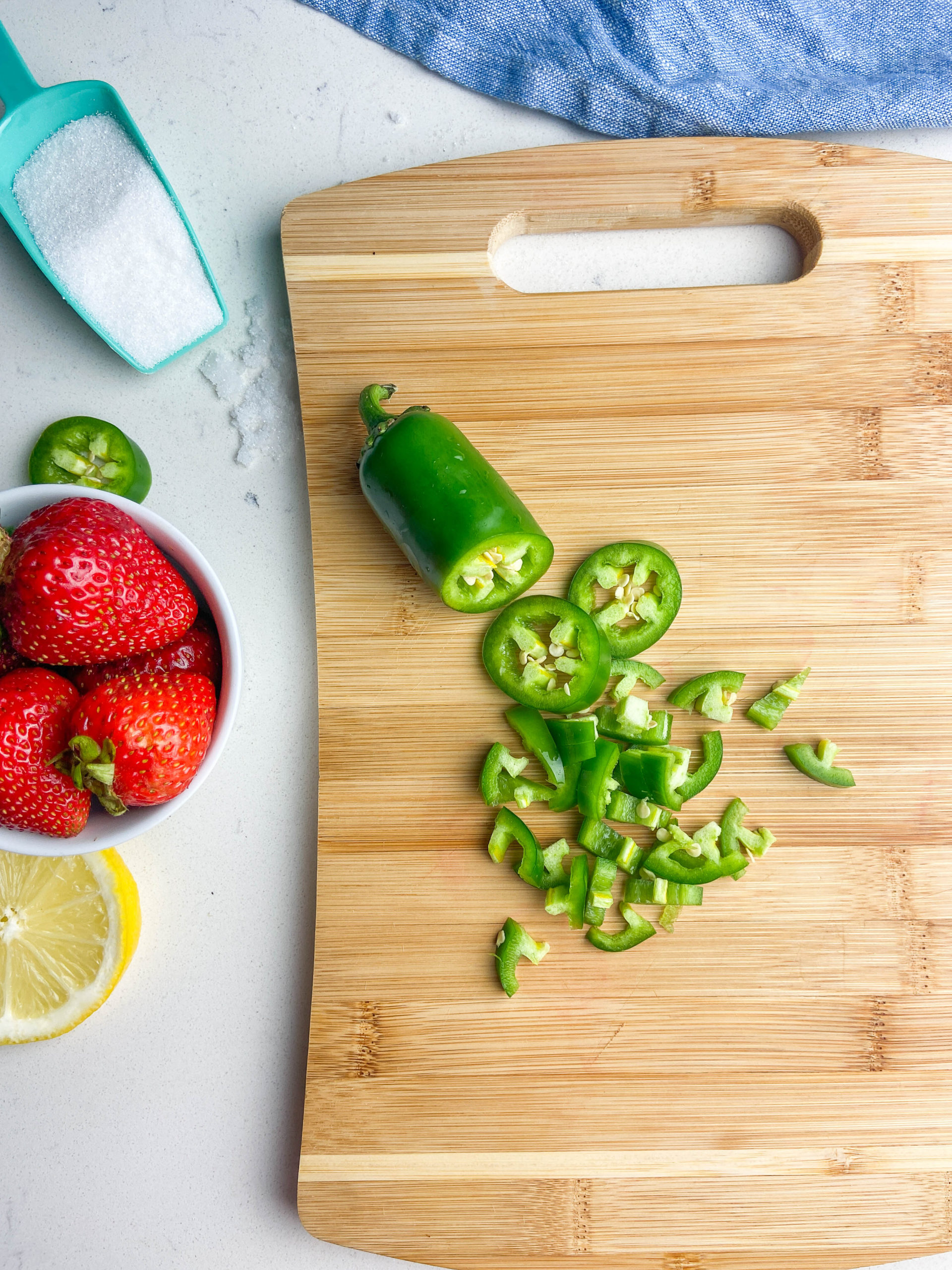 SALT: Just a pinch to bring out the flavor.
Step by Step Photos and Instructions:
STEP #1: Combine all the ingredients together in a small saucepan.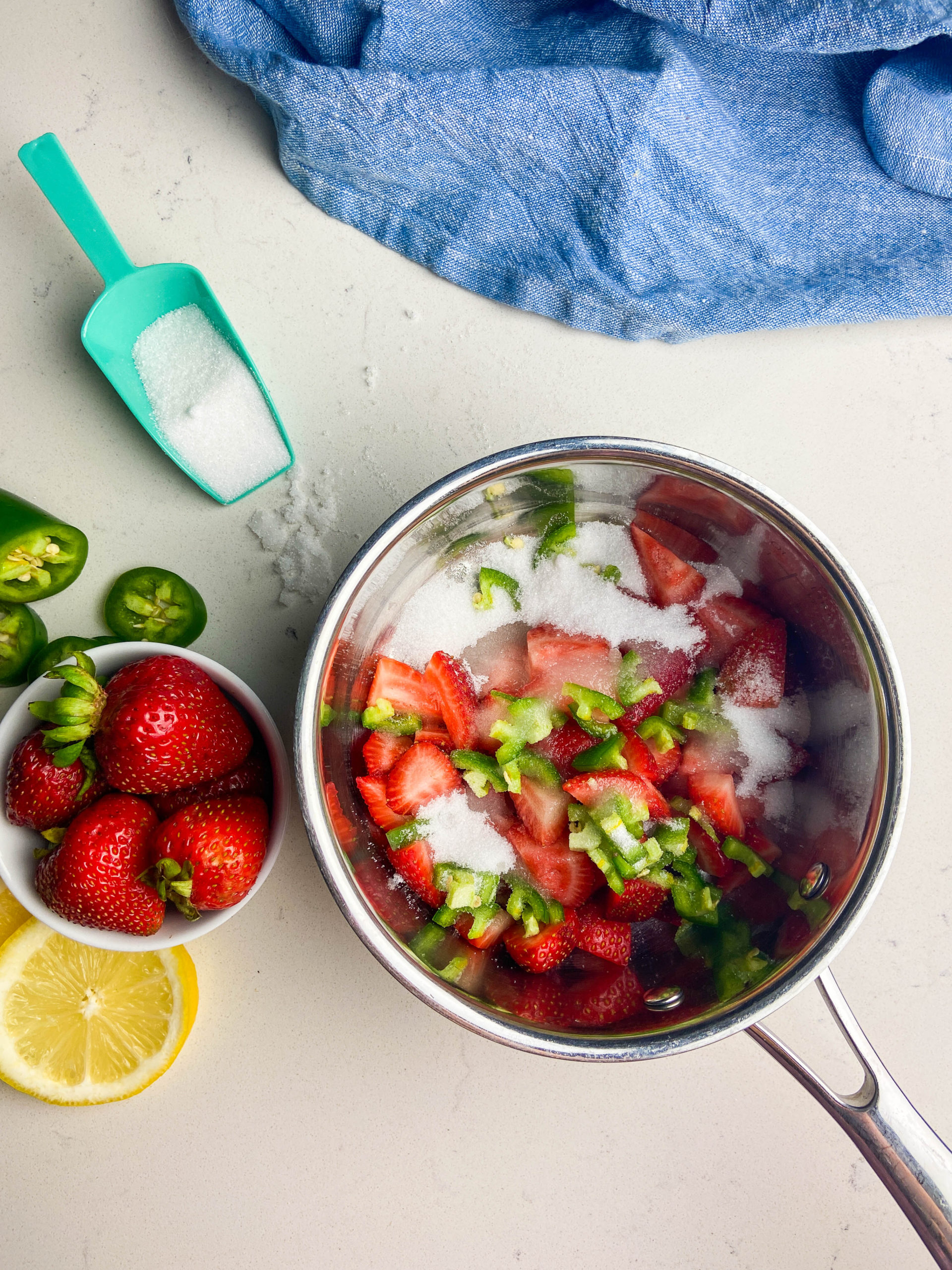 STEP#2: Use a potato masher or a fork to lightly smash the ingredients together. This will help give the jam a chunkier texture.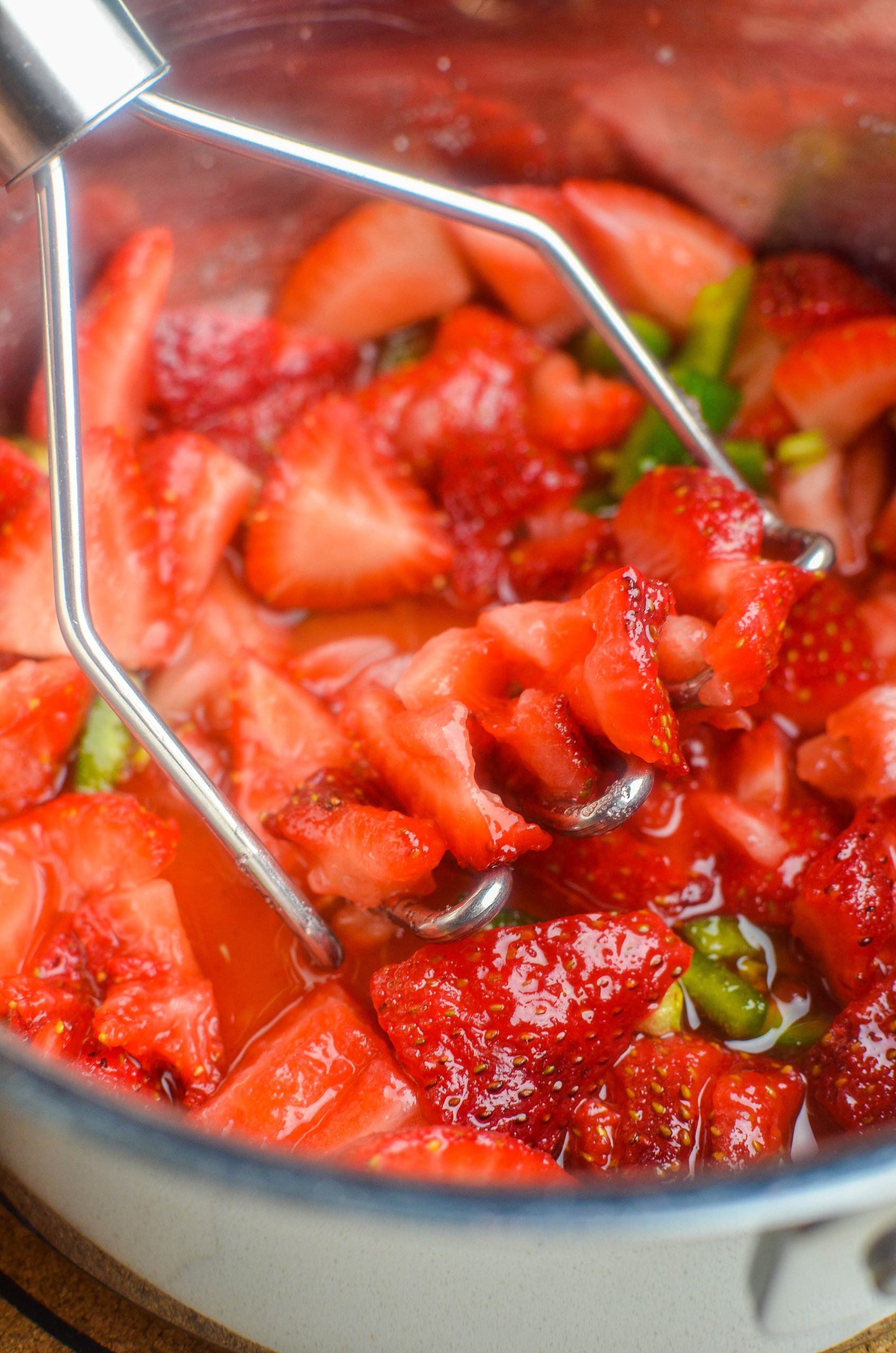 STEP #2: Heat over medium-high heat just until it starts to boil. Reduce heat and let simmer for 15 – 20 minutes or until thickened. Stir frequently so that it doesn't stick to the bottom of the pan.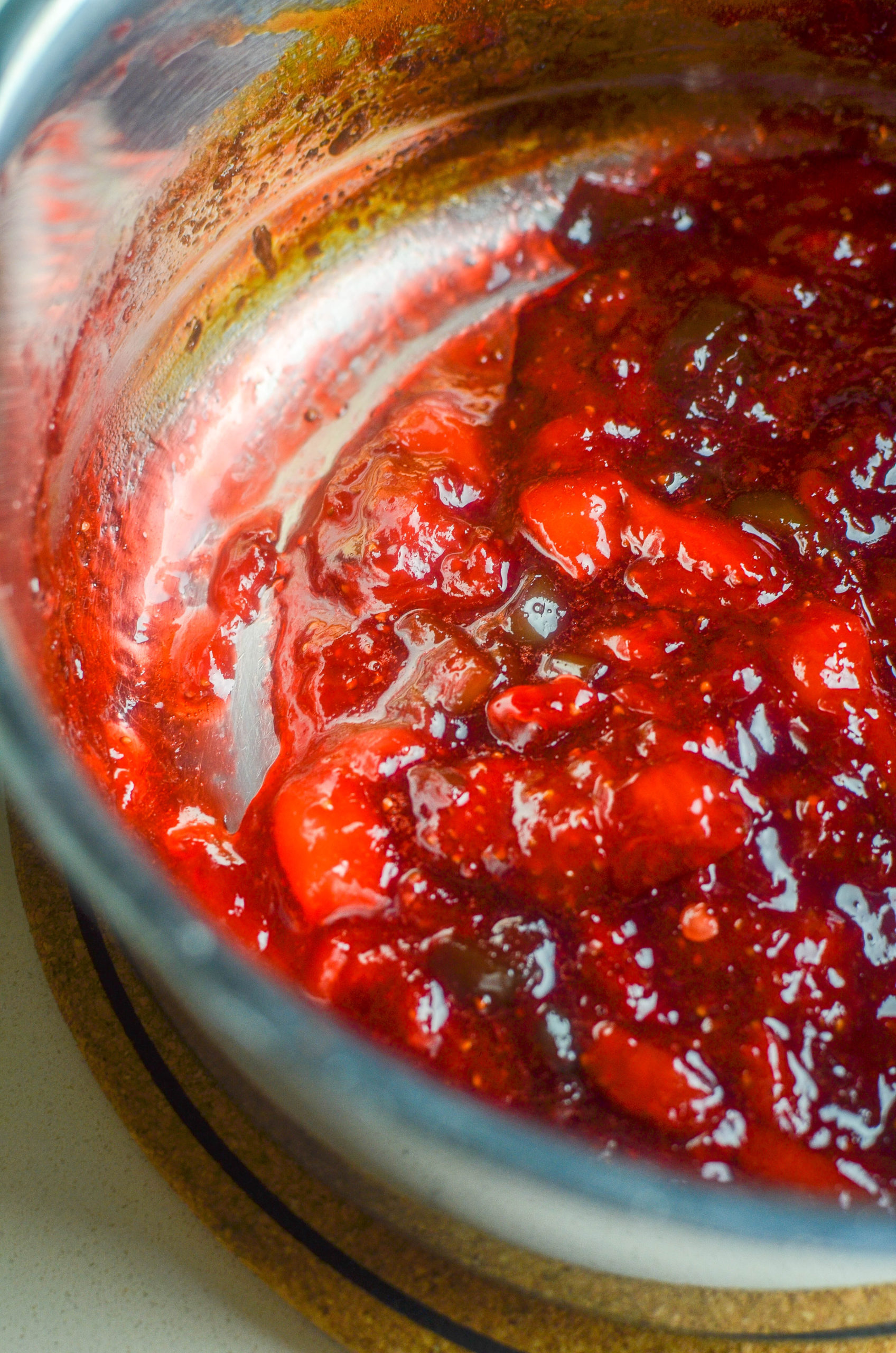 DES' TIP: To test if the jam has set, dip the back of a spoon into it and then run your finger through it. If the jam stays apart, it's ready. If it runs together give it a couple more minutes.
STEP #3: Pour into a clean glass jar. Store in the refrigerator for up to a week.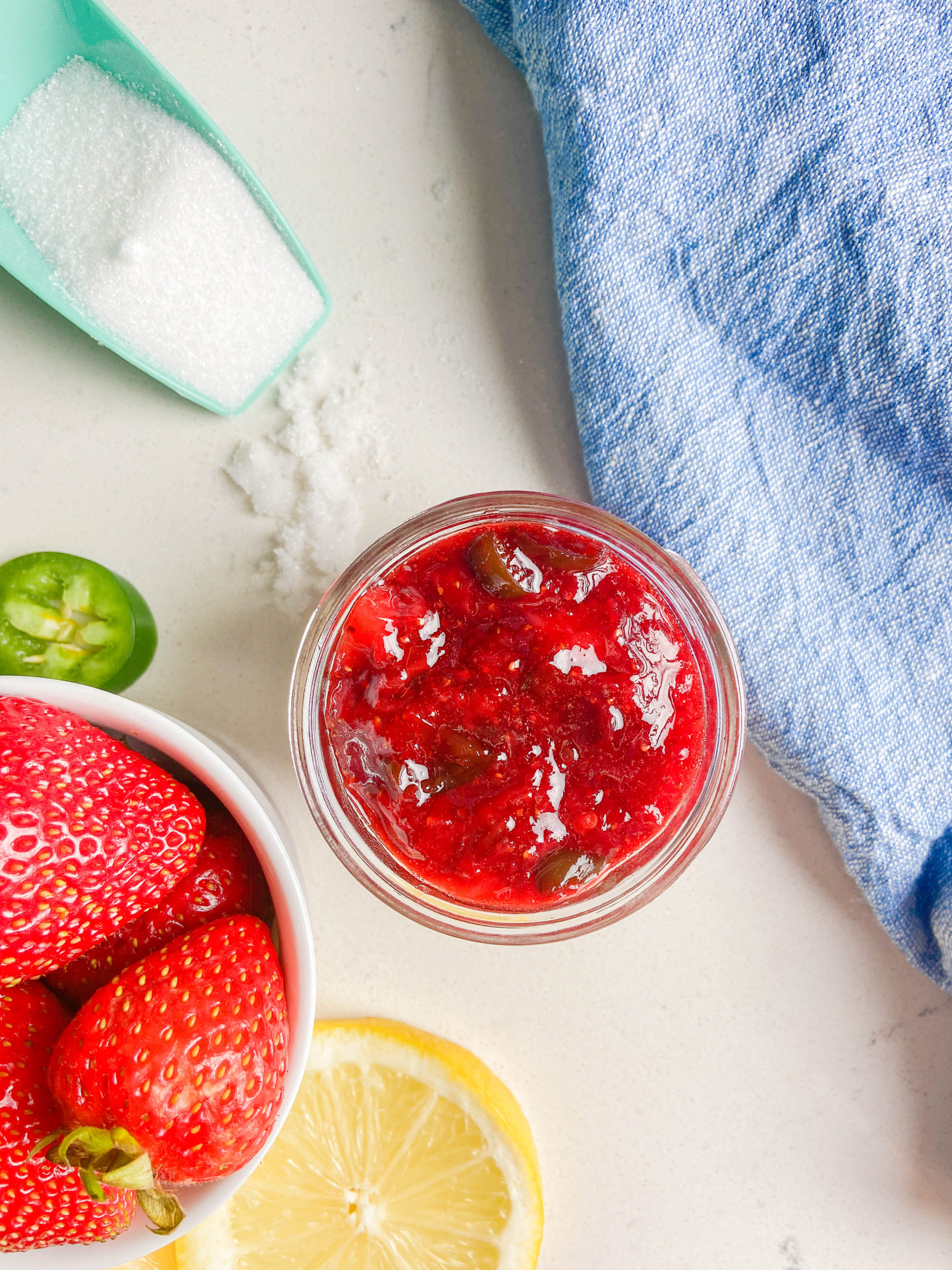 What do you serve with strawberry jalapeño jam?
You can use this jam as you would any other jam, keeping in mind that it does have a bit of a kick. I love adding a jar to my cheeseboard spreads too! It is especially divine when you spoon it over brie on a buttery cracker.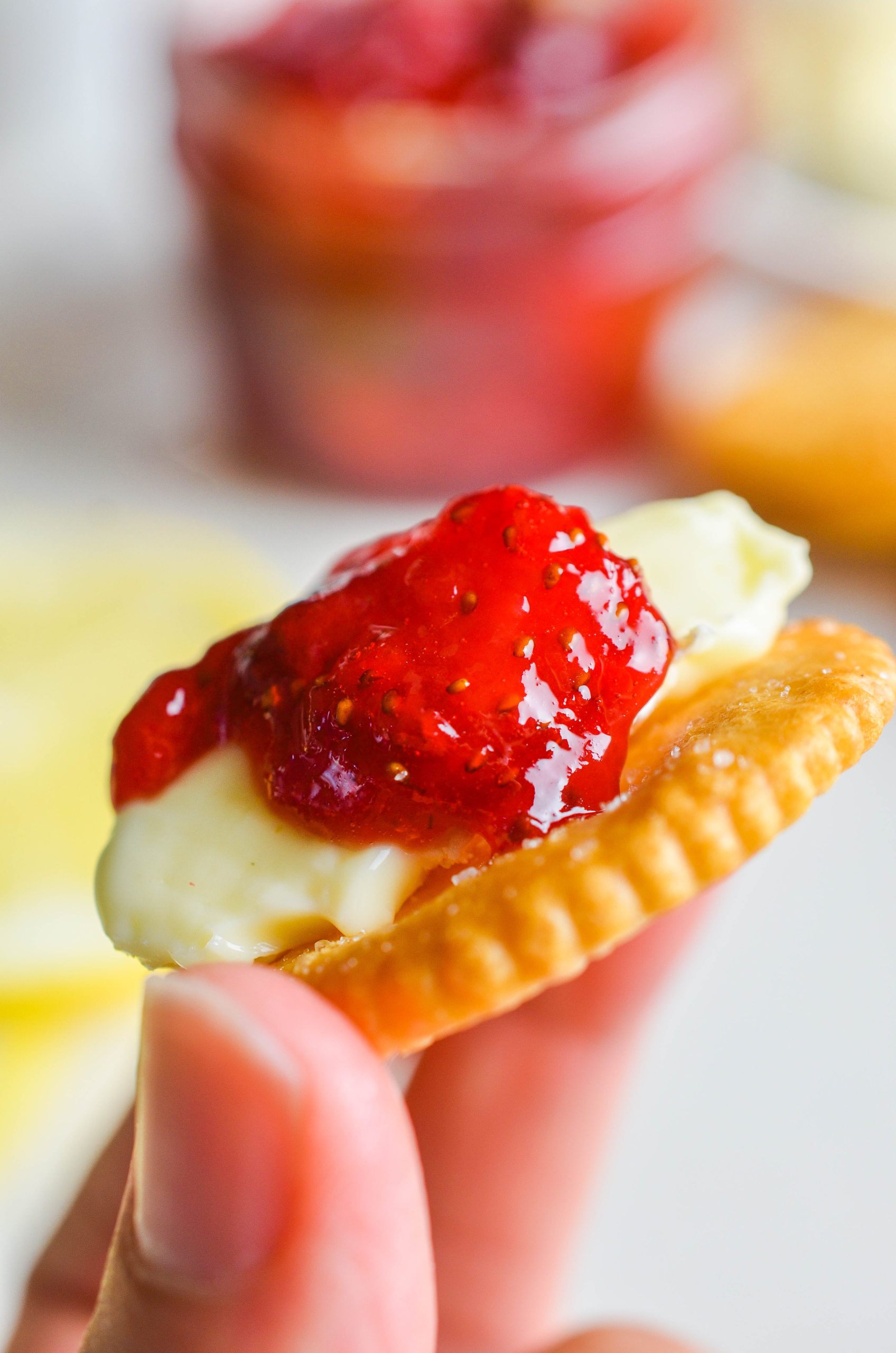 Looking for more ways to use summer strawberries? Here are some of my favorite recipes featuring strawberries:
White Chocolate Strawberry Cheesecake
Strawberry Pie from Lemon Tree Dwelling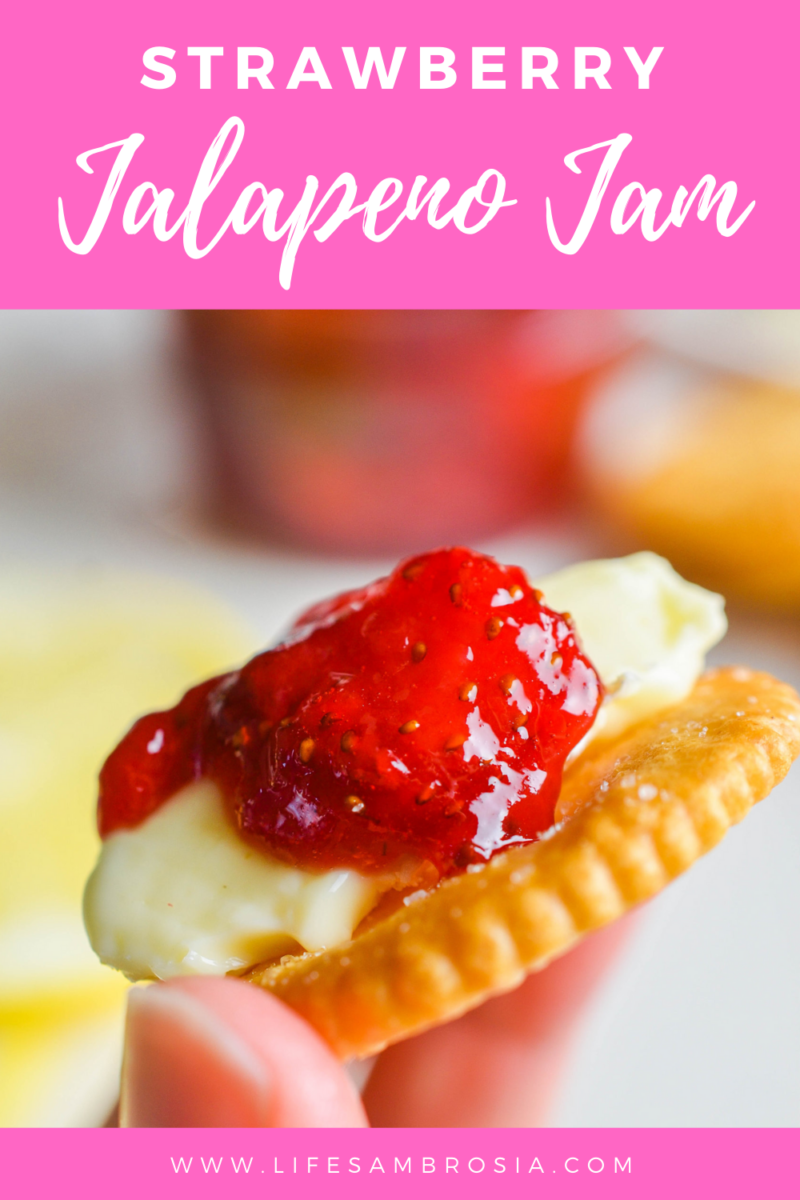 Strawberry Jalapeño Jam Recipe
Ingredients:
1/2 pound strawberries, trimmed and cut into quarters or halves
1/4 cup diced jalapeños
1/4 cup sugar
1 tablespoon lemon juice
pinch of salt
Instructions
1
Combine all ingredients together in a small saucepan.

2
Mash gently with a potato masher or fork.

3
Heat over medium high heat until boiling, reduce heat and allow to simmer 15 - 20 minutes or until thickened and coats the back of a spoon.

4
Pour into a clean glass jar and store in the refrigerator.
Notes
Nutrition facts for estimation purposes only.
Nutrition information
Calories: 68 , Total Fat: 0.2g , Saturated Fat: 0g , Cholesterol: 0mg , Sodium: 75mg , Carbohydrates: 17.3g , Fiber: 1.3g , Sugar: 15.6g , Protein: 0.5g