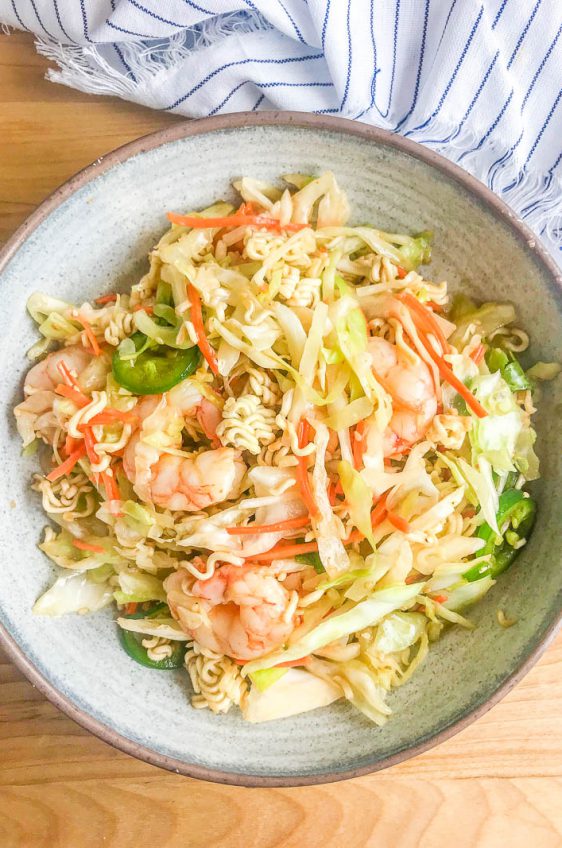 Ramen Noodle Salad with Sweet n' Spicy Shrimp
Ramen Noodle Salad with Shrimp is a quick and easy dinner recipe with a sweet and spicy kick of flavor.
One of the best parts about summer is that big salads become a staple. Whether we are eating them for lunch or a light dinner on a hot day, big salads make an appearance on our summer table weekly.
For the last few months, I have been seeing ramen noodle salad recipes popping up all over pinterest. I've seen them here and here, too. And each time I see one, I think to myself that I HAVE to try that. It wasn't until a recent mini-road trip with my little family that I did.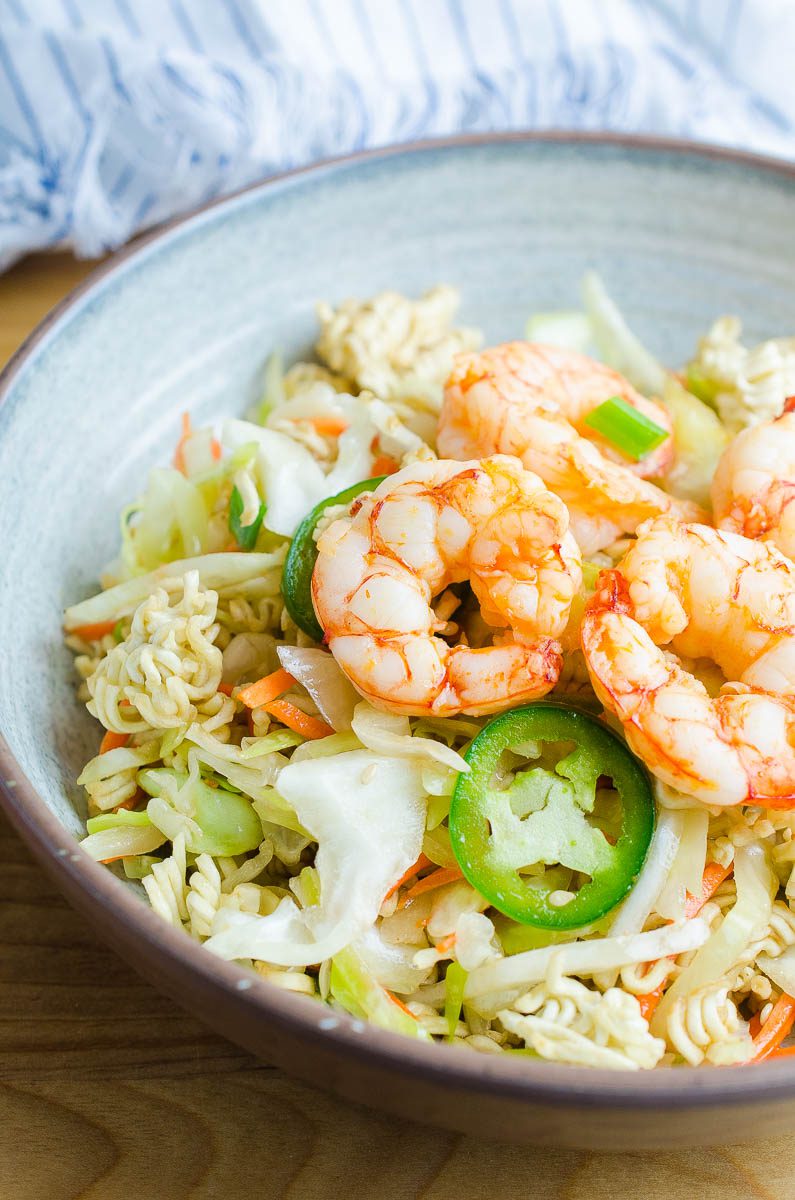 And it was awesome, but like every awesome recipe I try, I've got to put my own spin on things. So, I present to you: Sweet N' Spicy Shrimp and Ramen Noodle Salad.
How do you make Original Ramen Noodle Salad?
When I made my first ramen noodle salad, I looked at a bunch of different recipes and kind of did a hodge podge of what I liked. A few things I discovered:
1. The dressing tends to be on the sweeter side and most forgo the ramen seasoning packet.
2. Ramen noodle salad tastes better if it has a chance to marinate at least an hour.
3. The ramen noodles are an awesome crunchy addition on day one. Day two…not so much.
4. It can easily become a meal with the addition of a protein.
So I took all of these things that I discovered and decided to do my own thing.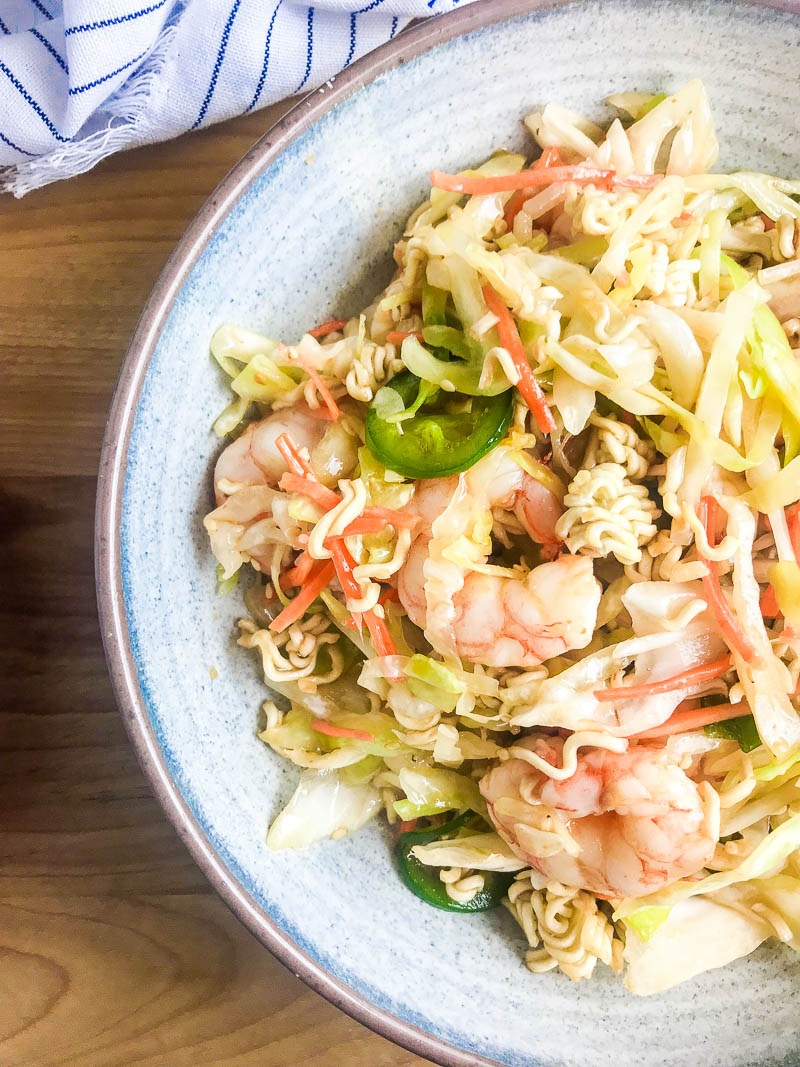 First, the sweet dressings totally work, but you know me, I need a kick so I added some sriracha. I also added some jalapeno to the mix for another extra crunchy kick.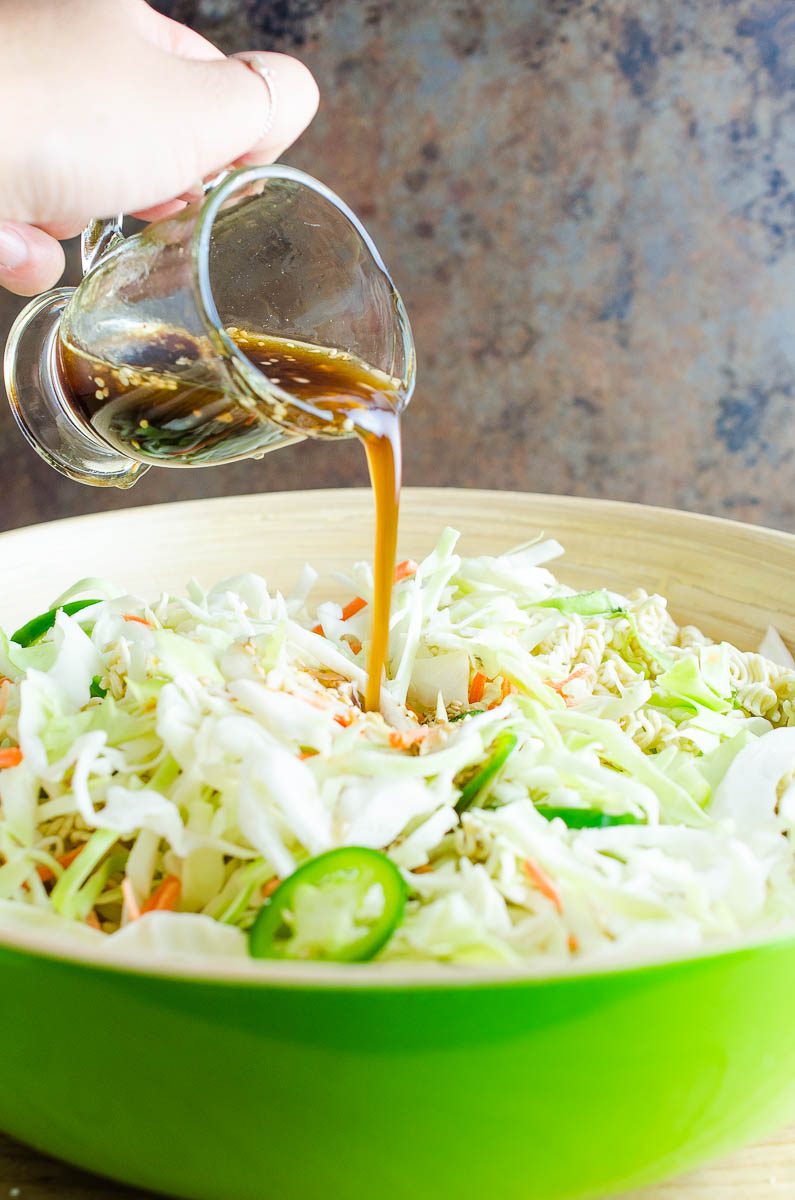 Second, make sure to make this salad a few hours a head of time so that the cabbage has a chance to soak up all of the sweet and spicy dressing.
Third, for my protein, I decided to add some shrimp. To keep with the sweet n' spicy theme, I wanted the shrimp to be sweet and spicy too, so I made them honey sriracha shrimp. They are sweet, but not too sweet, and spicy but not too spicy. The shrimp were the perfect addition to the crunchy ramen noodle salad. Just be careful when they are cooking, because the honey can burn quickly.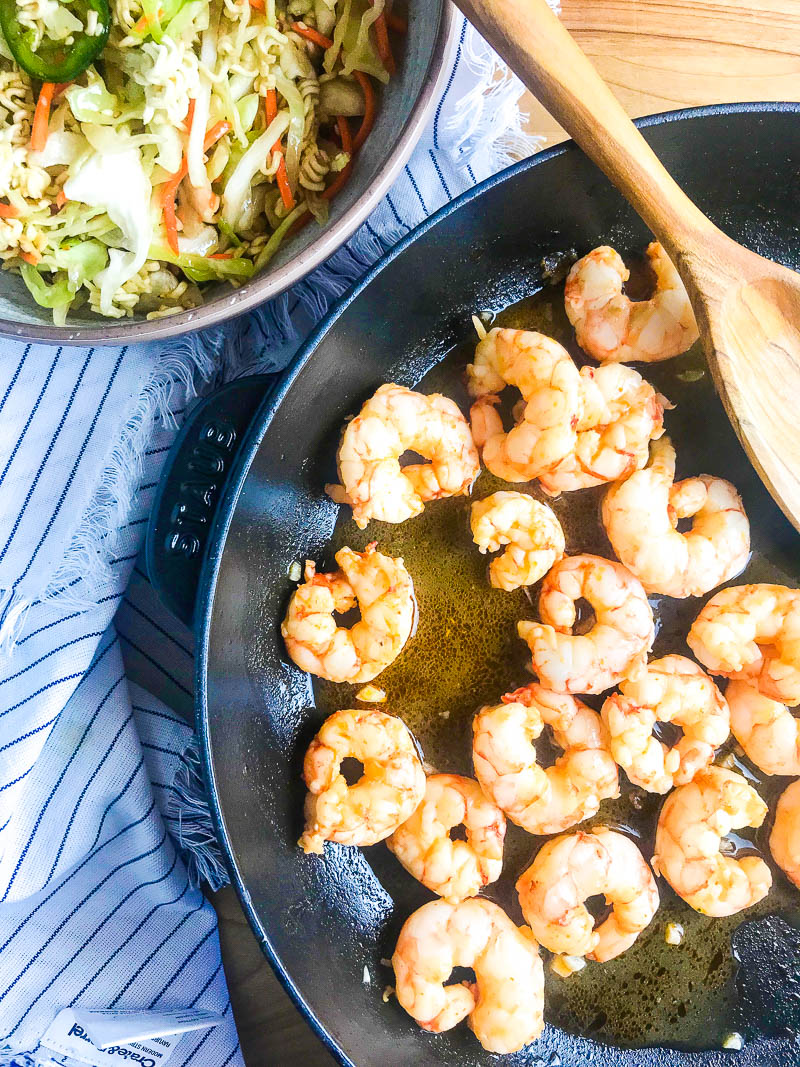 Once you cook the shrimp, toss it with the crunchy salad and you're good to go.
Can a ramen noodle salad be made ahead of time?
I would say that you can put everything together but don't dress it until it's time. Otherwise you run the risk of the noodles being soggy.
This also means that this salad is best when eaten the day of.
This shrimp ramen noodle salad is quick, easy and just might be my new favorite salad recipe.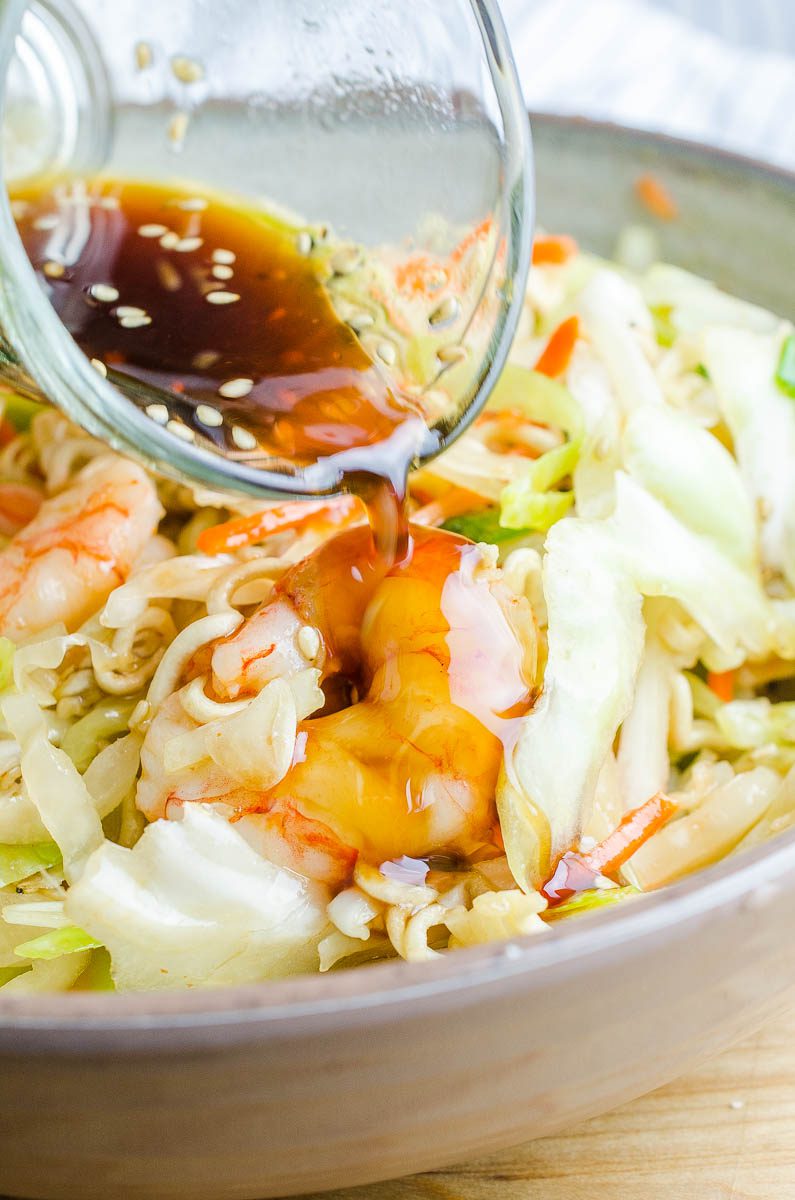 Other Shrimp Recipes to Try:
Some of our Favorite Salad Recipes:
Crispy Chickpea and Arugula Salad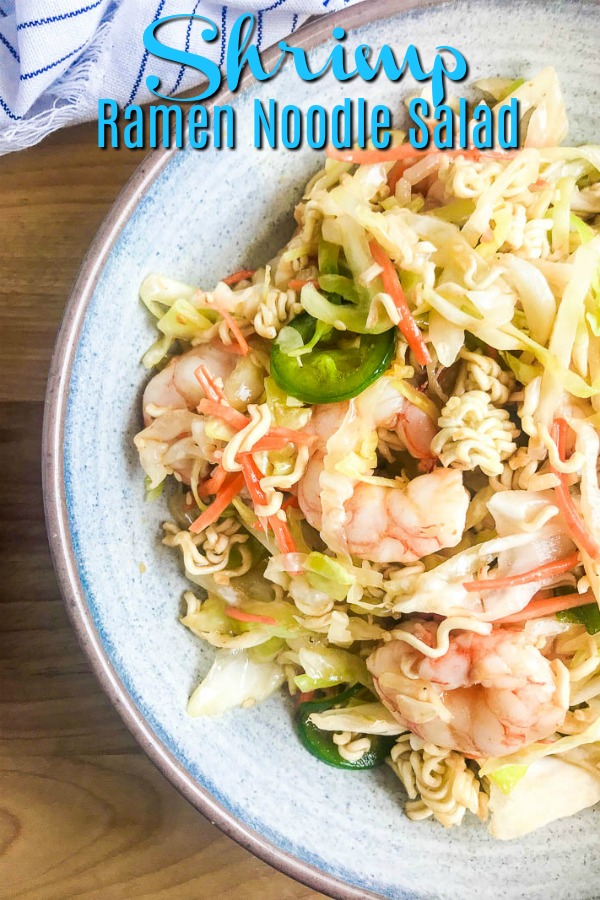 Note: this post was originally written and published in 2015. Updated with new tips, photos and nutrition facts in 2019.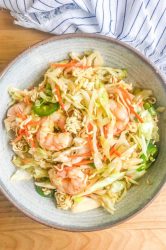 Ramen Noodle Salad with Sweet n' Spicy Shrimp
Shrimp ramen noodle salad is a quick and easy dinner recipe with a sweet and spicy kick of flavor. This may become your new favorite dinner salad recipe!
Ramen Noodle Salad Ingredients:
1/2

cup

canola oil

1/4

cup

granulated sugar

1/3

cup

rice vinegar

2

tablespoons

soy sauce

1

tablespoon

sesame seeds

1 1/2

teaspoons

sriracha

1

teaspoon

sesame oil

1

clove

garlic

minced

1

jalapeno sliced

optional

2

packages ramen noodles crushed

no seasoning packet

1

16 ounce package coleslaw mix

2

green onions

diced
Sweet N' Spicy Shrimp Ingredients:
Whisk together canola oil, sugar, vinegar, soy sauce, sesame seeds, sriracha, sesame oil and garlic.

In a large salad bowl combine crushed ramen noodles, jalapeno, coleslaw mix and green onions. Mix well. Pour dressing over the top and refrigerate for 1 hour.

Meanwhile, make the shrimp. Whisk together oil, sriracha, honey, garlic and rice vinegar. Taste and add salt if desired. Place shrimp in a bowl and pour sriracha honey sauce over the top. Cover and refrigerate for 30 minutes.

When ready, cook shrimp in a skillet over medium heat, until pink and cooked through, about 5 - 6 minutes. Note: Make sure you turn the shrimp often, the sugar in the honey can burn quickly.

Once cooked, toss the shrimp with the salad and serve.
Nutrition facts not guaranteed.
Calories:
516
kcal
Carbohydrates:
42.9
g
Protein:
21.6
g
Fat:
27.8
g
Saturated Fat:
4.4
g
Cholesterol:
165
mg
Sodium:
940
mg
Fiber:
1.6
g
Sugar:
12.5
g
Keywords:
cabbage salad, honey, ramen, ramen salad, shrimp, sriracha