Fried green tomatoes are a classic southern dish, and this fried green tomatoes recipe kicks up the flavor, adding a bacon ranch dipping sauce to them!
"I miss the smell of coffee, and bacon fryin'. Oh and what I wouldn't give for a plate of fried green tomatoes like we used to have at the cafe."
Name that movie! That's right, it's my absolute favorite of all time: Fried Green Tomatoes.  From the first time I saw it, I fell in the love with the story of Idgie and Ruth, their friendship and the little town of Whistle Stop, Alabama.  Naturally, I also happen to love the dish that is the story's namesake so when my friend Champ offered to give me some green tomatoes, I knew exactly what I was going to do with them. And it involved bacon ranch dip. Yes, I said bacon ranch.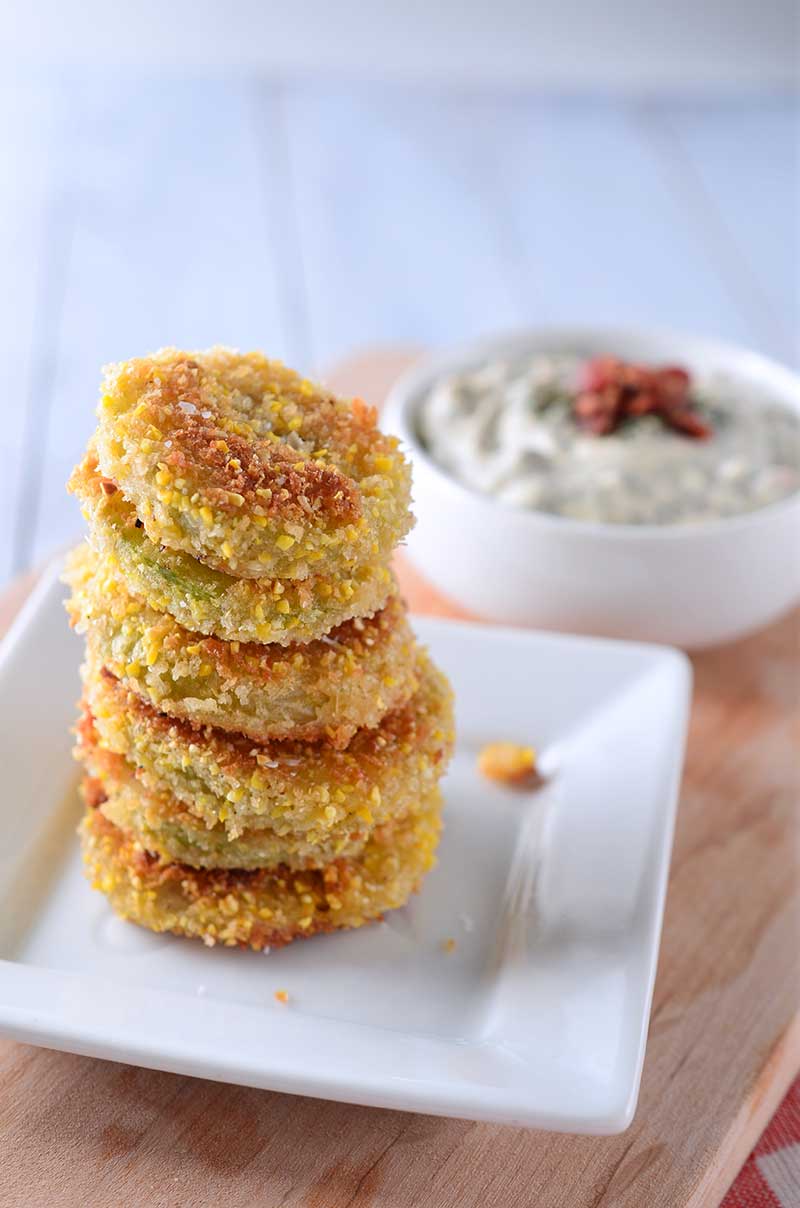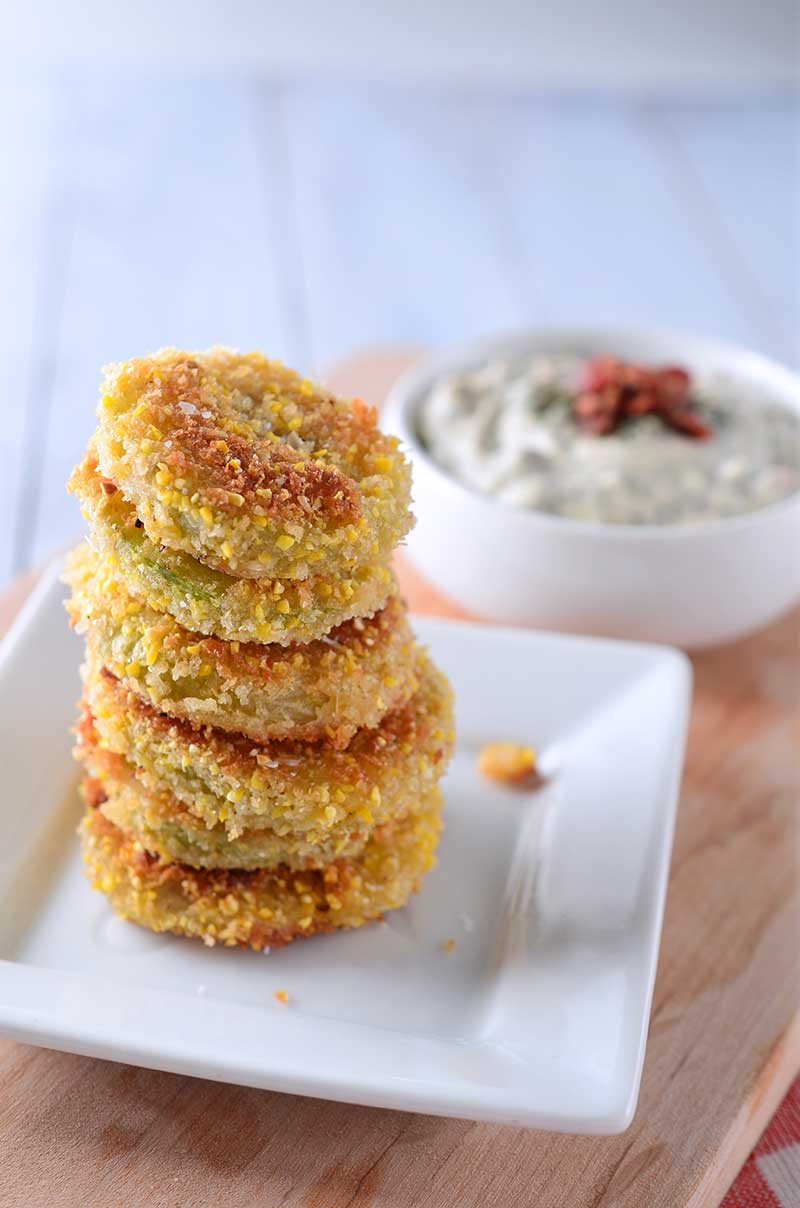 When making Fried Green Tomatoes, bacon drippings seem to be the traditional oil used for frying them.
And with good reason. It gives them a nice bacon-y flavor that green tomatoes fried in vegetable oil just don't have. However, since I don't happen to have bacon drippings in my refrigerator that often, whenever I make fried green tomatoes I have to fry the bacon first. But then what do you do with the bacon? Since eating all 4 slices myself seemed a wee bit selfish, and since I love serving these tomatoes with ranch dip, I made the executive decision to add the crumbled bacon to the ranch dip so that I could share with everyone. Wasn't that nice of me?
Updated September 2014: When I first posted this in 2009, I had made fried green tomatoes a few times but in the last few years since we've owned a house with a space for a garden, I've had the chance to make Fried Green Tomatoes more then I can count. During that time I feel like I've kind of perfected the process. The only really major change I made to this recipe is to mix the cornmeal with panko for a little more of a light crunch. It is such an improvement, it's the only way I make them anymore! I hope you enjoy them just as much as us :)
Ingredients:
4 slices bacon
1/4 cup mayonnaise
1/4 cup sour cream
1/2 teaspoon granulated garlic
1 teaspoon dill weed
1 1/2 teaspoon white wine vinegar
kosher salt and fresh cracked pepper
2 medium or 4 small green tomatoes sliced 1/4 inch thick
1/2 cup all purpose flour
2 eggs, beaten
1/2 cup yellow corn meal
1/2 cup panko bread crumbs
2 tablespoons canola oil
Instructions
1
In a skillet, fry bacon until crispy. Transfer to paper towels. Reserve 1 tablespoon pan drippings. Allow bacon to cool and then crumble. To ensure the drippings don't get too hot remove pan from heat while you prepare the dip.

2
In a bowl combine mayonnaise, sour cream, granulated garlic, dill weed and vinegar. Stir in crumbled bacon. Season to taste with salt and pepper. Cover and refrigerate while you prepare the tomatoes.

3
Season both sides of sliced tomatoes with salt and pepper.

4
Dredge each slice in flour, shake of excess. Next, dip in egg and then press into corn meal to coat completely.

5
Return bacon pan to medium heat. Add in canola oil. Once hot, fry the tomatoes , in batches if necessary, until browned, about 3 minutes per side. Transfer to a cooling rack on top of a cookie sheet. Sprinkle with salt.

6
Place tomatoes on a serving platter. Serve hot with bacon ranch for dipping.
Notes
And if you haven't seen Fried Green Tomatoes yet, I highly recommend you rent it. Or I could always recite it for you line for line, but that might be weird.