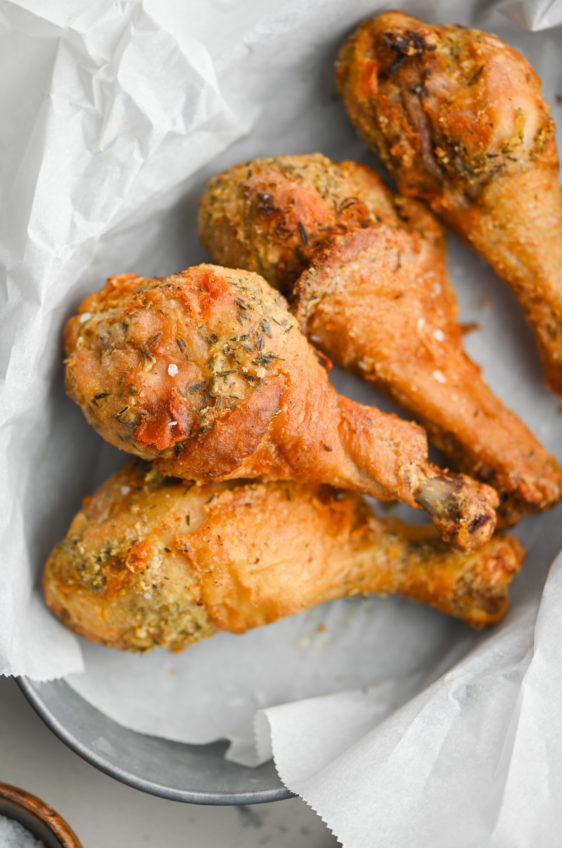 Air Fryer Fried Chicken
Crispy, juicy, golden brown and delicious Air Fryer Fried Chicken. This is an easy, less messy version of the classic Southern comfort food.
Who else just loves fried chicken? The crispy crunchy outside, the succulent inside. It is considered one of the all time favorite American comfort foods for a reason.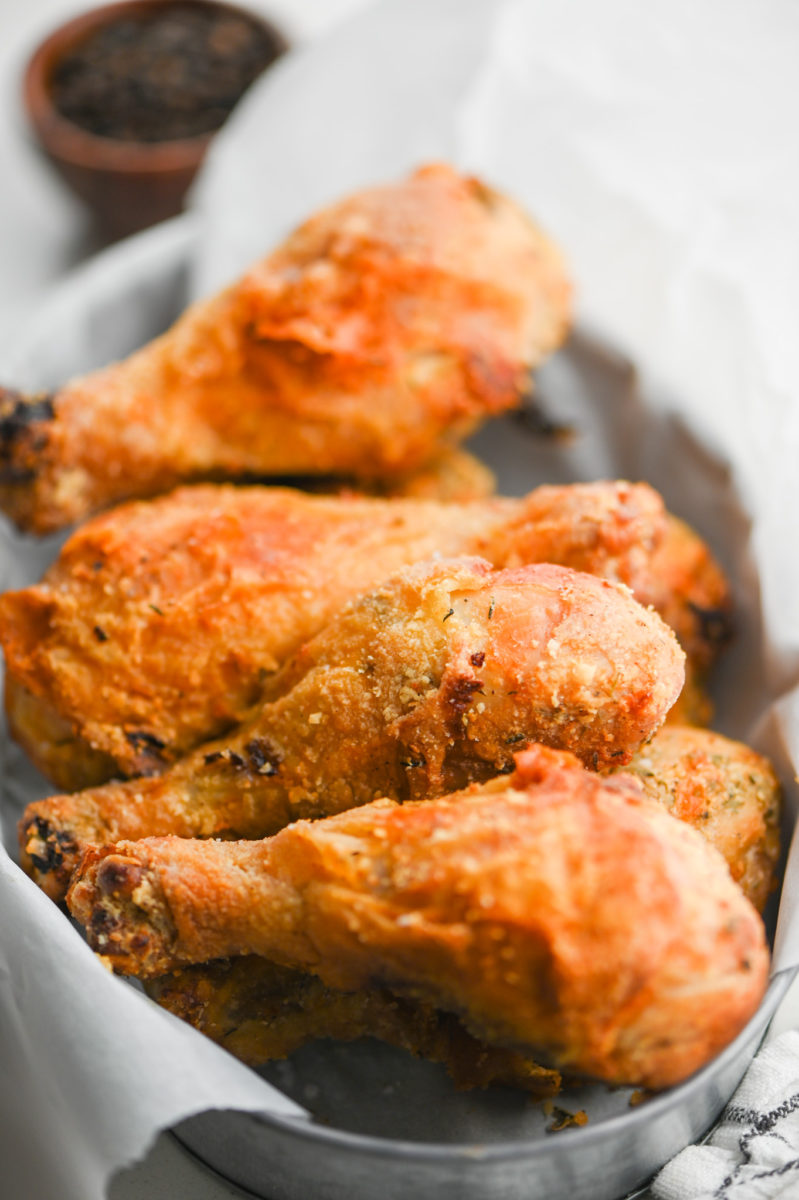 And now, I've perfected everyone's favorite Southern classic fried chicken in the Air Fryer. Air Fryer Fried Chicken is a lot less messy to make. Requires a lot less oil. But it is every bit as crispy and delicious as its deep fried counterpart.
Air Fryer Fried Chicken Ingredients:
For me the secret to making the best fried chicken, whether in the air fryer or otherwise is to brine it. My Brined Fried Chicken Recipe is one of my family's favorite recipes so it only made sense that if I wanted to make Air Fryer Fried Chicken just as delectable, I'd start with a brine too.
As far as the chicken goes, my family greatly prefers drumsticks to just about any other cut (other than my deep fried chicken wings) so that is what I use in this recipe. You can use any kind of SKIN ON chicken that you prefer. But please note that cooking times will vary.
To make the brine you'll need: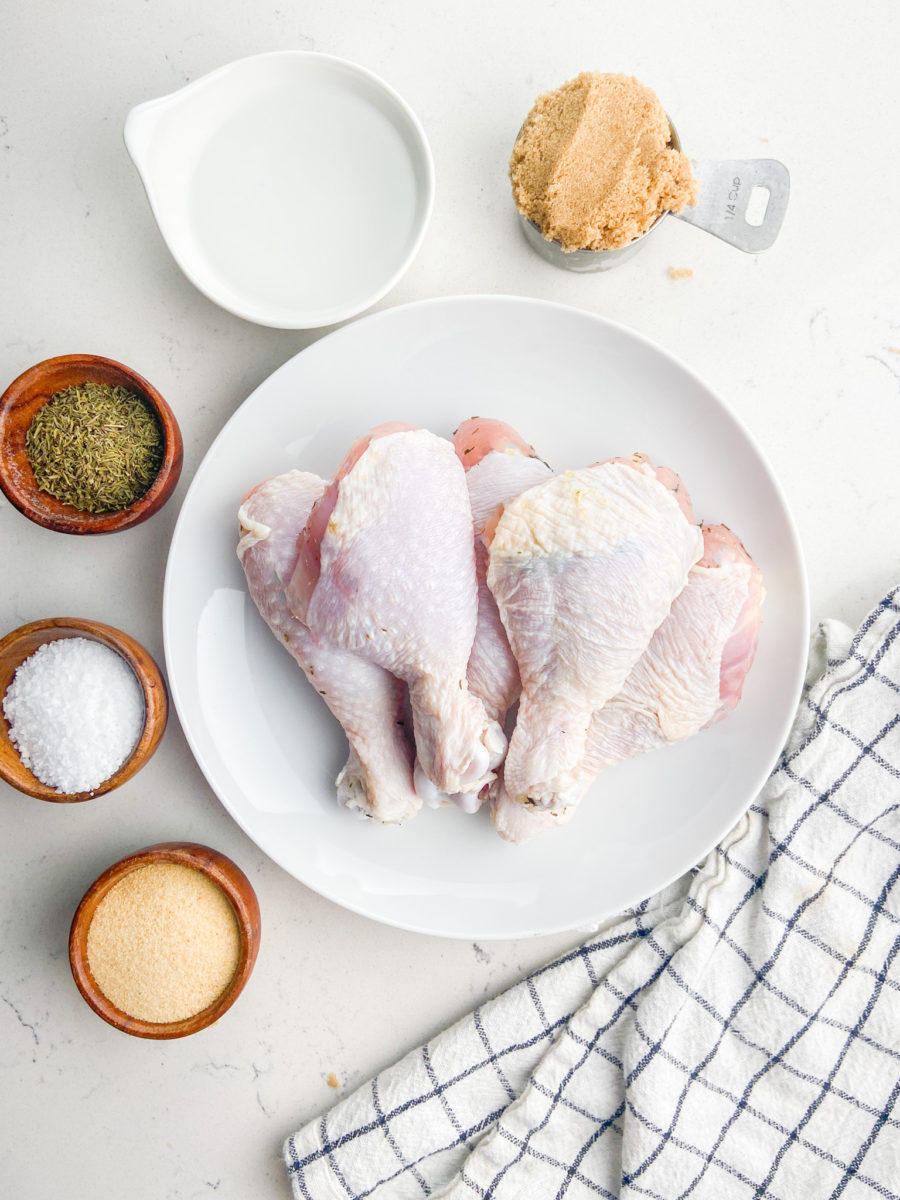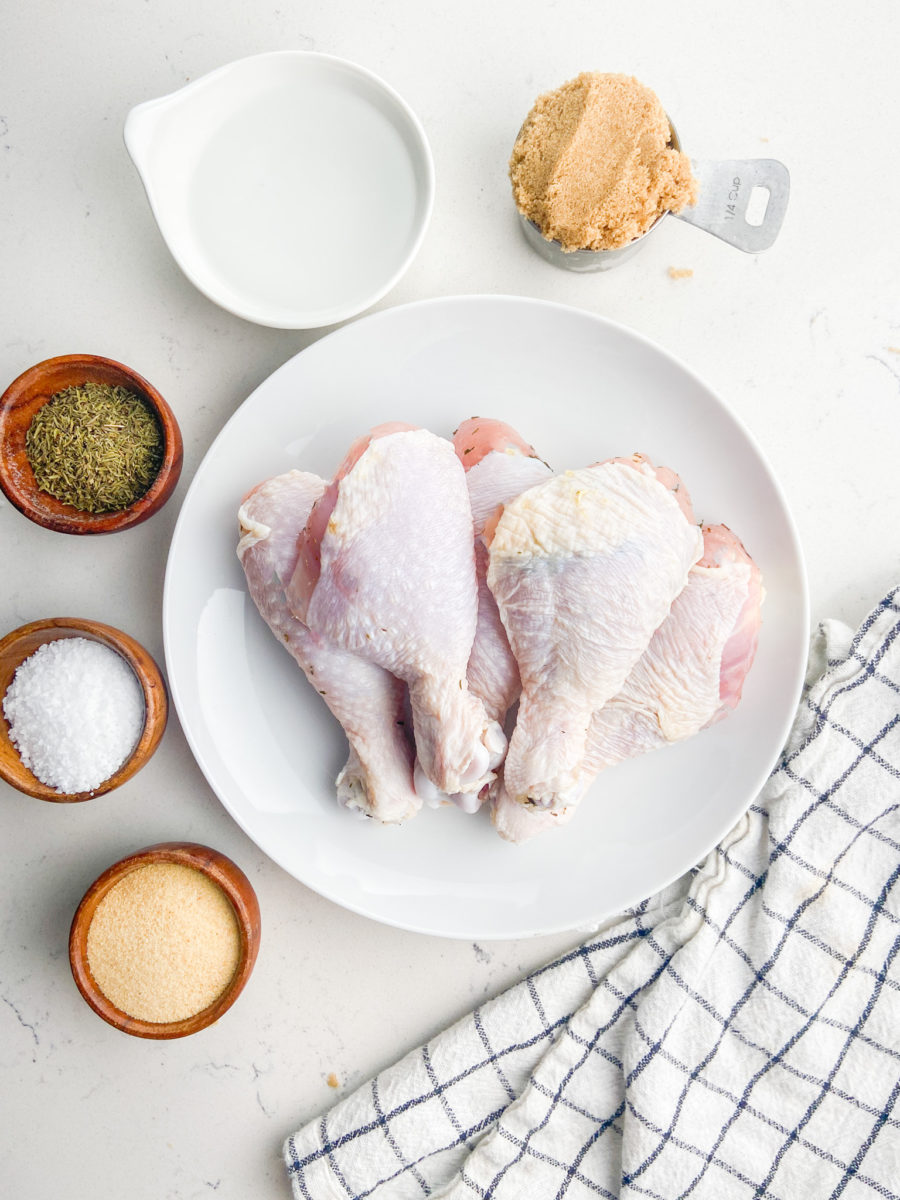 WATER
SALT: Kosher salt works best in this recipe.
BROWN SUGAR: Brown sugar helps promote browning of the skin and adds a bit more flavor.
DRIED SUMMER SAVORY: Summer savory is one of my absolute favorite herbs. It has an earthy peppery flavor. I don't think it gets the love it deserves so it can be hard to find. If you can't find it, dried thyme is a great substitute.
GRANULATED GARLIC
After brining the chicken the next step is making the coating. You will need: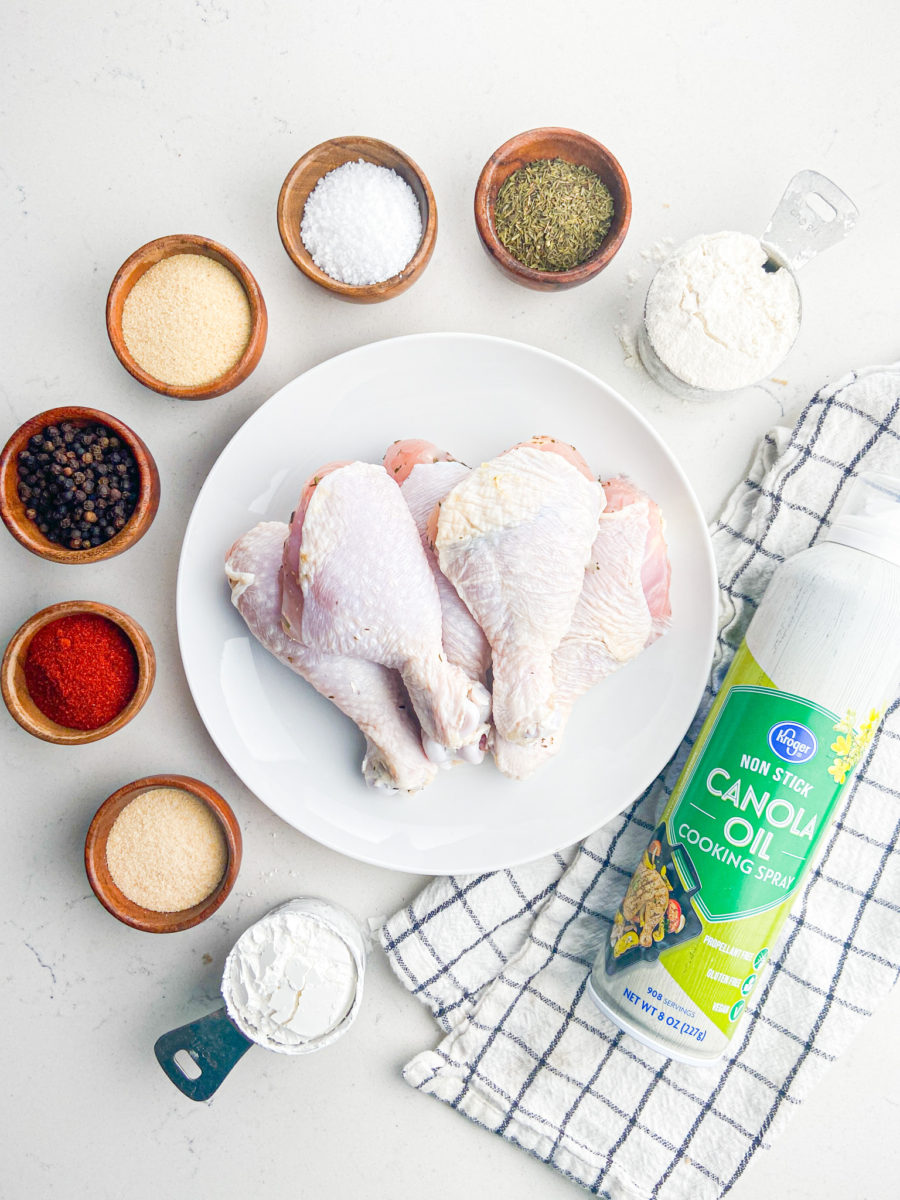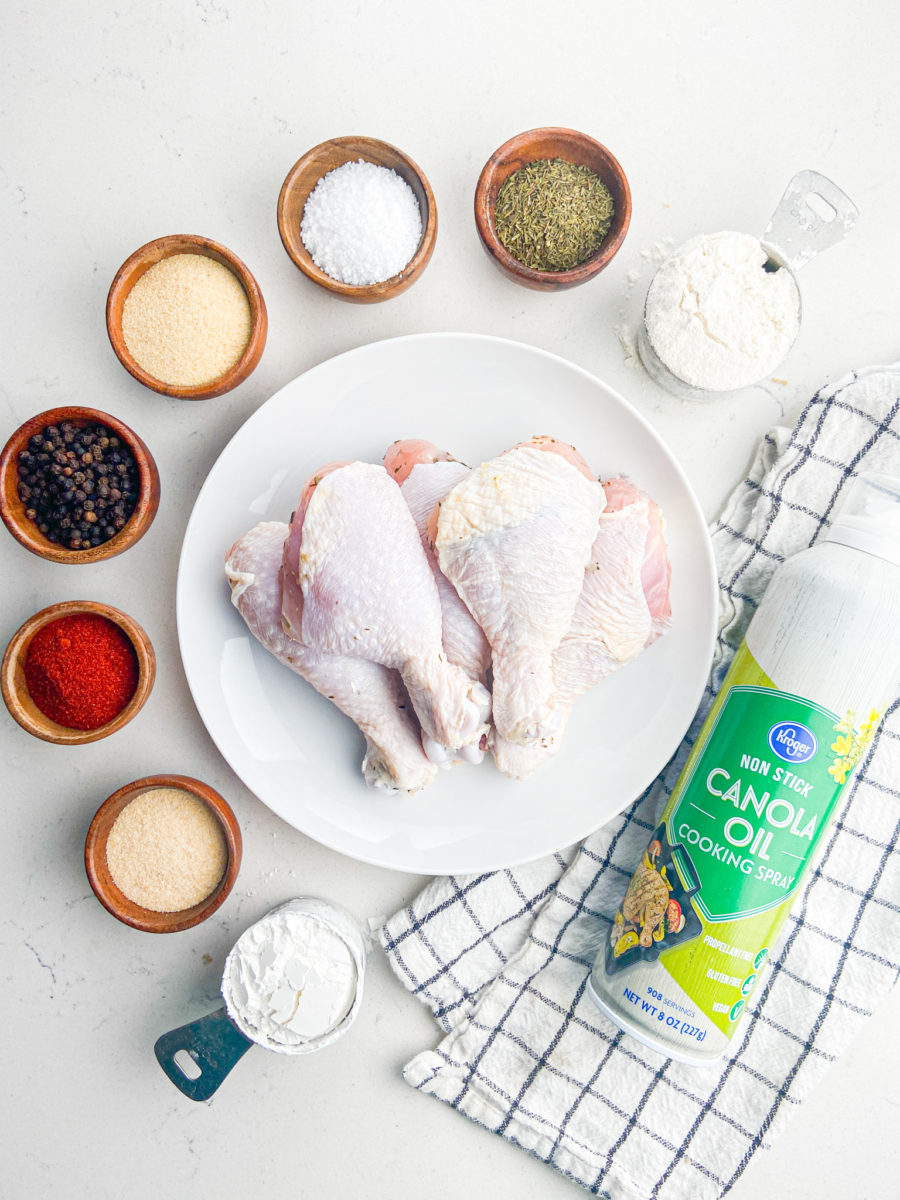 FLOUR: All purpose flour works great for this. 
CORNSTARCH: This is what is going to give your chicken coating that extra crispiness. 
SUMMER SAVORY/GRANULATED GARLIC/SALT/PAPRIKA/BLACK PEPPER/ONION POWDER: When making fried chicken it is essential that you season every step of the way. That is why it is important to season the flour as well. This blend of seasoning will perfectly season the fried chicken.
NON-STICK SPRAY: I use vegetable or canola oil non-stick spray to help get the chicken coating browned and crispy.
Step by Step Photos and Instructions: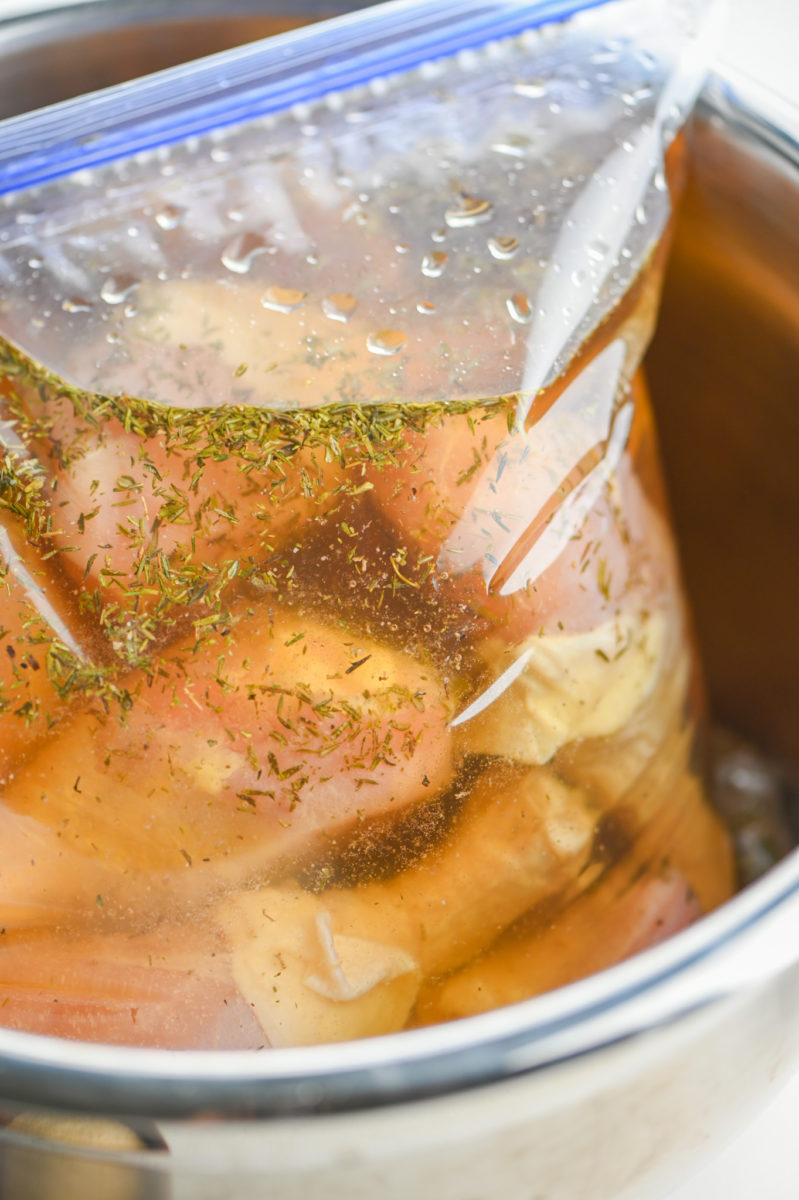 Step 1: Make the brine. Brine the chicken for 2 – 4 hours. 
Step 2: Rinse the chicken and pat dry. Make sure to do this step carefully and clean the sink afterwards to prevent spreading bacteria. 
Step 3: Coat the chicken in the seasoned flour/cornstarch mixture. Be sure to shake off the excess. 
Step 4: Spray chicken with cooking spray. Cook at 390 degrees for 30 minutes. Turn and spray with more cooking spray after 15 minutes making sure that any dry spots are coated with the spray.
DES' TIP: Depending on the size of your air fryer, you're going to need to cook this chicken in batches. Keep the chicken warm by placing on a wire rack on top of a cookie sheet and putting it in a warm oven.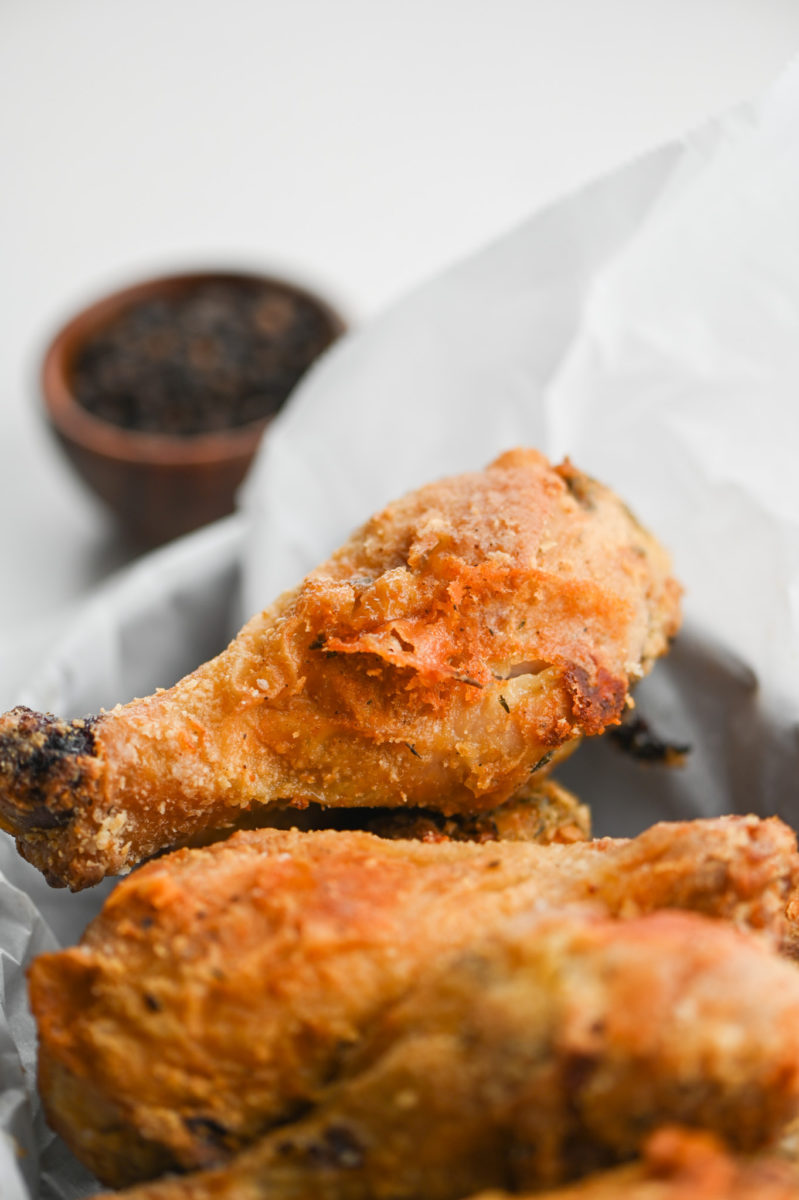 Tips For Making Crispy Air Fryer Fried Chicken:
BRINE: Like my super popular Brined Fried Chicken, I highly recommend brining the chicken first. It greatly helps in keep the chicken tender. For this recipe, I use a traditional water based brine but you can also use buttermilk.
COAT IN FLOUR/CORNSTARCH: Coating the chicken in a mixture of flour and cornstarch will is my trick to making sure the skin is extra crispy. The cornstarch helps protect the chicken from moisture loss. To learn a little bit more about the actual science of why cornstarch makes things crispy check out this article from Cooks Illustrated.
SPRAY WITH COOKING SPRAY: You won't need to use nearly as much oil with air fryer fried chicken, but because you are using flour/cornstarch, you want to use a little bit of oil. It'll help things brown.
COOK IN A SINGLE LAYER: I have been making a lot of things in my air fryer lately and have discovered certain things, like fried chicken, need to be cooked in a single layer. This helps prevent the chicken from sticking together and ensures all spots get brown.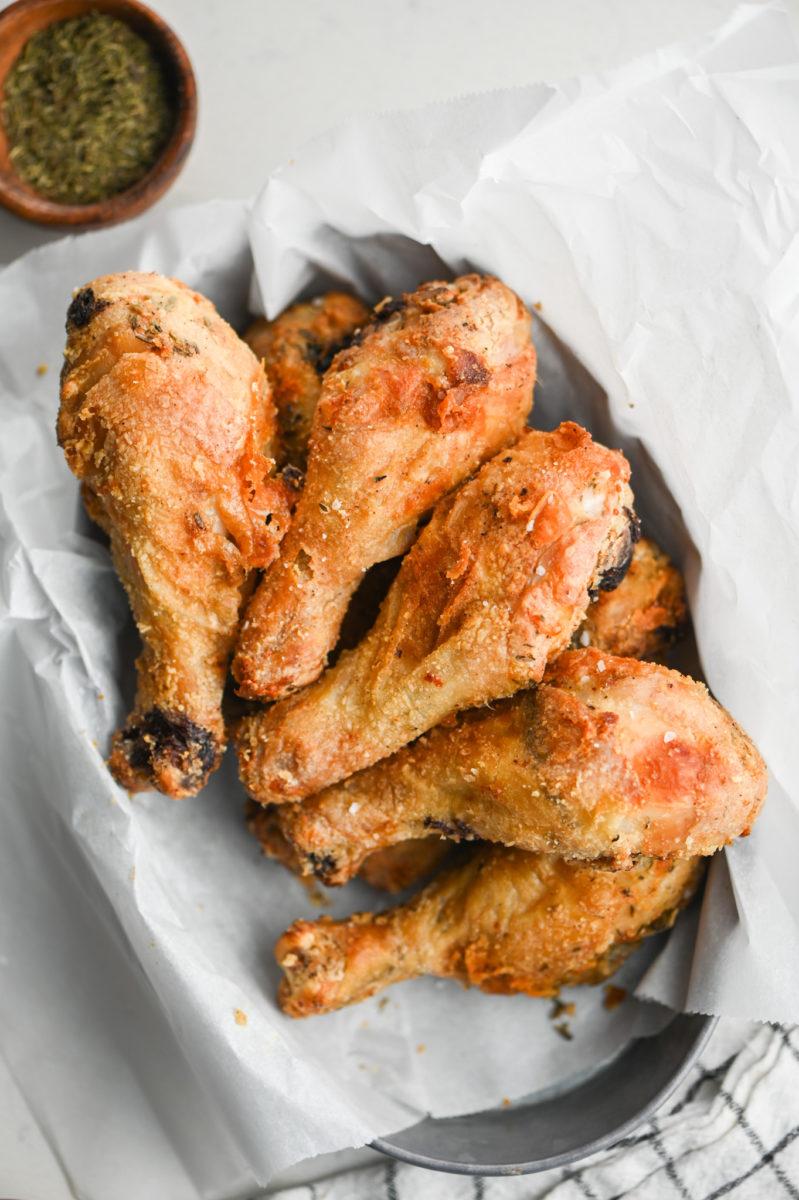 Recipe FAQ:
Is it ok to put raw chicken in the air fryer?
Absolutely! Think of your air fryer as a mini convection oven. You can put raw chicken/meat/veggies into it and it will be cooked.
What can I spray on my chicken before frying?
I use a vegetable or canola oil non-stick spray. Stay away from the ones with the flour for this recipe since you are already coating the chicken in flour.
Why is my chicken not crispy in the air fryer?
There could be a couple of reasons for this. Number one, you want to make sure you completely pat dry the chicken after rinsing off the brine. And two, you want to give the chicken enough space to cook so that the air flows around it. This means that you'll likely need to make this recipe in batches.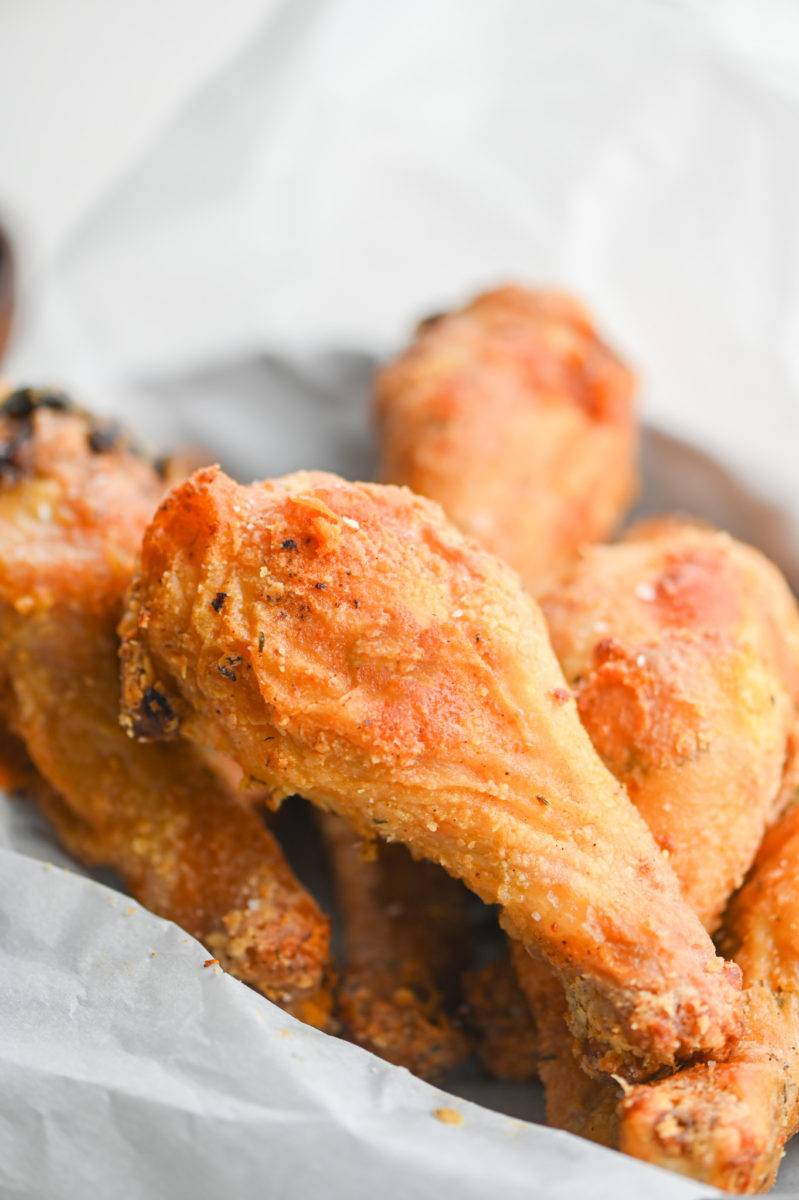 When it comes to my family, most of us love any kind of fried chicken. Except my eldest. That is, until he tried this. His reply "Mom this is the best crispy chicken ever!" kind of sealed the deal for me and gave this recipe a permanent spot on our rotation.
Looking for more comfort food to serve along side this Air Fryer Fried Chicken? Here are some of my favorites!
Other Air Fryer Recipes:
Chicken Strips in the Air Fryer
Note: This recipe was originally published in 2020. Updated in 2023 with new photos and nutrition information.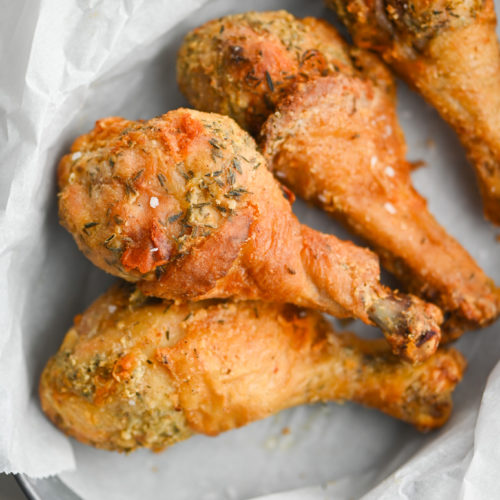 Air Fryer Fried Chicken
Crispy, juicy, golden brown and delicious Air Fryer Fried Chicken. This is an easy, less messy version of the classic Southern comfort food.
Chicken Brine Ingredients:
Chicken Breading Ingredients:
3/4

cup

all purpose flour

3/4

cup

cornstarch

1

teaspoon

kosher salt

1

teaspoon

garlic powder

1

teaspoon

summer savory

3/4

teaspoon

paprika

1/2

teaspoon

black pepper

1/2

teaspoon

onion powder

cooking spray
Combine 1 quart water, 1/2 cup of kosher salt, brown sugar, 3 tablespoons summer savory and garlic powder together in a large pot. Heat over medium heat until salt and sugar dissolve.

Pour in remaining quart of cool water. Allow brine to come to room temperature.

Place chicken pieces in a gallon size bag. Pour brine over the chicken. Seal and refrigerate for at least 2 hours but not more than 4. You can also complete this step in a non-reactive bowl with a lid.

Rinse and pat dry the chicken

Combine breading ingredients together in a bowl, mix well. Dredge chicken in flour mixture to coat completely and shake off any excess.

Working in batches, place the chicken in a single layer in the air fryer. Spray with cooking spray. Cook at 390 degrees for 30 minutes. After 15 minutes, turn chicken and spray any dry spots with more cooking spray.

Remove chicken from the air fryer and keep in a warm oven on top of a wire rack while you cook the remaining chicken. Serve hot.
I usually need to cook this chicken in two batches as I can fit 5 chicken drumsticks per batch in my air fryer. Depending on the size of your air fryer it may take you more or less. 
At the halfway point when you turn the chicken, make sure that you spray the chicken with more non-stick spray to ensure that there are no dry spots. This will help keep the chicken browned and crispy instead of dry and flour-y. 
Nutrition facts for estimation purposes only.
Calories:
339
kcal
Carbohydrates:
42.1
g
Protein:
27.8
g
Fat:
5.8
g
Saturated Fat:
1.5
g
Cholesterol:
81
mg
Sodium:
11408
mg
Fiber:
2.2
g
Sugar:
7.5
g
Keywords:
air fryer, chicken fingers, fried chicken