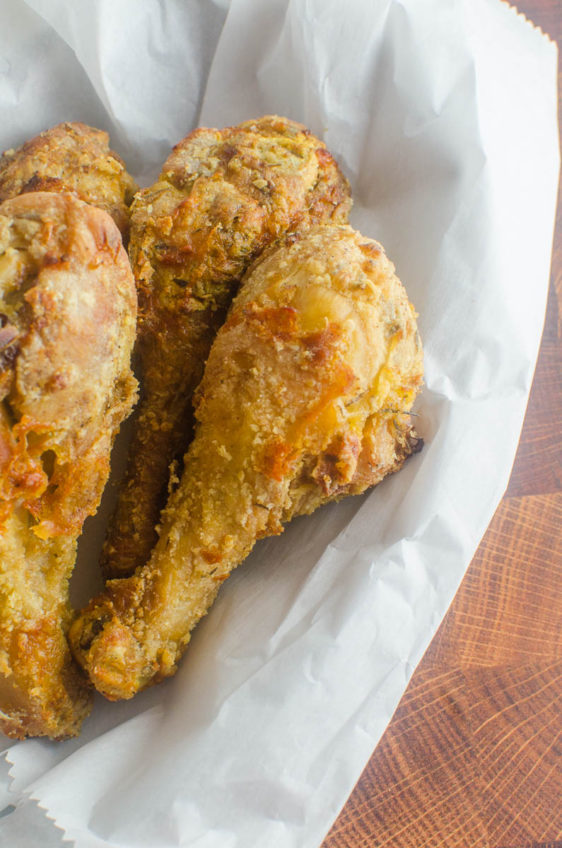 Air Fryer Fried Chicken
Crispy, juicy, golden brown and delicious Air Fryer Fried Chicken. This is an easy, less messy version of the classic Southern comfort food.
Who else just loves fried chicken? The crispy crunchy outside, the succulent inside. It is considered one of the all time favorite American comfort foods for a reason. 
And now, I've perfected this American classic for the air fryer.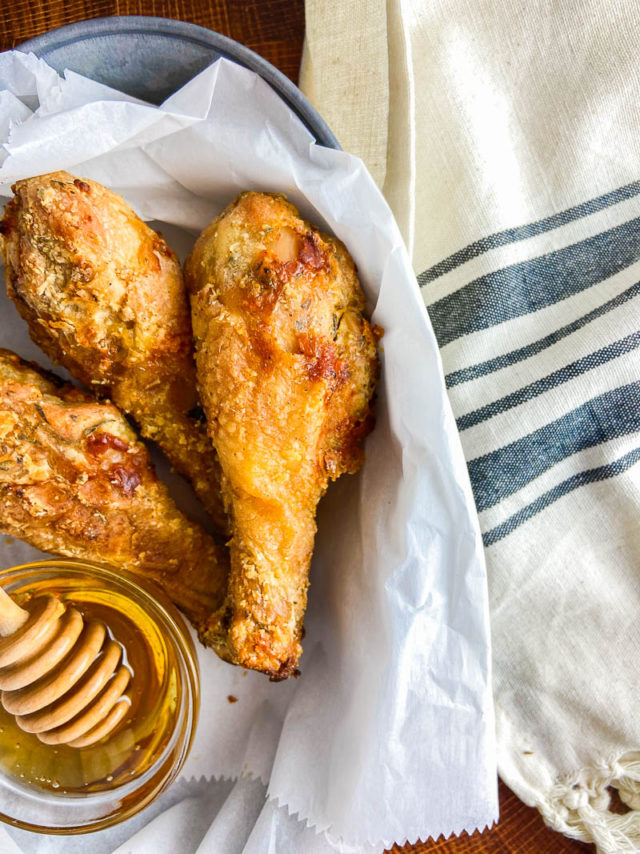 Tips For Making Crispy Air Fryer Fried Chicken:
BRINE: Like my super popular Brined Fried Chicken, I highly recommend brining the chicken first. It greatly helps in keep the chicken tender. For this recipe, I use a traditional water based brine but you can also use buttermilk. 
COAT IN FLOUR/CORNSTARCH: Coating the chicken in a mixture of flour and cornstarch will is my trick to making sure the skin is extra crispy. The cornstarch helps protect the chicken from moisture loss. To learn a little bit more about the actual science of why cornstarch makes things crispy check out this article from Cooks Illustrated. 
SPRAY WITH COOKING SPRAY: You won't need to use nearly as much oil with air fryer fried chicken, but because you are using flour/cornstarch, you want to use a little bit of oil. It'll help things brown. 
COOK IN A SINGLE LAYER: I have been making a lot of things in my air fryer lately and have discovered certain things, like fried chicken, need to be cooked in a single layer. This helps prevent the chicken from sticking together and ensures all spots get brown.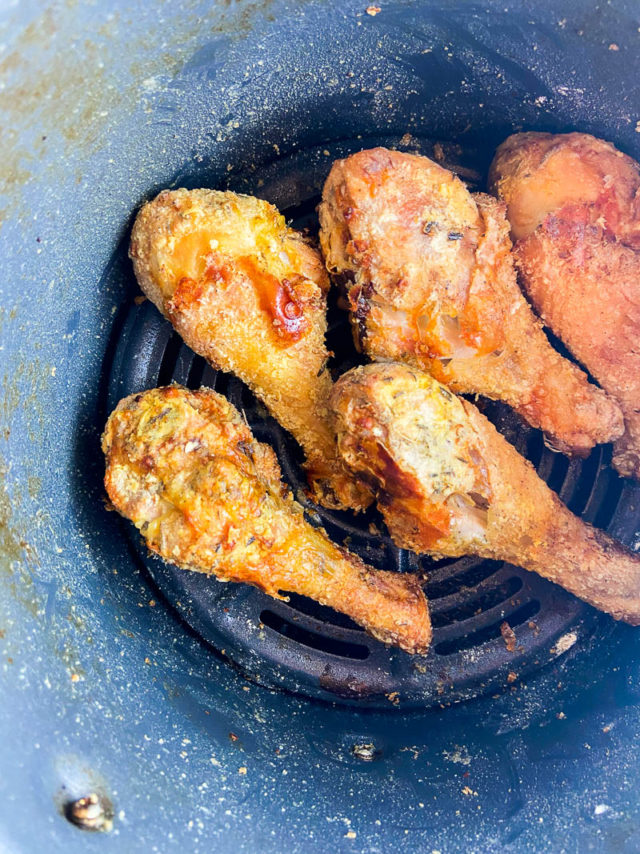 How do you make air fried chicken?
Step 1: Make the brine. Brine the chicken for 2 – 4 hours. 
Step 2: Rinse the chicken and pat dry. Make sure to do this step carefully and clean the sink afterwards to prevent spreading bacteria. 
Step 3: Coat the chicken in the seasoned flour/cornstarch mixture. Be sure to shake off the excess. 
Step 4: Spray chicken with cooking spray. Cook at 390 degrees for 30 minutes. Turn and spray with more cooking spray after 15 minutes. 

DES' TIP: Depending on the size of your air fryer, you're going to need to cook this chicken in batches. Keep the chicken warm by placing on a wire rack on top of a cookie sheet and putting it in a warm oven.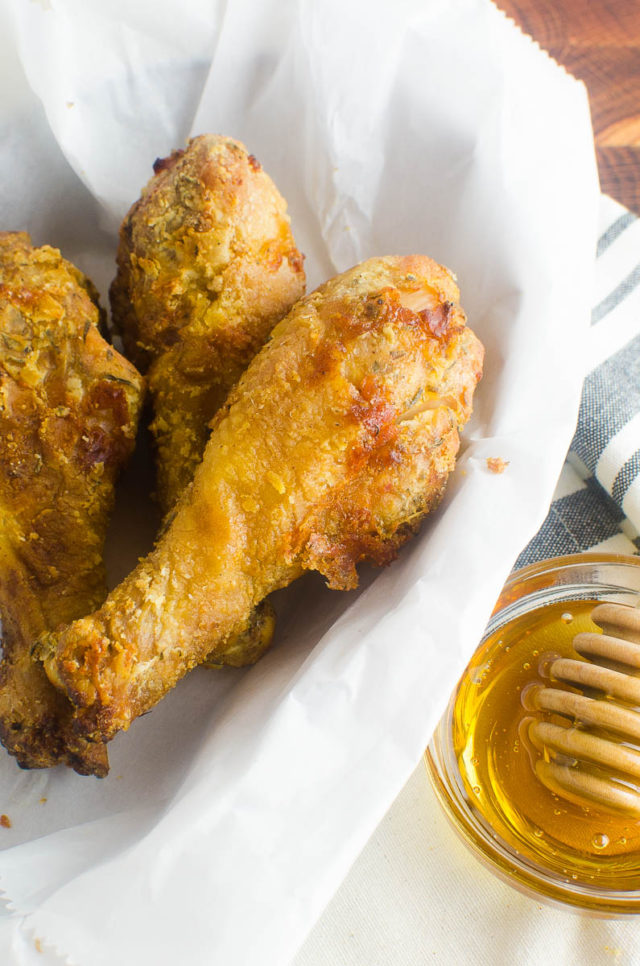 When it comes to my family, most of us love any kind of fried chicken. Except my eldest. That is, until he tried this. His reply "Mom this is the best crispy chicken ever!" kind of sealed the deal for me and gave this recipe a permanent spot on our rotation. 
Looking for more comfort food to serve along side this Air Fryer Fried Chicken? Here are some of my favorites! 
Other Air Fryer Recipes: 
Chicken Strips in the Air Fryer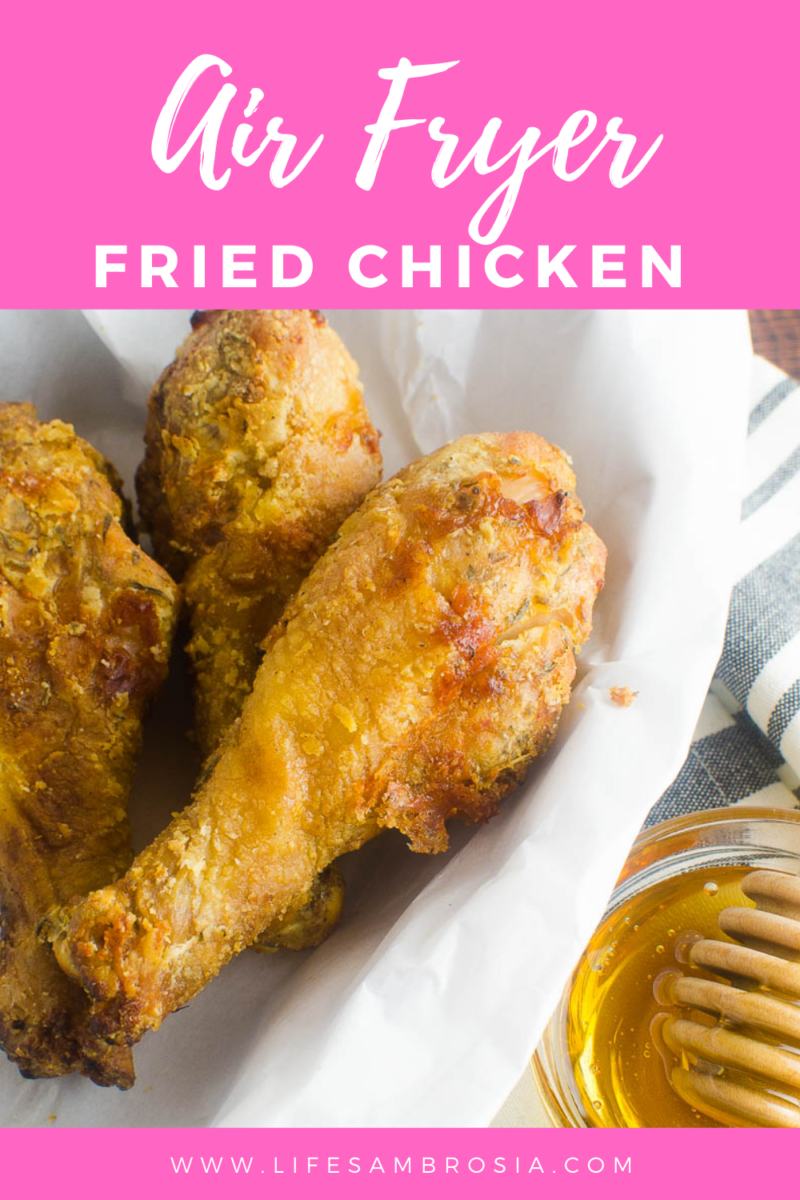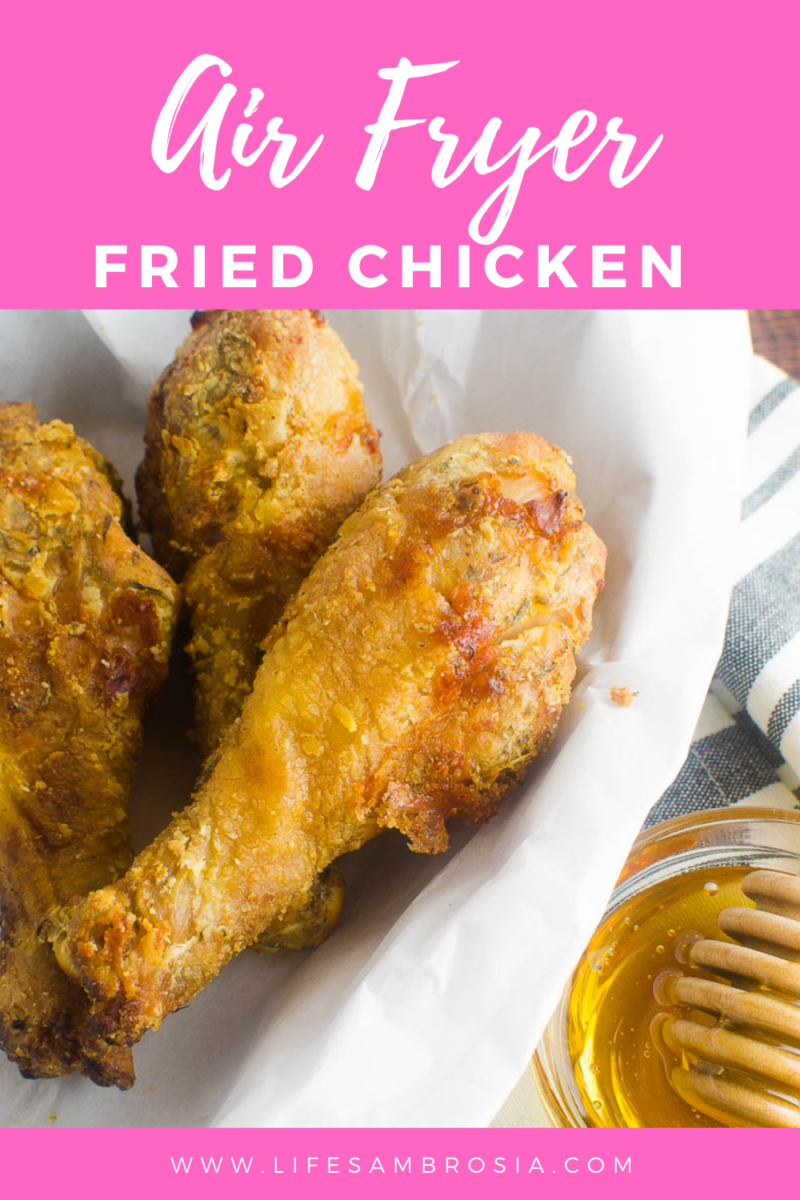 Air Fryer Fried Chicken Recipe
Chicken Brine Ingredients:
10 chicken drumsticks
2 quarts cool water
1/2 cup kosher salt
1/4 cup brown sugar
3 tablespoons plus 2 teaspoons dried summer savory
1 teaspoon granulated garlic
Chicken Breading Ingredients:
3/4 cup all purpose flour

3/4 cup cornstarch

1 teaspoon kosher salt

1 teaspoon garlic powder

1 teaspoon summer savory

3/4 teaspoon paprika

1/2 teaspoon black pepper

1/2 teaspoon onion powder

cooking spray
Instructions
1
Combine 1 quart water, 1/2 cup of kosher salt, brown sugar, 3 tablespoons summer savory and garlic powder together in a large pot. Heat over medium heat until salt and sugar dissolve.

2
Pour in remaining quart of cool water. Allow brine to come to room temperature.

3
Place chicken pieces in a gallon size bag. Pour brine over the chicken. Seal and refrigerate for at least 2 hours but not more than 4. You can also complete this step in a non-reactive bowl with a lid.

4
Rinse and pat dry the chicken

5
Combine breading ingredients together in a bowl, mix well. Dredge chicken in flour mixture to coat completely and shake off any excess.

6
Working in batches, place the chicken in a single layer in the air fryer. Spray with cooking spray. Cook at 390 degrees for 30 minutes. After 15 minutes, turn chicken and spray any dry spots with more cooking spray.

7
Remove chicken from the air fryer and keep in a warm oven on top of a wire rack while you cook the remaining chicken. Serve hot.
Notes
I usually need to cook this chicken in two batches as I can fit 5 chicken drumsticks per batch. Nutrition facts for estimation purposes only.
Nutrition information
Calories: 339 , Total Fat: 5.8g , Saturated Fat: 1.5g , Cholesterol: 81 mg , Sodium: 11408mg , Carbohydrates: 42.1g , Fiber: 2.2g , Sugar: 7.5g , Protein: 27.8g