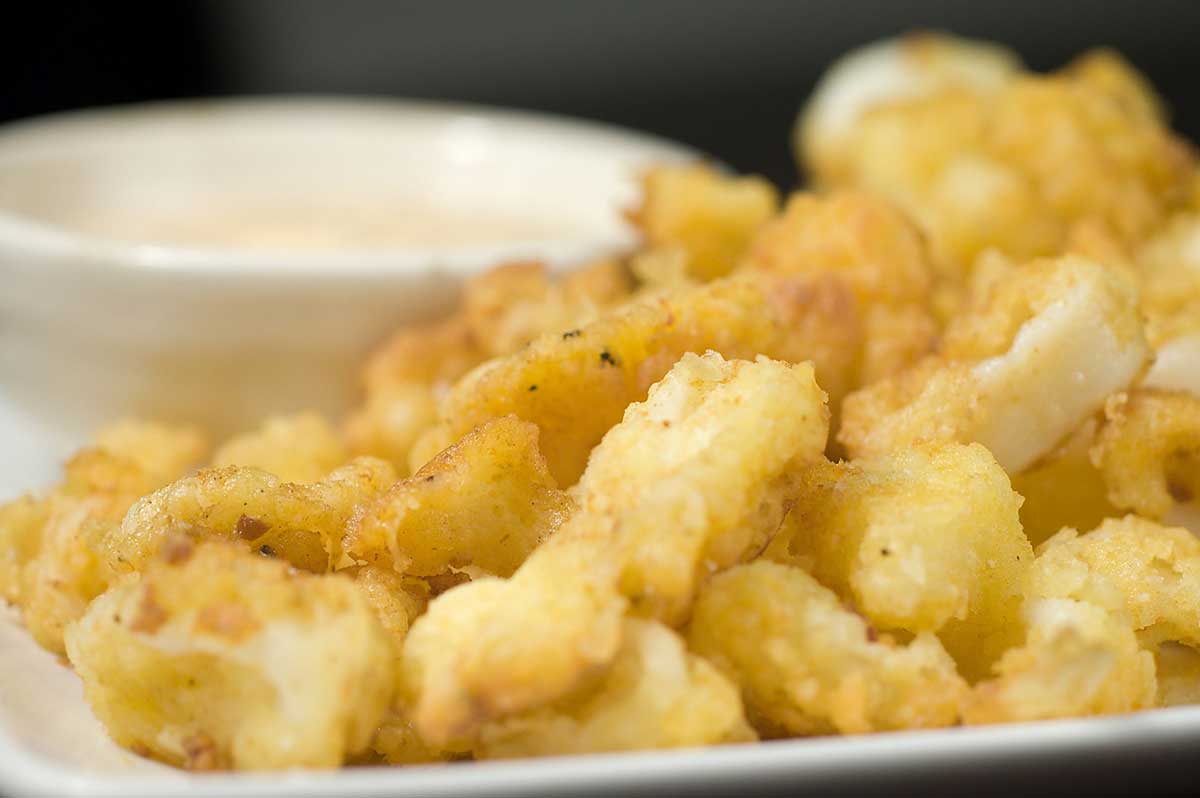 Calamari with Lemon-Basil Sauce
Oh Calamari how I love thee. Tender, crispy and crunchy you make my heart melt. When I first heard of Calamari I was working at a seafood restaurant and all of the other servers would eat it pretty often, but I would always shy away. Finally one day, on a dare, I tried some and thank god I did.  Now when ever Ryan and I dine out I usually have to order calamari as an appetizer, it is the perfect way to start a meal. For those of you that don't know, it is squid and while that may not sound appetizing, when it is battered and fried it is delicious.  I recently bought calamari rings so I could give this a shot at home and it was surprisingly easy. For this recipe, I toss some calamari rings with seasoned flour and fry them until they are golden. While they are tasty on their own, I also served them with a Lemon-Basil dipping sauce.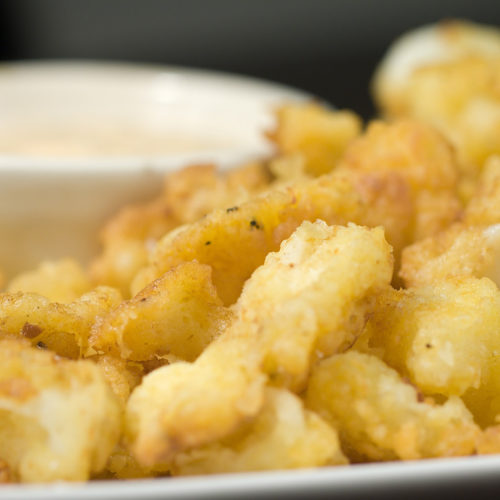 Calamari with Lemon-Basil Sauce
Tender calamari coated and fried until golden. Served with a lemon basil dipping sauce.
Ingredients:
1/2

pound

calamari rings

thawed if frozen (If you buy it frozen it will usually be cut into rings for you, which is what I prefer)

1

egg

1/4

cup

milk

1/2

cup

all purpose flour

1/2

teaspoon

kosher salt

1/2

teaspoon

fresh cracked pepper

1/2

teaspoon

granulated garlic

1

tablespoon

cornstarch

Canola oil for frying

2

tablespoons

mayonnaise

2

tablespoons

sour cream

1

teaspoon

lemon juice

1/2

teaspoon

dried basil

you can also use fresh basil, it would be about 2 teaspoons

1/4

teaspoon

granulated garlic.
Pat the calamari rings dry with a paper towel.

In a bowl whisk together egg and milk to make an egg wash.

In a large plastic resealable bag combine flour, salt, pepper, granulated garlic and cornstarch and shake to combine.

Dip the calamari rings into the egg and then put them in the bag with the flour. Shake bag to lightly coat calamari.

In a large sauce pan add oil until you have about 2 inches. Heat over medium heat until oil is hot. (Note: I don't have a thermometer to check the temperature of the oil so when I think its hot I just sprinkle in a little flour and if it sizzles I start frying.) Once the oil is hot, remove the calamari from the bag and shake off any excess flour. Cook calamari in batches until golden brown, about 3 minutes. It is very important not to overcook calamari or it will become rubbery. Remove from the oil, lay on a paper bag and sprinkle with a little kosher salt. Serve hot.

To make the sauce combine mayonnaise, sour cream, lemon juice, basil and garlic and mix well.
A Note: When I first tried to make calamari at home, mine did not get as golden brown as I would like because I was afraid of over cooking it so I cooked it only about 2 minutes at medium-high. I have found that if I cook it at a lower heat for a little longer, 3 minutes or so, it gets golden brown and is still tender on the inside.
So there it is, calamari, perhaps my favorite appetizer ever. Give it a try if you haven't and I'm sure you'll like it. Hey it's fried, everything is good fried right? :) Enjoy!
Keywords:
basil, calamari, Food, fried, lemon juice, Recipe, squid