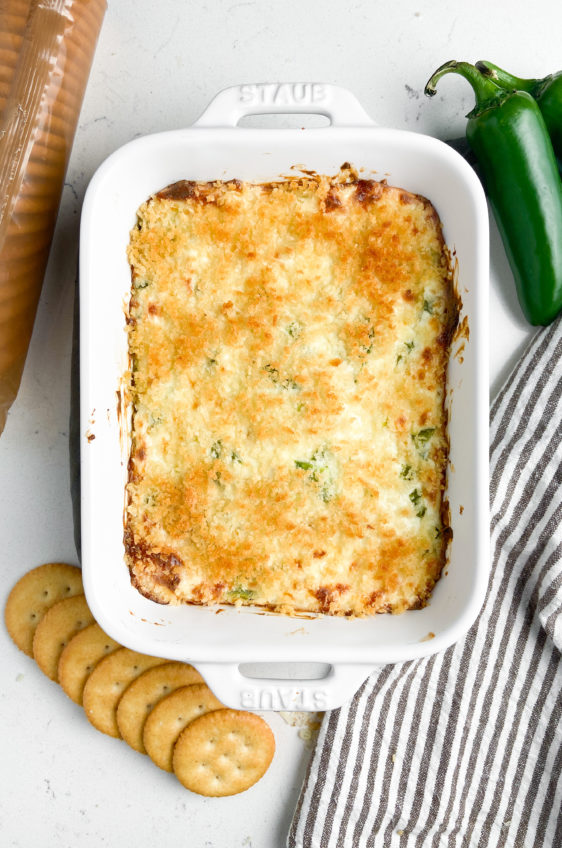 Jalapeno Popper Dip
This Jalapeno Popper Dip Recipe is the ultimate party dip. Cream cheese, mozzarella, jalapenos and panko are baked until golden and bubbly. It's always a hit!
If you love the spicy cheesiness that is jalapeno poppers, you are going to fall head over heels in love with this Jalapeno Popper Dip. It has all of the classic flavors of the pub favorite but it's in dippable form making it the perfect appetizer for game day.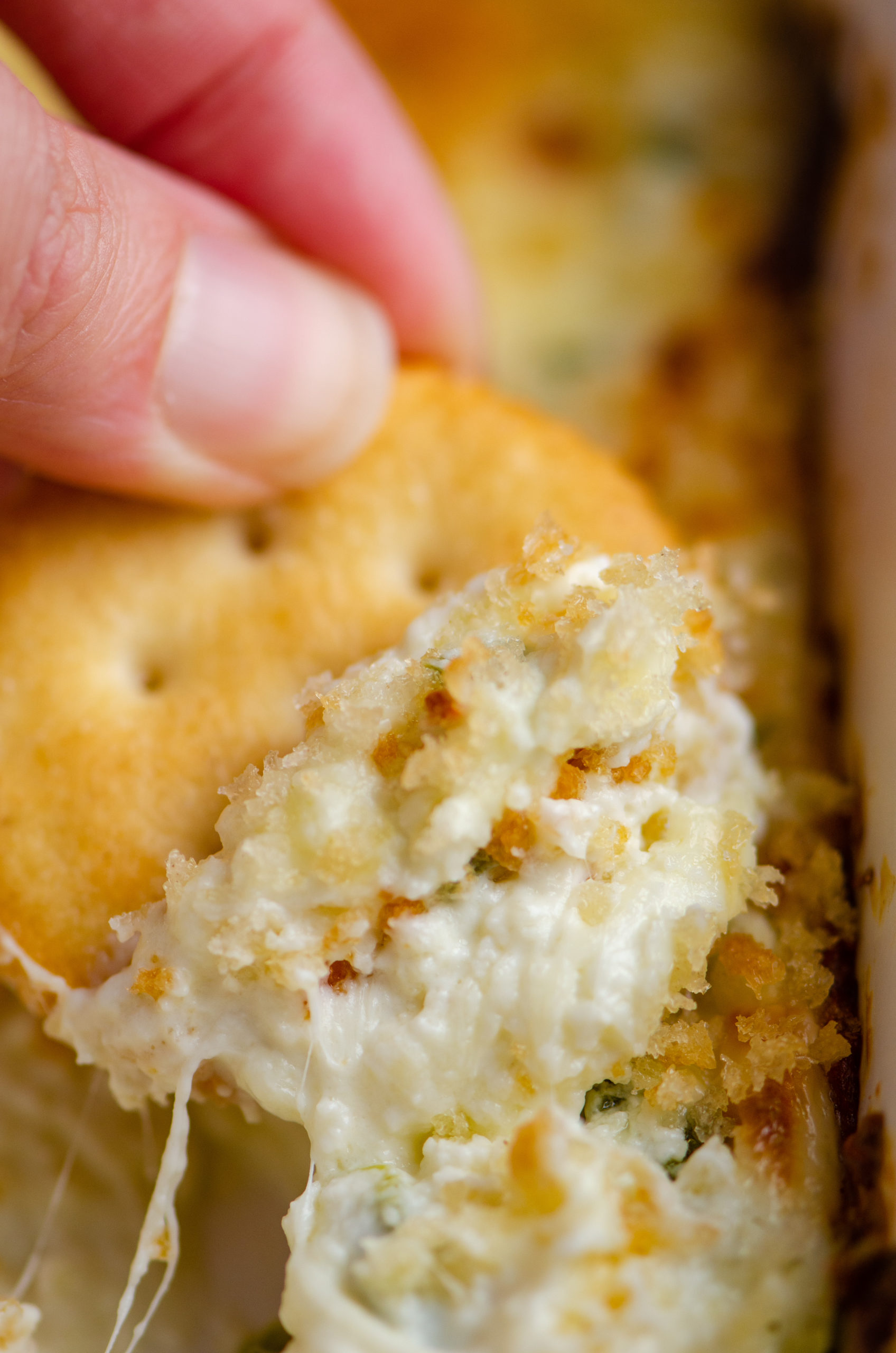 And not only is it always a crowd pleaser, it is also easy to make. One thing I like to do during big games is save some of the goodies until the second half and this is dip is perfect for that. You can make it before the game starts and then just pop it in the oven during halftime. 
It makes snacking through the whole game even easier! 
What ingredients do you need to make jalapeno popper dip?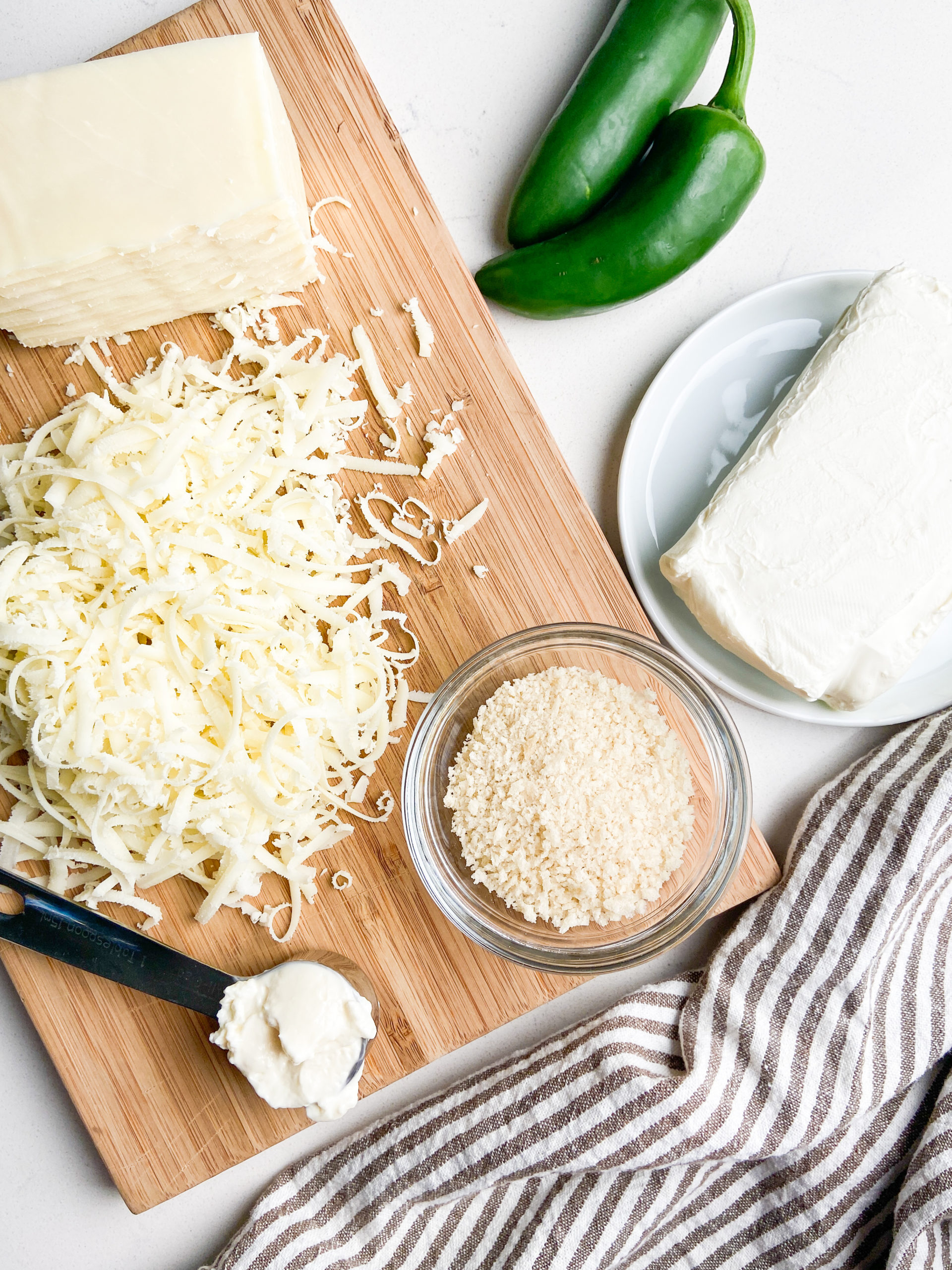 CREAM CHEESE: Use full fat cream cheese. Also, make sure that it is softened to room temperature. I like to take it out about an hour or so before I need to use it. 
MOZZARELLA CHEESE: As tempting as it is to buy the pre-shredded stuff, mozzarella that you shred yourself just melts better in my opinion. 
MAYONNAISE:  Just a tablespoon and you won't even taste it. It is simply added for the oil to give a even more smoothness to the dip. 
JALAPENOS: If you are worried about the heat level of this dish there are a couple of options. Use 1 only one jalapeno. The other option is to remove the seeds and veins from inside the jalapenos. This is where most of the heat is.  
DES' TIP: Want to learn more about jalapenos and other peppers? Check out my guide to chile peppers. 
PANKO BREAD CRUMBS: Jalapeno poppers usually have a crisp outer crust, to get that same crunchiness in this dip, a sprinkle of panko bread crumbs goes on top. 
GRANULATED GARLIC: To season the bread crumbs. 
OIL: To help the bread crumbs brown. You can use vegetable, canola, avocado or oil. 
Step by Step Photos and Instructions: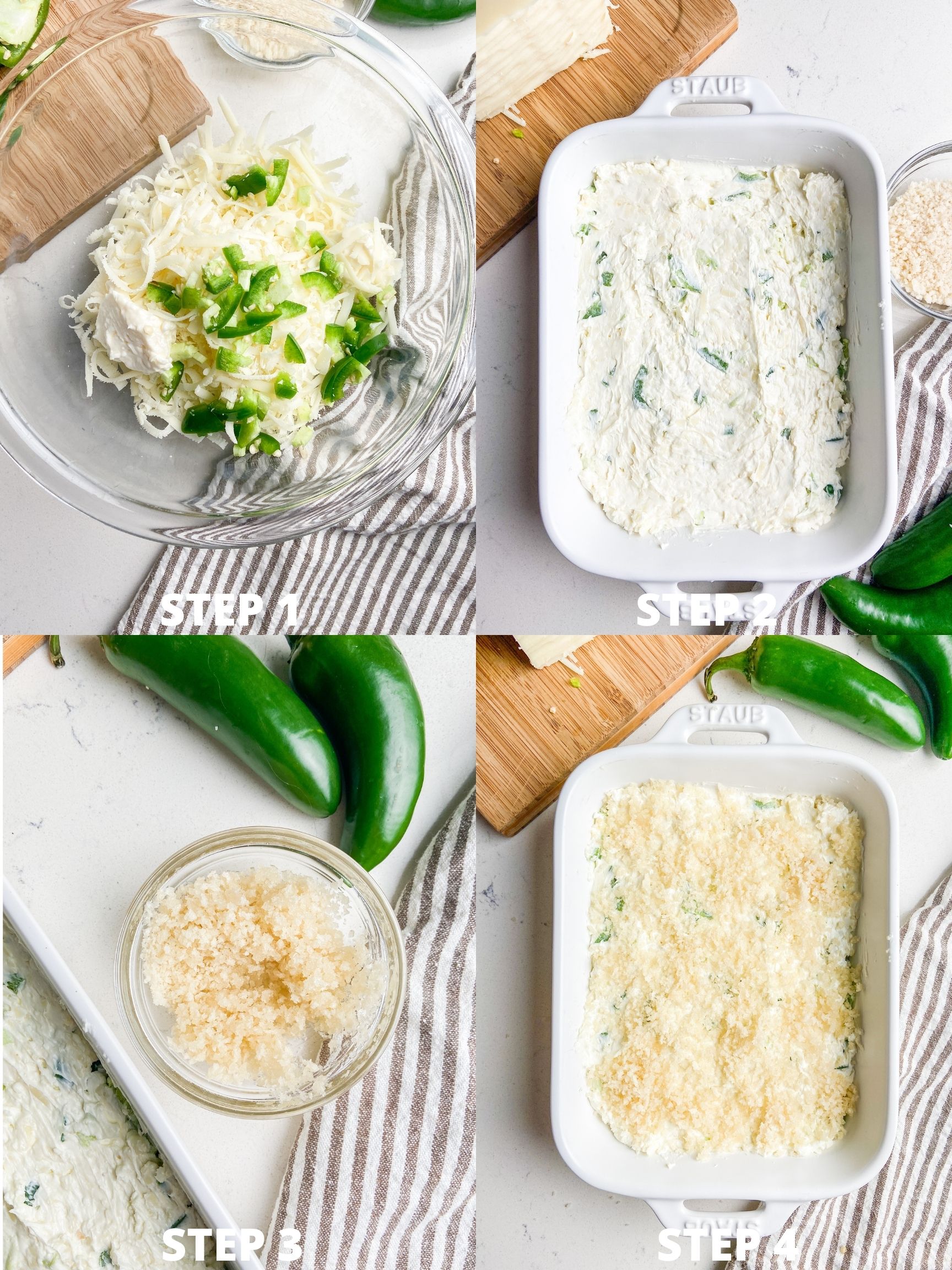 Step #1: Combine cream cheese, mozzarella, mayonnaise and jalapenos together in a bowl. Use a spatula to mix well.
Step #2: Place dip in a small baking dish or pie pan. 
Step #3: In a small bowl combine bread crumbs, granulated garlic and oil. Mix until bread crumbs are coated in oil. Sprinkle the bread crumbs on top of the cheese mixture.
Step #4: Bake at 350 degrees for 25 minutes or until hot and bubbly. Turn on the broiler for 1 – 2 minutes to brown the top of the Dip. Serve hot with crackers or bread.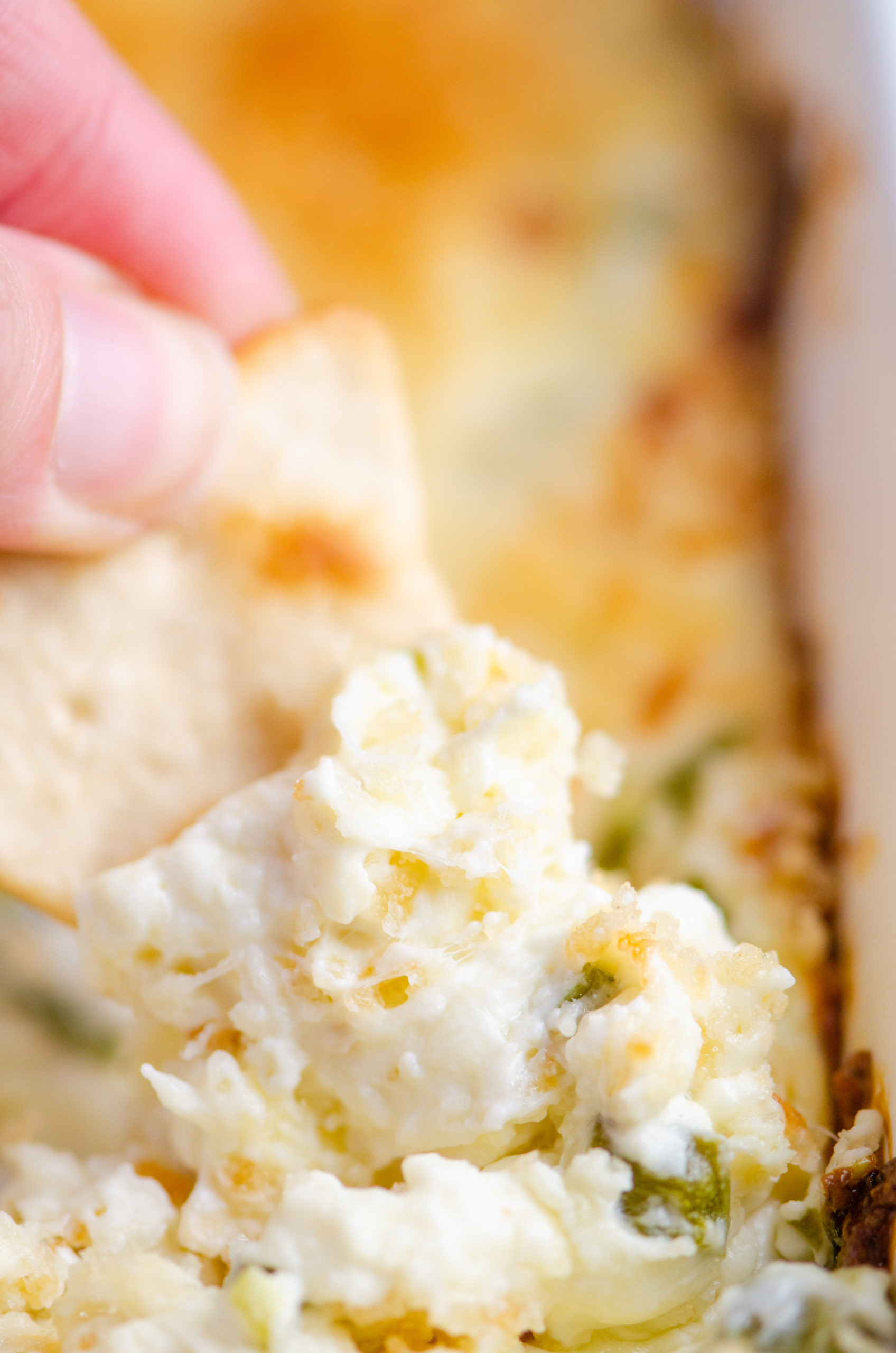 Are you looking for more game day appetizers to serve along side this Jalapeno Popper Dip?  I have got you covered!
Deep Fried Chicken Wings Recipe
A  bit of a chile head? SAME HERE! That is why my blog is loaded with spicy recipes. Here are a few of my most popular: 
Jalapeno Popper Dip Recipe
Ingredients:
8 ounces cream cheese, softened
1 cup shredded mozzarella
2 tablespoons mayonnaise
1 - 2 jalapenos, minced
1/4 cup panko bread crumbs
1 tablespoon vegetable (or olive) oil
1/4 teaspoon granulated garlic
Instructions
1
Preheat oven to 350 degrees.

2
Combine cream cheese, mozzarella, mayonnaise and jalapenos together in a bowl. Stir to mix well. Place in a small baking dish, or pie pan.

3
Combine panko, oil and granulated garlic in a small bowl. Sprinkle over the top of the dip.

4
Bake in preheated oven for 25 - 30 minutes or until bubbly. Turn on the broiler for 1 - 2 minutes and broil just until browned. Serve hot with crackers or bread.
Notes
Nutrition facts for estimation purposes only.
Nutrition information
Amount per serving: Dip per serving without crackers
Calories: 203 , Total Fat: 18.2g , Saturated Fat: 9.3g , Cholesterol: 45mg , Sodium: 208mg , Carbohydrates: 5.8g , Fiber: 0.3g , Sugar: 0.8g , Protein: 4.9g