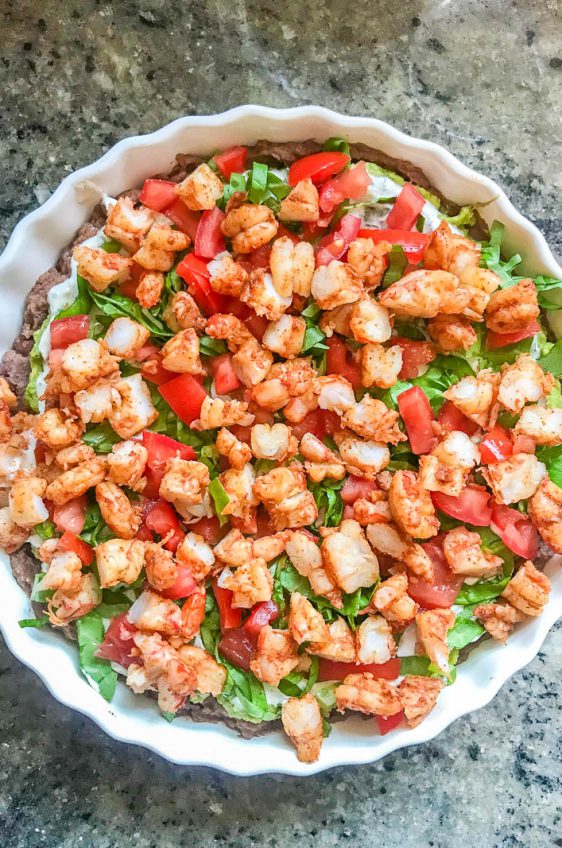 Taco Shrimp Dip
Everyone loves a good shrimp taco. Everyone loves a good taco dip. I've put them together in this Taco Shrimp Dip with black beans, lettuce, cilantro sour cream, tomatoes and spicy shrimp.
You guys. This Dip. OMG THIS DIP. It is SO good I couldn't wait to share it with you.
Several years back, 9 to be exact, I shared my recipe for Shrimp Tacos with Cilantro Lime Sour Cream. The reviews have been fabulous over the years and it got me thinking, what else could I do with Shrimp Tacos?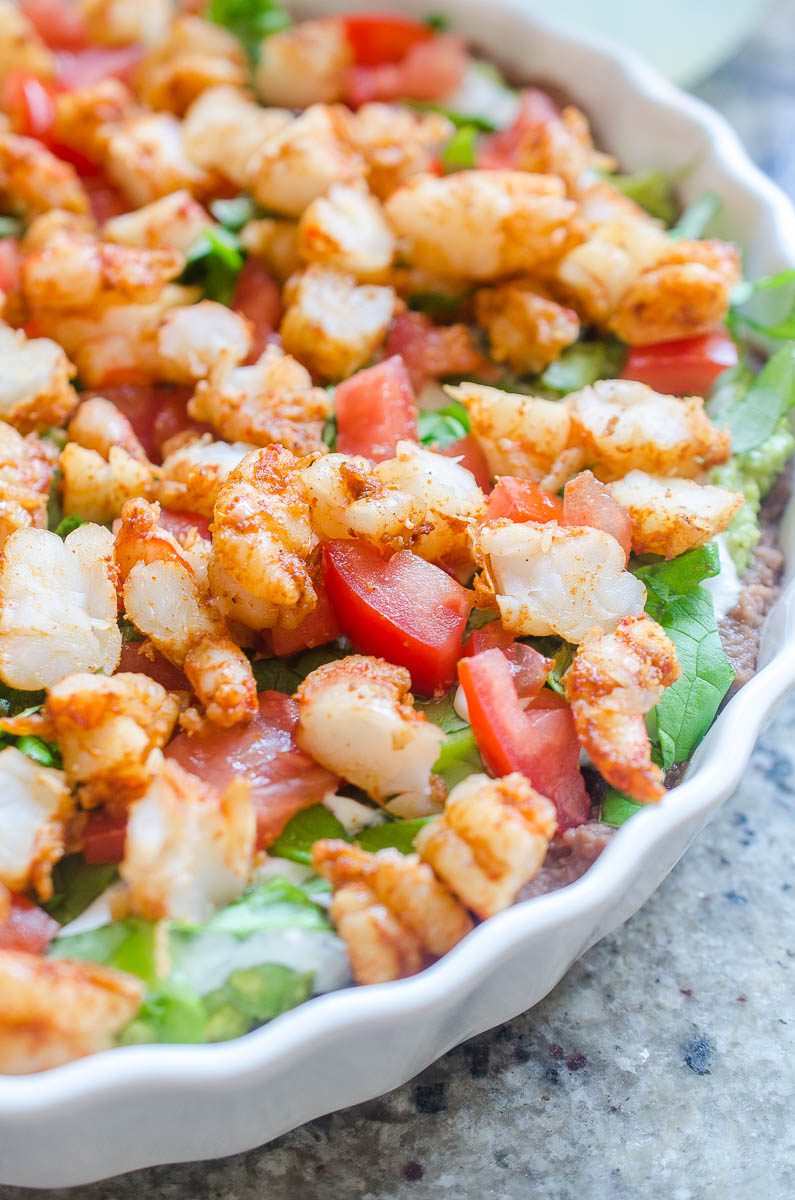 Enter: Taco Shrimp Dip. It is all the goodness of shrimp tacos in dip form. I mean, shrimp tacos and chips? It doesn't get much better.
How do you make Taco Shrimp Dip?
First things first, you're going to need to cook the shrimp. Use larger shrimp and chop them up after cooking. The flavor is better than the smaller "salad shrimp". I've been using the Wild Argentinian Shrimp lately. Guys, buy them if you can, they are like little lobsters! So tender and buttery.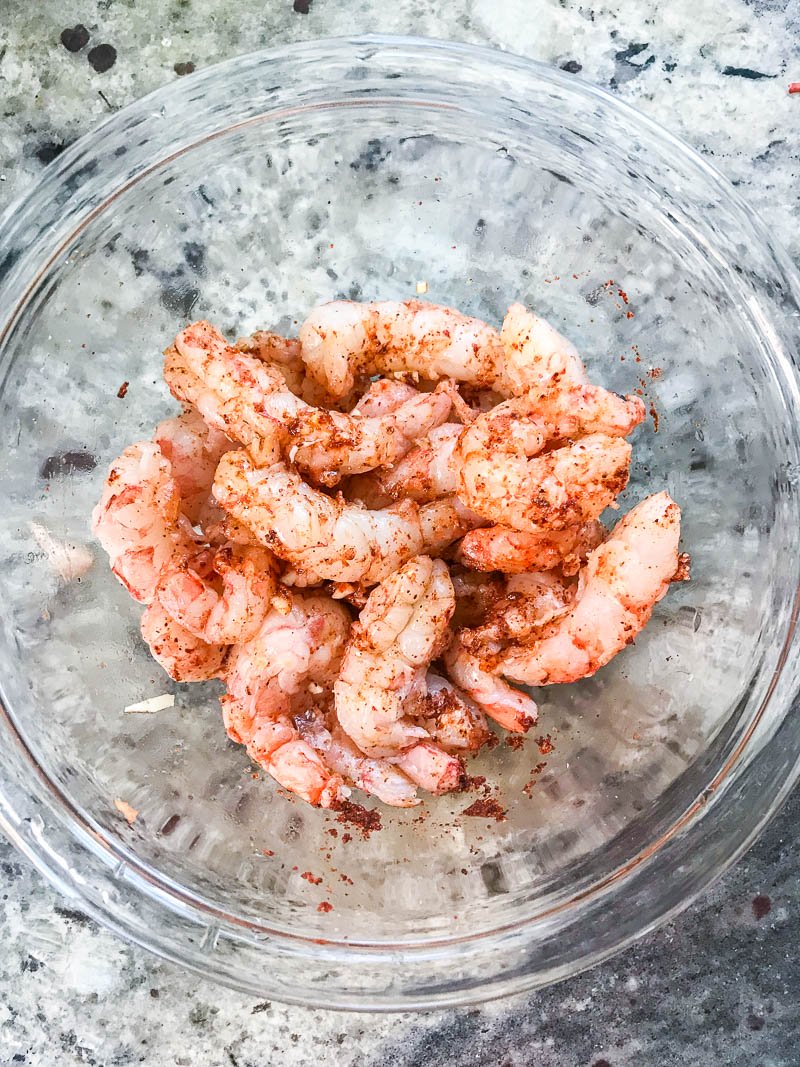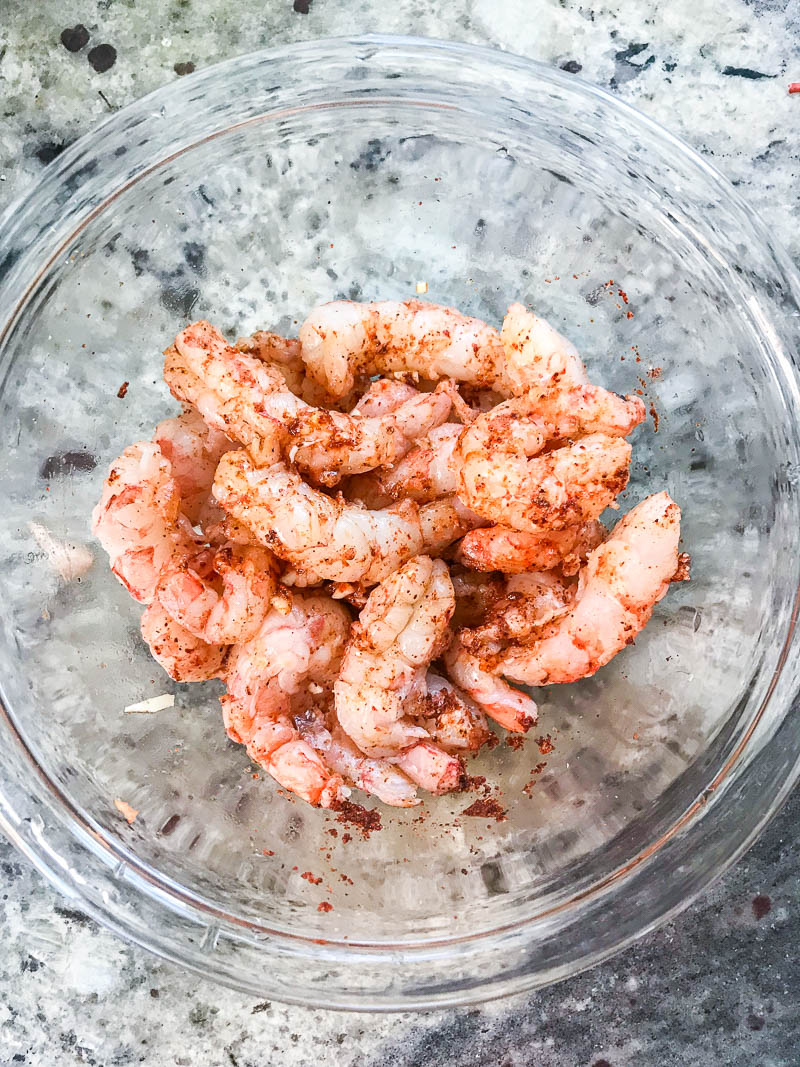 The seasoning that I use for the shrimp is the exact same that I use in my shrimp taco recipe. They are perfectly seasoned with just a little kick.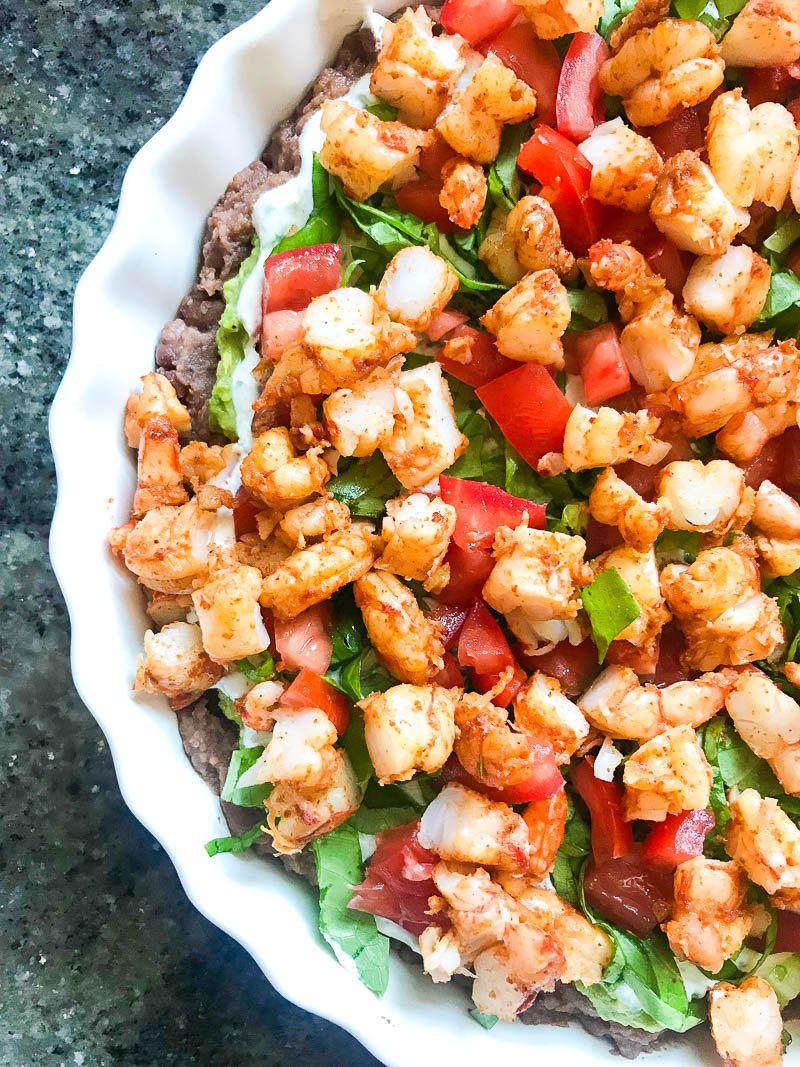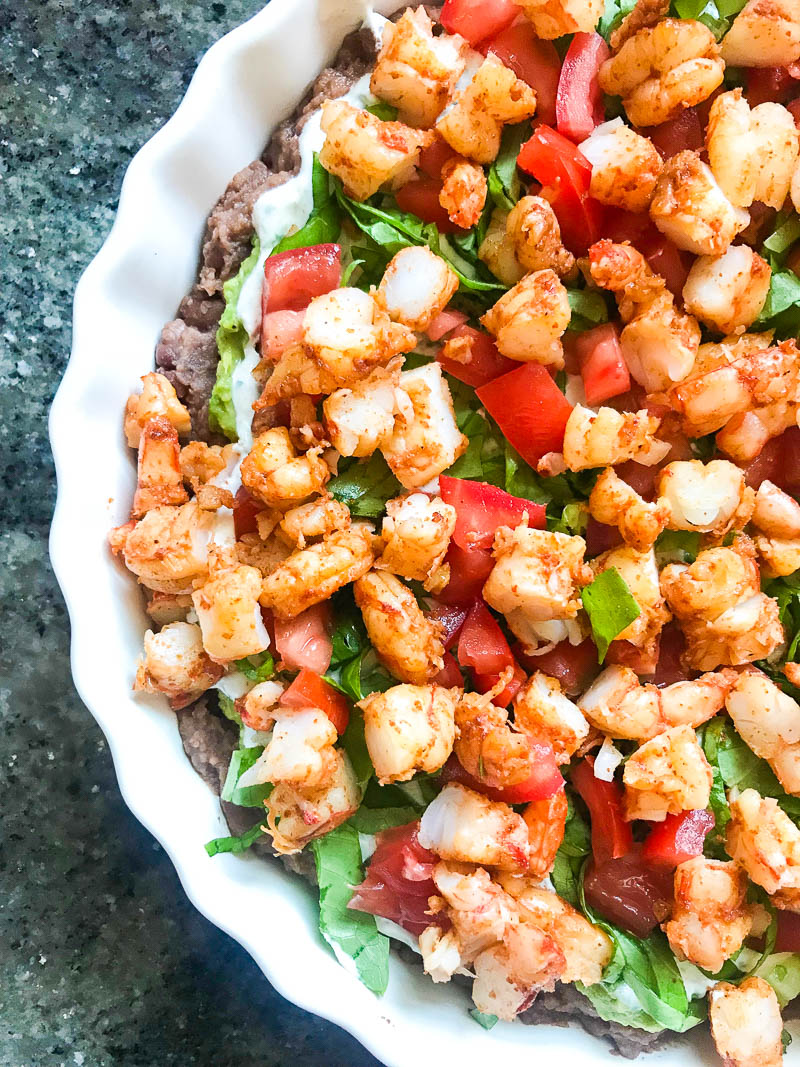 Taco Shrimp Dip is basically like any other layered taco dip. First you layer refried black beans, then guacamole, then cilantro lime sour cream, lettuce, tomatoes and shrimp. Sounds good right?! I mean COME ON. So many good things.
Speaking of good things, let's talk about the best shrimp taco sauce ever.
The best shrimp taco sauce:
Cilantro Lime Sour Cream is by far the best shrimp taco sauce. It is my favorite part of my shrimp taco recipe after all. So it only seemed natural to make it a layer in this taco shrimp dip. It's pretty easy to make, you simply need to mix together sour cream, lime juice, lime zest and cumin. Easy peasy done.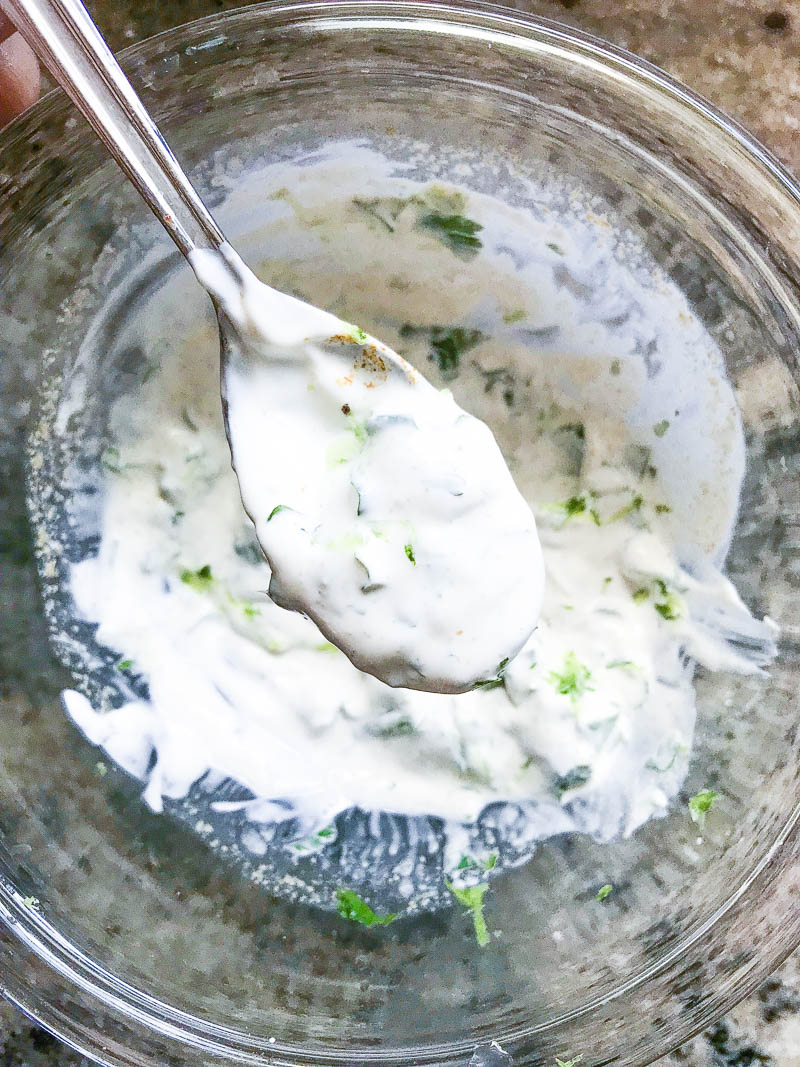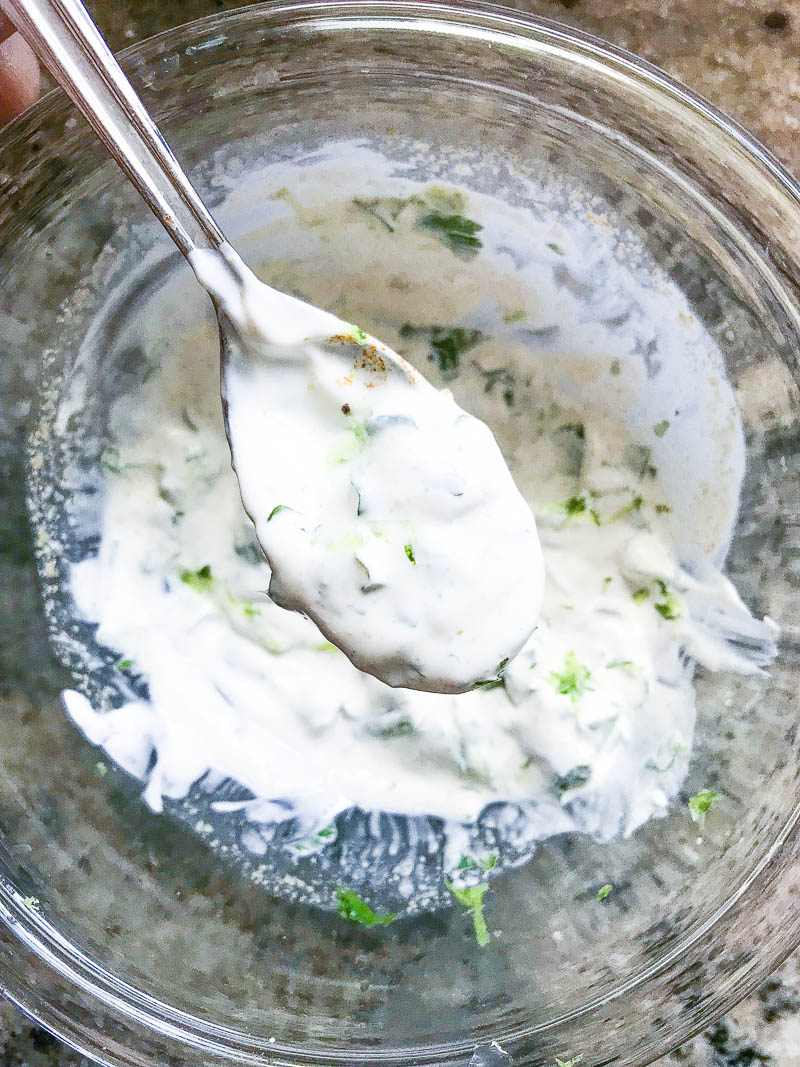 Like other taco dips, this taco shrimp dip is best served chilled. That means that you'll need to cook the shrimp and then chill it before adding it to the dip. I make the whole thing in the morning, refrigerate it to let the flavors meld and serve it in the afternoon.
What do you serve with Taco Shrimp Dip:
This dip is hearty. This means that you are going to need a good sturdy chip so that you can lift all of the layers. I find the Mission Strips work well for this but use whatever you can find.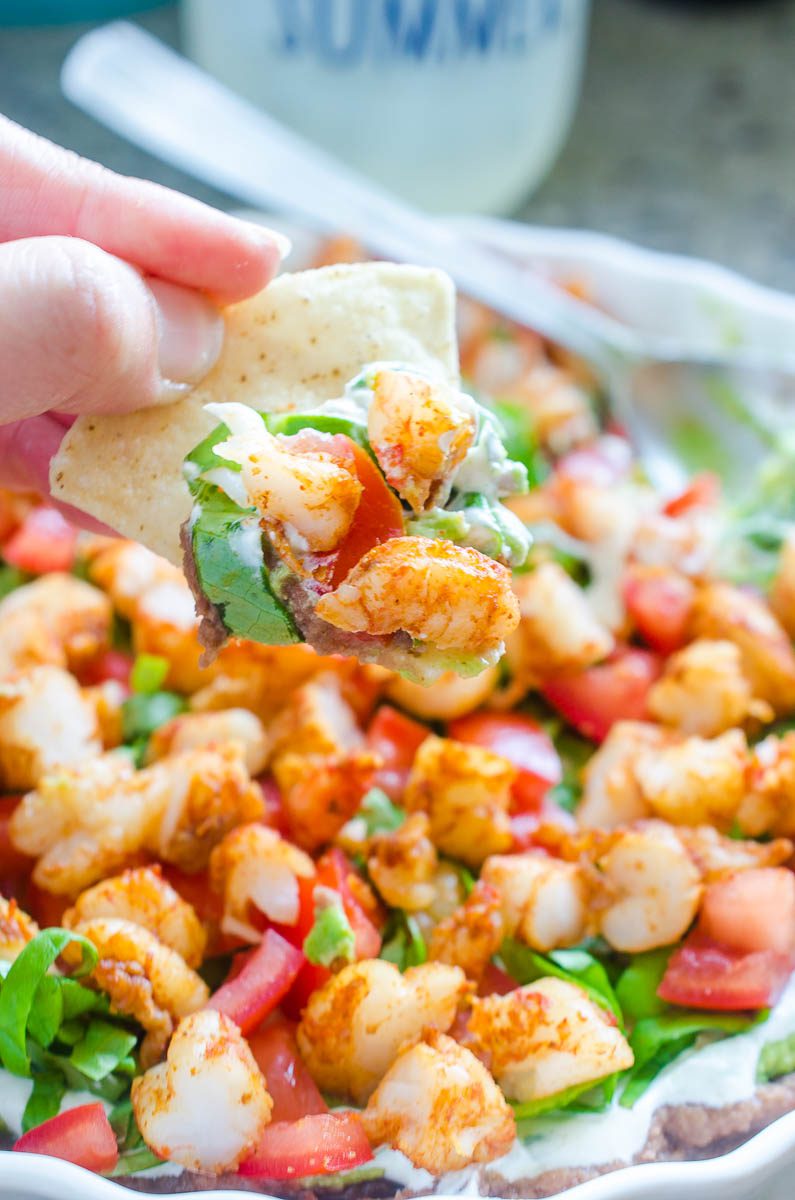 Check out some of my favorite Shrimp Recipes: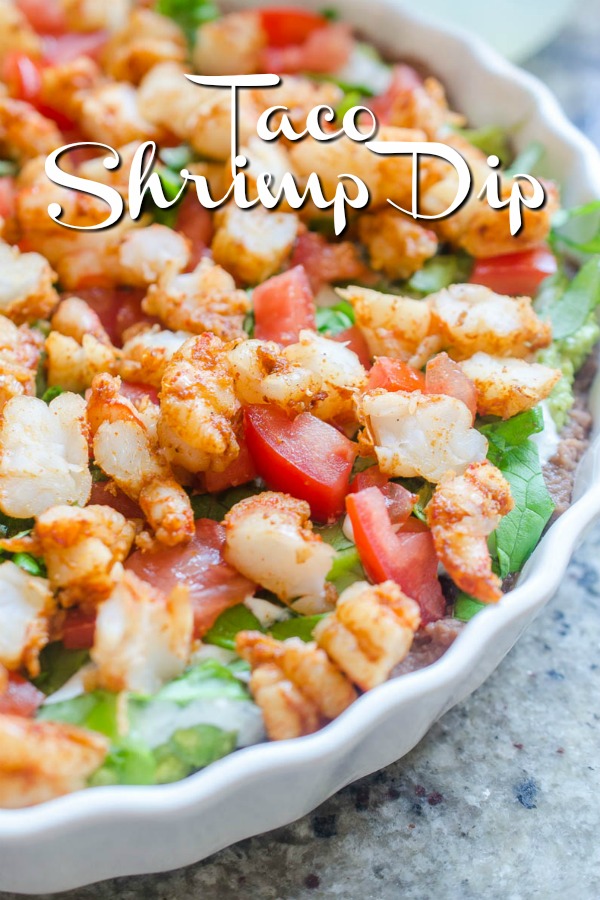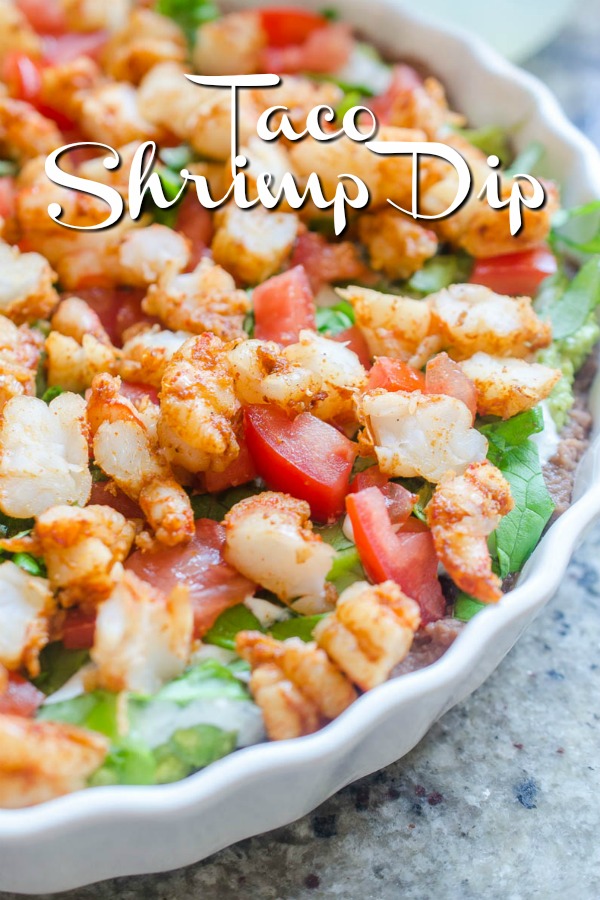 Looking for more Layered Dip Recipes? Check these out!
Taco Shrimp Dip Recipe
Ingredients:
1/2 pound (about 20 medium prawns), peeled and deveined
1 clove garlic, minced
1/2 teaspoon ground cumin
1/2 teaspoon chili powder
1/4 teaspoon kosher salt
1/4 teaspoon cayenne pepper (optional)
1 tablespoon olive oil
1 (16 ounce) can refried black beans
1 cup guacamole
1 cup shredded lettuce
1/2 cup diced tomatoes
Cilantro Lime Sour Cream
1/4 cup sour cream

2 tablespoons chopped fresh cilantro

1/4 teaspoon cumin

1 tablespoon lime juice

1 teaspoon lime zest

salt to taste
Instructions
1
Make cilantro lime sour cream by whisking together all ingredients. Set aside until ready to use.

2
Combine shrimp, garlic, cumin, chili powder, salt and cayenne together in a bowl.

3
Heat oil in a large skillet over medium heat. Cook shrimp 3 - 5 minutes or until opaque and cooked through. Allow to cool and chop.

4
Spread refried black beans on the bottom of a 9-inch pie plate. Top with guacamole, cilantro lime sour cream, lettuce, tomatoes and chopped shrimp. Chill or serve immediately with chips.
Notes
Nutrition facts not guaranteed.
Nutrition information
Calories: 219 , Total Fat: 11.4g , Saturated Fat: 2.2g , Cholesterol: 123mg , Sodium: 614mg , Carbohydrates: 10.4g , Fiber: 3.6g , Sugar: 1.4g , Protein: 21g