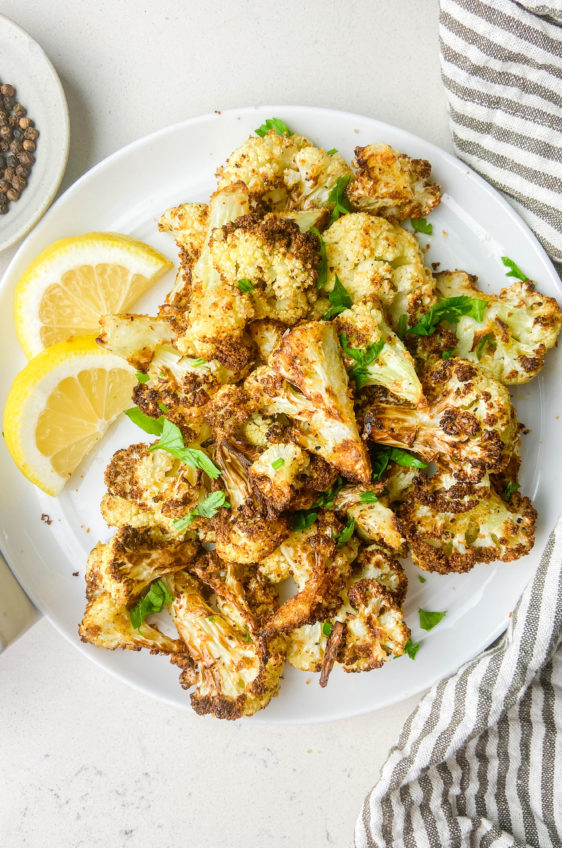 Air Fryer Cauliflower
Air fryer cauliflower is a quick and easy side dish perfect for weeknights. This simply seasoned veggie only requires 5 ingredients!
If you find yourself trying to switch up your normal dinner veggie rotation, you have got to try your hand at air fryer cauliflower. It's beyond easy and results in perfectly cooked cauliflower. Tender but with crispy edges.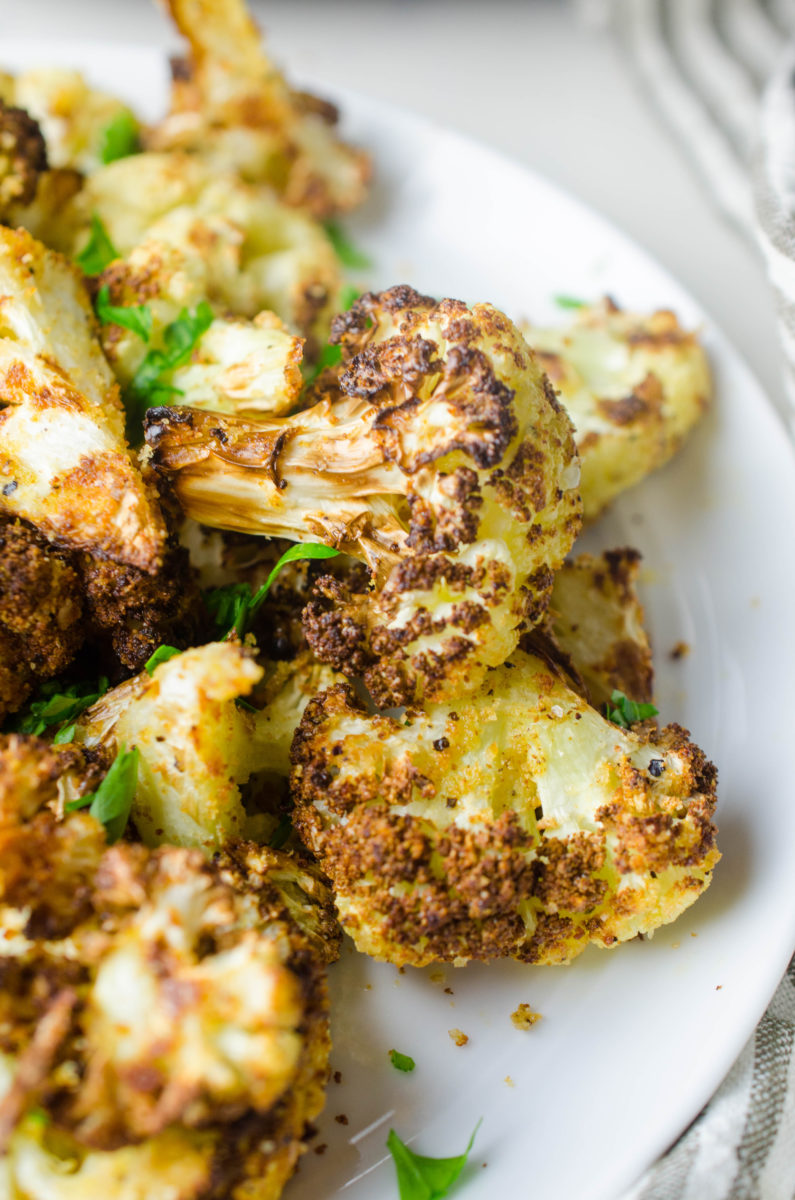 We can't get enough around here! Even the kiddos cleaned their plates.
What ingredients do you need?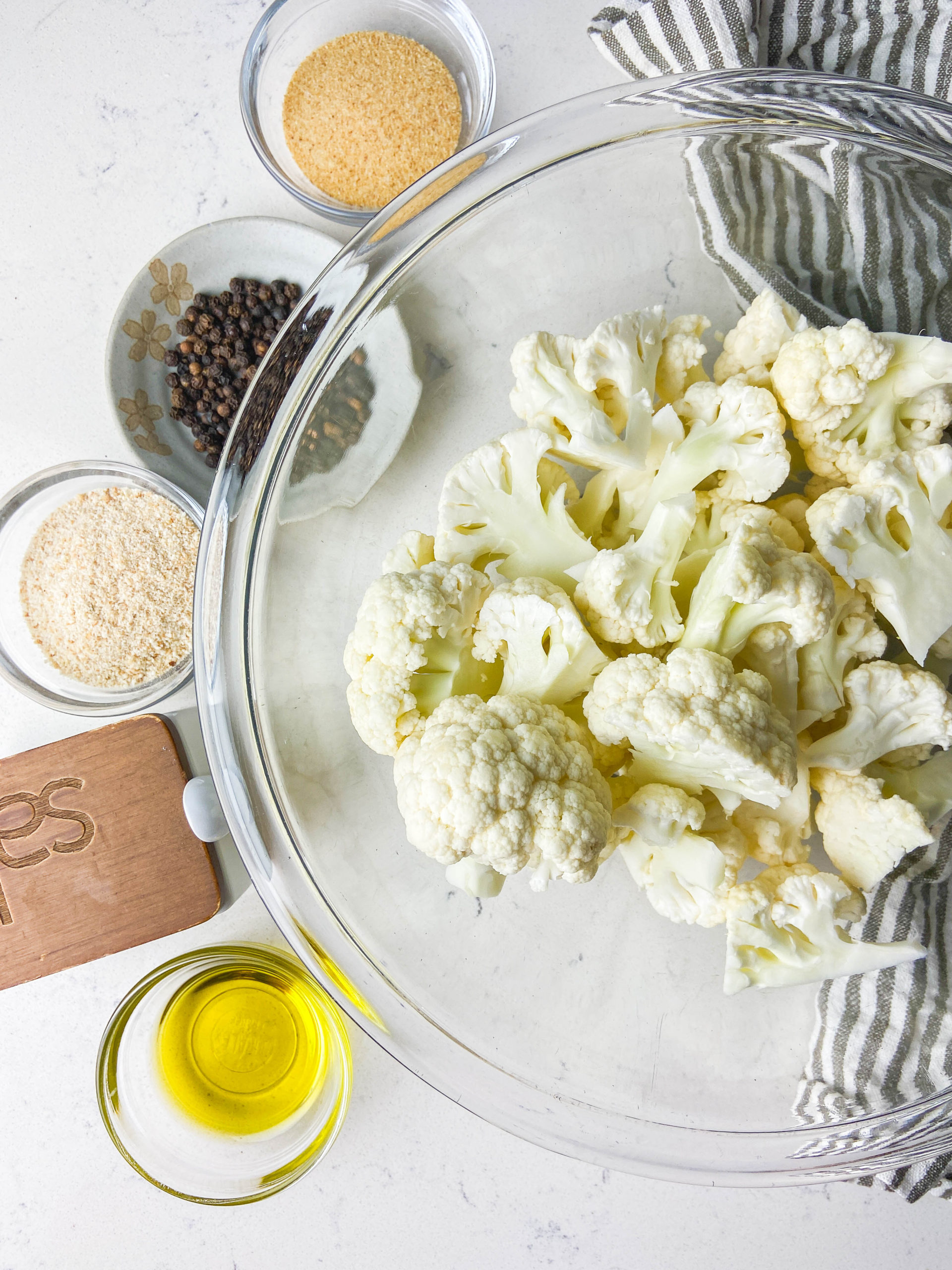 CAULIFLOWER: A small head will do. Cut into florets.
EXTRA VIRGIN OLIVE OIL
GRANULATED GARLIC, SALT, AND PEPPER: I always keep granulated garlic on hand because it doesn't clump together as much as garlic powder. You can use that if that is what you have on hand.
PLAIN DRY BREADCRUMBS: These add a crunch factor and really make for great texture.
LEMON: This is totally optional but does add a brightness and acidity to the whole dish.
How do you make cauliflower in the air fryer?
STEP 1: Toss the cauliflower with olive oil, salt, pepper, granulated garlic and bread crumbs.
DES' TIP: I prefer to use my hands to massage the seasonings and oil into the cauliflower. It allows you to make sure that all the cauliflower is coated.
STEP #2: Place the cauliflower in a single layer in the air fryer and cook at 375 for 10 minutes. Remove the basket and shake at 5 minutes.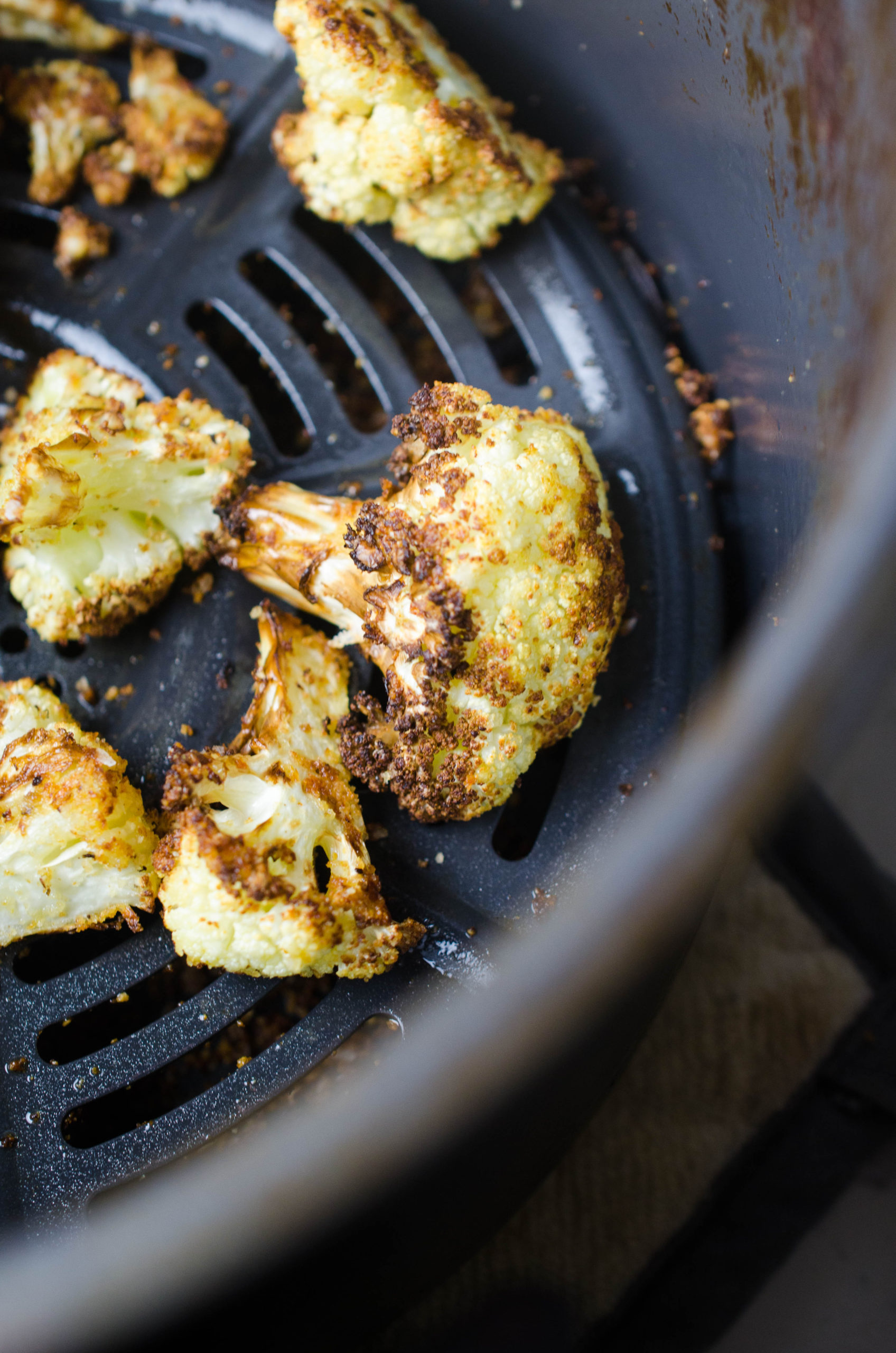 DES' TIP:Cooking the cauliflower in a single layer will make sure that enough air circulates around it that the edges get crispy. Keep the cauliflower loosely covered with aluminum foil to keep warm. Or keep in a warm oven.
I like to add a little squeeze of lemon after to brighten up the dish.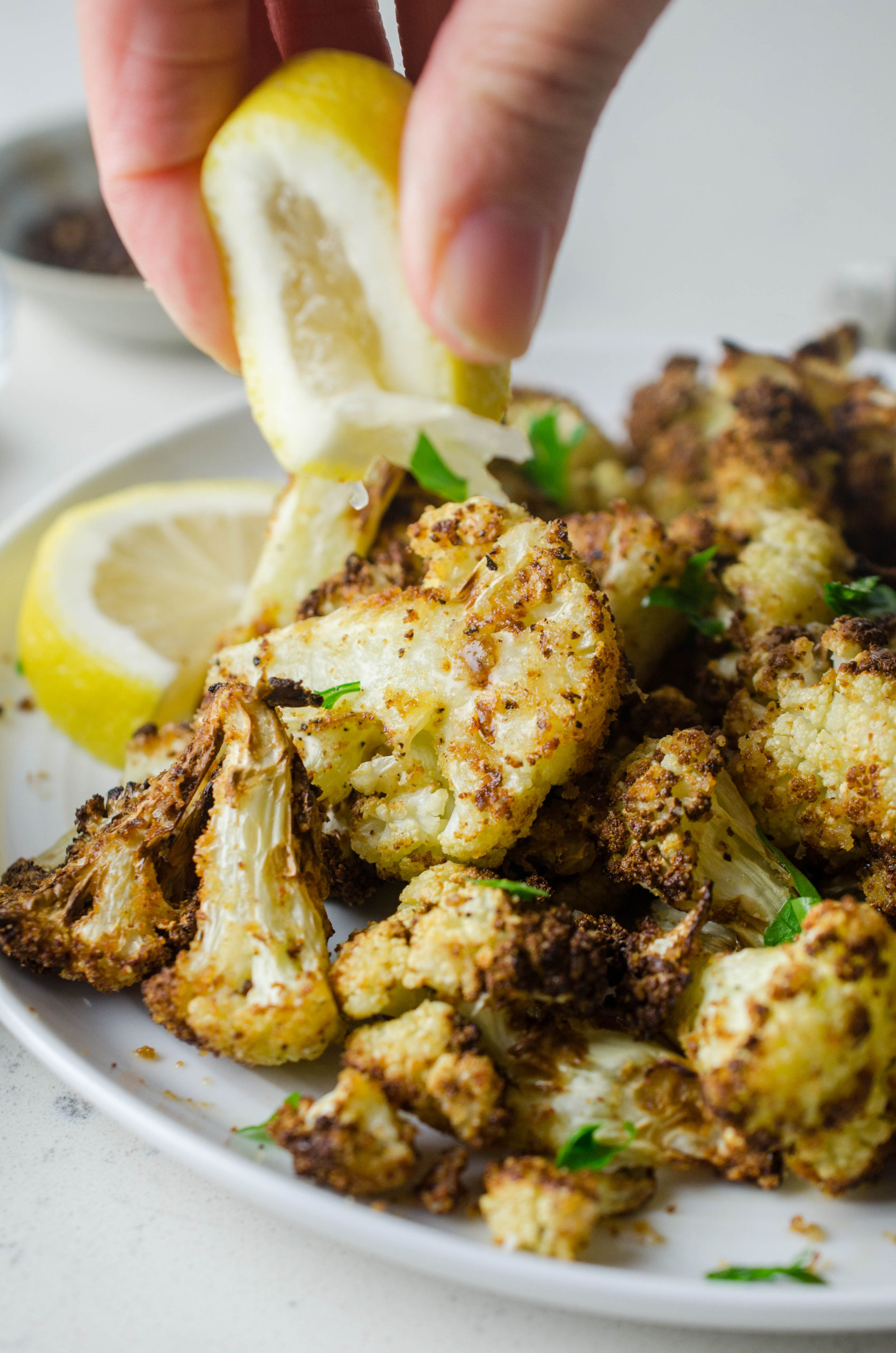 That's it! 5 ingredients and 2 steps? You gotta admit that side dishes don't get much easier than that!
Variations:
While I use garlic, salt and pepper for this recipe, you could change up the seasoning to suit whatever is on your menu. Serving tacos? You could toss cauliflower with taco seasoning. You could do an Italian version with Italian seasoning. Or a spicy Cajun with Cajun seasoning. You get it, once you get the (easy) technique down, the possibilities are endless!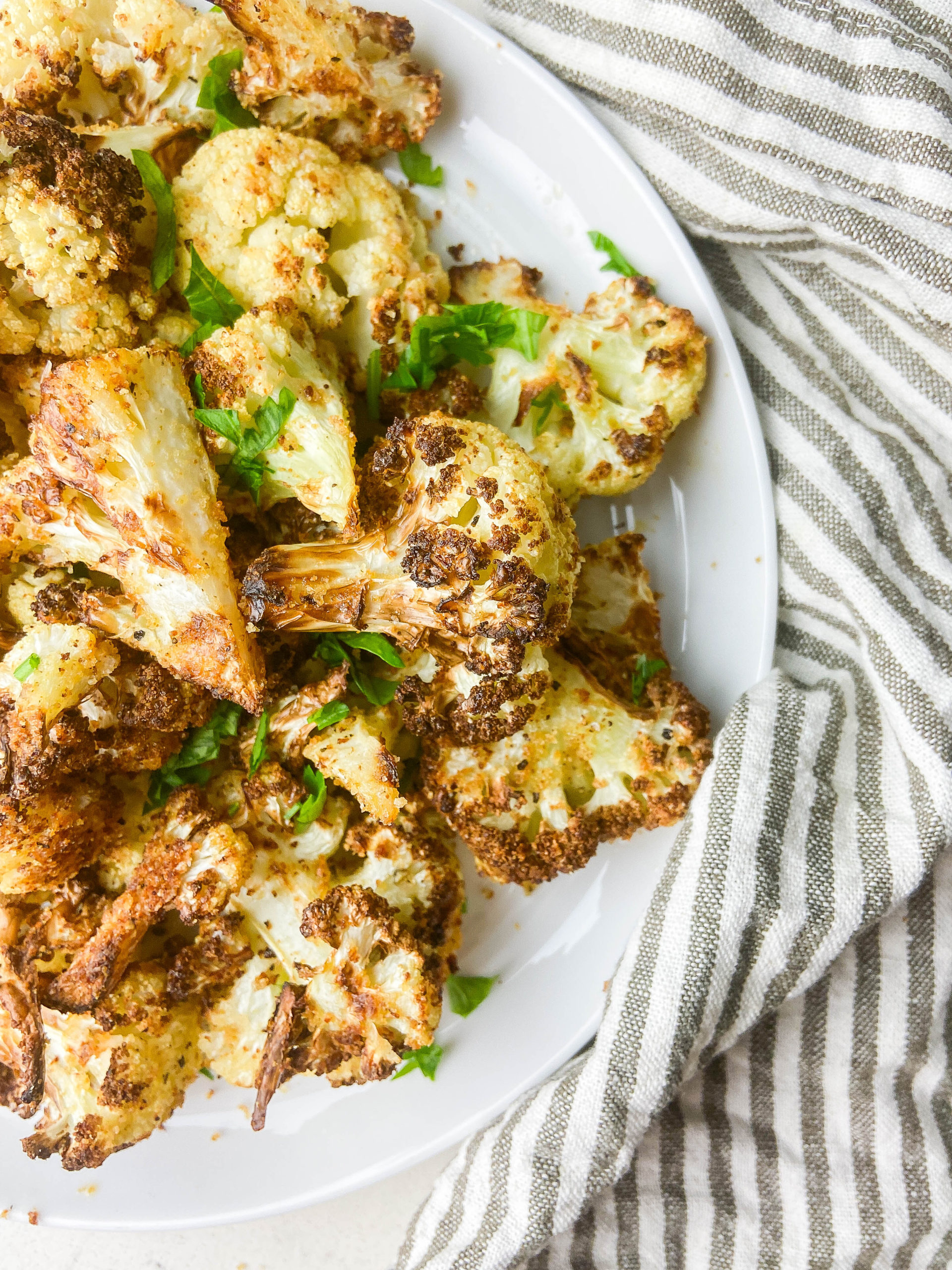 Looking for something to serve with Air Fryer Cauliflower? Check out some of my easy dinner recipes:
Need more easy side dish recipes? Here are some of my favorites:
Want more Air Fryer Recipes?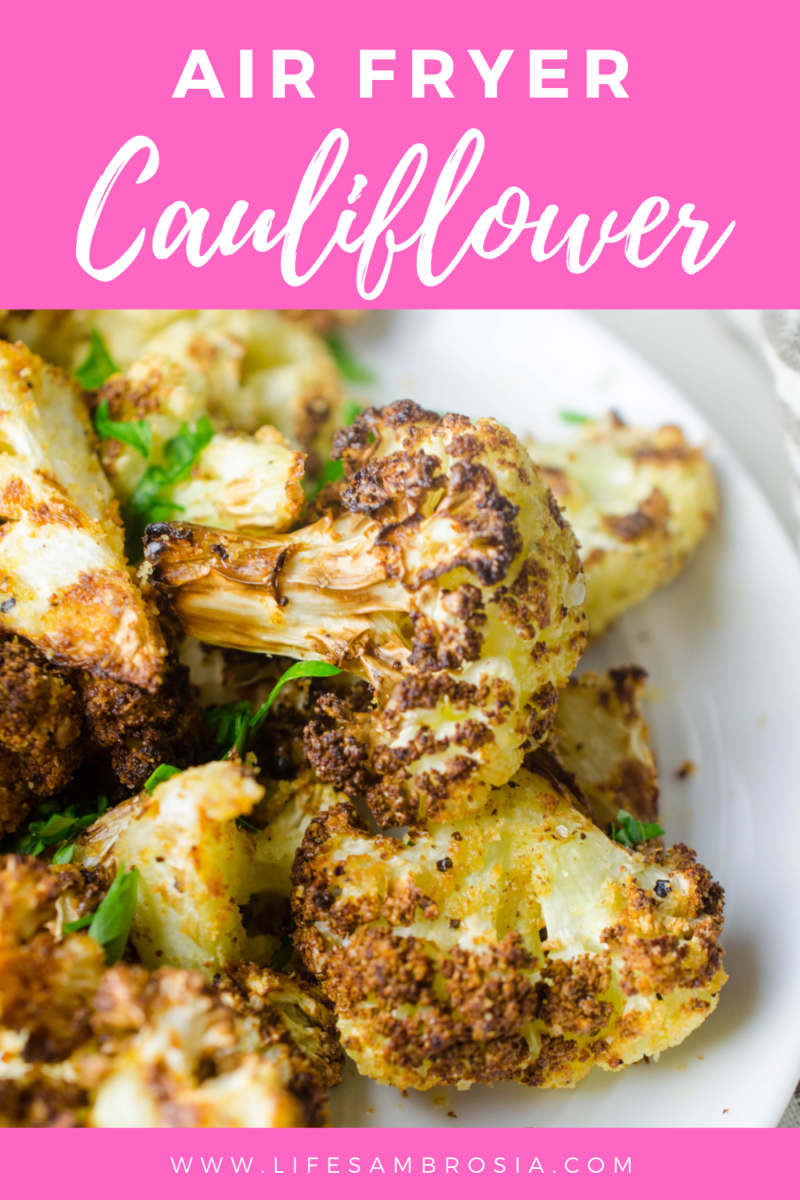 Air Fryer Cauliflower Recipe
Ingredients:
1 head cauliflower cut into florets
2 tablespoons extra virgin olive oil
1 tablespoon plain dry breadcrumbs
1 1/2 teaspoon granulated garlic
1/2 - 3/4 teaspoon salt
3/4 teaspoon black pepper
Lemon, if desired
Instructions
1
Place cauliflower in a bowl with olive oil, breadcrumbs, salt, garlic and pepper. Use your hands to toss so that the cauliflower is coated completely.

2
Place cauliflower in a single layer in the air fryer (you may need to do this part in batches). Air fry at 375 degrees fro 10 minutes.

3
Transfer to a warm oven or a plate and cover loosely with aluminum foil to keep the cauliflower warm during batches.

4
Squeeze with lemon and serve.
Notes
Nutrition information for estimation purposes only.
Nutrition information
Calories: 88 , Total Fat: 7.2g , Saturated Fat: 1g , Cholesterol: 0mg , Sodium: 323mg , Carbohydrates: 5.9g , Fiber: 2g , Sugar: 2g , Protein: 1.8g