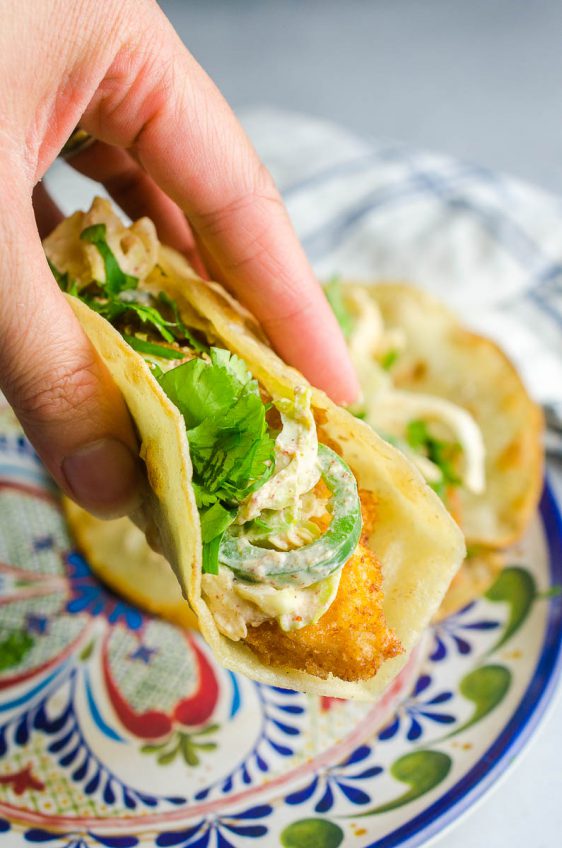 Fish Tacos with Spicy Slaw
Crispy Fish Tacos are easy to make and always a hit. Perfectly crispy panko coated cod and spicy slaw piled into a corn tortilla, the perfect taco for your next Taco Tuesday.
I love seafood tacos. From shrimp tacos to crispy fish. They are all good.
I mean what is not to love about fish tacos. The fish is crispy. The slaw is creamy, spicy and tangy. They are pretty easy to make. They go great with a Corona.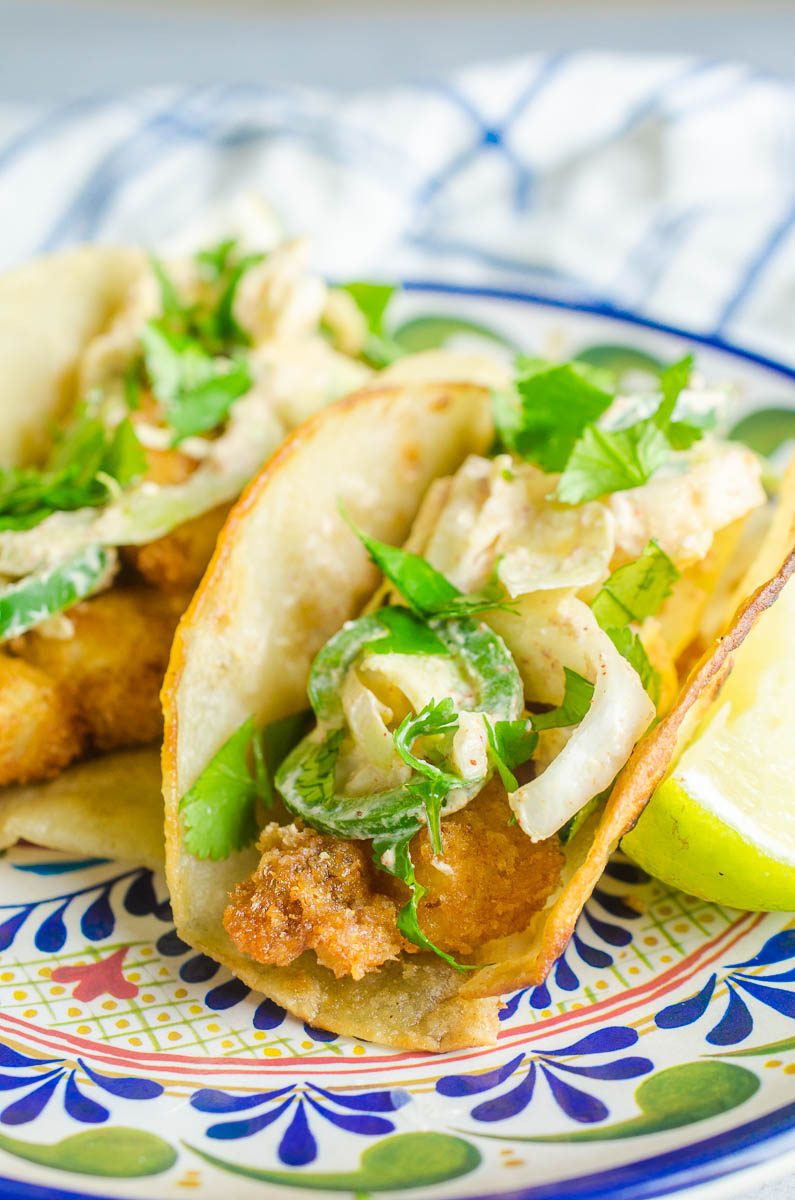 What kind of fish do you use for fish tacos?
To make the best fish tacos, I recommend using a white fish. For this easy fish taco recipe, I use cod. We like cod because it's a mild flavored fish and it's cost effective too. Halibut, snapper or tilapia would also work well in this recipe.
Whichever fish you chose, you will want to slice it into strips to make it easier to put into the tacos.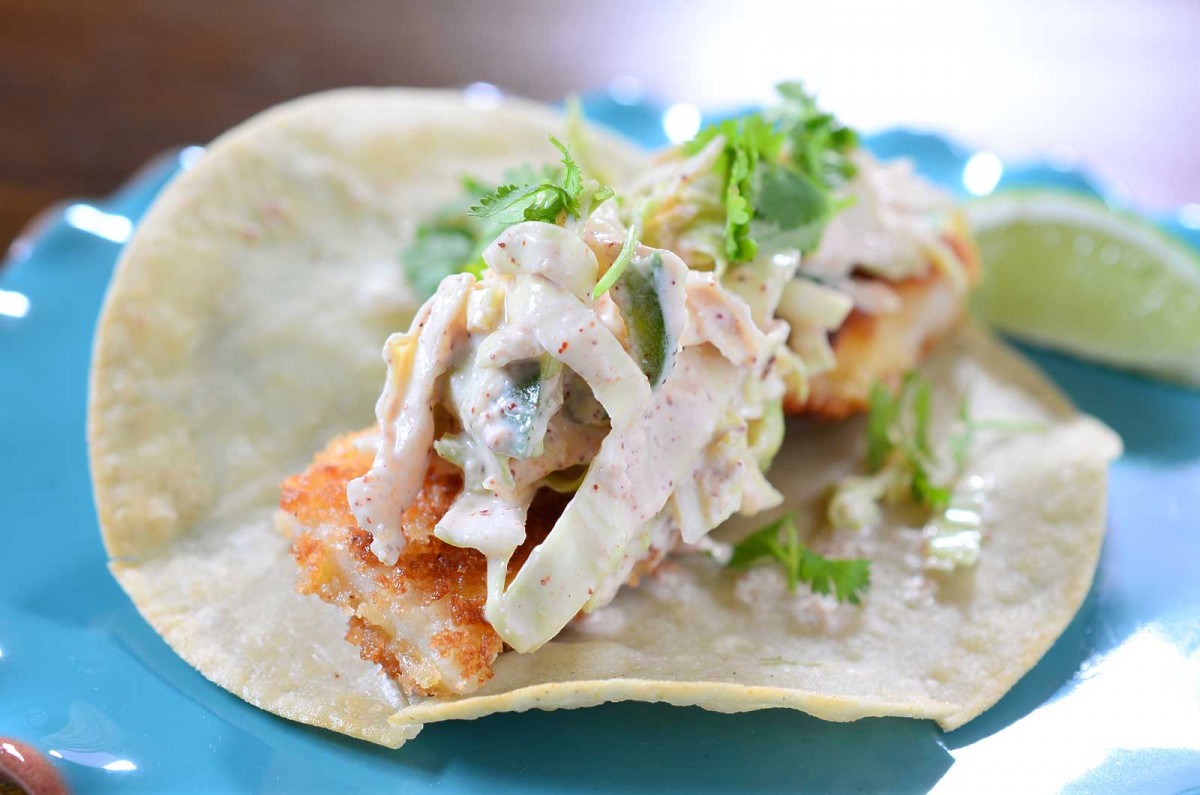 How to get perfectly crispy fish:
To make crispy fried fish, I prefer to use a panko breading instead of a beer batter. Panko bread crumbs give the right amount of crisp.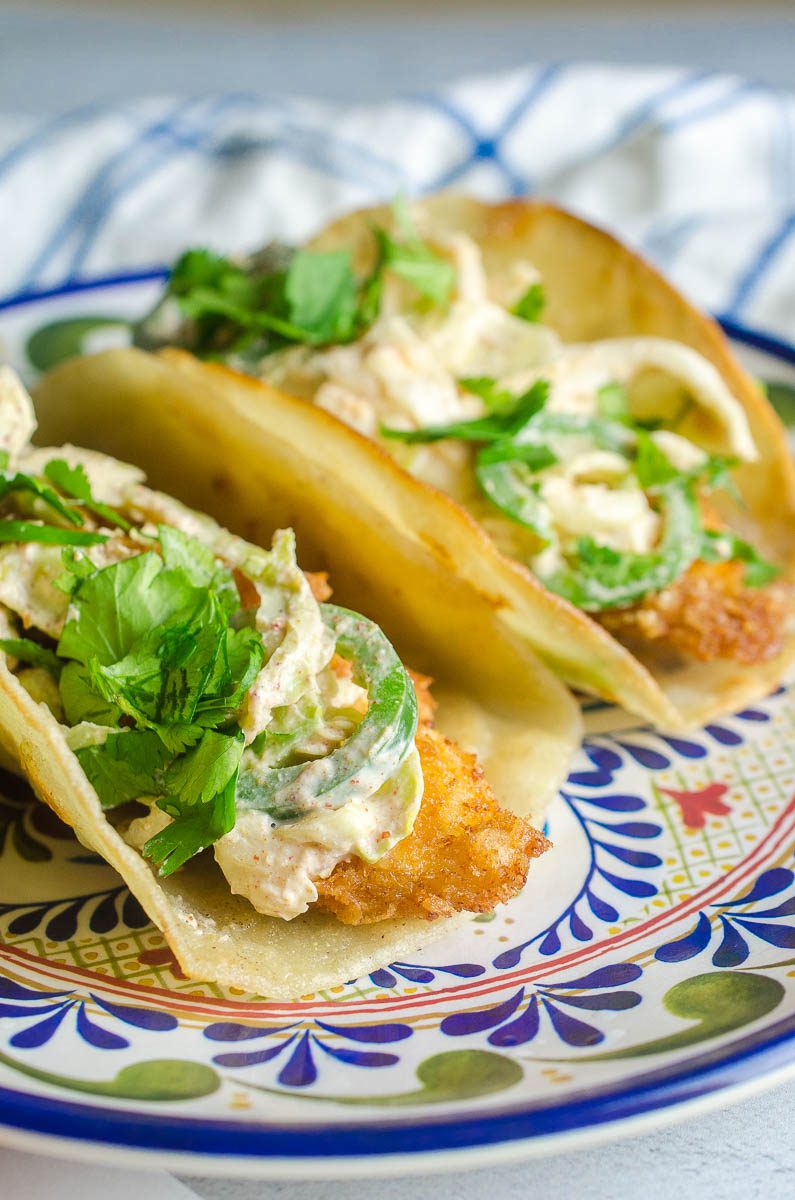 To make things easy, I set up an assembly line. The first plate has flour, the second egg and the third seasoned panko. First dip the fish pieces in the flour, then the egg and finally the panko.
Finally, fry the fish in 350 degree oil for 2 – 3 minute or until they are browned, crispy and cooked through. When frying fish, it is best to cook them in batches so that they don't overcrowd the pan. Overcrowding the pan will result in more steaming and your fish won't be as crispy.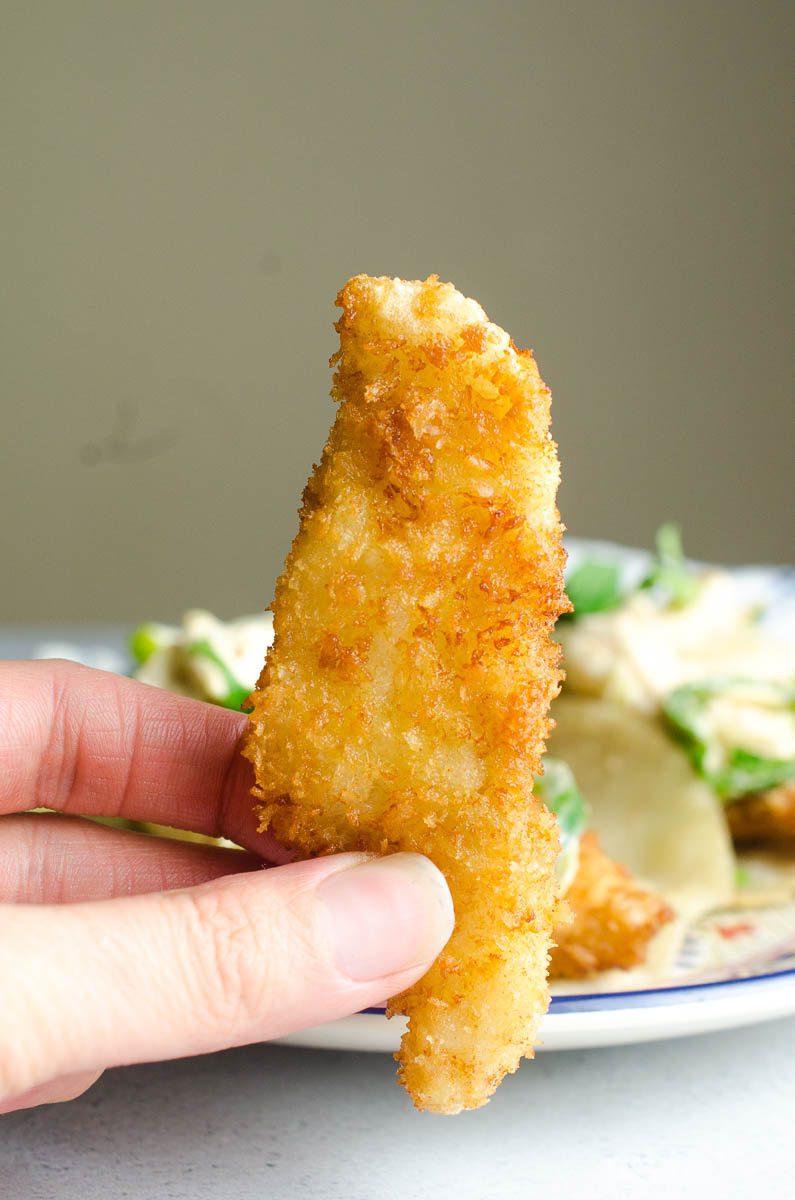 And believe me. We want crispy.
How to make fish tacos with slaw:
The slaw for these fish tacos could not be easier to make. The bulk of the slaw is thinly sliced cabbage and jalapenos. The coleslaw dressing is where all the flavor is.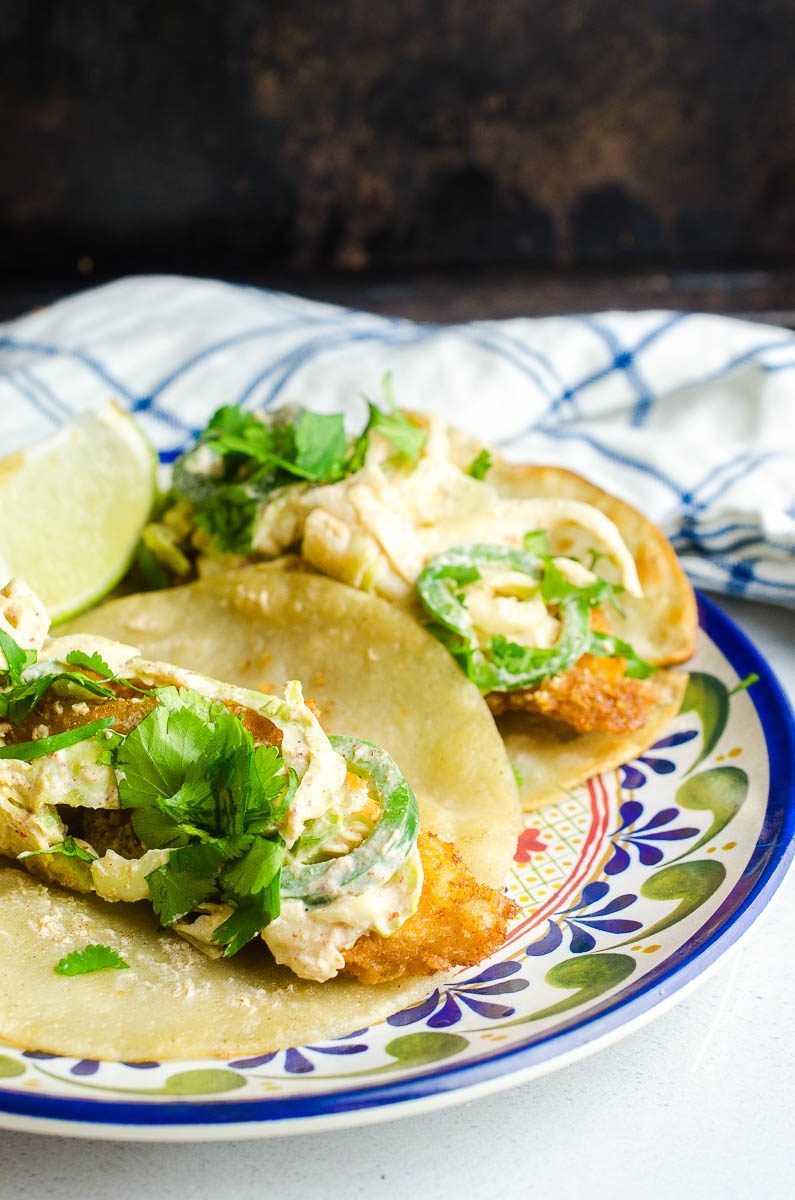 To make coleslaw dressing simply whisk together greek yogurt, lime juice, vinegar, cumin, chili powder, salt and garlic powder.
Finally, mix them all together so that the cabbage is completely coated in the dressing. I like to make the coleslaw at least 30 minutes in advance so that the flavors have a chance to develop. Even better if you give it a couple of hours.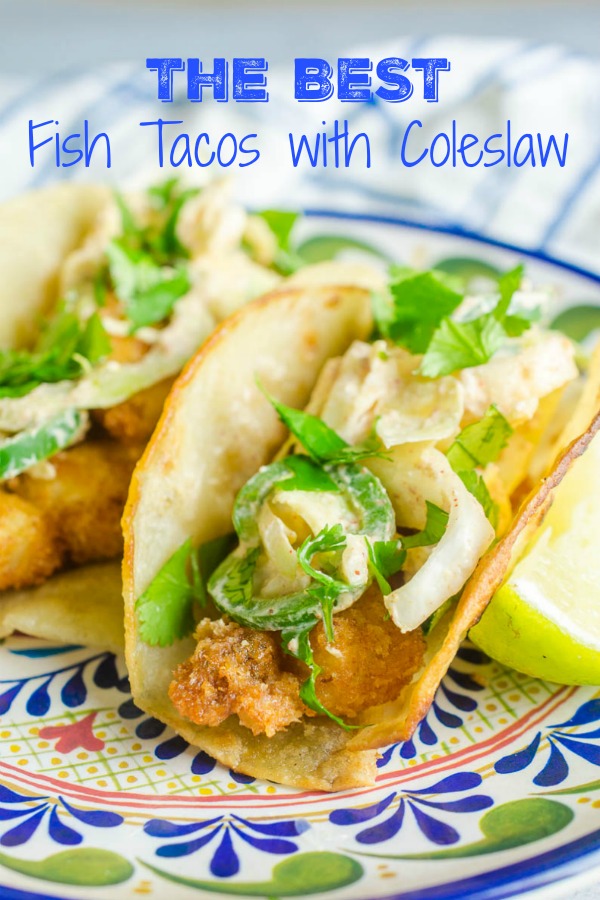 Fish Tacos with Spicy Slaw Recipe
Ingredients:
1/2 cup fat free greek yogurt
2 teaspoons lime juice
1/2 teaspoon cumin
1 1/4 teaspoon garlic powder, divided
1 teaspoon salt, divided
1/2 teaspoon ancho chili powder
1 teaspoon vinegar
2 1/2 cups thinly sliced green cabbage
1 jalapeno, sliced
1/4 cup flour
1 egg, beaten
3/4 cup panko bread crumbs
3/4 pound cod filet
oil for frying
8 taco size white corn tortillas
1/2 cup chopped cilantro
Instructions
1
Combine yogurt, lime juice, cumin, 1 teaspoon garlic powder, 1/2 teaspoon salt, chili powder and vinegar in a bowl and mix well. Fold in cabbage and jalapeno. Cover and refrigerate for at least 30 minutes.

2
Set up an assembly line with the flour on one plate, the egg on another and panko bread crumbs combined with remaining 1/2 teaspoon salt and 1/4 teaspoon garlic on another plate.

3
Slice cod into 16 pieces (2 pieces of fish per taco).

4
Dip one piece of cod into flour, then egg and finally seasoned panko. Repeat until all cod is coated.

5
Heat a thin layer of oil in a skillet over medium heat. Fry tortillas 30 seconds on each side and fold in half. Transfer to a paper towel lined plate. Repeat until all tortillas are cooked and then cover to keep warm while you are frying the fish.

6
Heat 1/4 inch of oil over skillet over medium-high heat. Sprinkle a few piece of panko bread crumbs into the oil, if it sizzles begin frying the fish. Fry fish, in batches if necessary, until golden and cooked through, about 2 minutes per side.

7
To assemble a taco: place 2 pieces of fish into a taco shell, top with spicy slaw and chopped cilantro. Repeat with remaining ingredients. Serve.

Notes
Nutrition facts not guaranteed.
Nutrition information
Calories: 490 , Total Fat: 30.2g , Saturated Fat: 4.1g , Cholesterol: 86mg , Sodium: 828mg , Carbohydrates: 26.1g , Fiber: 2.7g , Sugar: 4g , Protein: 28,3g