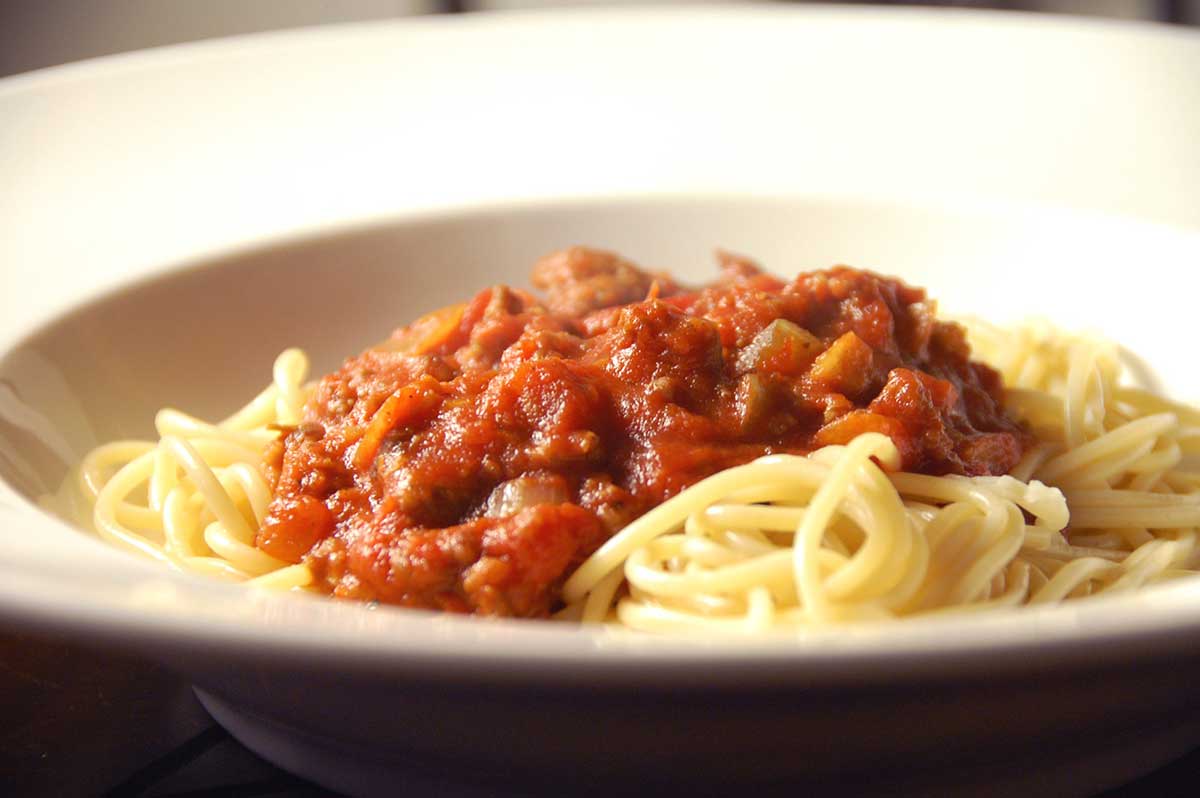 Spaghetti with Meat Sauce
I have already shared my recipe for Spaghetti and Meatballs but I thought I would also share my recipe for traditional meat sauce. You will find all of the traditional flavors like garlic, oregano, basil and tomato, but I prefer to use Italian sausage because it gives the sauce that little extra kick.
Spaghetti with Meat Sauce Recipe
Ingredients:
1 pound ground Italian sausage (hot or mild)
1 tablespoon olive oil
1/2 onion, chopped
3 cloves garlic, finely chopped
1/3 cup red wine (I prefer Chianti)
1 (28 ounce) can of crushed tomatoes
1 (14.5 ounce) can of tomato sauce
1 teaspoon dried basil
1 teaspoon dried oregano
Salt and pepper as needed
1 pound dried spaghetti noodles
Instructions
1
In a skillet or pot large enough to fit all of the sauce, brown the italian sausage over medium heat. Strain to remove oil and set aside.

2
In the same pot add 1 tablespoon of olive oil over medium heat. Cook the onion and garlic until they turn translucent, about 5 minutes. Add the wine. Be sure to scrape up any yummy bits on the bottom of the pan. Cook 3 minutes.

3
Add crushed tomatoes, tomato sauce, dried basil and oregano. Return sausage to sauce. Stir to combine. Add salt and pepper as needed. Cook for at least 1 hour, I sometimes like to cook it as long as 3 hours. (Note: I have had some experiences with some salty Italian sausage so I like to add my salt and pepper after the sausage has had time to cook in the sauce.)

4
About 20 minutes before you are ready to eat. Start your pasta and cook according to package directions. Strain.

5
Place pasta in a pasta bowl and top with sauce.