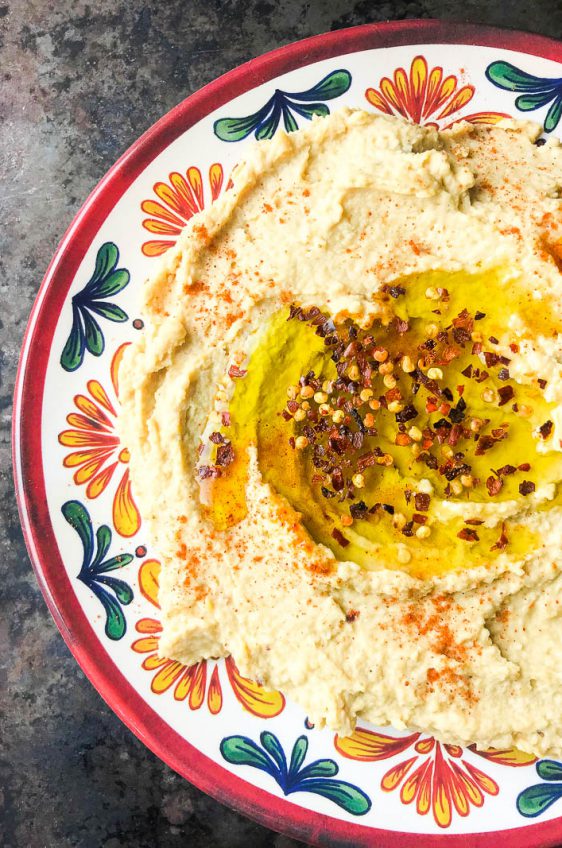 Spicy Hummus
A kicked up version of traditional hummus with lime, crushed red pepper and cayenne. Spicy Hummus is a great addition to your party dip spread. 
It's no secret that we are dip lovers around here. There is always some kind of dip around. Whether it's ranch, queso, salsa or hummus, chances are you'll find one (or all) in our fridge at any given moment.
What can I say? We're a family of snackers.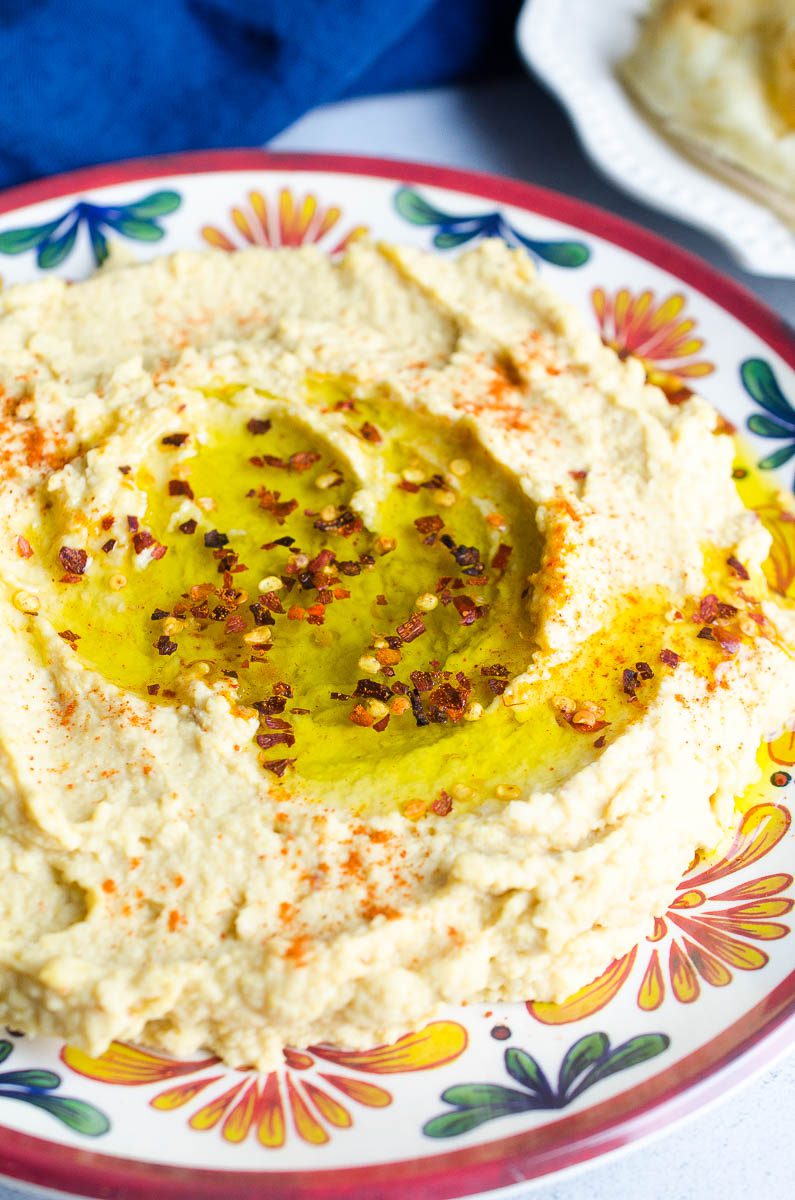 And since we are a family of snackers, I'm always looking for new snacks to add to the rotation. Enter this Spicy Hummus. It's kind of my new favorite. It's got all of the creaminess that we love with traditional hummus, but with a little kick from some crushed red pepper and cayenne.
What ingredients do you need to make your own hummus?
Making your own hummus is SO incredibly easy. You've probably seen all of the different varieties of hummus in the grocery store. And most of those have the same main ingredients, with different add-ins.
There are a few staples that every hummus traditionally has: garbanzo beans, tahini, garlic and olive oil. Of these ingredients the only one you might not have in your pantry already is tahini.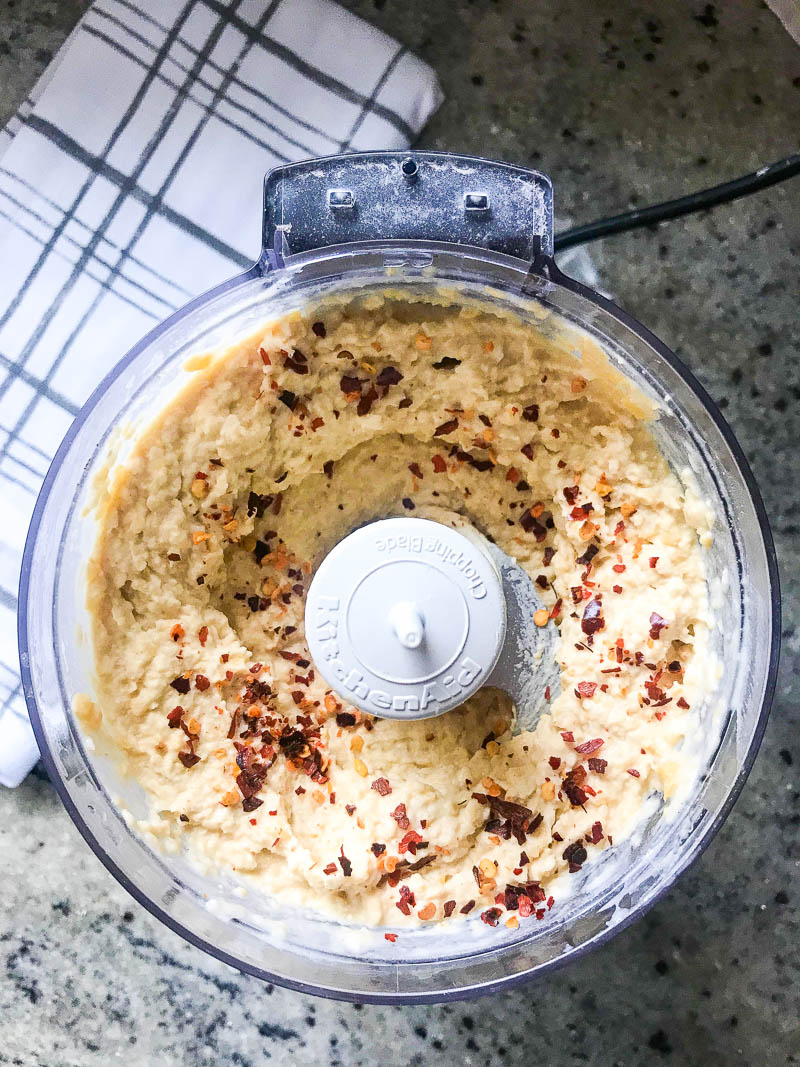 Tahini is a sesame paste that is popular in Eastern Mediterranean, North African and Middle Eastern Cuisine. You should be able to find it in a well stocked grocery store. I usually find it near the peanut butter or in the international cuisine aisle.
The rest of the ingredients are pretty much up to you. Want it really garlicky? Add some roasted garlic. Want a mediterranean twist? Add some olives. Taco flavored? Add some taco seasoning. The possibilities are endless.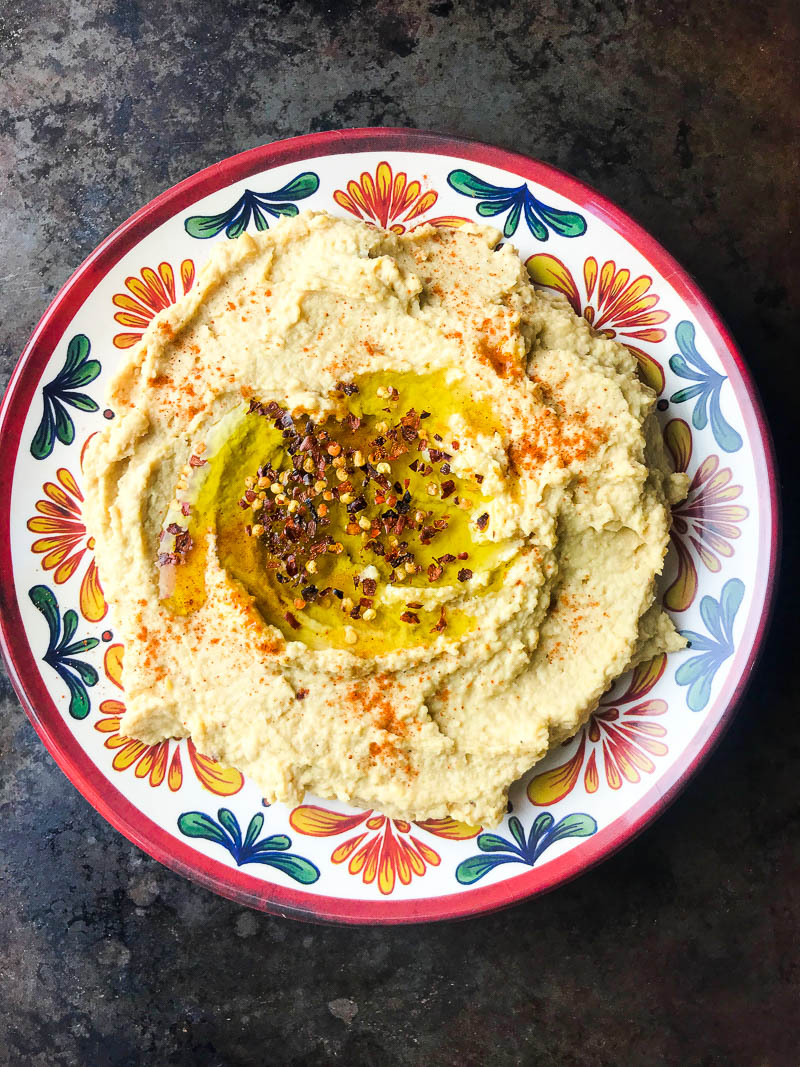 Being a spicy food fan, it was only a matter of time before I created a Spicy Hummus.
How do you make homemade hummus?
To make homemade hummus you will need a food processor. If you're making a single batch, a small (3 – 5 cup) food processor will do.
You will want to process the garbanzo beans, lime juice, garlic and tahini until smooth. I like to save a little of the garbanzo bean liquid and add that if the hummus seems a bit dry at this point.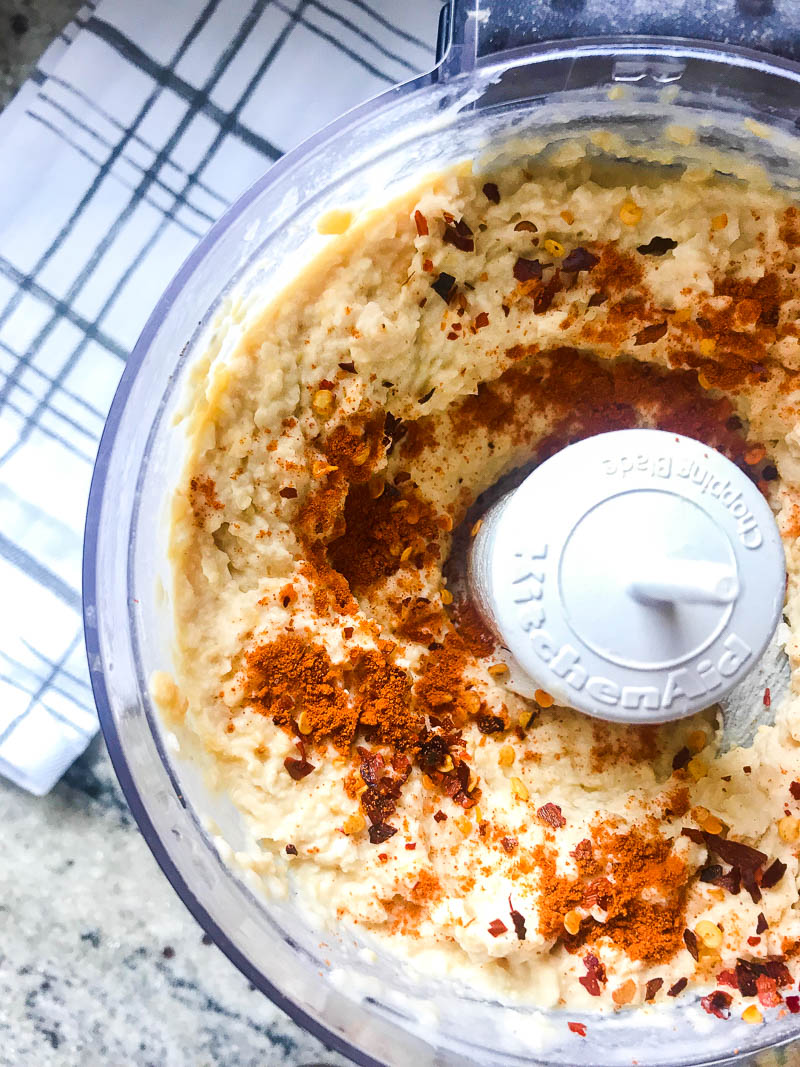 Next, you'll add in the crushed red pepper, cayenne and salt. Just pulse a couple of times until they are mixed through. Adjust seasoning if needed.
Finally, transfer to a serving platter and drizzle with olive oil. I also like to garnish with few more crushed red pepper flakes.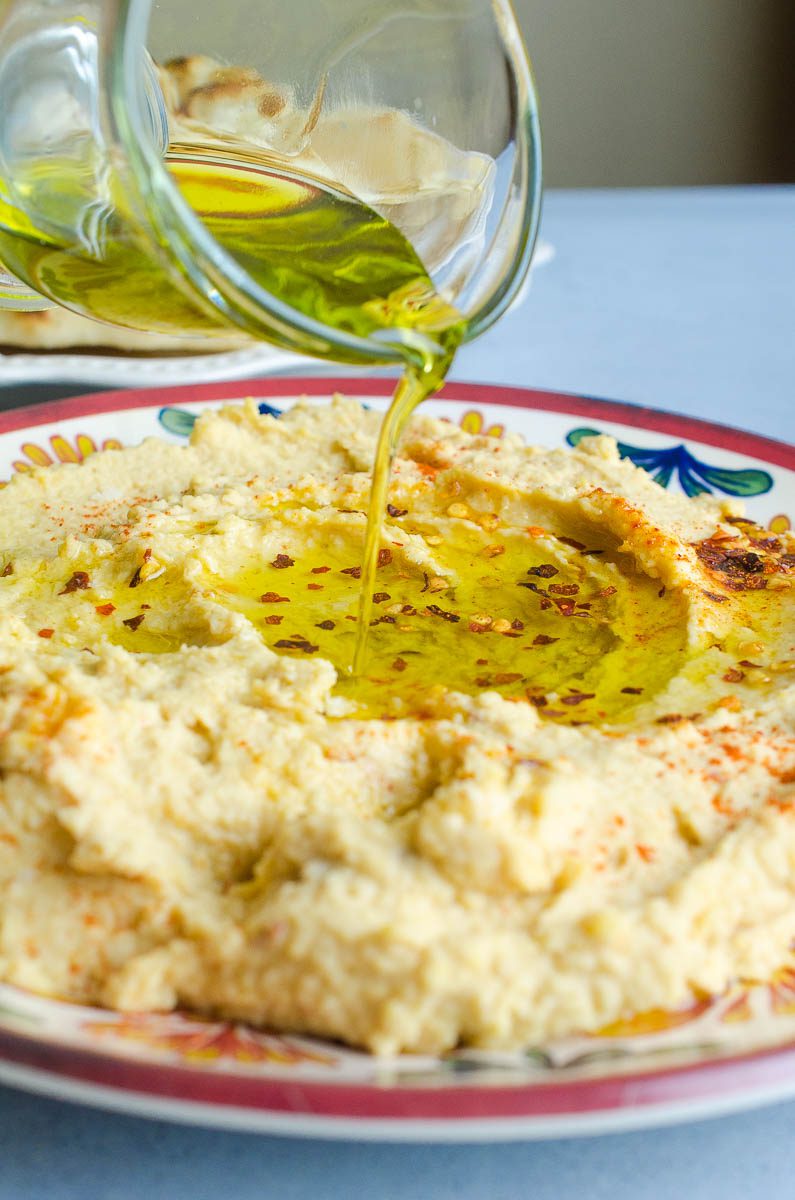 What do you dip in hummus?
The perfect vehicles for this spicy hummus are pita chips, pretzels and fresh cut veggies.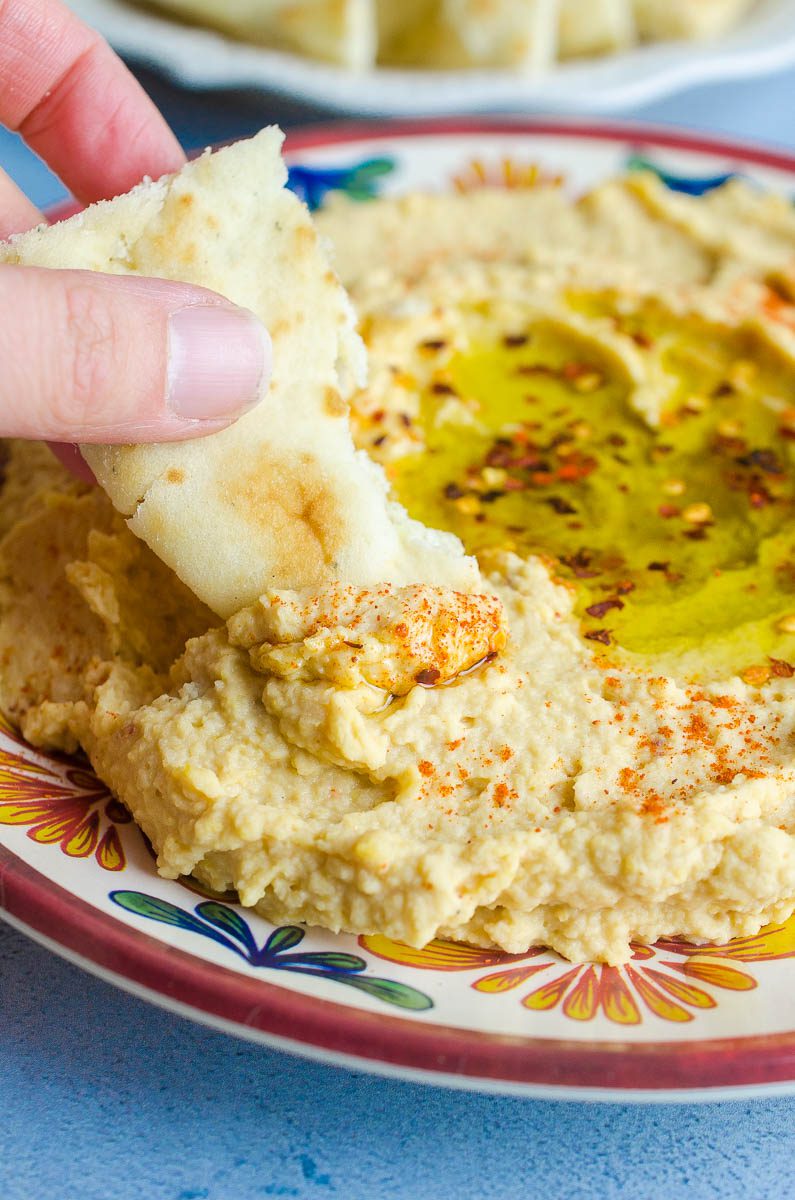 How long does spicy hummus last?
Homemade hummus will usually last 4 – 5 days in the refrigerator.
Planning a party and need more dip recipes? Try these: 
Looking for more recipes using chickpeas? Here are some of our favorites!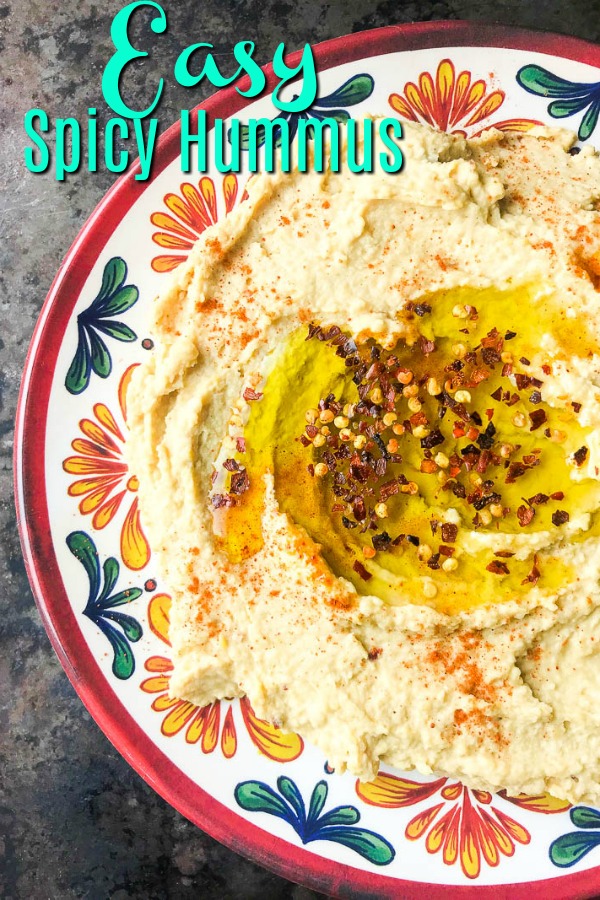 Spicy Hummus Recipe
Ingredients:
1 (15 ounce can) garbanzo beans, drained, liquid reserved
2 tablespoons lime juice
2 cloves garlic
2 tablespoons tahini
1/2 teaspoon crushed red pepper
1/4 teaspoon cayenne pepper
1/4 teaspoon salt
2 tablespoons
Instructions
1
Combine garbanzo beans, lime juice, garlic and tahini together in a food processor and pulse until smooth. If hummus seems dry add a couple tablespoons of reserved garbanzo bean liquid.

2
Add in crushed red pepper, cayenne and salt. Pulse until combined.

3
Transfer to a serving platter. Drizzle with olive oil. Sprinkle with more crushed red pepper if desired. Serve with pita chips, pretzels and fresh veggies.
Notes
Nutrition facts not guaranteed.
Nutrition information
Calories: 132 , Total Fat: 4g , Saturated Fat: 0.5g , Cholesterol: 0mg , Sodium: 342mg , Carbohydrates: 20.2g , Fiber: 4.1g , Sugar: 0.2g , Protein: 4.9g