Habanero hot sauce is a homemade hot sauce, bursting with spicy flavor. This easy condiment recipe isn't for the faint of heart, but if you love habanero peppers, you will love it!
Alright chile heads, this easy hot sauce recipe is for you. It's hot and spicy. It just might make your eyes water, but God help me, I can't stop putting it on All. The. Things. Homemade Habanero Hot Sauce is where it's at, friends and I've got my recipe to share with you today.
The story goes that I have been eating hot chile peppers straight out of the jar since I was 2 years old. I would have chile pepper eating contests with my dad over dinner. I add jalapeños to my pizza. I have several sriracha recipes on the blog. Heck, even when I was pregnant, spicy food was what I craved.  With both boys, I practically drank Mrs. Renfro's Habanero salsa.
Yeah I know. Habanero salsa didn't give me heartburn, but water did. Go figure.
But honestly, I can't get enough of spicy food. And spicy is just what this Habanero Hot Sauce is. And when I say spicy, I mean 10 habaneros spicy.
That's right. This beautiful bottle of orange peppery deliciousness has 10 whole habanero peppers in it.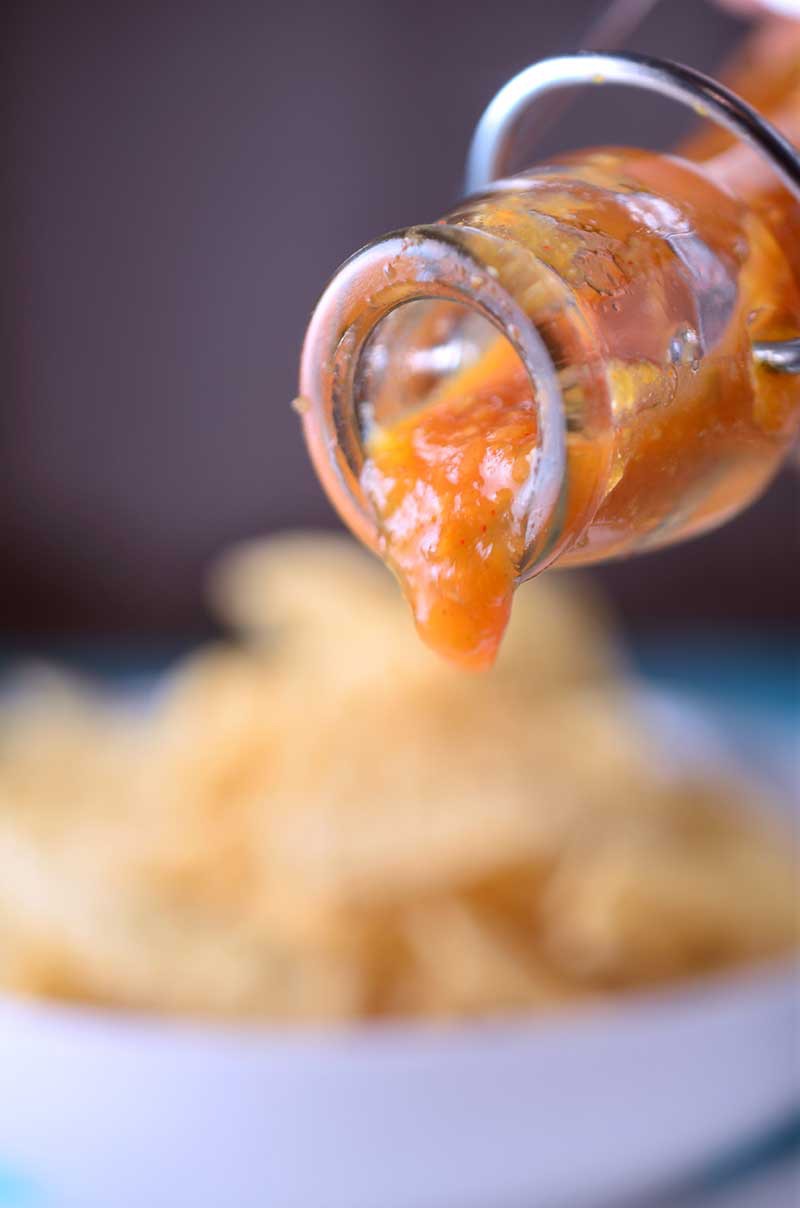 And I wouldn't have it any other way.
Now, what should you put habanero hot sauce on?
Well I have been putting it on all kinds of things. A drizzle on some tacos. A dab on some steak. Mixed with butter and slathered on chicken wings. Heck, the other day when I was craving something spicy but was out of my Mrs. Renfro's, I was straight dipping chips into this Habanero Hot Sauce. Yes, it's spicy but it has an awesome flavor that I just can't get enough of. So if you are a chile head, or there is one in your life, you need to make this. Pronto.
PS: When you set out to make this Habanero Hot Sauce (and you totally should), please keep in mind that the longer that it has to sit in the refrigerator, the more flavorful it gets.
I ate this as early the next day and it was pretty good, but guys, it was way better about a week later. The flavors and the heat just taste better after they have had more time to develop. Trust me.

Ingredients:
10 habanero peppers, stems removed
2 jalapeño peppers, stems remved
8 cloves garlic, peeled
1/2 medium yellow onion, diced
1/2 cup water
3/4 cup distilled vinegar
2 teaspoons salt
1 teaspoon hot paprika
Instructions
1
Combine all ingredients together in a small pot. Bring to a boil. Reduce heat and allow to simmer for 35 minutes.

2
Remove from heat and allow to cool.

3
Once cool, transfer to a food processor and process until peppers are minced fine. Sauce will be slightly chunky.

4
Transfer to an airtight container and chill for at least 24 hours but it gets better and hotter with age.

5
After 24 hours, adjust salt if desired. Use in a variety of dishes. Refrigerated sauce should last several weeks.